The French braid looks great with any outfit and is relatively simple to create. You'll be astonished by how effectively the upside-down french braid hairdo matches a cocktail dress and a jacket. The procedure can be challenging at first, but it is rather straightforward once you figure it out.
These hairstyles are adaptable, and you may also combine them with different looks. Additionally, it can be utilized for a variety of events. Continue reading to discover how to create simple upside-down French braid hairstyles.
Explore The Cutest Upside Down French Braid Hairstyles
A comprehensive guide to creative braided hairstyles to look best on any occasion.
Side Pleats
This blonde side french braid is perfect for a special lunch or a different sports style. Every haircut and quality looks beautiful in a classical reverse braid.
Simply drag the hair after it is in the braid. Merely to give the appearance of greater volume and draw attention to the hairdo.
Sleek And Neat Updo
Your updo can feature an upside-down french braid hairdo as a compliment. The huge, elaborate bun is the star of this braided style.
While you can use a short neck braid that matches the sparkling hair clip just serves as an eye-catching accent.
High Ponytail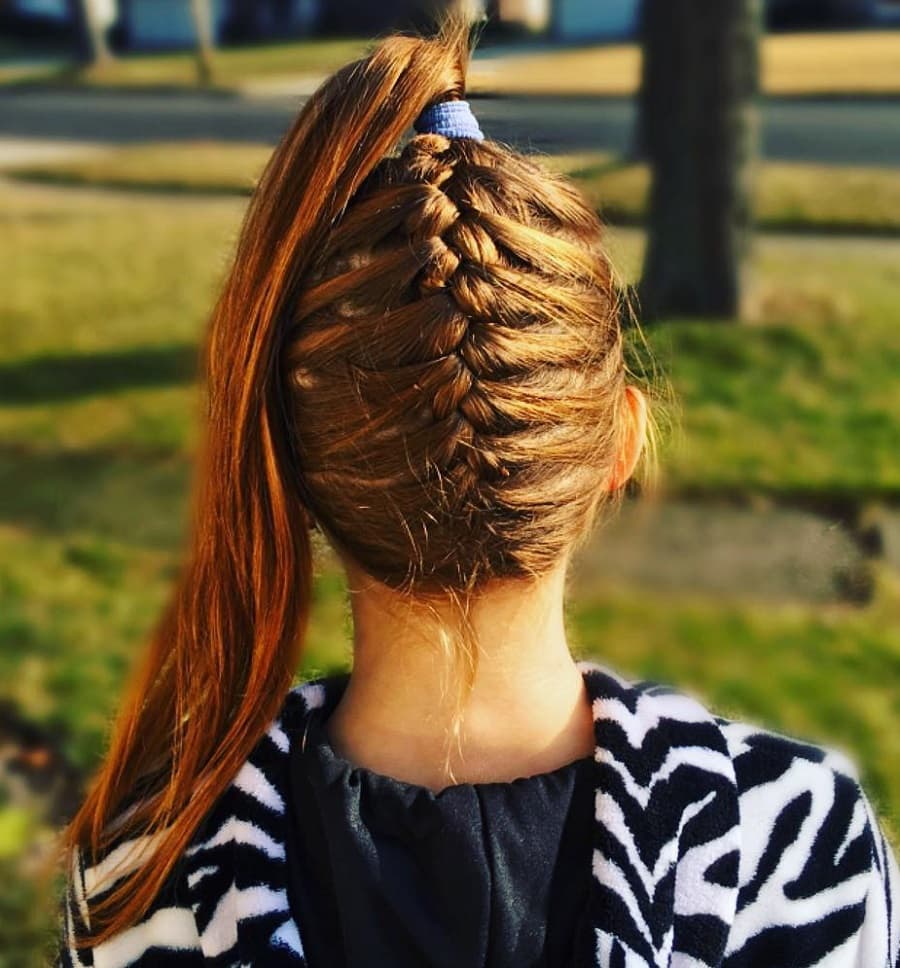 A reverse french braided pony is one of the ideal hairstyles you can select for a ceremony, an engagement, or a special event.
Try a loose bun with a chain or clip across it, and get ready to grab attention. Don't miss to coil the free edges of your ponytail to complete the fairy effect.
Curly Mess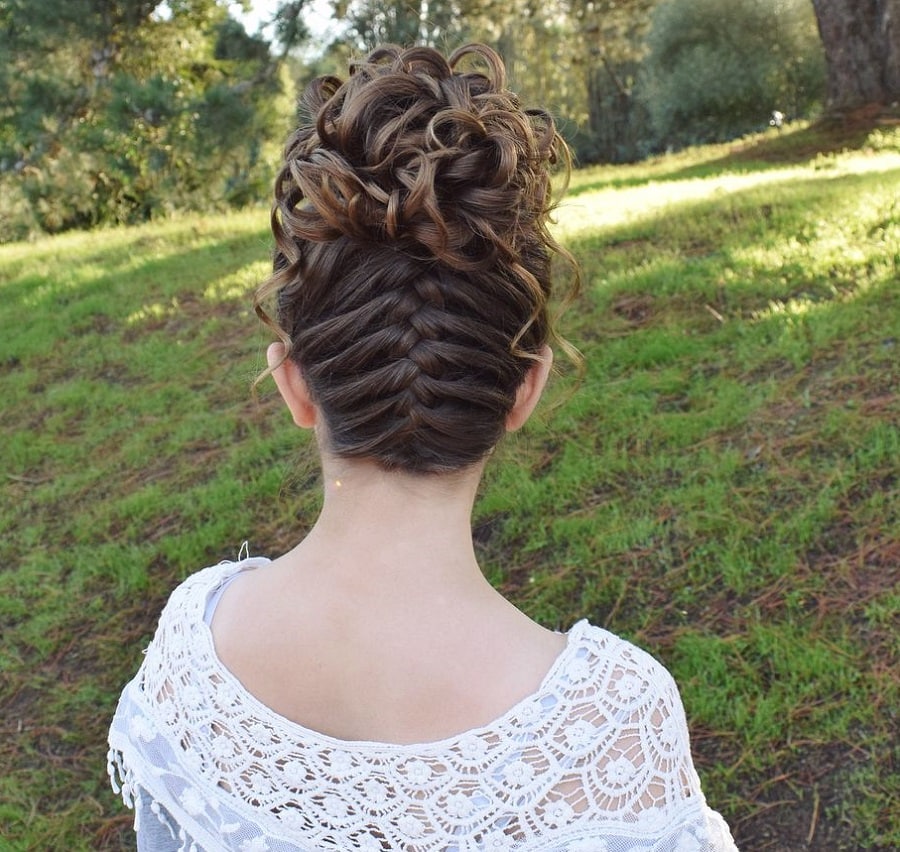 The simple yet interesting updo has an upside-down braid and a twisted bun. Curl the end of your tresses to achieve a clean and defined look. It's not important to look sophisticated all the time.
So let a few things hang free. Also, think about adopting a purposefully uncombed topknot to freshen the look.
Heart Shaped Buns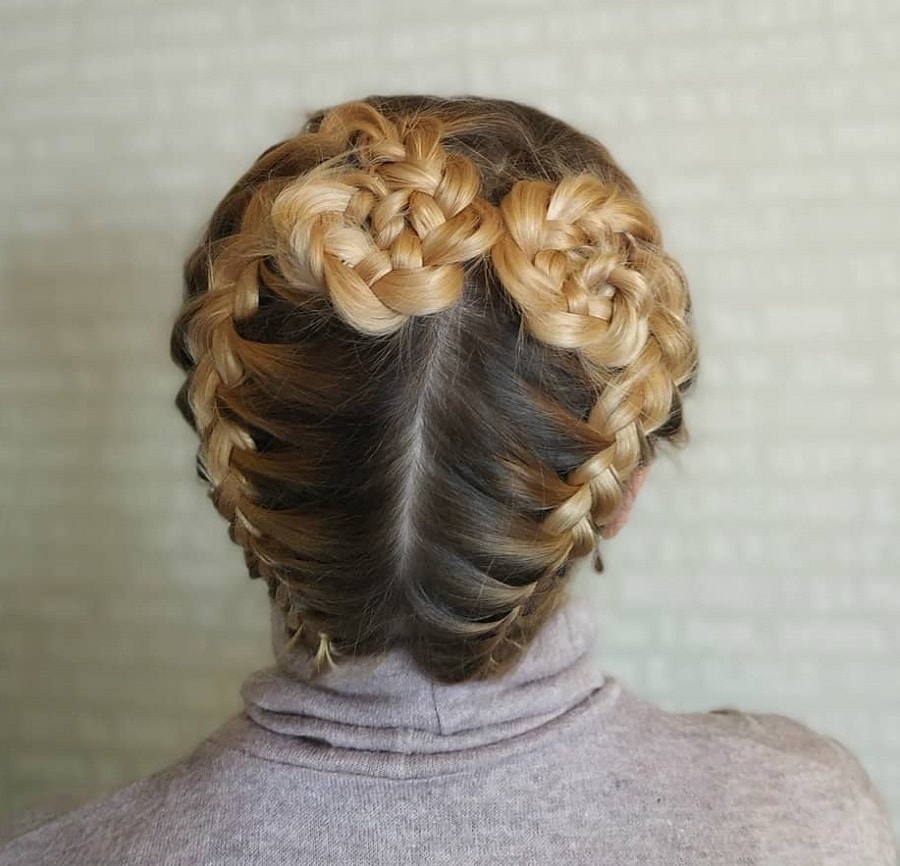 Try out this hairdo soon. This braided hairstyle has been made backward. Finished it in a heart-shaped updo that resembles a crown.
This hairdo is lovely and a great choice for every outing you have planned. This ombre style would appear even prettier on you.
Ribbon Knot
You have more options besides a standard bun to complete your upside-down french braid hairdo. This fashion is sleek, refined, and imperial.
The dazzlingly exquisite updo with a ribbon epitomizes cute and charming. Give this intricate hairdo a try if you enjoy subtleties.
Messed Tresses
This updo appears to have very little plait, only a few zigzag portions. However, a sloppy, rough braid is still visible.
A lazy ballerina bun will give you a stylish sunny look. You can wear it anytime if you don't have enough hair to create an enormous bun.
Playful Pigtails
Pigtails are both adorable, odd, and seductive. For this charming appearance, choose French-style braids and wear them in pigtails.
This haircut can be worn with style while out and about or even at a nighttime party. And that too when paired with beautiful clothing.
Blonde Braid Bun
Once you've mastered the art of upside-down French braid, you can blend it into any other braiding design to get an entirely original look.
This braid creates a stunning combo ideal for a festival or the workplace. Just by doing one short, simple braid, add it to a large bun.
Electro Punk Tail
Over recent years, braided buns have become popular. Split your hair into two portions and braid each one properly. You may recreate this bluish-rocker look.
After dividing them off, braid them inverted in French from the back of the neck to the crown area. Once finished, create space buns with the leftover hair.
Fiery Red Mess
For Instagram models, this fiery red hairdo is ideal. This is because most loose hair is kept on top of your head. You can go to your cycling class and possibly get away with using hair conditioners occasionally.
Vibrant Rainbow Highlights
This messy haircut is stunning with magenta, green, and orange shades—and we haven't even mentioned the adorable braids.
If you want something classier in regards to braid and bun. This upside-down french braid hairdo with bun is a good alternative since layered braids can occasionally be superior to other braids.
Upside-down french braid hairstyles are timeless and refined. With how you wear your hair, you can maintain the realism of the haircut while adding a modern twist. As a result, they simultaneously make you appear adorable, stylish, and classy. And for precisely that reason, you ought to use them on your upcoming trip.
They take very little time and are quite simple to accomplish. The hairstyles mentioned above are unquestionably must-tries. Choose the one that best suits you, then start French-styling your hair.
Recommended Topics