They are many times have we woke up, and your hair is a total mess. We looked in the mirror and pray for hair that looks perfect as soon as we get up. Hair that needs no grooming is a dream for many girls. We all want the gives ease to do things easily without hassle. Though it seems impossible for many with unruly or unmanageable hair. But luckily, there are a few hairstyles that can give you a hassle-free hairdo. Your hair will be managed and you can now wake up tension free. Then Marley twist is what you are looking for. They are similar to dreadlocks in aesthetics. The Marley twists are a very good and popular choice amongst girls that desire low maintenance hair.
Marley twists can be done in natural hair if you have thick hair, or you can buy extensions if you have small or low-volume hair. They are perfect to be molded into twists. There are many twists that you can go for like Havana twist, Senegalese, and Kinky twist. But Among these our favorite is Marley twists. It looks gorgeous and stands out for being relatively easier to do. The hair also grows naturally and merges into the twist. We have collected and bought you different options to style Marley twists. I hope that you will love them and they will become inspirations for you. Check out step by step guide of How to Do Marley Twist Braid.
1. Unicorn Marley Twists
In This hairdo, Marley twists are turned into a beautiful pastel purple ombre and it surely is eye-catching. You can die your hair or use extensions for such a hairstyle. The twists are kept very thick. One strand of the twist is kept light purple, and the other is of a darker shade of purple. This makes a beautiful ombre or shade and gives you a unicorn look. This is a girly hairstyle and will make you look very cute, but also, at the same time, trying such a color makes you look bold. This gripping hairdo is a must-try for all the vibrant ladies out there.
2. Irregular Jumbo Twists
Who doesn't love long beautiful locks? What's better than having long hair that are not painful and are easy to maintain? These Marley twists help you get that. Long hair that falls freely. With these, you will not have to wake up worrying about what to do with your long hair and how to manage them. If you love long and thick hair, This is a must-try look where long strands of hair are in Marley twist. This will help you have a sorted look, every morning when you wake up. Which always seems like a task if you have long hair. Also, they look very beautiful and bold. You can add extensions if you have thin hair.
3. Cuffed Up Marley Twists
One way to style your ordinary twists is by adding cuffs or other hair accessories. Adding accessories to braids have been a very old and forever trend. It holds traditional beliefs in many African communities. Adding jeweler instantly cheer up your hairdo and your look. You can keep the length of your twists the way you want. But they look much better with long or medium-length hair. You can add a jeweler according to your personality. You can go from girly looking to bold-looking hair accessories. Don't forget to have these next time you have twists or braids because you will love them more in this way.
4. Rope Braids and Bow Bun
As we have known braids are the most versatile and flexible hairdos which can easily be modified and redone into a unique hairdo. In this hairstyle, we have taken rope braids as the base of the hairdo. The braids are not done firmly or cleanly but they are thick and messy. The messy textures of braids are giving the style a more cool and funky look. To add more style to this simple style the braids from the crown area are taken back to form a big and fluffy bun which is formed in a bow structure, which is the focal point of this hairstyle. The bow bun catches all the main attention at the top. You can always level up the style of hairstyle by adding color to your hair, as it is shown in the above-provided image that is pink. The color pink in the hairdo is adding more casual style and giving a more jazz vibe to the style.
5. High Ponytail with Braids
Braids are considered to be the easiest hairstyle to do. But there are many easiest ways to form braids. One of them is demonstrated in this hairstyle that is twist braids. The twist braids are the easiest and simple way to form the braid. To create twist braids, take to an equal portion of hair and twist them together and they will become a firm and rope-like structure; that's why they are also known as Rope braids. If you have long and heavy hair, they can be little time consuming but the outcome is worthy. In this hairstyle, the eye flattering braid is used to form that high ponytail. A high ponytail is the most classy and elegant look. Mixing these two hairstyles here, we have formed the casual cum elegant hairdo. The hairstyle is easy to achieve and gives you an everyday look with a classy vibe. It is perfect for everyday chores, for formal days as well as for a night part look.
6. Golden Rope Braids
As we are talking about braids in this article, here is one more hairstyle which includes The rope braids. As we have discussed above rope braids are also known as Twist braids and formed by twisting two strands of braids together. In this particular hairstyle not, much of is done, but the rope braids are the center of attention. The rope braids are highlighted with golden hair color which is the attention-seeking part of the style. There are a plethora of options of hair color but in this style, we particular choose golden to make it beach perfect. You can also go for a mix and match of colors and give it a new level of style to your hairdo. The ropes are freely flowing with the air which is making them wind perfect hairstyles.
7. Highlighted Roller Braids
Rollers or dreadlocks are other types of braids. Dreadlocks are the snack like structure braids. These braids are mostly found and done by African native people. Form them the braids are traditional hairdo they have been doing these braids for long. In the picture provided above these types of braids are the bases of the hairdo; the real and eye-catching part of the hairstyle is the highlights. In this hairstyle, the light and dark combination of color blond is used. But you can always choose other colors for the styling. To choose the best and most demanding highlight color, you have to visit your hairdressers soon.
8. Golden Touch To The Hairstyle
Braids are the type of hairstyle that does not need any type of accessories to shine. They alone are the accessories to style our hair. But as the styling game is going upwards day-to-day, the accessories are now being involved in the braids styling too. As braids do not need much the accessories part is limited to beadings and closure wiring or ribbons. In this hairstyle, the rope or more commonly twist the golden wire accessories touch braids. We can see from the above image that the accessories are used in a limited area that is in the front. The hairstyle is also considered unique because of soft curls formed at the end of each braid which is also making it party perfect.
9. Colored Senegalese Twist Hair
The twist hairstyle looks so elegant and easy to do. If you like long braid hairstyles, then you can mix it with Marley twists. By this hairstyle, your hair look high in volume, fluffy. To do this hairstyle firstly you divide your hair into two sections. Then you can make loose Marley twists which make your braids look longer. You can style your braids on the right side. You can use colored hair strands or braids if you don't like chemical coloring.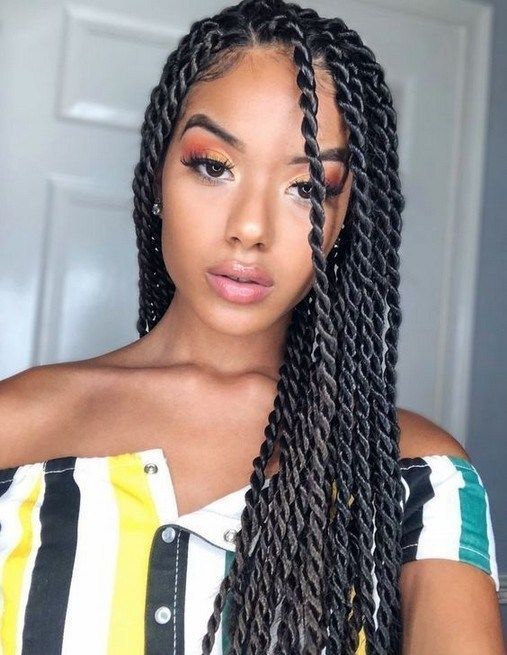 10. Marley's Hair Crochets Braid
Marley twists are the most popular and protective hairstyles. This natural hairstyle is consists of two-strand twists. Crochet is a technique of hair braiding. Marley hair crochet braid is very easy to maintain and easy to do. To make this hairstyle, you need to take two hair strands and twist both the strands to make a braid. This hairstyle is suitable for every hair length. You can add different hair colors for highlighting your hair braids.
11. Thick Braids With Charms
Afro-American hair are mostly curly or voluminous. So, thick braids look so striking and cool. These thick braids are a little different from regular braids. To make this hairstyle, firstly you take two thick strands and twist it to make a braid. After you finish all your braids, then you can add charms or beads. Hair jewelry looks so nice and gives a unique look to your hairstyle. You can make an updo or bun for a change. Long hair are not easy to maintain so this hairstyle is summer-friendly.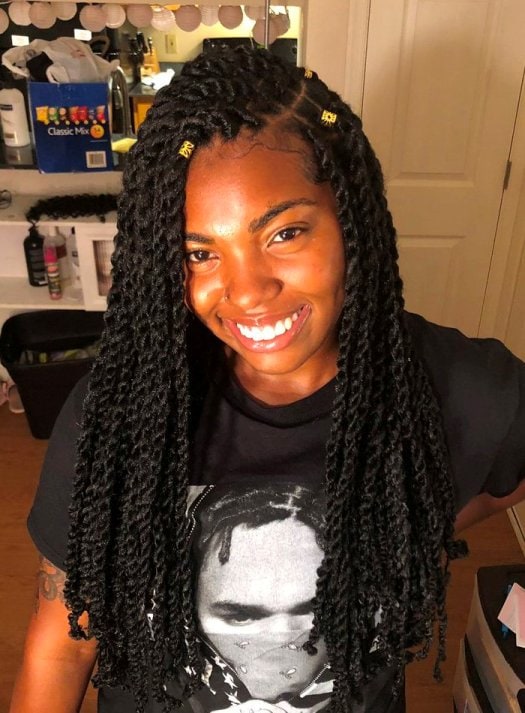 12. Luxe Twist African Braid
This luxe twist braid is glossy, super long, and thick. This hairstyle looks so amazing and classy. This hairstyle is a little difficult to make so save it for special occasions. Luxe twist braids are long but heavy for your scalp. Make sure your hair is strong or properly conditioned. In this hairstyle, braids are close twists that's y it is not for short hair. You can style your luxe braids according to your outfit or face structure.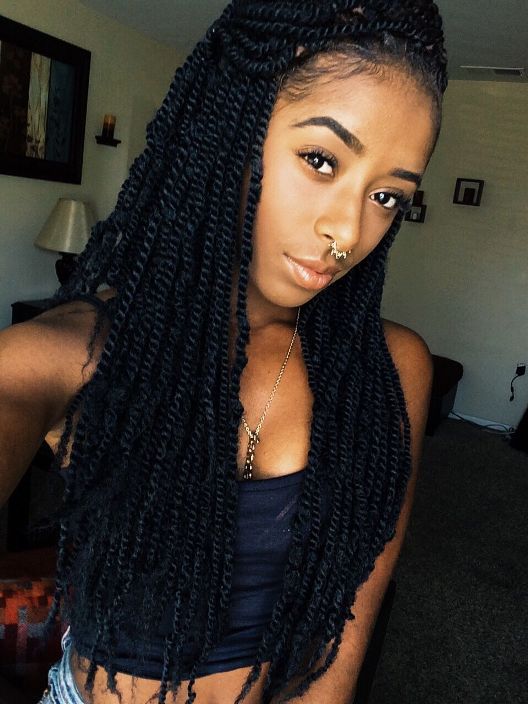 13. Free Ends Marley Twist
This free ends Marley twist hairstyle is for short or medium length hair. In this hairstyle, ends are open and curled. Divide your hair into two sections and start making twists from the roots. Curl your ends to secure your braids from opening. This hairstyle looks so difficult to make, but it is easy if you practice it properly. You can wear an off-shoulder outfit that can properly show your curly ends. If you want some cute look, then you can add some colorful beads.
14. Crown Braids Up-Do
This hairstyle is the best hairstyle who likes up-dos. This hairstyle is creative and stylish. To make this hairstyle start from thinner hair strands and convert it into smaller twists. Then take some braids from the middle part and make a loose bun. Secure your bun with pins. This hairstyle is perfect for parties, print shoots, etc. Girls who like piercings or rings love this hairstyle. This crown braid up-do lasts from one to three days.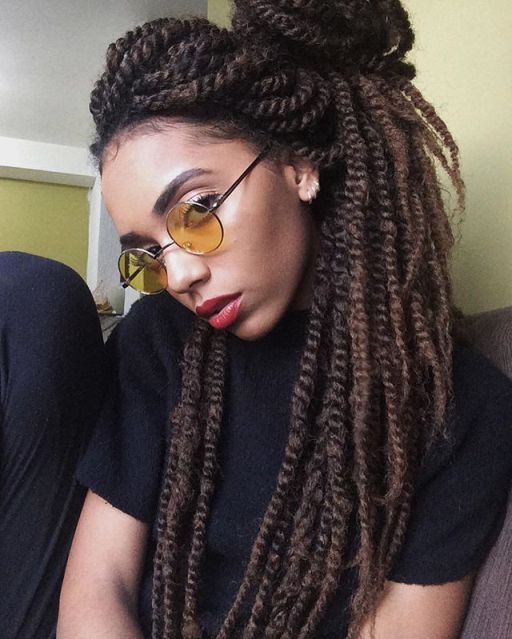 15. Naturally Wrapped Beaded Twists
This naturally wrapped hairstyle is, especially for curly hair. Curly hair provides a unique texture and looks lighter than any other braids. This casual twisted style is good for your busy day. Start your hairstyle by dividing from the middle and make twisted braids on each side. Then Add golden beads to front braids. With bright highlighted makeup, this naturally twists look so nice. You can wear a bold outfit to look more attractive. This hairstyle is loved by many pop singers etc.
16. Warm Blonde Twist Hairstyle
Blonde hair color is lighter but looks very pretty and protects your hair from damage. The main eye-grabbing part of your hair is this blonde hair. You can add different shades if you like more color. This hairstyle is not for offices, schools, etc. This hairstyle wants some maintenance because of its blonde color. Wear Outfits that are properly coordinated with your hair color. Some elegant and simple jewelry also looks amazing with this hairstyle.
17. Dreaded Marley Locks
This hairstyle is so versatile. Marley twists are more likely dreadlocks, but this hairstyle is a new version of classic dreadlocks. Dreadlocks are not easy to style so these locks are perfect for your daily life. According to your face structure or your choice, you can style it on your one side or in the center. You can wear some diamond or silver neck jewelry to look simple and elegant. To make it simple, you should wear nude or light brown lip shade.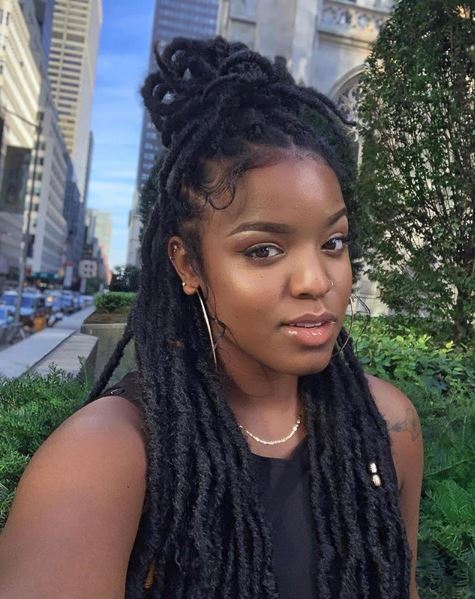 18. Marley Red Triangle Twist
Marley red triangle twist is a gorgeous hairstyle for long and thick hair. Marley's twist hairstyle is mostly protective and practical. You can make endless designs from red braids. Start to divide your hair into small sections like triangles. Start making twisted braids from each triangle. Make your statement with this hairstyle. If properly maintained, this hairstyle can be lat longer up to 4-5 weeks. You can wear a high neck top or sweater for more swag.
19. African Braid Wrapped In A High Bun
Buns are always trendy and comfortable. There are different types of bun-like side buns, messy buns, etc. high bun is one of the most popular buns. To make this hairstyle firstly wash your hair and condition it properly. The second step is to make two strands twisted braid. Tuck all your braids into a high ponytail and turn into a high bun. Hair are properly secured in this hairstyle which is easy to maintain. High buns show your face shape, so to highlighting your look, you can wear some round earrings.
20. Wrapping Faux Locks Hairstyle
This wrapping faux locks hairstyle is filled with colors. This hairstyle makes you feel like a fashionista queen. The colors which are used in this hairstyle are emerald green, shiny golden, dark brown. These colored finger loc braids look so different because of their vibrant colors. You can use some hair accessories which can give you a prominent look. Wear some beaded jewelry and tube top with very light makeup. You can also wrap your black hair with colorful threads
21. Havanamarley Ring Braids
This Havana Marley twist hairstyle is the combination of two hairstyles. Havana and Marley twists are similar to each other. Rings are something that can come from traditional hairstyles. So this hairstyle has a touch of traditional hairstyle. Havana braids are always looking awesome on long hair. Silver round shaped rings is tucked in every braid. Make a partition on the left side to shape your face. These Havana Marley ring braids are perfect for stage shows or concerts.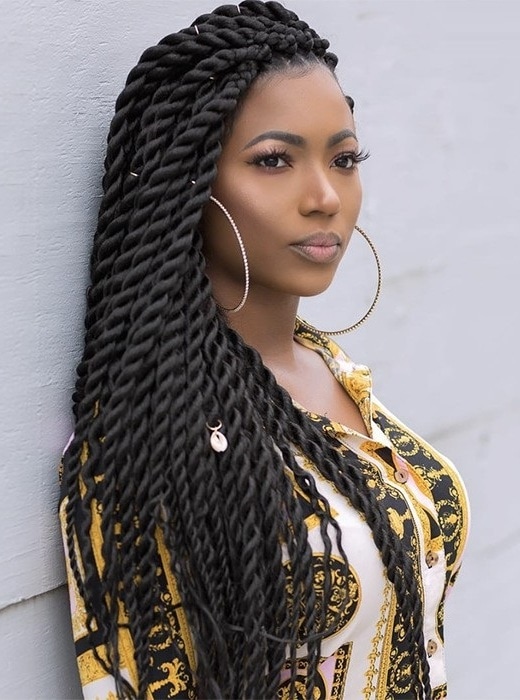 22. Finger Waves Marley Twists
Finger waves Marley twist is a stunning hairstyle for Afro American hair. This hairstyle is perfect for all occasions. In his hairstyle extensions are attached to your hair strands, which give strength to your braids. This shiny, clean hairstyle is easy to do on your own. Marley twists can last for up to 2-3 weeks with proper maintenance. Extensions are the best for those who have short or medium hair. This hairstyle adds texture to your natural hair.
23. Knotless Crochet Hair
The knotless or invisible root is a technique of braiding. In this hairstyle, these knotless roots look unique and beautiful. This hairstyle is a little difficult because when you see from the top part, then you see a boxy structure made with braids. A professional does this hairstyle. This hairstyle shows your forehead and jewelry. A bright red lip shape suits very well with these crochet hair. If you want a chic look, then this knotless crochet hairstyle is perfect.
24. Cool Jumbo Box Braids
This box braids helping you to create a bold look. To make this, the hairstyle takes thick strands of hair and convert it into jumbo braids. Now make a bun using front or top hair. This hairstyle gives a fresh taste to your overall look. If you don't have perfect natural black hair, then you should use hair extensions for a long natural look. A perfect bold dress or crop top with high heels fit well with the box braids. Some male or female afro American film actors do this hairstyle for red carpets or events.
25. Semi-Unraveled Rope Twists
Semi- unraveled rope twists add a casual vibe to your style. These thin three-stranded twisted ropes look so lovely and refreshing. This hairstyle is easy to do but looks so difficult. There are many types of hairstyles but few styles are easy and basic so this is one of them. To make this hairstyle, you need to take very thin three strands to make rope-like braids. You add some attracted and colorful jewelry to balance your look. Ends of these braids appropriately secured.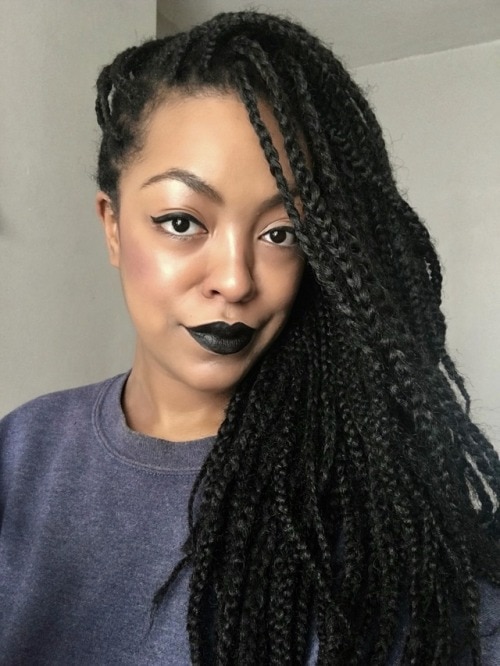 Marley braids are also known as kinky braids, afro American women or girls usually wear it. It protects your hair's natural look without using hair styling products. This hairstyle has different types of hairstyles which can work for small, medium or long hair. Some of the hairstyles like simple Marley twists, crochets, beaded twists are very easy to make. Most of the Marley twist hairstyle is summer-friendly. Some traditional hairstyles merged with modern Marley hairstyles which is very best for some occasions. It lasts for 3-4 weeks with proper management. The advantage of this hairstyle is you can make different designs or patterns using Marley twist braids.