The famous Marley Twist braid gets its name from the famous singer-songwriter Bob Marley who rocked the hairstyle, much like his songs. The growing trend has taken over the African-American men and women, majorly because it helps them put their usually frizzy hair in place. The braids are as the name suggests, twisty, and trendy at the same time and look great when made multiple times through the thickness of the hair, with twisty extensions when required, to make them look thicker.
Once made, they can be styled in so many different ways, and give the extra edge to your look, making the hair look bulkier and cleaner. Wear your Marley Twist braids open, or color them to a caramel, wear it in a bun or open them up after a long time to grab the perfect curls in your hair; it's a style that is evergreen and looks great at any time. It's advised to keep them for 8 weeks at a maximum and then open them to pamper your hair with some oiling.
Marley hairstyle is actually a type of store-bought hair used to create popular styles like Marley twist. There are several variations of Marley braid from extension hair. It is offered in different sizes, length, and colors such as ombre Marley hair and blonde, and many more. There is various curl pattern which one can carry. For caring Marley hair, the hair is washed and reused.
Supply – Things You Need To Make A Marley Twist Braid
Marley Braid extensions (not compulsory but helps add volume)
A dry towel
Hair clips
Rat tailed comb
Hair cream (choose a tried and trusted brand that suits your hair)
A bowl of hot water
Scissors
Steps To Make Marley Twist Braids
Divide your hair into numerous sections using the rat-tailed comb. Clip up all but one section of hair to work on first.
Divide this loose section into two.
Now, apply some hair cream to the two subsections to prevent any frizz or unwanted hair peeking out of the braid.
Take a handful of Marley extensions and fold them in the middle.
Place the Marley extensions in the middle of the divided sections and keep merging every half of the extensions with the two divided sub-sections until it covers the roots.
Now, twist the extensions and your natural hair together in a counter-clockwise direction, till they are merged fully.
When you reach the end of the hair, use the scissors to chop off the extra hair strands or extensions to give a neater look.
Repeat the above steps with the remaining sections of hair that were clipped, one at a time.
Finally, dip all the rough ends of your hair in boiling water to seal them properly and then dab the water out with a cloth. Do not touch your hair ends before they have cooled down.
You're all done! Style your trendy Marley braids any way you like – a bun, open braids, or a ponytail, it looks good either way!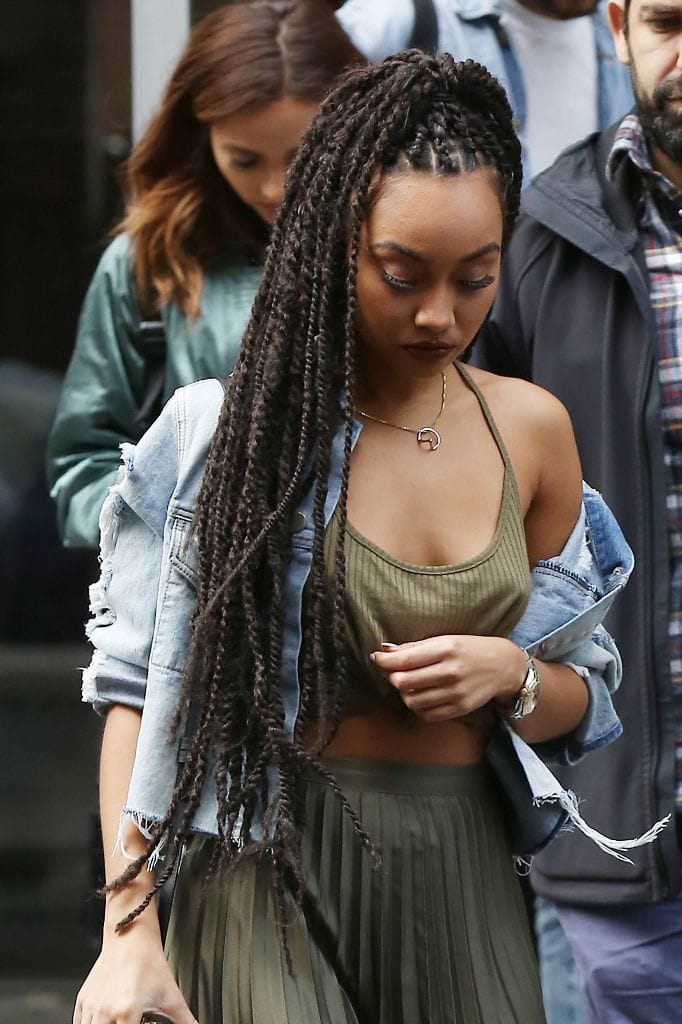 Styles You Can Create with Marley Hairstyle
Marley hair for crochet styles- Crochet hairstyle is simply created with the help of extensions. It is created into cornrows braids. If you want, you can leave this hairstyle and can go for afro style. Or set your hair with rollers to give yourself a curl style. To give this style a shine, you can use hair spray or shine spray. As Marley's hair can become dry after some time, with the help of these hair sprays, you can prove shine and moisture to your hair.
Marley braids– Marley looks for braiding has a similar look as yarn braids. There are several braid option which you can do with Marley Braids are box braids, cornrow braids, straight back hairstyle and ponytail braid hairstyle.
Tree Braid Style using Marley Hair– For this look, you can cornrow your hair and add Marley hair to create this look.
The best hair to use for Marley's hairstyle is Kanekalon hair. It is cheaper and an alternative to many other twist hairstyles. Marley twists are very versatile, allowing one to wear twists in different styles. You can easily go for a classic down position. You can go for a high ponytail, bun, or half up and half down. Many women decorate Marley twist with highlights, hair cuffs, clips, and cowrie shells. It is one of the perfect styles to experiment and play with. Being a protective style, it also promotes the growth of your natural hair. Your hair can grow up to an inch within 8 weeks. This hairstyle can last for up to 8 weeks, promoting the retention of your natural hair. Since this hairstyle is quite large, you may feel heavy and weigh down your head or neck. Again this hairstyle is not for the sensitive scalp as it may cause a breakage of hair.
How do you make Marley braids softer?
To make Marley braids after, it is important to use a good quality of hair cream and extensions. The hair cream you use must be from a tried and trusted brand and, most importantly, should be applied to every division of hair. Since Marley braids keep your hair stretched, it is important to provide the necessary moisture so that the hair does not lose its health. The material of the extensions should also be a good one, so that unnecessary hair does not come out of the braid, as that makes it look shabby.
How long do Marley twists last?
A well-done bunch of Marley braids can last up to 8 weeks. The braids must not be kept longer than that as it can cause a loss in hair quality due to dirt and lack of oil in the hair. Some men and women have begun accessorizing their braids with clips and clutches. A well maintained Marley twist braid made with good products can last up to 8 weeks.
How to maintain Marley twists well?
Maintaining Marley twists is an easy and necessary task. The better they are maintained, the longer they last. It is important to follow a night routine and tie up your braids in a silk or satin cloth before you sleep. Keep your head moist and use a conditioner, while also washing your braids periodically. Re-do the ends of the braids to keep them intact, and lastly, don't leave them on for too long to avoid hair damage. Check out Tips To Restore Your Damaged Hair.