Many women use the French twist updo as their go-to hairstyle for weddings and other formal events. It's easy to see why. It's elegant, and it's easy to pair with a nice hairpiece.
It's a style that's been around for centuries, and it's still as elegant as ever. There are numerous ways you can create this stunning do, so take a look around and see which one calls out to you.
Elegant French Twist Updo Hairstyles
Some of these looks are more complex than others. Some are very simple and you can do them at home. There's bound to be something here that you'll love to wear.
Understated French Twist for Red Hair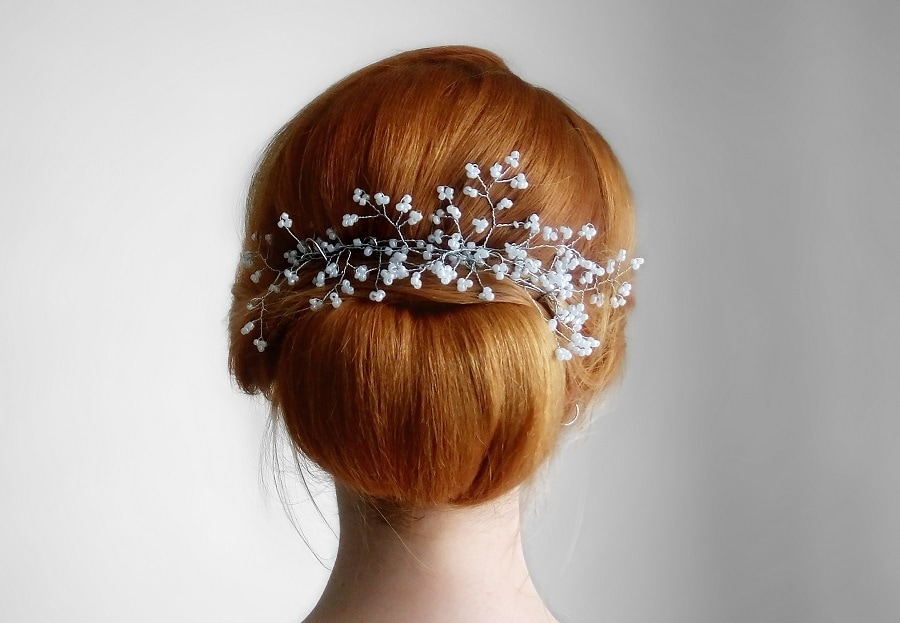 Red hair stands out very well on its own. This means you don't need an over-the-top hairdo to look fabulous.
Here the twist folds from the nape of the neck. It's drawn towards the center of the back of the head. A nice piece of hair is draped around it. It's decorated with silver and white.
Sleek Updo with Highlights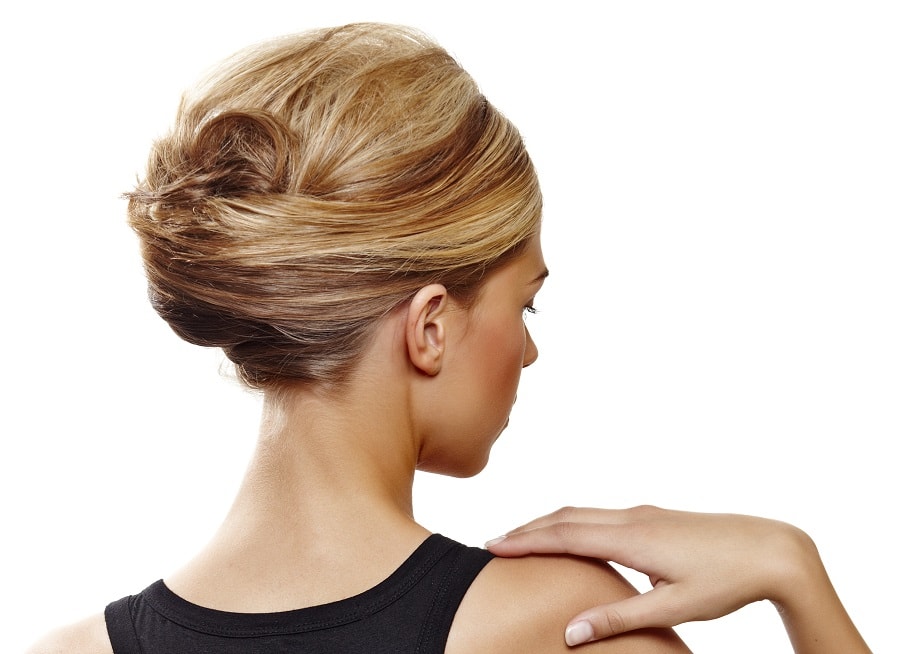 Would you prefer your hair to look super sleek? You can do this by drawing the sides of your hair back. The back portions are then tucked into it.
Some hair peeks out over the top. The top of the style has nice volume. This is a great DIY French twist updo and works as a good everyday hairstyle too. Highlights make it pop further.
Side Bun
Side French twist updo creates a stunning variant of this look. Here it's very simple to achieve. The locks are gathered on one side, twisted, and tucked.
A beautiful lock of hair from the front tucks into them. One little curl is left free to add balance to the look.
Twisted Style for Curly Hair
Adding rolled sections to your hairdo is great for making you look much fancier. Having curly hair makes these stand out even more. On top, there's some textured and patterned locks. These locks pull back into the main hairdo at the back.
Low Fishtail Braided Updo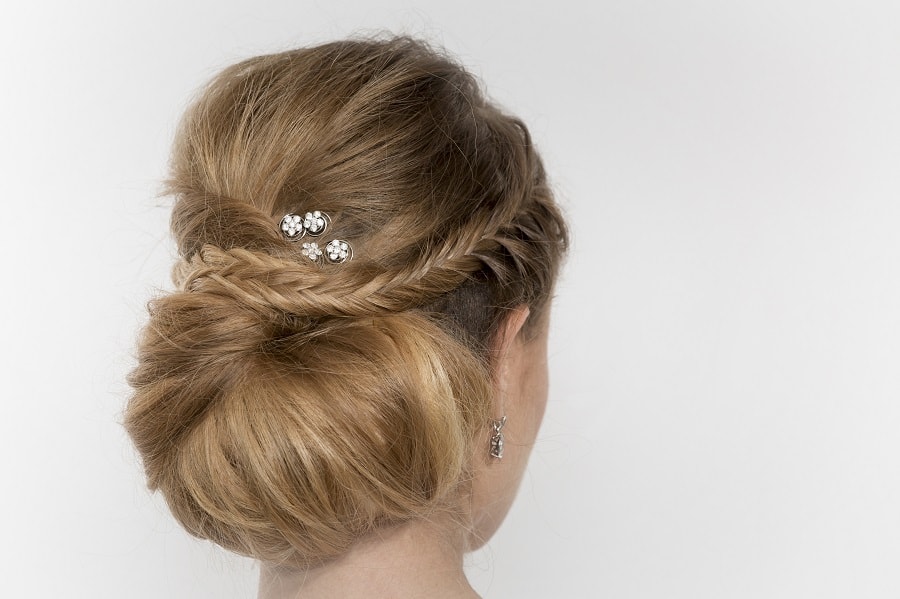 If you want to add some more texture to your look, then consider a fishtail braid. This one wraps around the sides and back of the head. It forms a distinct circle above the main section of the hairdo.
Elegant Prom Hairdo
Styles that have been wrapped around themselves like this are very sleek and elegant. They're wonderful prom hairdos.
At the back, all of the locks are pulled in one direction. There's a nice rounded shape just below the crown of the head. The front and sides are pulled neatly into this rounded shape.
Crimped Braided Updo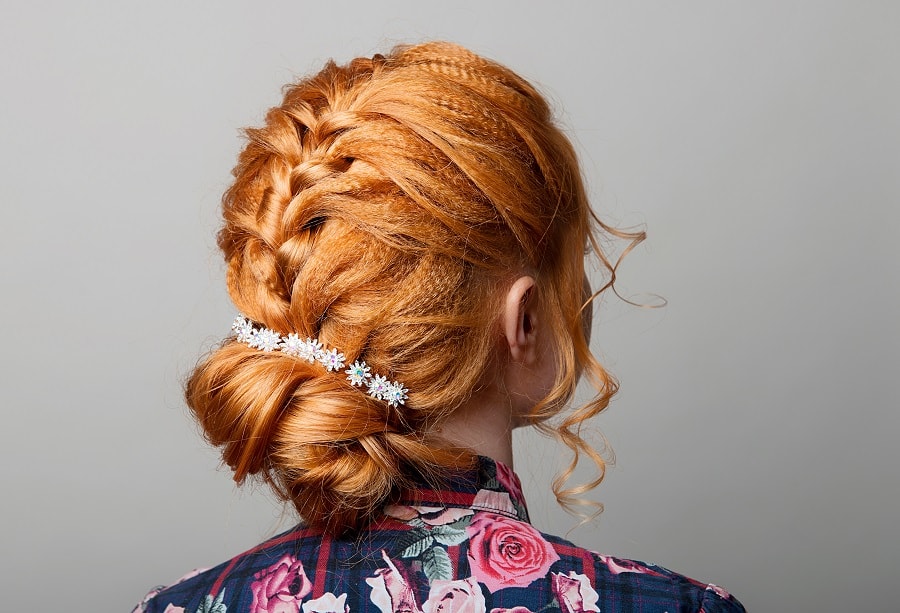 You can add so much more texture to your hair by crimping it. It creates a visual effect that's simply stunning. There's a nice twist that's low on the head here. A braid runs from the hairline down into the knot. Some curls frame the face.
Messy Updo with Face Framing Curls
This French twist updo hairstyle with a lot of effort put into it. Highly distinct wavy sections of hair wrap around the main twist.
There are some light waves that fall by the face. Beautiful flowers have been placed into sections of the overall look.
Wavy Low Bun
You can create a lot of texture by carefully arranging certain sections of tresses. This has been done at the back of this style. Most of the locks are gathered into a knot low on the head. A nice white flower decorates it.
Sleek Twist with Braids
Would you like to create a very sleek look like this? Almost all of the tresses are pulled down into it. The main part of the hairstyle wraps around itself so perfectly.
There's not a single hair out of place. One braid runs around the back of the head. It sits on top of the main twist updo.
Are you trying to create a more casual French twist updo that you can wear as an everyday hairstyle? Then here's a great example of that.
The sides are drawn to the back of the head. Most of the tresses are pulled up and then secured with a hair clip. It's a great way of keeping your long locks out of your face.
Short Hair Bun with Petals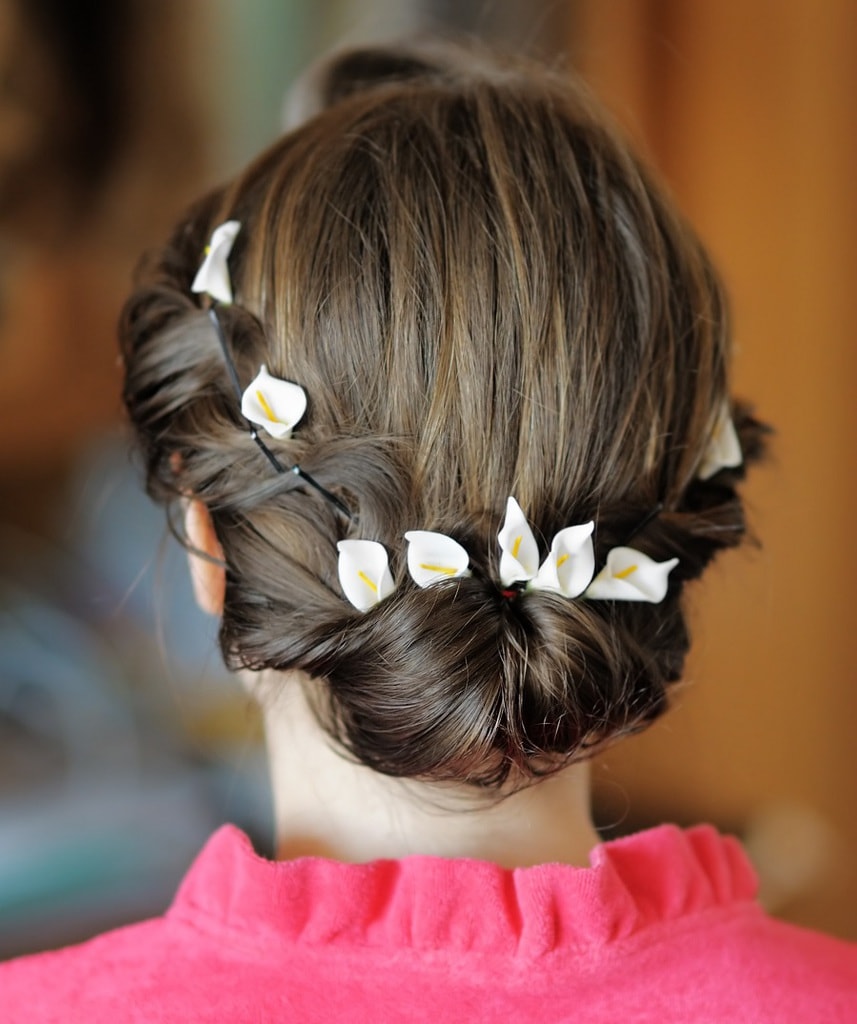 Wearing a look that sits around your head and frames it will always make you look incredibly beautiful.
Here the twist starts at the hairline. It pulls around the whole head and comes together at the nape of the neck. Numerous little petals decorate the style.
Knotted Updo for Purple Hair
Even people with unique hair colors and hairstyles can wear a French twist updo. The bright purple hair really stands out. The back section of hair wraps from side to side.
The top and sides are pulled back and tucked into this section. There's an undercut visible that creates delightful contrast.
Sleek Retro Twist
There's something very elegant about an understated hairdo like this. It split down the middle. One side is drawn back and hidden underneath the other.
The opposite side forms a nice roll at the back of the head. It's held in place by a long, diamond clip. It has also a beautiful floral diamond clip keeping some strands in place.
High Twisted Bun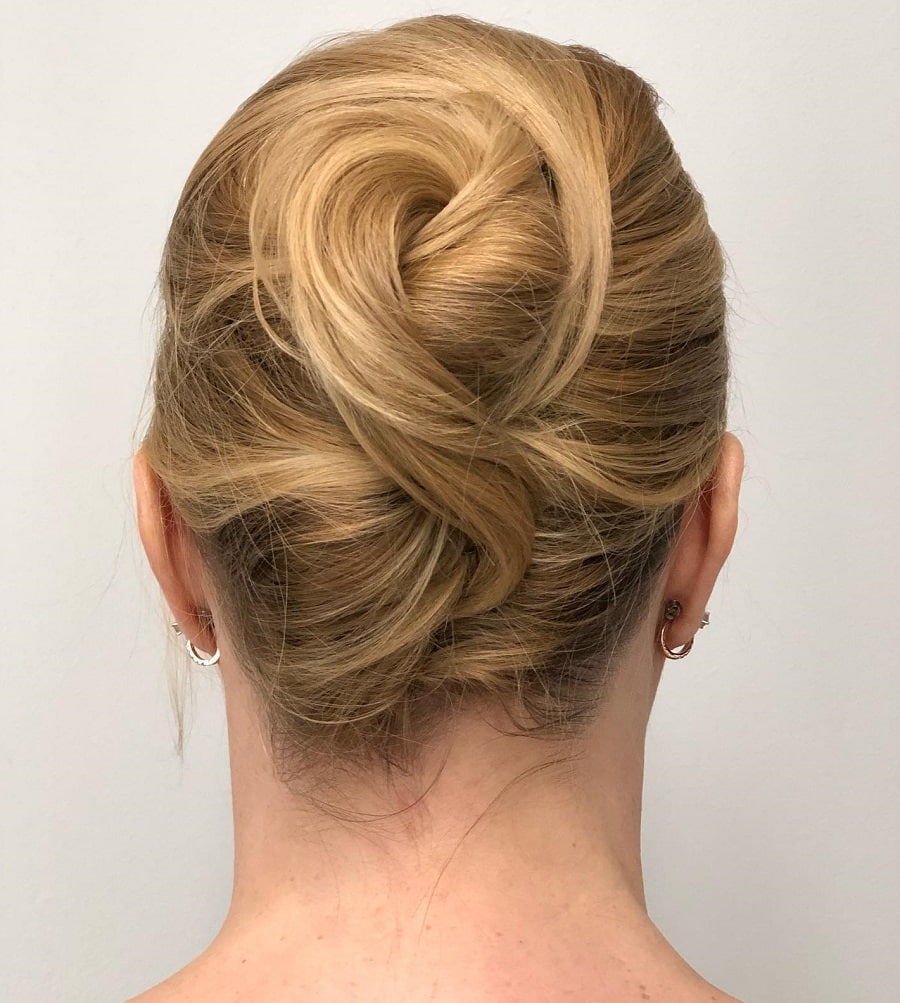 Many of these looks are focused low on the back of the head. This one is higher up. All of the locks are pulled towards a rounded updo. It creates a very cohesive and visually dynamic look.
Teased Updo for Medium Hair
This Christmas party hairstyle tries to keep the locks tight to the head. This one creates a large shape that's distinctly separate from your head.
It's very round and smooth. The tresses are pulled loosely into it. Some beautiful leaf and acorn hair clips decorate it.
Victory Rolls
Women with brightly colored hair will enjoy wearing this French twist updo. There are two large victory rolls at the front. At the back, there's a voluminous wrapped section on the right side of the head.
Vintage Updo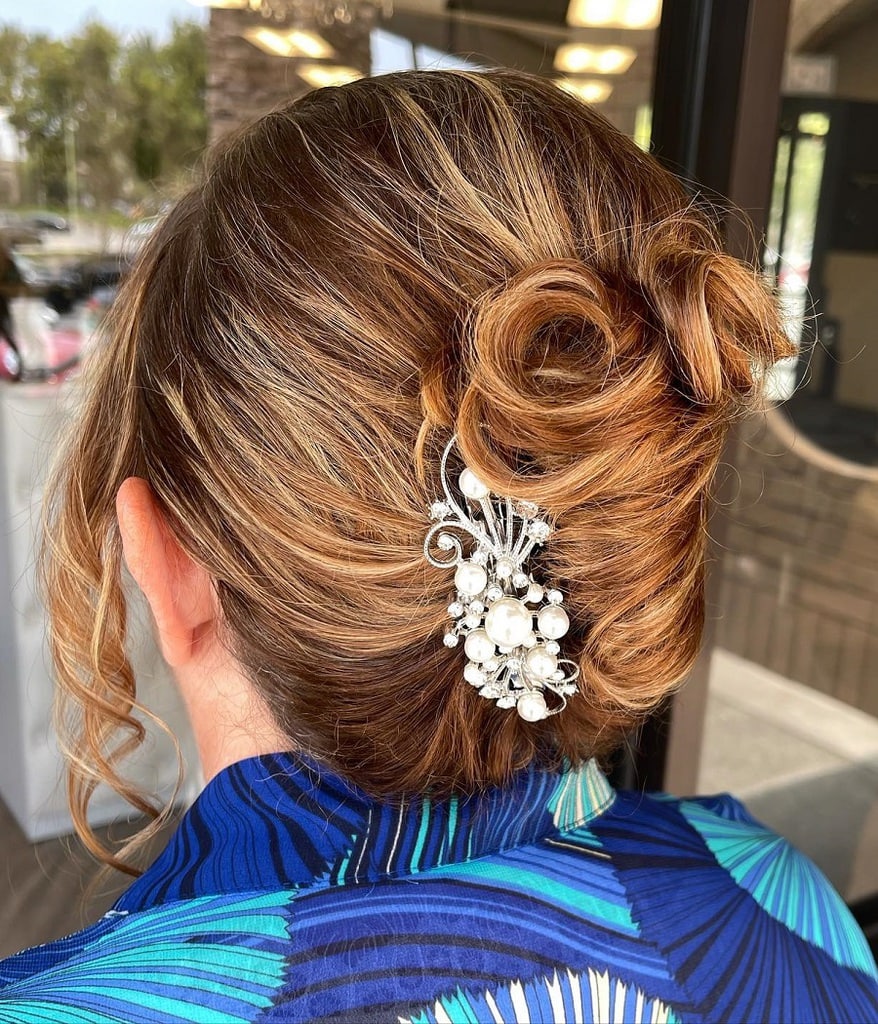 Check out this vintage updo style. The top and sides of drawn casually into the main part of the hairdo. One side is secured with a single hair clip covered in pearls. There are several curled sections that add a dynamic twist to the overall hairstyle.
Casual Updo with Headband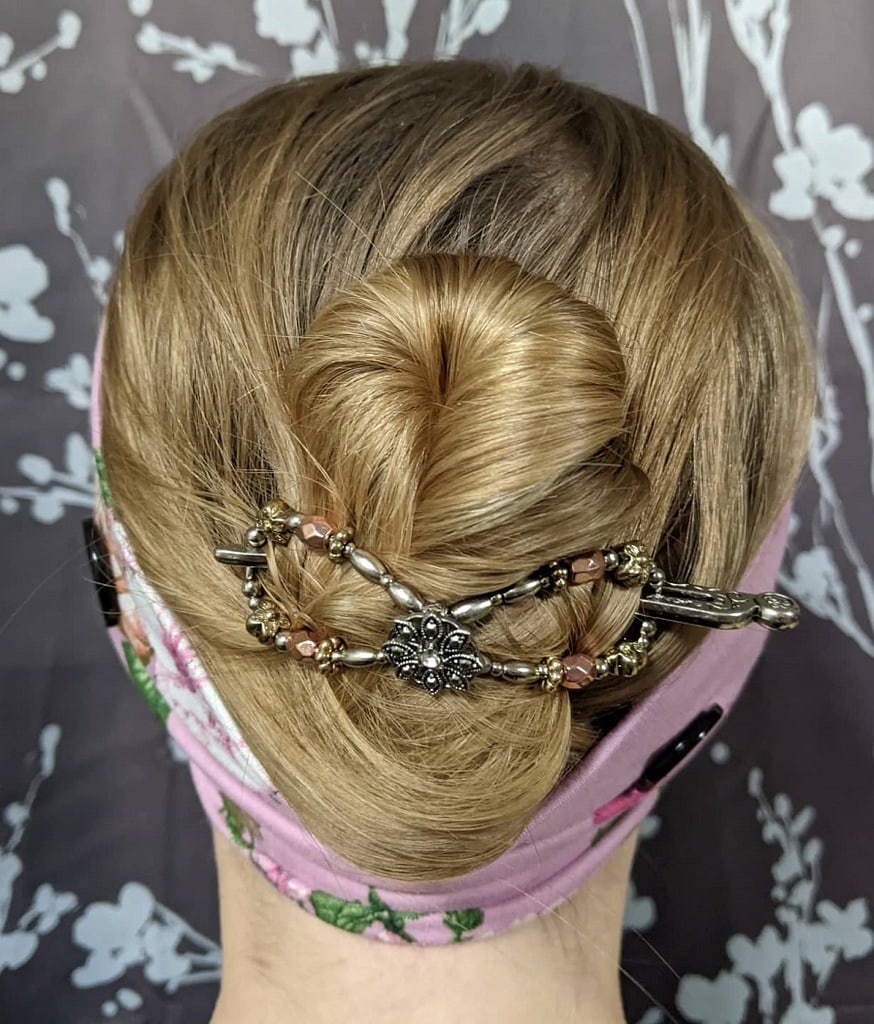 Sometimes French twist updos can feel very heavy. You may feel like your locks are pulling at your head and trying to come loose. Hairbands can keep them in place if you're wearing this as a more casual style.
Twisted Bow Bun
Most of the time you'll see one cohesive roll to shape in hairstyles of this type. However, here there's a small rolled shape with some loose ends. A bow hair clip holds it in place.
As you can see, French twist updo hairstyles are mostly worn at formal events. However, there are several variations that look wonderful for more casual parties and day-to-day events.
Decorating them with flowers is common. Bows and jeweled hair clips also do the job nicely. There's something to appeal to a wide variety of preferences here.