With the '90s being an exciting era of beauty and hairstyling trends, we are looking to bring back an iconic hair accessory from the past – the claw clip. The timeless claw clips are available in a wide range of colors, shapes, sizes, and designs, which makes you completely spoilt for choice.
Now, you can stop thinking about the claw clips as only a way to put up your hair when you are around the house. These clips can be extremely fashionable and deserve a spot in your hair accessories closet. If you haven't yet joined the claw clip trend bandwagon, this is your chance.
Claw Clip Hairstyles
Scroll ahead to view our list of top 20 claw clip hairstyles for every hair type, texture, and length.
Tousled Tucked-in Braid Updo
The tucked-in braid updo is a simple and elegant hairstyle ideal for long hair.
For this hairdo, french-braid your hair from the top of your head and stop a little short of your entire hair length to tie your hair into a twist with the clip.
Classic French Twist
An everyday wear updo that looks incredibly chic is the french twist. Gather all your hair in a twist, and lay it vertically from the neck to the back of your head to make this hairdo.
Instead of tucking the ends of your hair inside the clip, leave them as it is. This claw clip hairstyle is perfect for you if you have naturally thick hair.
Half-up Twist
If you want to spice up letting your hair down, the half-up twists which add a layer of dimension can be your new best friend.
To create this claw-clip hairstyle, grab thin sections of hair on either side of your parting, twist them lightly and overlap the two sections down to the nape of your neck to secure with a small clip.
Half-up Half-down Bun Updo
One of the most stylish uses of the claw clip is to make a half-up half-down bun updo.
Take the frontal section of your hair to secure it into a twisted messy high bun and leave the rest of it loose to flaunt your long locks.
Twisted Bun
If you aren't a fan of top knots, the best way to get all the hair out of your face would be to do a twisted bun. For this updo, tie a ponytail at the back of your head, twist it, and use your clip on the side to put together the whole look.
Curly Hairdo
The half-up half-down updo is the attractive yet practical solution to your worries for all the curly hair girls struggling to style their hair. Recreate this hairstyle with a big clip to get the best of both worlds.
Long Ponytail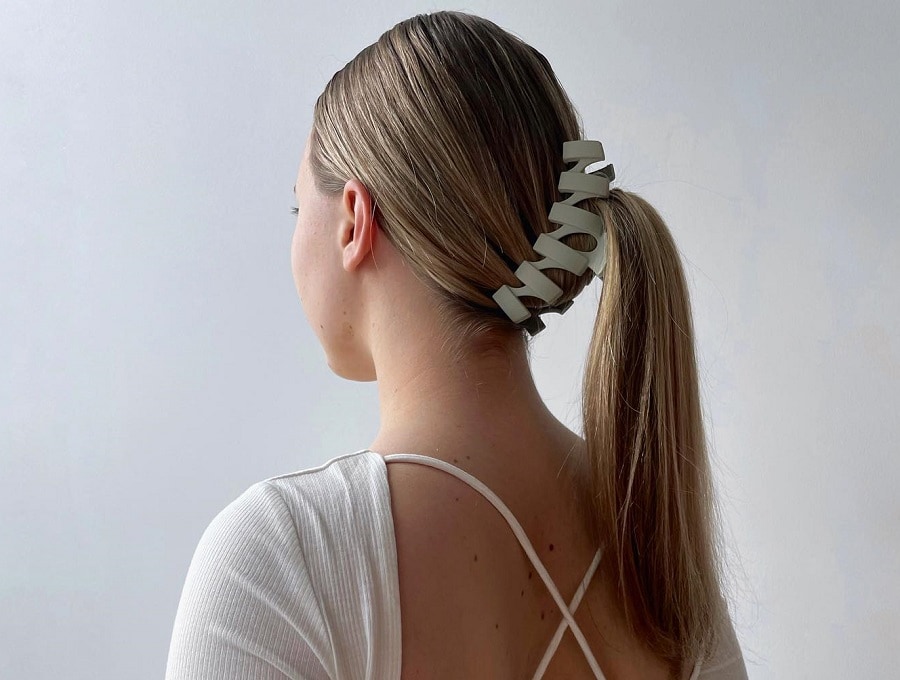 Who said claw clip hairstyles have to be boring and simple? Get yourself this fun zig-zag-shaped accessory to elevate your ponytail game.
This adorable sleek ponytail hairdo will make you look effortlessly beautiful with zero heat damage wherever you go. Don't forget to brush your thoroughly to ensure no tangles disrupt the clean look.
French Pleat
The tucked-in french twist is a claw-clip hairstyle that screams sophistication and purpose. You can add a peek-a-boo twist to this hairstyle by leaving out a piece of hair to create a slight bump on the top.
Accessorized Updo
If you are looking for a hairstyle to compliment your bridesmaid outfit, your search ends with a loose half-up updo. Ditch the classic clips for a striking violet flower clip made of fabric to add a feminine touch to the updo.
Multiple Clip Half-up Hairdo
It's time to break the stereotype that you have to stick with one clip in your hairstyle. Go crazy by adding as many clips as your heart wants with this romantic, barely half-up twist updo.
Braided Half-Updo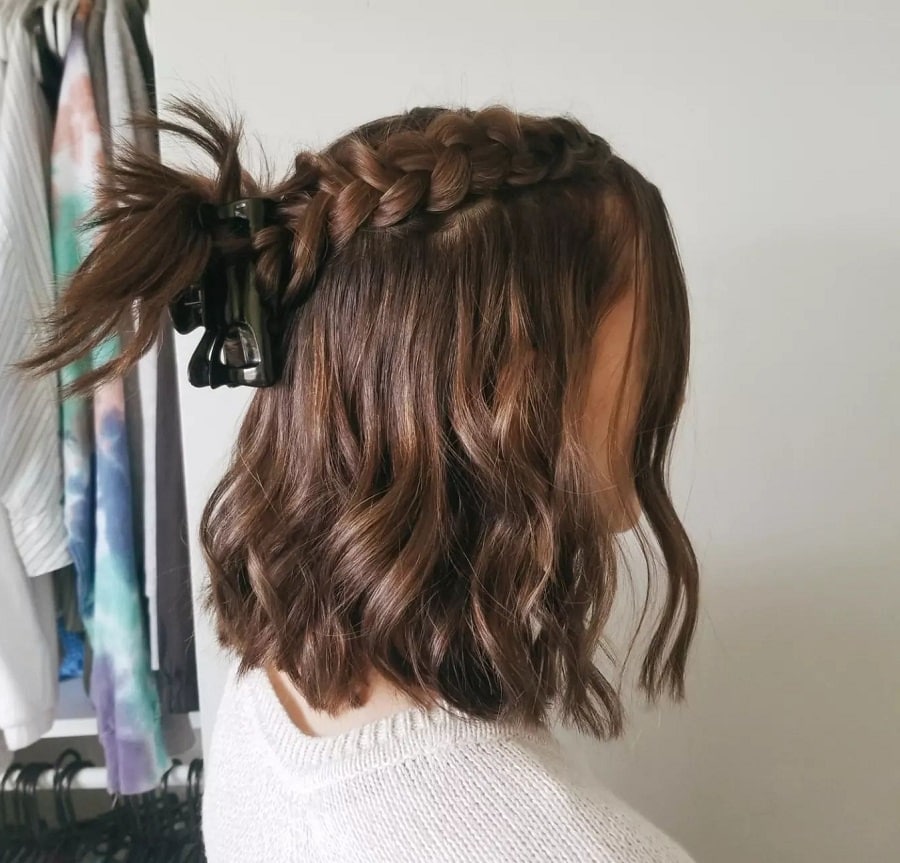 For all the mid-length hair girls, an easy and delicate claw-clip hairstyle to try out is a braided half-updo.
Start by braiding your hair from the crown of your head, then secure the braid with a clip to allow the rest of your locks to flow naturally. You can lightly curl the ends to enhance the overall appeal of this style.
Dark Brown Twisted High Updo
A casual accessorized hairstyle that perfectly fits your requirement for a work setting is the twisted high updo that we can't seem to get bored of. The dark chocolate brown hair color looks good with most skin tones.
Space Buns
Space buns are one of the most trendy ways to put your hair up with a clip. Here, the turquoise blue highlights in the hair infuse an extra sense of drama in this already edgy and fun hairstyle.
Blonde Chunky Braid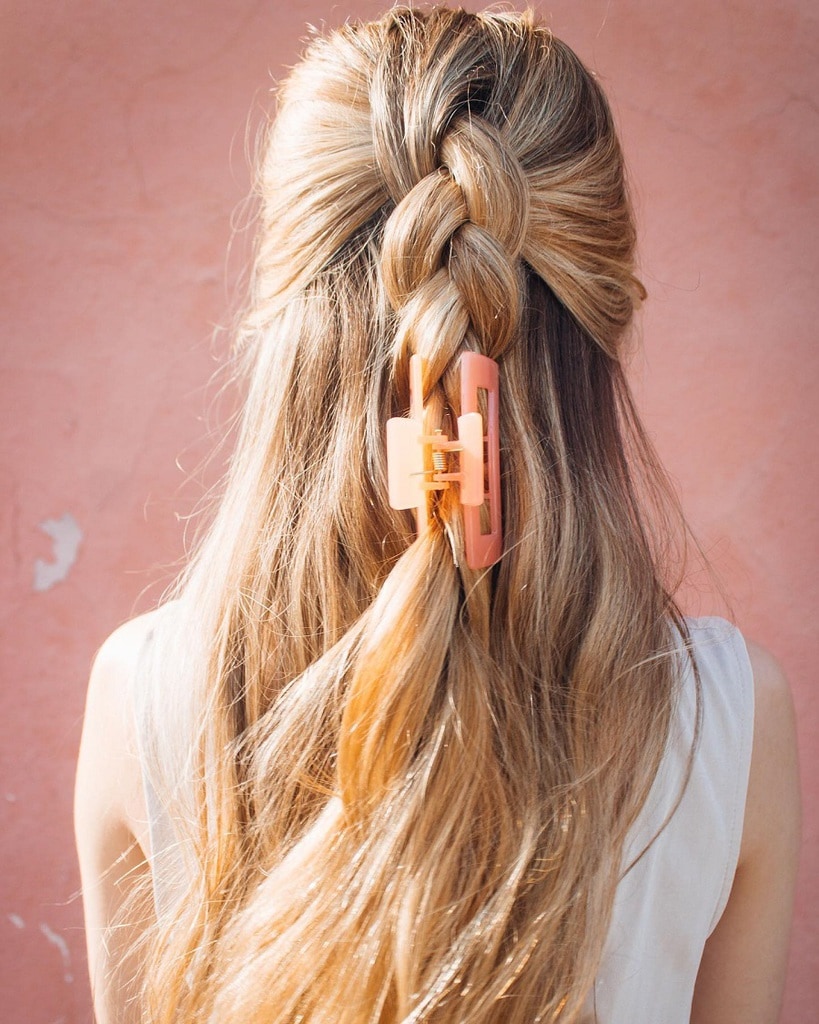 A chunky braid incorporated into a half-up half-down hairdo can make for an adorable and aesthetic hairstyle. You can wear this hairdo to an outdoor afternoon date or a day out with your friends.
Low Messy Updo
Do you want to look pretty even when there's a full day of chores ahead of you? Look no further than the messy updo hanging low at the nape of your neck.
Individual Braids with Half Twist
The half-up half-down claw-clip hairstyles keep getting more and more creative.
We make two individual braids on one or both sides of your hair to add a youthful flair to this versatile hairdo. To help frame your face better, pull out a few strands of hair in the front.
Swirl Ponytail Updo
The swirl ponytail updo is a clip-hairdo that gives off carefree and summer vibes in this crazy heat. We can see that the bubblegum blue rectangular frame clip stands out against the blonde hair with dark roots.
Low Sleek Ponytail
Channel your glamorous inner diva with this polished and fashionable loose low ponytail. Use the circular-shaped claw clip to secure this ponytail. A texturizing spray or mousse can help define the ponytail better.
Simple Braid Hairdo
A fuss-free braid will be your go-to hairstyle for hair that hasn't been washed recently. However, opt for a butterfly-clip to turn this minimal hairdo into an ethereal one.
French Braided Clip Updo
If your little one has long hair, you don't need to shy away from trying a slightly more complicated braided claw clip updo. To create this hairstyle, start by french-braiding your hair, and then twist up the braid with a uniquely shaped clip. This hairdo is perfect if you want to avoid flyaways.
Now, you can forget about dealing with hair ties that tug at your scalp and damage your hair, owing to clips that ensure every hairstyle is super comfortable. Embrace the trend by trying out one of the above claw clip hairstyles today.