There's no denying that a formal updo can be a bit intimidating, but with a little help from your stylist, you can pull off any look. Whether it's a prom party or any fancy function women want to look their best. One way to do this is to wear a proper updo hairstyle.
Whether you want a sleek and sophisticated bun or a romantic and feminine updo, there are many ways to achieve the perfect formal hairstyle for any woman.
Glamorous Formal Updos for Women
If you are unsure of what hairstyle should you wear for your formal occasion, there are many elegant updos that can help you look your best
Sleek High Bun
A bun is an excellent way to add significant height and texture to your hair while keeping your hair away from your neck.
Although updos are often considered formal hairstyles, they can also be casual and fun. This hairstyle is very simple to do and requires no more than a few supplies.
Chic Curly Updo
Redheads are often faced with the dilemma of how to style their curly hair for a formal event.
A formal curly updo can be a great option for those who want to show off their natural beauty, as the curls help to add dimension and texture.
Low Bun Updo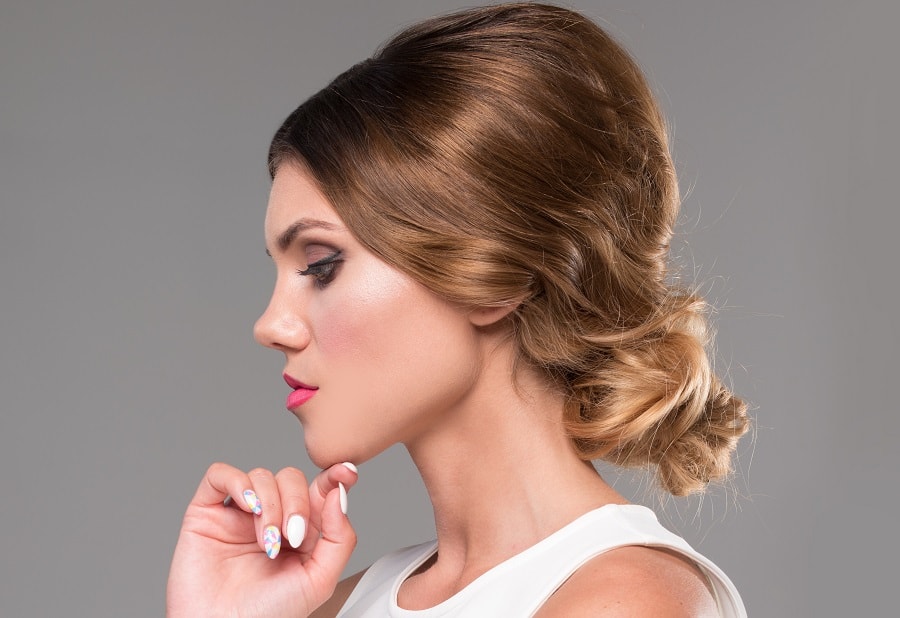 Whether you are attending a wedding, black-tie event, or anything in between, this hairstyle is a great option.
The style is achieved by securing the hair high on the head with hairspray, then pulling it down into a low bun. You may keep the hair wavy curly or straight on the side, which looks good on brown hair.
Elegant Wedding Updo
This style suits a bride who wants to look like a queen on her special day. It features loose braids while wearing a crown on the head.
On the side, you may keep a few hairs down with a curl, which will complement your dress and help make you look stunning.
Voluminous Vintage Look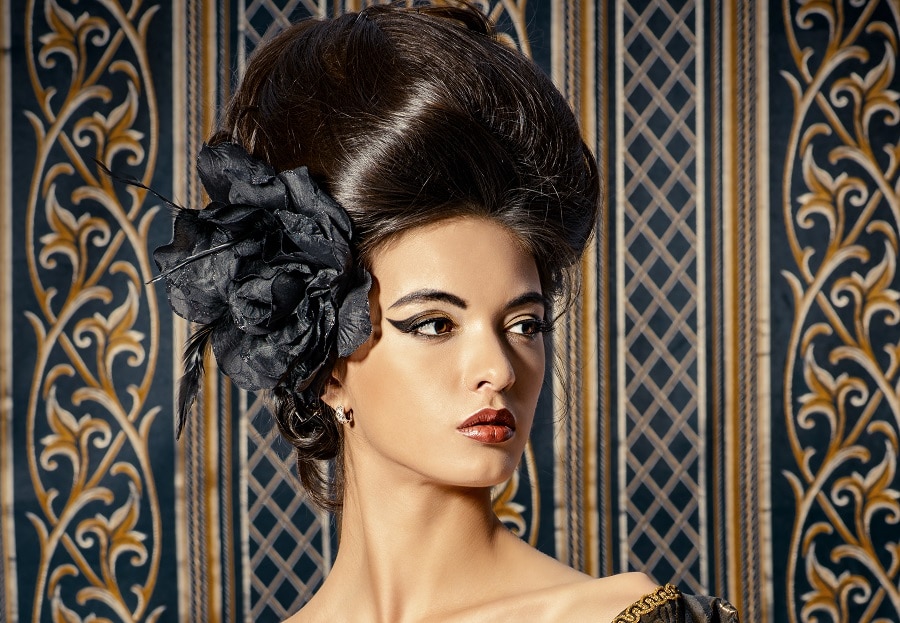 There is nothing quite as timeless as a vintage updo with high volume on the head.
Whether you are looking to add a touch of glamour to your look or simply want to up your style quotient, this hairstyle is perfect for any occasion.
Prom Princess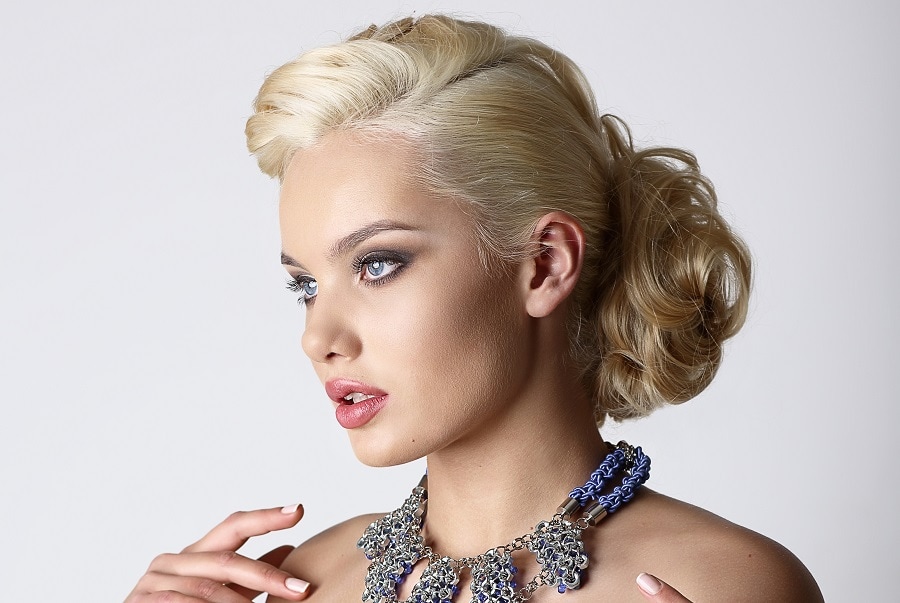 When it comes to a prom hairstyle, a formal updo with a side-swept can make you unique and elegant.
It is an excellent way to add height and a touch of glamour to your look. A booby pin will be required to keep the bun in place.
Sleek Bun for Long Hair
When done correctly, this style can help to frame your face and make you look taller.
Moreover, it will give your hair a more polished appearance. You can also try using some pins to hold the hair in place. Or, you could just let it hang down and use a band to keep it together.
Thick Crown Braid
The intricate style will add a touch of elegance to your look, and the braiding will keep your hair looking sleek and straight.
You can do the crown braid for both medium-length hair to long hair. To achieve this look, start by parting your hair to the side and creating a French braid. Then, take the braids and wrap them around your head, securing them with bobby pins.
Bouffant Updo
A formal bouffant updo is an attractive way to add some height and elegance to your hair. It is easy to do and can be done in minutes with a little hair spray.
You can achieve the style by first teasing the hair at the crown of the head and then pinning it back, and it gives the hair a lot of volume.
Messy High Updo
If you are looking for a style that will add height and emphasis to your long hair, try a high thick bun with long bangs on the side. You can wear it loose or secured with a headband, and it will look great on any face shape.
Loose Curly Bun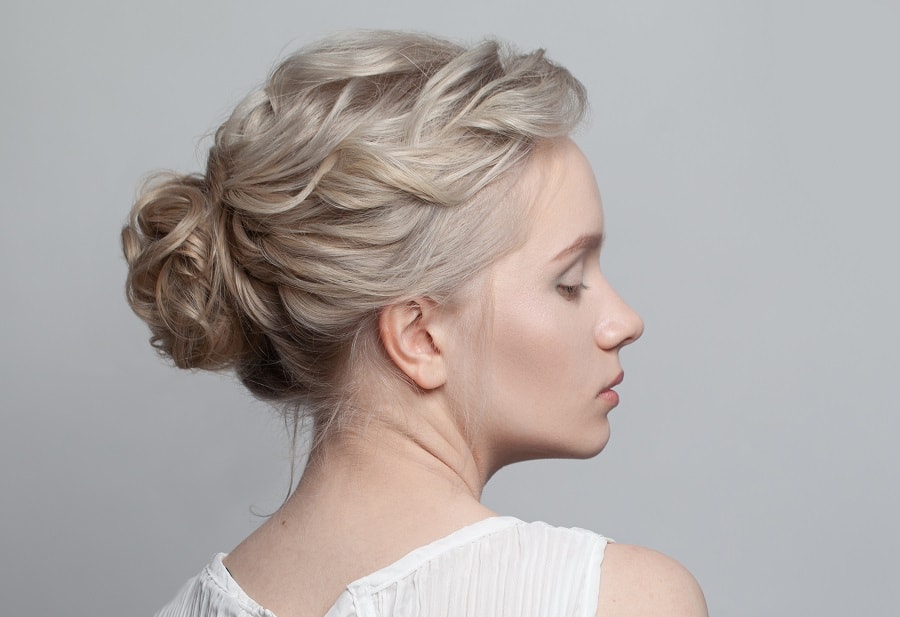 Loose updos are the perfect way to add some extra glamour to medium-length hair.
By tying your hair back in a low knot, you will keep your style fresh and new all day long. Plus, this style is effortless and can be modified to fit any occasion.
Short Braided Hairstyle
Whether you have tight curls or a natural texture, these styles will help you look stylish and beautiful. You can also try this formal black updo with a ponytail and braid or even use some loose curls.
Thick Curly Updo
Styling thick hair can be tricky, but you can achieve a graceful look with the right techniques and hair products.
However, a classic bun or up style can be flattering on most face shapes, while a sleek ponytail will work best on round faces.
Updo for Asian Women
An easy and chic loose bun for Asian women with medium-length hair is an effortless style. Start by sectioning off the hair at the nape of the neck using a comb or your fingers.
Take the left side of your hair and place it over the right side in a small braid, tucking underneath. Cross the braid over the top of your head and secure it with an elastic band.
Messy Bun with Side Braid
Blondes have more fun, and what could be more fun than a high-updo with a single sewing braid? Whether you are looking to add some height or simply want to keep your hair off your face and neck, this style is a good option.
Undone Look with Flowers
If you have fine hair, you know the struggles of trying to find a formal updo that won't fall flat. But have no fear.
This style features a tiny loose braid on the side that adds just the right amount of texture with a bobby pin. The best part is that it won't weigh down your hair, so you can actually keep it up all day long.
Updo for Medium Hair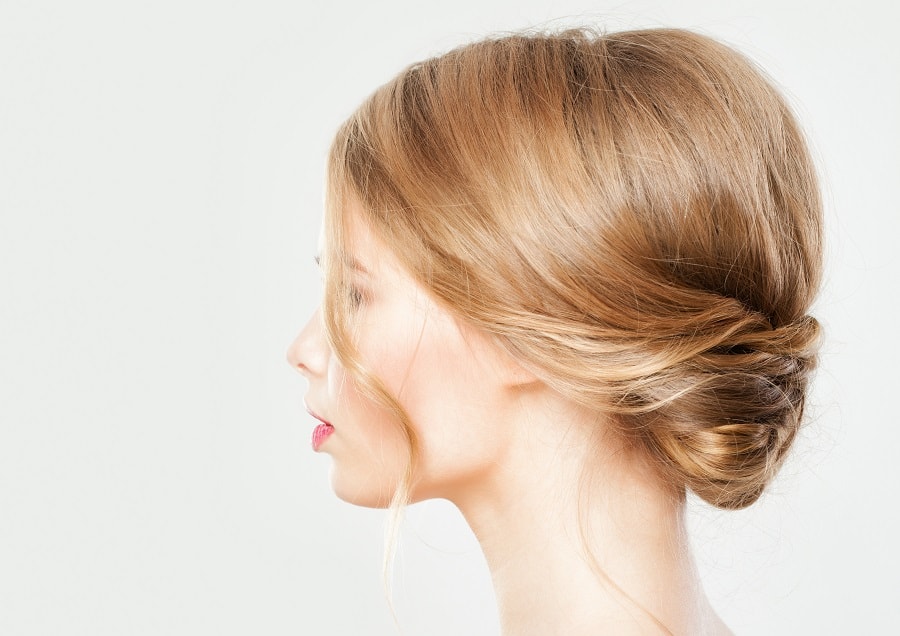 If you have medium-length hair, you may feel like you are stuck in a dent when it comes to styling it. A simple up style is a great way to change up your look, and they can be worn for any occasion.
Casual Bun
Formal hairstyles for women over 50 are great to adore. By styling hair in a way that frames the face, you can create a stylish and timeless image. Further, the style can also add some height to a woman's appearance.
Pulled Back Short Hair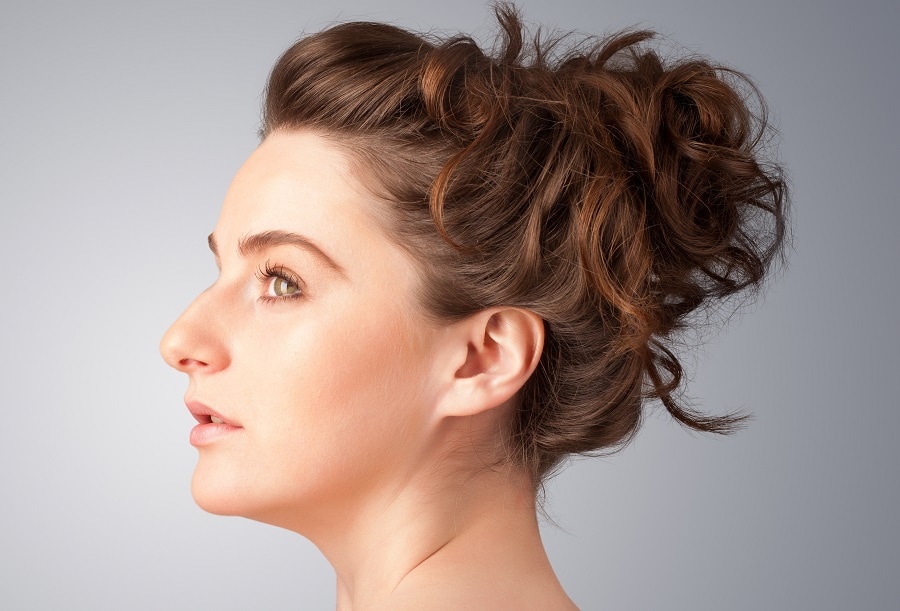 A messy updo is a perfect way to style short hair for any formal party. To get started, simply gather your hair into a high ponytail and secure it with a hair tie.
Then, take small sections of hair and wrap them around the hair tie, tucking the ends under to create a messy bun. Finally, add some texture to your hair with some loose waves or curls.
Crimped Hair Bun
Whether you are attending a formal event or just want to feel extra glam, an updo with your crimped hair is a great option.
Crimped hair adds texture and body to your hair, making it easier to style into the up. Besides, it looks really fashionable.
Bow Bun with Bangs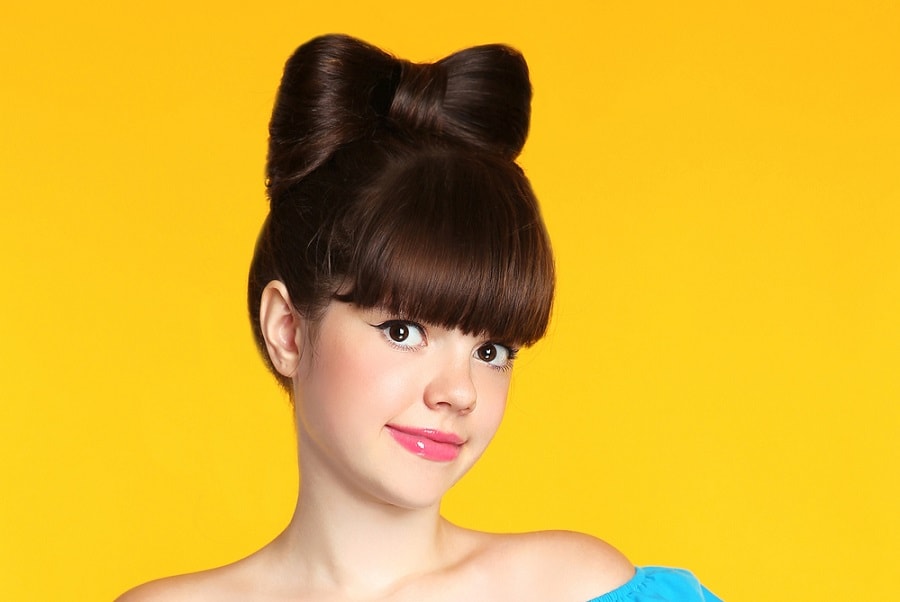 A bow updo with bangs is a fun and flirty way to style your hair. Start by creating a ponytail with your hair pulled back to get this look.
Then, take a small section of hair from the ponytail and wrap it around the base of the ponytail to create a bow. Finish by securing the bow with a few bobby pins.
Stunning Wet Hairdo
Start by applying a volumizing mousse to your wet hair and then blow dry it with a round brush.
This will help to give your ppdo some extra staying power. Next, create a deep side part and begin gathering your hair in the back of your head and make a low bun.
Twisted Half Updo
A great way to achieve this formal half updo is to start by twisting small sections of your hair and securing them with bobby pins.
Then, let the bottom half of your hair fall naturally. You can add a few curls for extra volume and texture. Finish off the look by spraying your hair with a light-hold hairspray.
Wearing a formal updo can be a great way to boost your style up a notch. It can be a bit of a challenge to get the hang of it, but once you do, you will be able to create some really stunning looks.