On days when we don't know what to do with our hair don't we all just roll our hair into a quick, easy half up bun? The hairstyle is god-sent for those of us who can't leave all our hair open in the heat. But it's also for those of us who want to add some drama to their flat hair. In short, it's for everyone!
A half up hairdo can be the best friend who saves you whenever you need help and we'll show you how. If you forgot to wash your hair, or you have a sporting event, or a fancy date, a half bun will come in handy whenever you need it.
Best Half Bun Hairstyles
Feeling lazy? Is it a jam night feels? Getting ready for an important meeting or on a romantic date bliss? We have styles that will suit all your moods!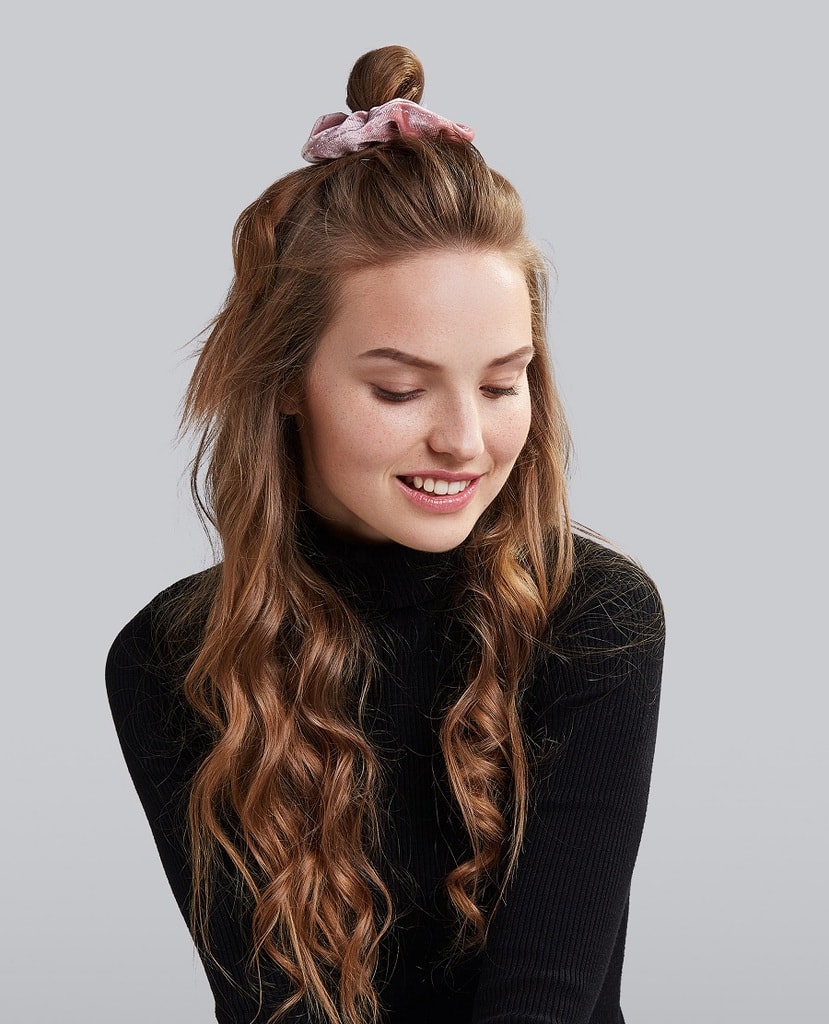 This is the simplest yet most flattering version of the half up bun.
All you have to do is make a half ponytail and wrap it up into a cute little bun. You can add a huge scrunchie to amp up your look. The hairstyle looks best with some loose and wavy curls.
2. Tiny Top Twist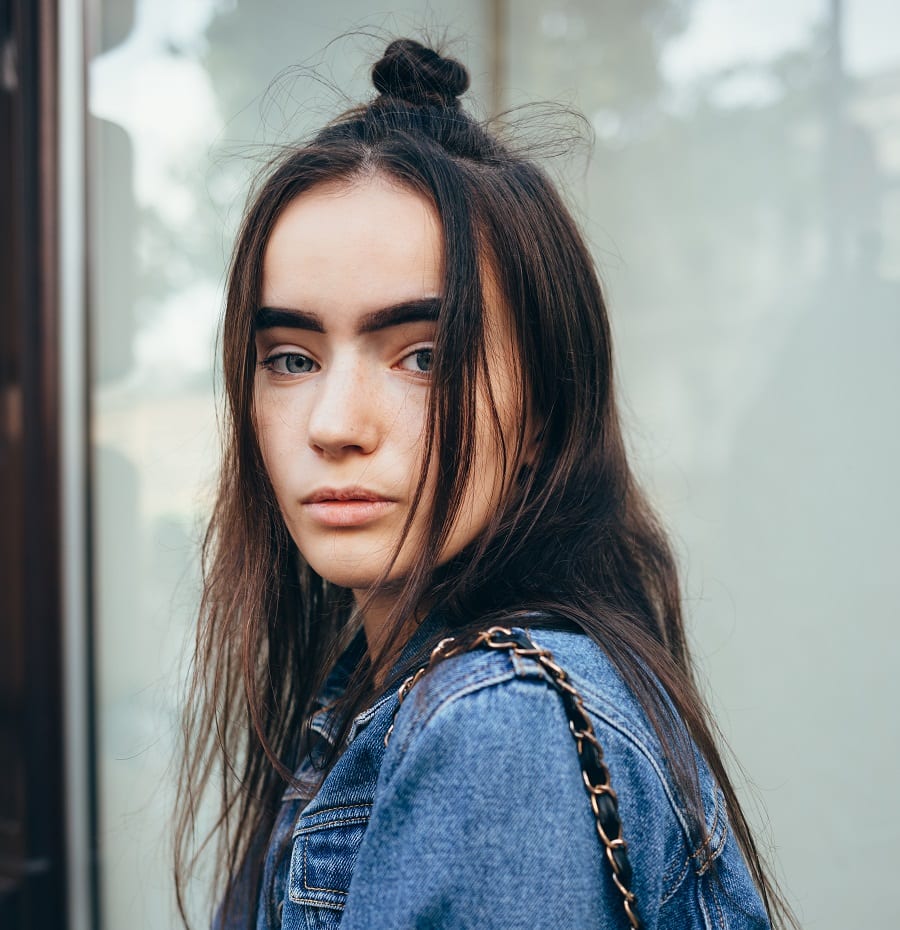 If you have thin and straight hair you're going to rock this look. This hairstyle is edgy but still has a polished appeal to it.
This is the kind of hairstyle you'll find girls wearing on the streets of Paris. A tiny half up bun with some hair pulled out from the front, just perfect!
3. Voluminous Curl Bun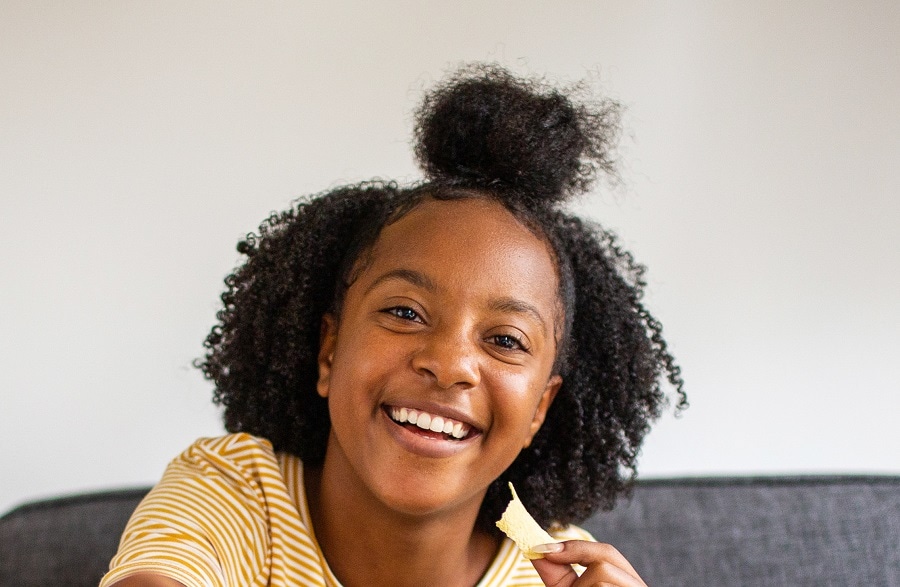 For girls who aren't fans of the messy updo and want their hair to always look sleek, a voluminous bun will do the trick.
Flaunt your beautiful, voluminous hair with this huge bun on top of your hair. Girls of all hair textures can wear this one, but this will look especially gorgeous if you have curls.
4. French Braided Blonde Bun
Who says half up half down buns are too easy and plain? If you like intricacies in your hairstyles then this hairstyle is perfect for you.
But don't worry, this hairstyle just looks intricate. In reality, it's just a simple french braided knotted into a bun. This hairstyle is perfect for both special occasions, as well as every day.
5. Half Bun With Blue Scarf
We know that sometimes bobs can get a little monotonous. It's hard to do unique styles with such little hair.
However, you can give it your own touch by adding your favorite scarf or scrunchie. Again, you just have to tie your half ponytail into a bun. Adding a scrunchie with knot details gives the hairstyle the feminine touch it needs.
6. Braided Style for Black Queens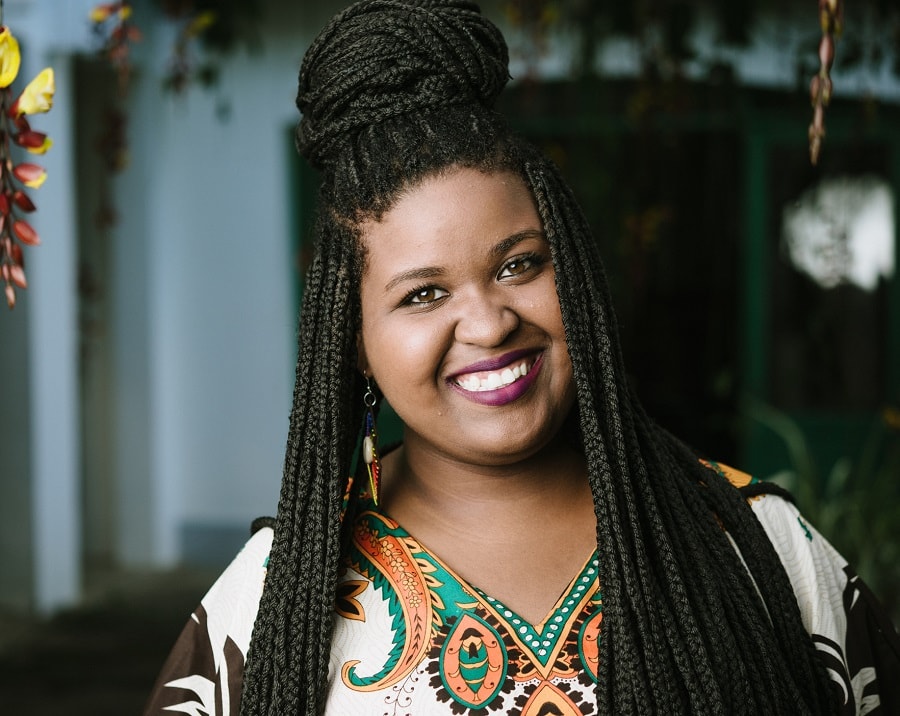 We all need our hair out of our face sometimes don't we? What better way to do that than tie your hair up in a gorgeous braided bun.
A half bun is a gorgeous hairstyle on its own but the addition of beautiful braids just takes it up a notch.
7. Space Buns
Space buns are spicy, quirky, and fun, especially if you're a Star Wars fan.
They can be paired with any type of hair. The trendy hairstyle looks good wherever you decide to wear but we suggest keeping it for your next music festival visit.
8. Crochet Braids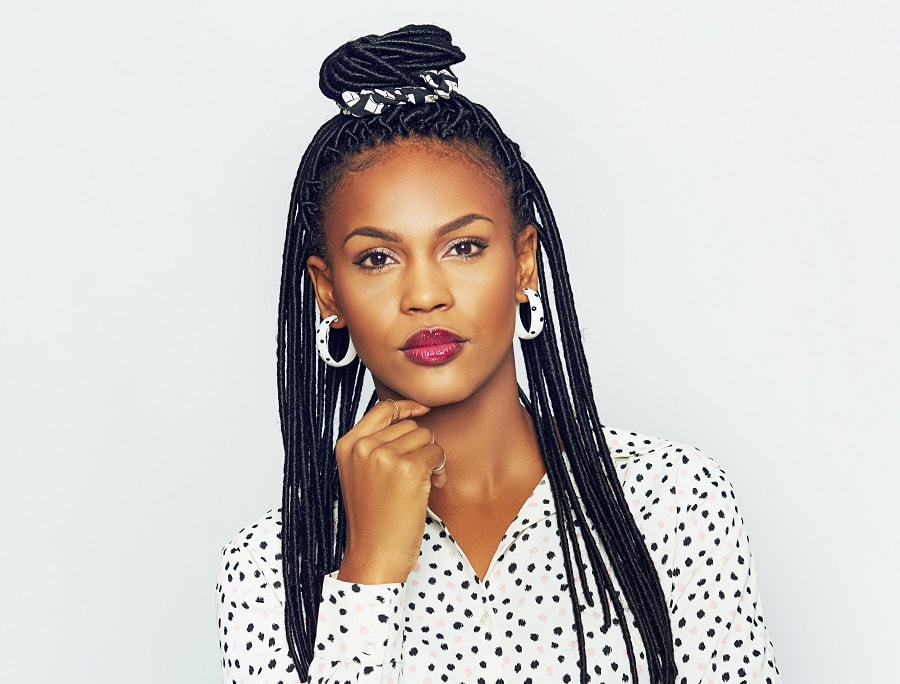 Crochet braiding is a technique by which synthetic hair is braided into your natural hair.
These are an innovative way of styling your crochet braids. Scrunchies will also go well with the look.
9. Elaborate Royal Bun
This unique hairdo gives us Victorian vibes! This royal hairstyle is surely going to turn some eyes towards you. Enter the Bridgerton world and imagine a perfect ball night with a duke!
10. Peach Bun With Bangs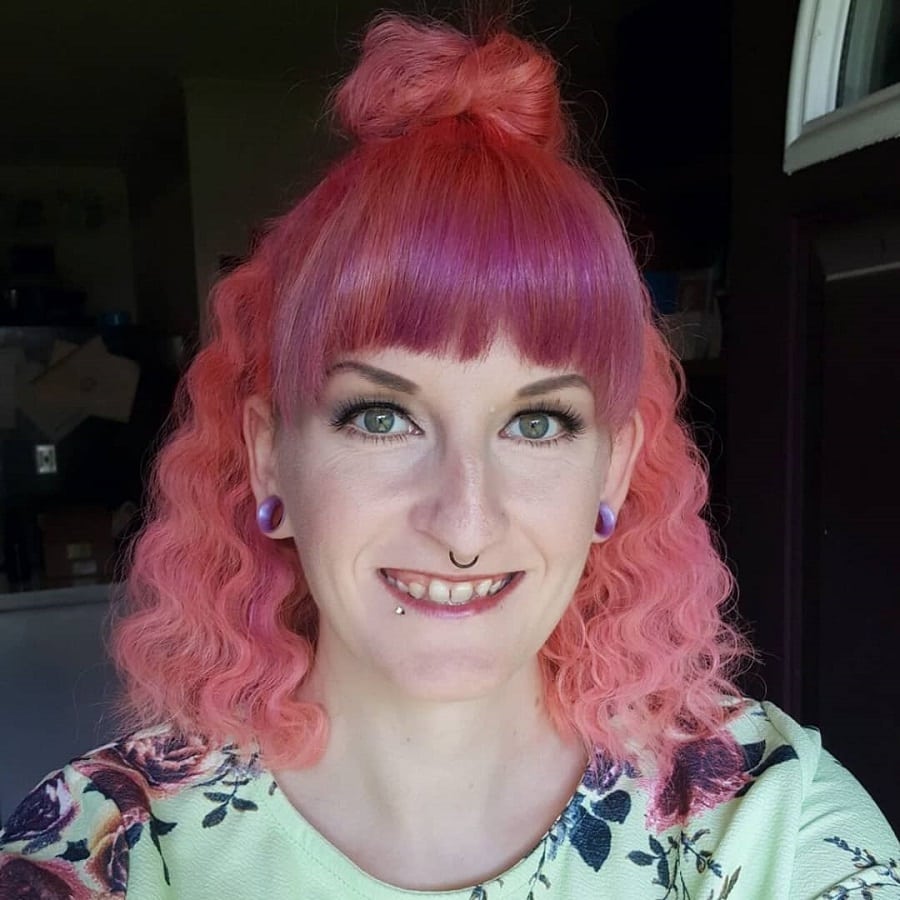 Half up buns and bangs go hand in hand together.
If you are worried that pulling your hair back into a bun would accentuate your forehead, then bangs are the perfect choice for you. You can also try a fun color to make it a funky look.
11. Messy Low Updo
If you are looking for something easy and breezy to wear to a wedding day or any other special occasion we have got your back.
A messy bun can never go wrong. It's timeless and effortless and adds loads to your whole look. Pair it with some beach waves, and you have the perfect hairstyle for the next wedding you will attend.
12. White Blonde Cornrows
If you have big cornrows then you must be looking for hairstyles to pull your beards away from your face from time to time.
One such way to do is tying your beards in a half bun. This is is the perfect sporty hairstyle you can wear to the gym that takes only a minute to do.
13. Double Braids Buns
For this hairstyle, you can create a center part and then create two French braids on each side just like the picture.
After you're satisfied with the length of the braid, you can tie the rest of the hair into a top knot. Pair it with some curls and you have the perfect hairstyle for any fancy occasion.
14. Loose Looped Bun
If you have long hair and want to wear your hair in a half up bun, maybe try this hairstyle?
This loose low bun is so versatile it can be worn with any outfit or on any occasion. Pro tip! Tease your hair before tying it into a knot for that extra volume in your hair.
15.
Lace Looped Side Bun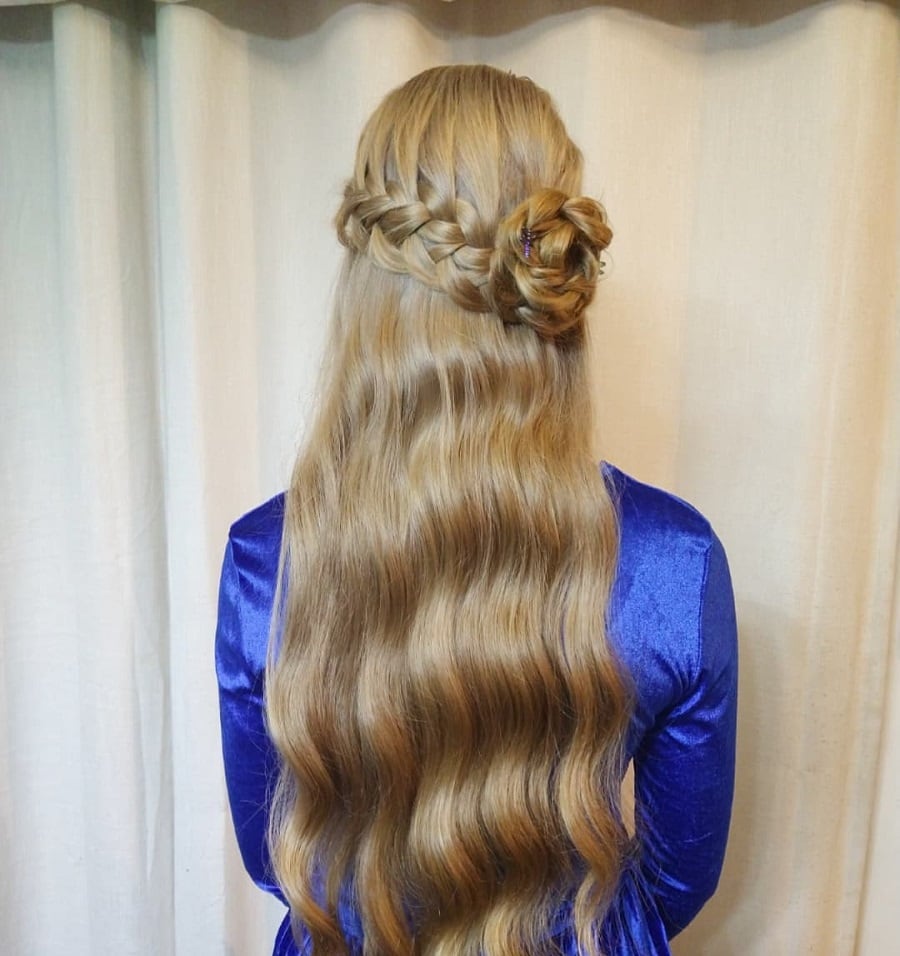 We saved the best one for the last. This elegant hairstyle is going to take only 5 minutes but everyone is going to ask you where you got your hair done.
To start, take 2 sections from both sides of your hair and braid them into two thick braids. Then all you have to do is wrap the braids around each other to form this elegant braided bun.
Half up bun hairstyles can serve every woman of any age, given that you style it right. Take inspiration from these unique ideas and get ready for an amazing night out!