A stunning hairdo makes every party, event, or night out better. But the problem is there are so many looks to choose from! The special occasion hairstyle you pick will depend on your outfit, personality, time, hair type, and more.
You need to evaluate all these factors before you select a 'do that's perfect for you. Once you do that you can begin sifting through your preferences to figure out which one of these stunning looks you're going to choose for your next big event.
Trendy Special Occasion Hairstyles to Try
Luckily you've got lots of options below. We'll be extremely happy to help you determine which style you want to wear to your next fun outing.
Wavy Blonde Locks
Do you love a wavy texture in your hair? Then this is a perfect and simple style that you could wear.
There's so much volume that some of these waves look more like curls. The style sits nicely on your shoulders and makes for a wonderful hairstyle for special occasions.
Formal Updo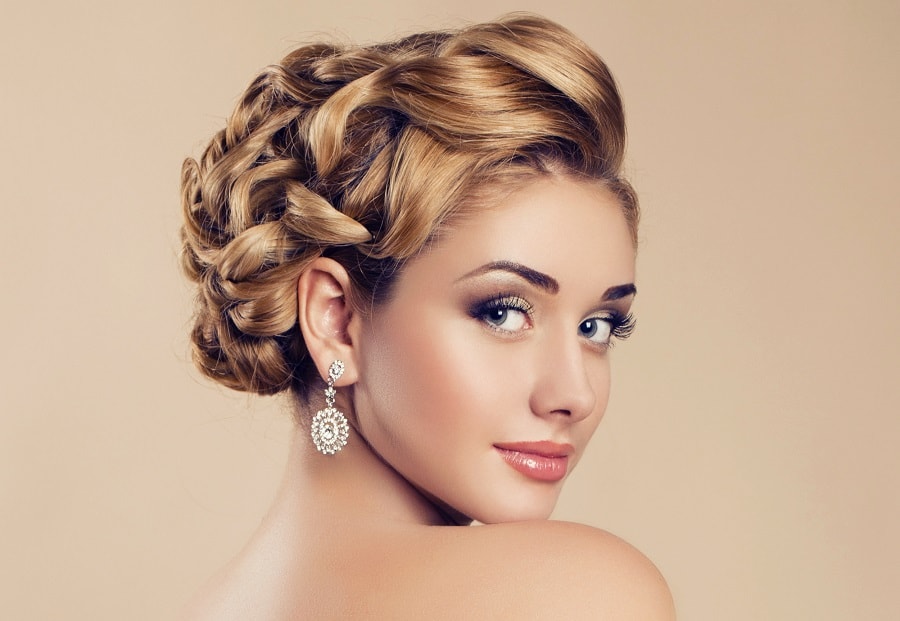 You can't go wrong with a beautiful formal updo. Create a sleek texture and lots of small sections in your hair. Look to the back of your head and pin it in place.
Add a voluminous section near the front where your bangs are. Most people will need a skilled stylist to help them achieve this look. It's highly complex so it'll be difficult to do the back by yourself.
Long Thick Curls
If you have a perm or naturally curly hair, then this is the perfect style for you. Curls always look so elegant even when you're just wearing your hair down like this.
The volume really makes you stand out. Sweeping some hair over to one side adds volume on top. This makes it an even nicer look.
Wavy Side Part Look
Super simple side part looks are totally elegant and trendy. Adding a wavy texture makes your hair look livelier and better for a special party. Sweeping back one side of your hair keeps your face highlighted.
Red Braided Updo
You'll always stand out when you have red hair. A large braid on the side of your head will help draw further attention. Then pull the rest of your locks into a loose updo at the back near the nape of your neck.
Messy Hairdo with Bangs
Bangs totally round out every look. These sleek ones contrast the messy and wavy style of the rest of the hair very nicely. A very pretty flower decorates one side of the head. This is the perfect style for someone who's ready to party.
Elegant Side Updo
A special occasion hairstyle with a side bun always looks totally regal. Pull your locks into a nice large and textured bun. Keep bangs sleek as you pull them to the side. Add some jewels to make your hair look totally elegant.
Long Half Up
Wearing your hair half up and half down helps people pay attention to both your stunning features and your long locks.
Here the sides are pulled back. Most of the locks are nice and wavy. Blonde highlighted sections under the darker hair really steal the show here as they help you stand out.
Playful Bob
Some people think bobs are very plain. This one proves you can make it playful and fun. Here is a nice texture in these locks. The hair frames the face very nicely.
This helps show off the shape of your jaw and cheekbones. Blonde highlights and dark roots add a lot of dimensions that look great with the short style.
Ponytail for Black Women
Black and mixed-race women have such nice hair textures. This lends itself well to forming a large curly ponytail high on the head. It's a lively and enthusiastic look that's perfect for wearing to all kinds of events.
Short Bob with Accessory
Finding short hairstyles for special occasions can sometimes be difficult. Leaving the locks down and drawing small sections to the back of the head is a good idea.
You can compensate by adding a large decorative hair accessory that makes you look regal.
Wedding Updo
Draw your long locks back into a very voluminous bun. Leave the sections of hair by your face loose for you to pull them back. This adds volume and elegance to the style of any bride. It's understated, but it's an incredible bridal hairstyle.
Loose Curly Tresses
This curly updo is a perfect hairstyle for any prom party. The back of this updo sits low on the nape of the neck.
The front sections of the hair are straightened. There's a small bump near the crown of the head. You may need a little help from a stylist to achieve this look.
Low Sleek Ponytail
Ponytails are sometimes considered very plain. But you can make them totally elegant.
Pull your straight locks low on your head. Wrap a section of hair around them to keep them in place. Now you can wear this look to any formal party and look incredibly fashionable.
Thick Choppy Bangs
A thick bob always looks good on any special occasion. Choppy bangs make any style look even chicer. This bob sits on the shoulders and has red highlights. It's a little wavy and looks very natural.
Vintage Updo
Vintage updos look incredible when worn as any special occasion hairstyle.
You'll appear so elegant and chic that everyone will be looking your way. There are nice loops in this style. It will take a highly experienced stylist to make it look absolutely perfect.
Medium Length Straight Hair
If you have fine straight hair, then sometimes updos and other fancy looks won't look great on your tresses.
Leaving your locks down like this is often a better choice. The nice blonde hairstyle sits on the shoulders. There are some shorter sections framing the face.
The wet look is totally in right now. It adds a natural waviness to your hair. It also makes your look appear effortless. It's very simple to achieve using lots of gel that creates this damp effect.
Thick Crown Braid
Crown braids always add elegance to your style. If it's very thick, then you'll look extra chic.
They can really help highlight the shape of your face. They're also good at hiding your hairline if you wish to disguise it.
Fishtail Braids
Normal braids are a little plain to wear on any special occasion. However, fishtail braids are much more elegant and very fun. They're very sleek here. They contrast the messy top of the hairstyle.
Side Swept Greek Hairstyle
Greece has always had some of the best and most elegant looks throughout the centuries. Here the side-swept wavy locks are nicely done. A small jeweled hairpiece holds some of the locks on one side of the head.
Face Framing Curls
For this blonde updo, you'll draw most of your tresses to the back of your head.
They have a curly texture that creates an interesting visual effect. Two perfectly identical, long strands of curls framing the face this add depth to your look.
Braided Bun with Bangs
If you're looking for a very chic and sleek look, then consider a braided bun. This special occasion updo with straight bangs adds elegance to the look.
It's overall very simple and can be done easily at home. Forming thick braids makes it look best.
Braided Bangs
Braiding your bangs is incredibly interesting. It makes this plain side ponytail look so much nicer and more playful.
The volume in this look creates a very chic and party-ready appearance. This one-sided hairstyle helps to highlight the best side of your face.
Thick Low Ponytail
Here's yet another special occasion hairstyle that's so much more interesting than you'd assume. The long wavy ponytail is incredibly thick. This can be achieved by natural volume or hair extensions.
An absolutely stunning hairpiece helps it stand out. This creates a contrast that forms a dynamic look you won't be able to tear your eyes away from.
How gorgeous are these special occasion hairstyles? There are some you can do at home, but others will require a trip to the salon. However, it's completely worth getting a hair stylist to help you with your look when your look is this fabulous.
You can choose these styles for different occasions if you wish. Nobody said you had to wear just one!