As the hot months come closer, the temptation of keeping our hair tied all the time increases. Side ponytail hairstyles will not be a bad idea. You get to keep your hair tied but in style. With a few variations, you can avoid the look from getting repetitive.
The advantage is that no matter your hair length, you can make this style without any worry. Style your hair for any place, be it your school, college, or meeting a friend. This look is perfect for any occasion.
Lovely Side Ponytail Hairstyles
You might know just one way to have a side ponytail, but with our stunning styles, you can have several to try on:
Side Wavy Ponytail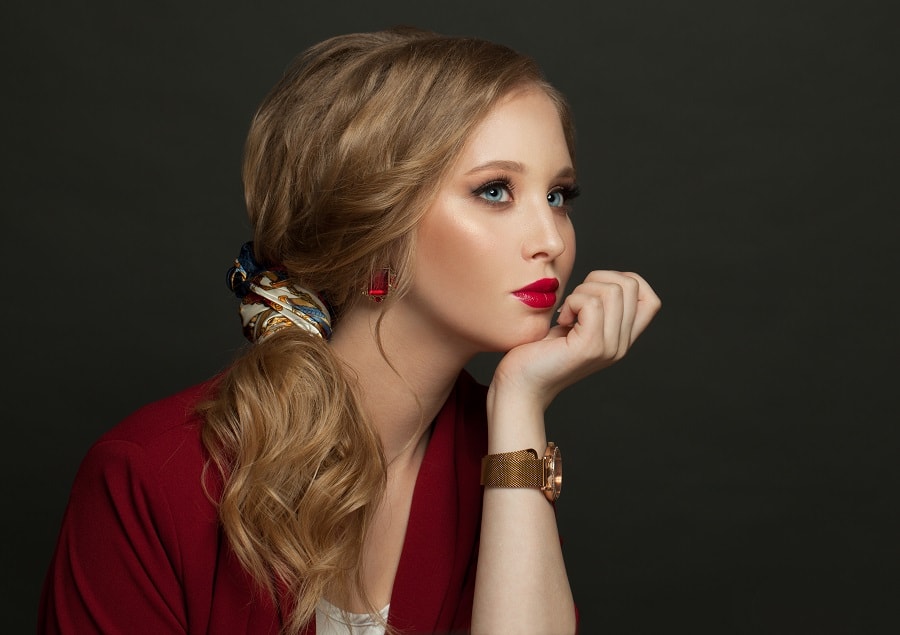 Tie your light brown hair in a pony but not the back one. Your hair should be wavy for a beautiful look. Use a headscarf to tie your hair as it will make you look like an actress. Keep your hair side-parted to get a subtle style.
Thin And Curly
It's a simple style to create an illusion of having thick hair than what you really have. Simply have a layered cut style, grab all your pair with your fingers to the side and tie it loosely with a hairband.
The style is quite prominent in teens or students as it's simple to make, and requires no maintenance. It even keeps your hair away from your face and neck which is quite soothing during the summer.
80s High Side Pony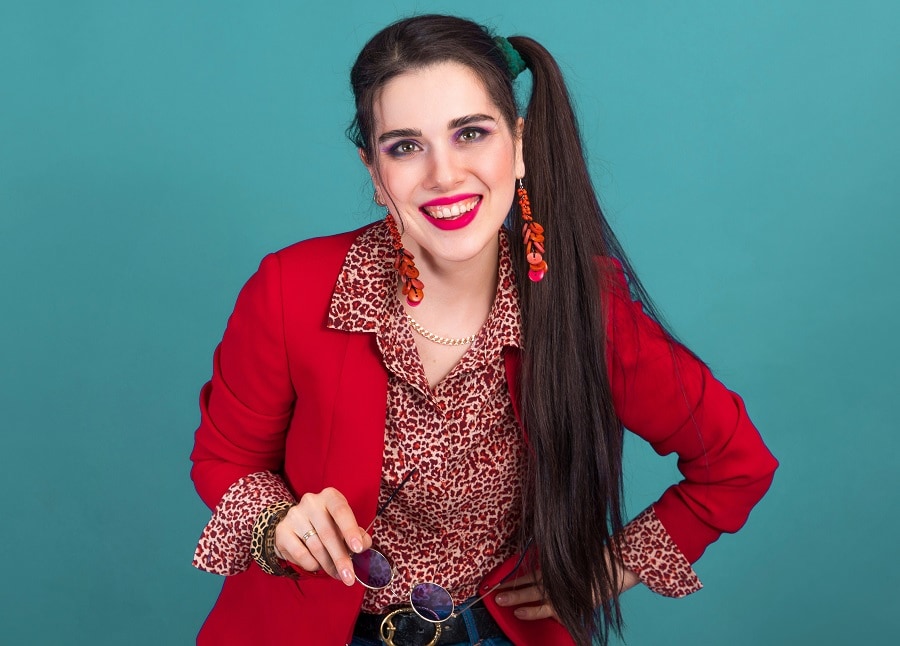 Side ponytail hairstyles don't have to be on the lower side only. This high pony style is for long straight hair only. Make a tight ponytail so that it stays at its position securely.
A bright outfit like the one shown above with a cool set of earrings will be great.
Frizzy Look with Rose
Firstly you need to keep your hair sleek and smooth and then make a short pony right behind your right ear. Now make it frizzy by running your comb up and down continuously.
Use hair spray to store the frizziness. Finally, a huge flower in your hair will be beautiful.
Blonde Bangs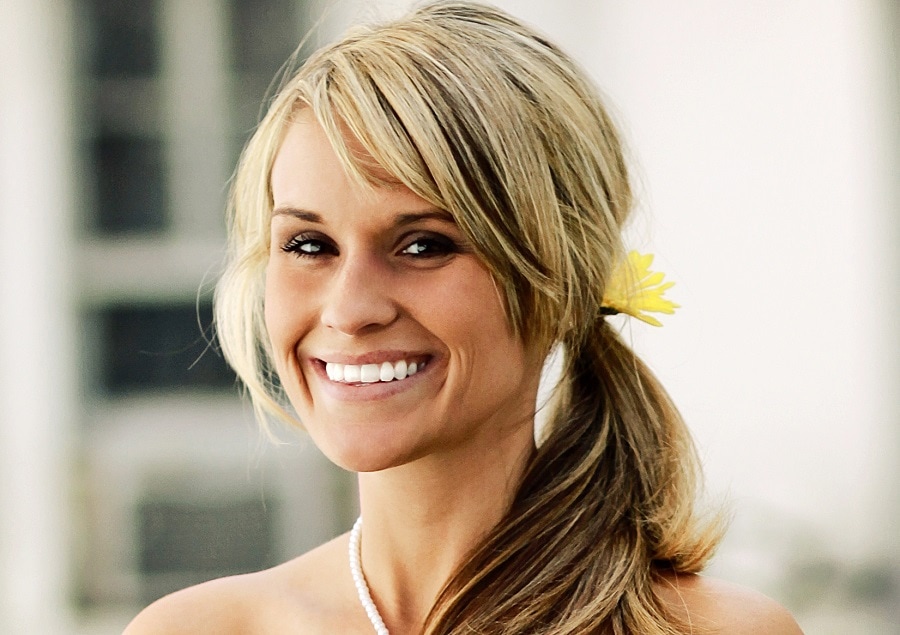 When you've got blonde hair, why not get bangs too? Side bangs will go with your oval face. Make the ponytail slightly between the side and the back.
A bright yellow daisy attached to your pony will just add brightness to the whole look.
Half Voluminous Updo
When we say side ponytail hairstyles, we mean it can be in the back too. Make a puffy half ponytail, but it should be shifting slightly sidewards.
Long and crimped hair will be perfect for maintaining a fluffy look. It's a fun look for playschool teachers.
Sleek Hair Wrap
Your hair should be long enough for this hairstyle. First, make a deep sleek side part, and then grab all your hair into a pony.
Now take a thin strand and wrap it around your rubber band. Finally, neatly comb your flowing hair and let it rest on your shoulders—a beautiful look for the office.
Pinup Hair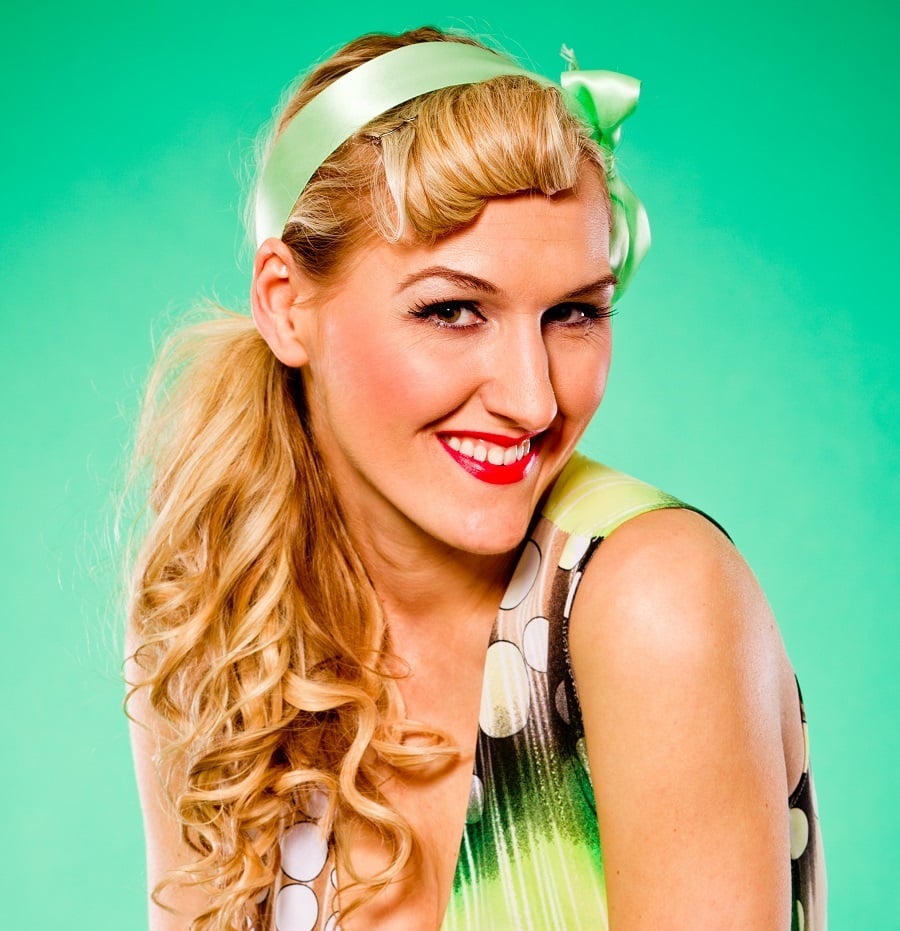 Roll your hair inside like a cinnamon roll, and then pin it up on the front. Now curl the rest of your hair and tie it sidewards.
This is one of the side ponytail hairstyles that will give you a retro look. This is a great look for a 90s theme party.
Loosely Tied Hair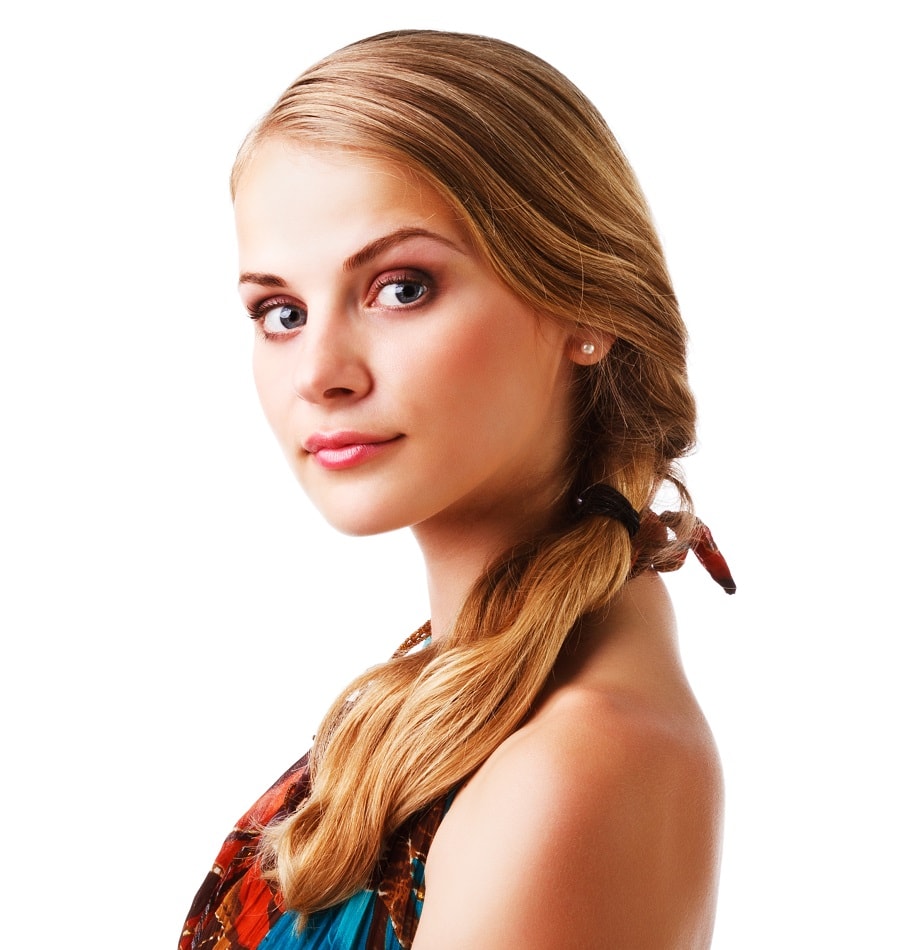 If the volume of your hair is very thin, this messy ponytail style is for you. Neatly take a deep side part and grab all your hair. Make a braid up to 2-3 plates, and then loosely tie your hair.
Keep the pony on your shoulder for a subtle look. This style is perfect for stay-at-home professionals or bachelors.
Twisted Hair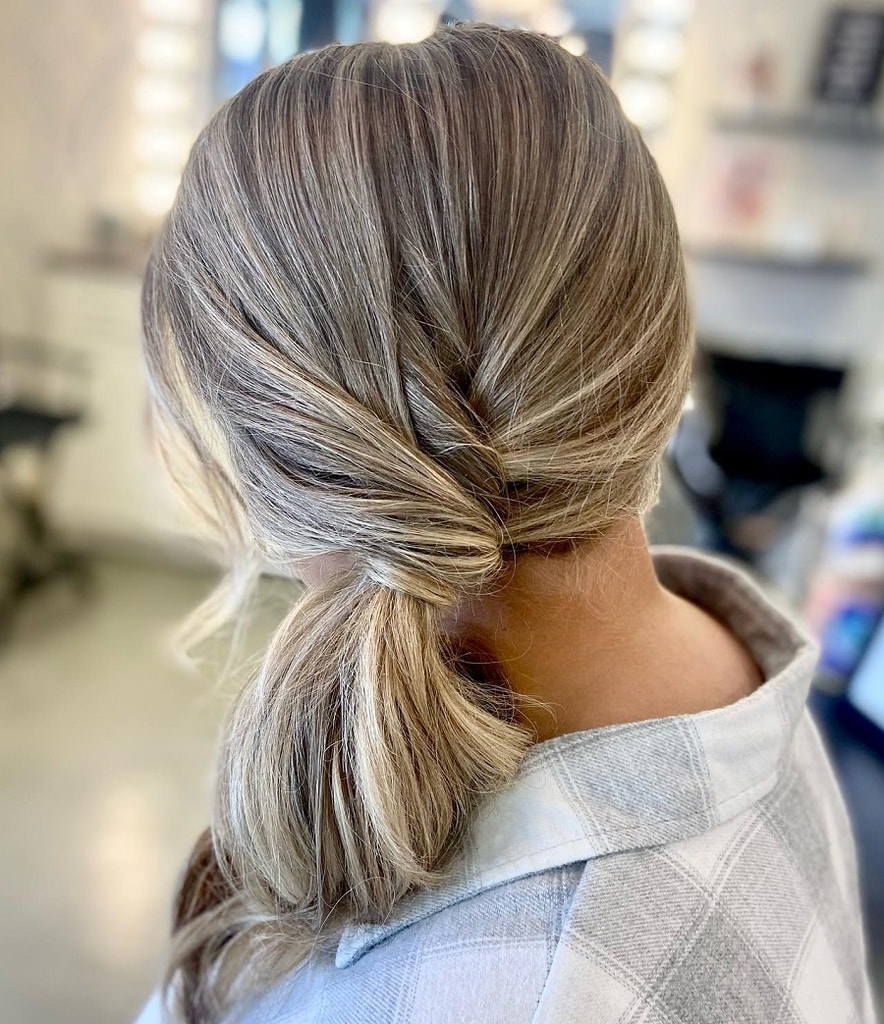 Shift all your hair to the side. Now take a thin layer from between and, twist it, secure it with a pin. Next, take another layer outside this layer and, twist it too, secure it with a rubber band.
It's a neat look for working women. You can make this style too if you're a student as it's easy to make.
Golden Wrap Around
Side ponytail hairstyles can be used on formal occasions if you keep them neatly tied. A wrap around your rubber band can do so.
This look is also perfect for a romantic dinner date or a blind date. A champagne blonde hair color will be just perfect for this style. Keep your makeup subtle too.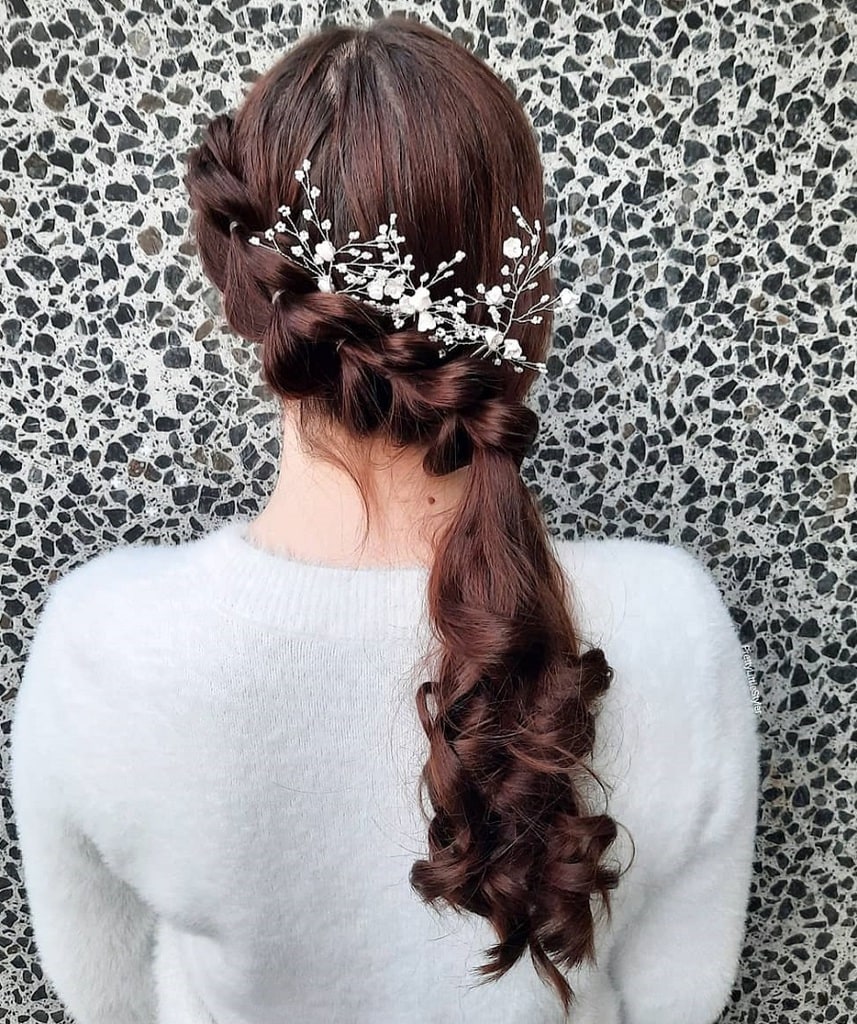 There's going to be a bunch of ponytails before actually getting to the side one. Starting from the front, make a very small pony, split its ends, and wrap it around the succeeding ponytail like a heart.
When it's come to an end, make a side pony, and keep it on the back. Curl the ends too.
Braided Bubble Pony
Long hair alert! Make a thin, horizontal braid on one side and start making a bubble ponytail. Wrap your hair around each elastic band to keep them hidden.
Long wavy fringes will be the cherry on the cake. This is a classic look for the office, grocery shopping, or any other day.
Side ponytail hairstyles, when getting a little twist, they look so beautiful. Make a French side braid with your curly hair; keep the strands loose.
Next, make a curly pony and then keep braiding there, as seen above. Curly fringes on the side will add beauty to the look. It's a beautiful style for a party.
Celebrity Look
You know how beautifully celebrities keep their hairstyle, and it stays the same throughout the whole event.
Well, if you're going to an event like this special, you can try this style. A curly deep side part and a plain ponytail, that's it. So your whole look for a special occasion is ready.
These side ponytail hairstyles are going to make you look like a diva. Every girl will come to you and ask you how you made your hair in this beautiful way. So make sure you're telling them where you learned that from.
It is your time to rock in style this summer with your stunning hairdos. Now that you have learned how to make each style, you can teach your friends too or recommend them our article.