There's nothing like a messy ponytail hairstyle to make you feel comfortable if you are short on time. However, most women prefer to keep their hair styled neat and tidy. While this is a great look for many occasions, there are times when a messed-up style is more appropriate.
Whether you are running errands, going to work, or hitting the gym, a messy ponytail will keep your hair out of your face and look chic. Moreover, it's perfect when you don't want to fuss with your hair and keep it out of your face.
Timeless Messy Ponytail Hairstyles
The ponytail is a classic hairstyle that can be dressed up or down, depending on the occasion. It's also one of the simplest styles to create. Here are 15 ways to style your messy ponytail.
Side Ponytail for Short Hair
A messy side ponytail for short hair is a quick, easy style that can be done in just a few minutes. This style is perfect for days when you don't have time to fuss with your hair.
It's also a great way to add some interest to a simple hairstyle. This style is perfect for short light blonde hair because it gives you a lot of volume and movement.
Sparkling Amber Hair
Sparkling amber hair tone is a wonderful color for hair, and it can be enhanced with a messy side ponytail. The style is easy to do and looks great on any length of hair, perhaps for the medium length.
Messy Long Pony with Bangs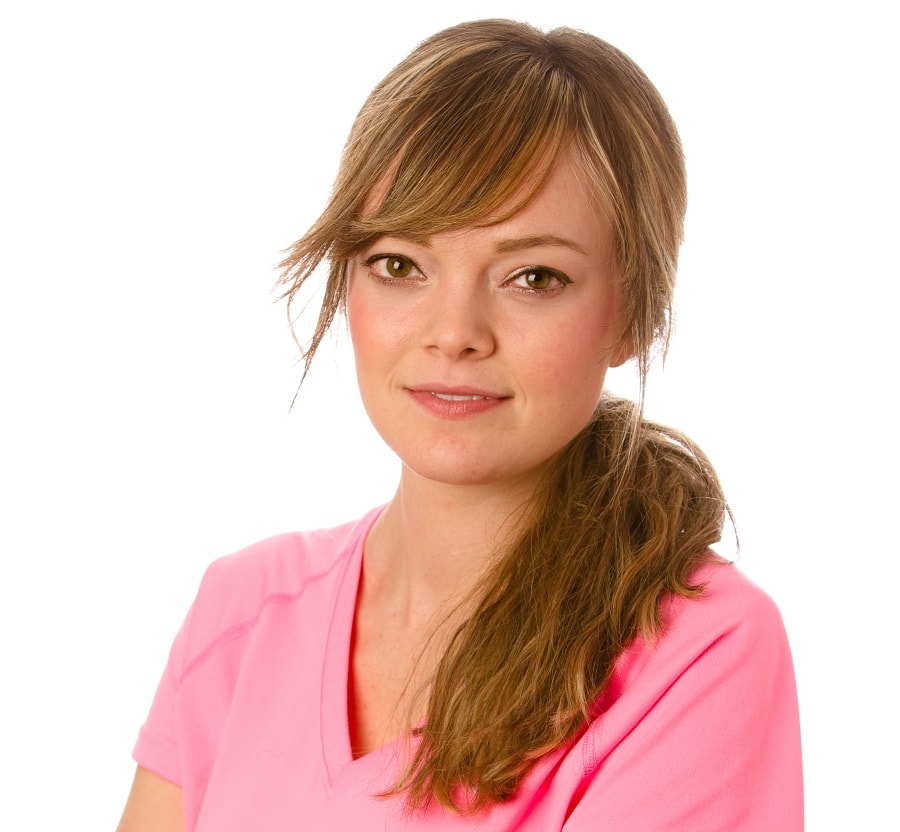 The ponytail with bangs hairstyle is perfect for women who want to keep their hair out of their face but don't want the hassle of full-blown hair. The style can be achieved by pulling your hair back into a low or high tail and leaving the front sections loose and wispy.
Thick Long Ponytail
If you have long, thick hair, a messy ponytail can be a no-effort style option. By pulling, you create the illusion of volume and thickness. And if you can touch it up with light cool brown color, you will surely look glamourous.
Blonde Hair Ponytail
The style of a blonde hair ponytail is classic and can be worn by anyone. It is perfect for people with wavy hair because it keeps the hair sleek and pulled back. Depending on the styling, it can be sophisticated, fun, and playful. This style is perfect for taking your hair from desk to dinner.
Multicolored Updo
This hairstyle is best for those with medium to long hair. It is a simple style to create and will only take a few minutes. You will just need to tie it like a bow and curl the rest of the hair.
Curly Black Ponytail
Messy side ponytails are a great style for curly black hair because they are easy to do and can be made to look casual or dressy. This style works best with hair that is a little longer than shoulder-length.
High Curly Pony
This look is especially flattering for brunettes and blondes with medium to long hair. To create a high ponytail, gather all of your hair into a high updo and secure it with a rubber band. Twist the hair around the band to form a messy ponytail.
Bridal Look
If you're looking for an easy, pretty hairstyle for your wedding day (or any special occasion), a side ponytail is a great option. This style works best with medium-length hair with a brown tone, and it's perfect for showing off your beautiful wedding veil or headpiece.
Careless Two Messy Bunches
A careless bunch is perfect for second-day hair. It takes less than a minute to create, and it's a great way to disguise dirty hair. To create this look, first, divide your hair into two sections. Then, twist each section into a ponytail and fasten it with a hair tie.
Medium Puffy Hair
Most people with medium to thick hair know that when they want their hair to be extra voluminous, a ponytail is a go-to style. The key to a perfect messy ponytail for medium puffy hair is to use a good hair tie that will not cause breakage.
Side Pony for Fine Hair
A side ponytail is a classic style for fine hair because it gives your hair some extra volume. It is easy to do and can be worn dressy or casual, and looks great on pinkish hair color. If you want, you can add a bit of volume to your bunch by teasing your hair at the root.
Blonde Dreadlocks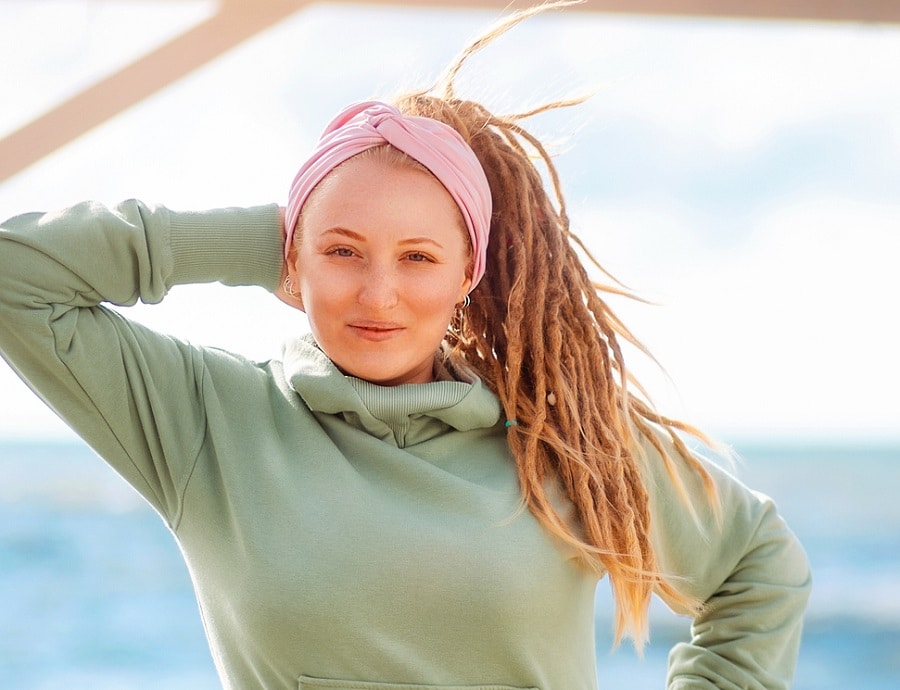 A ponytail on your dreadlock hair allows you to keep your dreadlocks hairstyle neat and tidy while still allowing you to show them off. Thus, you can keep your hair out of your way. However, you must need an elastic hairband to tie your hair on the high.
Loosely Braided Updo
When you're in a rush but still want to look pulled together, try a loose updo style with braiding. This messy braided ponytail is perfect for all hair lengths. It is casual enough for a day at the beach but can also be dressed up for a more formal event.
Blonde Ombre Ponytail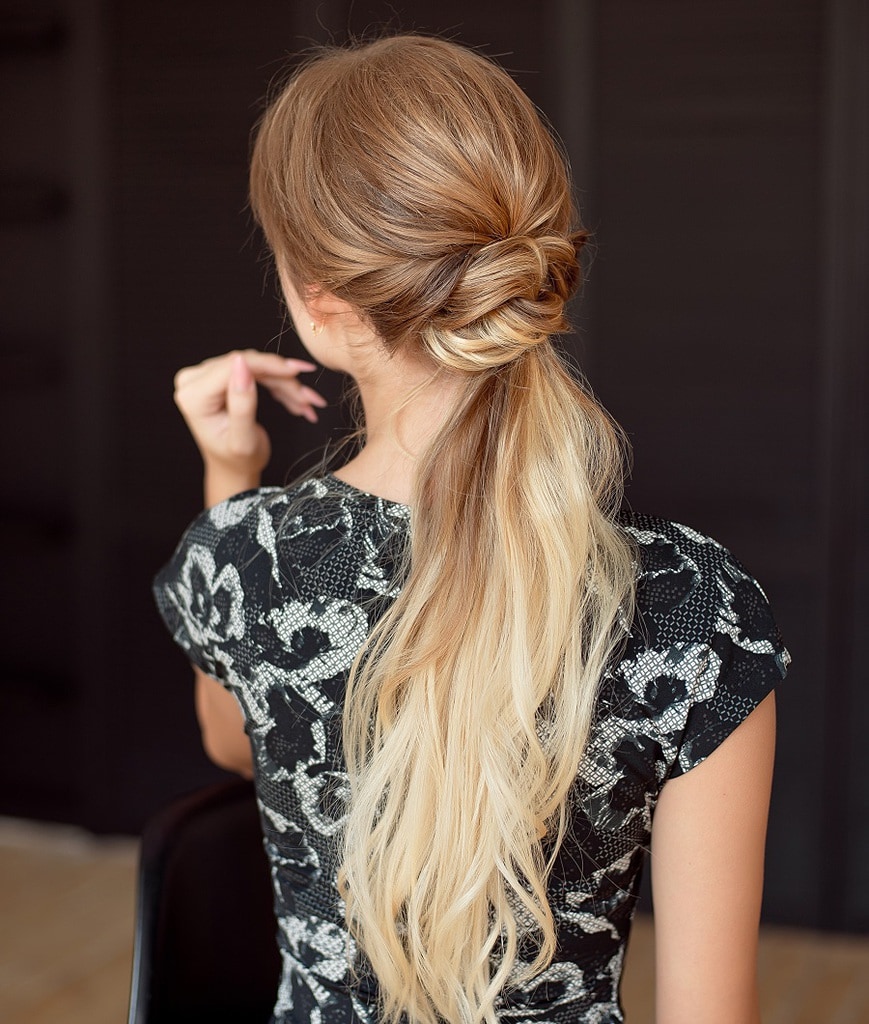 This style is perfect for those who don't want their hair on their face but don't want to deal with a complicated updo. The hairstyle is a great style for everyday wear for your ombre blonde hair.
If you are a busy woman, you don't have time to waste on your hair in the morning. This is when the messy hair ponytail comes in handy. All the styles we have discussed here are quick and easy and take 5 minutes or less.
All you need is a hair elastic or ponytail holder and some bobby pins. Pull your hair according to your desired style, and you are good to go.