We all know how hectic styling your long hair can be. Even though it seems like the options are endless, we're always out of ideas when it comes to it. A long brown hairstyle checks all the boxes regarding style, practicality, and maintenance.
It is one of the most versatile shades, which can be styled into all kinds of looks. The options to style long brown hair are endless. Especially if you're a natural brunette, it's the perfect opportunity to embrace your natural hair color and try to enhance its natural beauty.
Gorgeous Long Brown Hairstyles
Looking for some new hair inspiration? We've compiled a list of 25 ideas you could try out and recommend to your friends.
Sleek Layered Brown Hair
Here is the perfect option for deeper brunettes who are looking to switch up their hairstyle without doing too much but still want a little something.
This tinged shade is going to add the right oomph to your long dark brown hair. And the mid-parted long hair is going to add structure to your face.
Sable Light Brown Hair
This cool-toned sable-colored hairstyle has been colored perfectly with the right amount of gloss.
The glossy finish with the long straight brown hair gives the whole look a neat touch. For hair that looks like it has come straight out of a shampoo commercial, show your hairstylist this hairstyle.
Brown Voluminous Waves
Coffee might not be your beverage choice, but this coffee brown hair color will be your choice.
Voluminous waves look good on everyone, especially when paired with a rich and deep coffee brown shade. Don't forget to accessorize the look with a bright and bold smile.
Red Infused Long Hair
This beautiful hairstyle includes a red-infused shade of brown that will make your long locks gorgeously beautiful.
This Auburn tinted hairstyle is the perfect hair color for this fall season. If you have hazelnut eyes, this hairstyle will enhance your eye color to a new level.
Rich Chocolate Brown Hair
If you want glossy hair that's going to shine bright under the light, try out this hairstyle for your gorgeous long brown hair.
This rich chocolate brown hair color looks lovely when styled with some waves and loose curls. This hairstyle is absolutely perfect for the girl boss.
Honey Brown Curls
Looking for an exotic hairstyle that's going to make all heads turn? These honey brown-colored long curls will look absolutely gorgeous on you and spice up your gorgeous look.
Wavy Hair with Highlights
If you're looking for some inspiration to spice up your long hair, this alluring dark long wavy brown hair with highlights will be perfect for you. These voluminous waves will make you look youthful and ready to take on the world.
Straight Brown Ombre
You could try out this fun look if you want to do something edgy with your hair. This hairstyle consists of light brown ombre ends, while the remaining hair is left dark. The hair is left naturally straight. College-going girls would rock this look.
Long Hair With Blonde Highlights
Want a fun and preppy hairstyle for the summer? Look no further because these blonde highlights will do justice to your hair game. Dark long brown hair and highlights are a match made in heaven that can never go wrong.
Warm Chestnut Toned Hair
For the colder months, this rich and glossy hairstyle is a no-brainer. Long gorgeous hair that is curled to perfection paired with a warm-toned chestnut brown. The thick curls can be achieved with a 25 mm curling wand.
Golden Glow
Some face-framing golden highlights can do wonders for your long hair. Showing this hairstyle should be the perfect option if you want to enhance your features and make your eyes pop. This hairstyle should definitely inspire you to grow your hair.
Faded Light Brown Hair
Light brown is a gorgeous color that can complement your skin tone and beautiful features. It isn't too popular, but if done right, light hair can take your look up a notch.
You can leave out your long brown hair as it is to show off its natural beach waves texture. This faded light hair is easy to carry and even easier to maintain, so it's a win-win situation.
Long Sleek Ponytail
This sleek ponytail is the perfect option if you're going for the trendy "clean-girl" look. Darker shades of this color form an enchanting and alluring look. This deep espresso brown color boosts shine and depth that no other hair color can give.
Brown Color for Thin Hair
If you have naturally thin hair, you can try out this hairstyle. This rich brown hair is perfect if you want to add texture and dimension to your hair.
You can straighten the hair for a neat look as well. The color makes your hair look more voluminous, making it the perfect choice for anyone with fine hair.
Glamorous Balayage Hair
For the glam look of your dreams, go for this layered hairstyle. The sultry balayage with golden highlights is to die for.
This long brown balayage hairstyle should do the job for you if you want to look like a movie star. Let your gorgeous hair be the star of the show by getting this gorgeous hairstyle.
Simple Natural Curls
If you have naturally long hair and you want to spice up your look, you can dye the tips of your hair a light brown shade. This will add depth and character to your otherwise dull look and make it extra special.
Braided Ponytail
This sleek braided ponytail looks too good to ignore. Neither light nor too dark, this hair color is the perfect shade for women of all age groups. The styling options for this hair are endless.
Dark Brown Hair With Bangs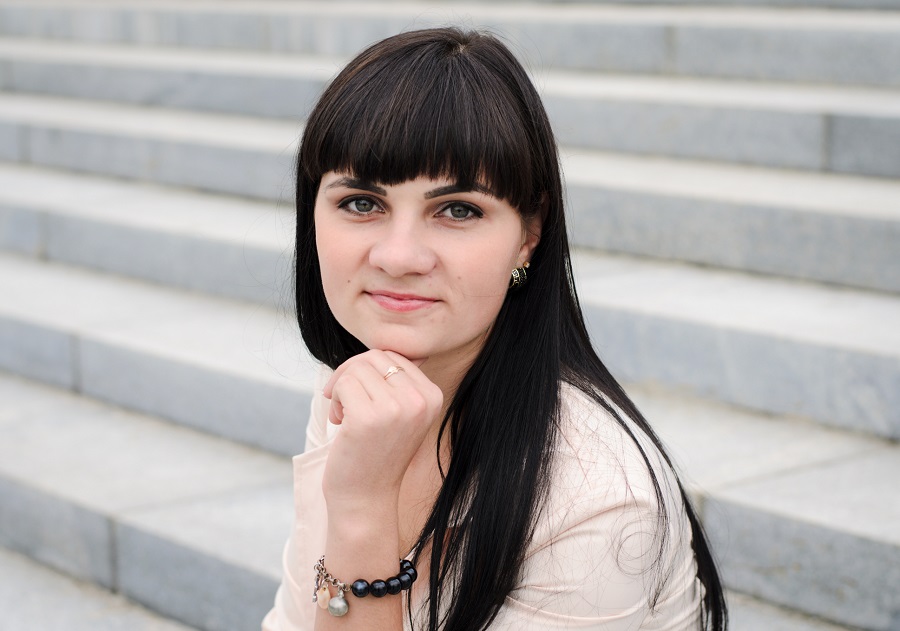 This straight long hair with some front bangs is a beautiful hair look. Not only does this look stunning, but it's also very low maintenance. A few salon visits would be enough to maintain this gorgeous hair color.
Caramelized Brown Hair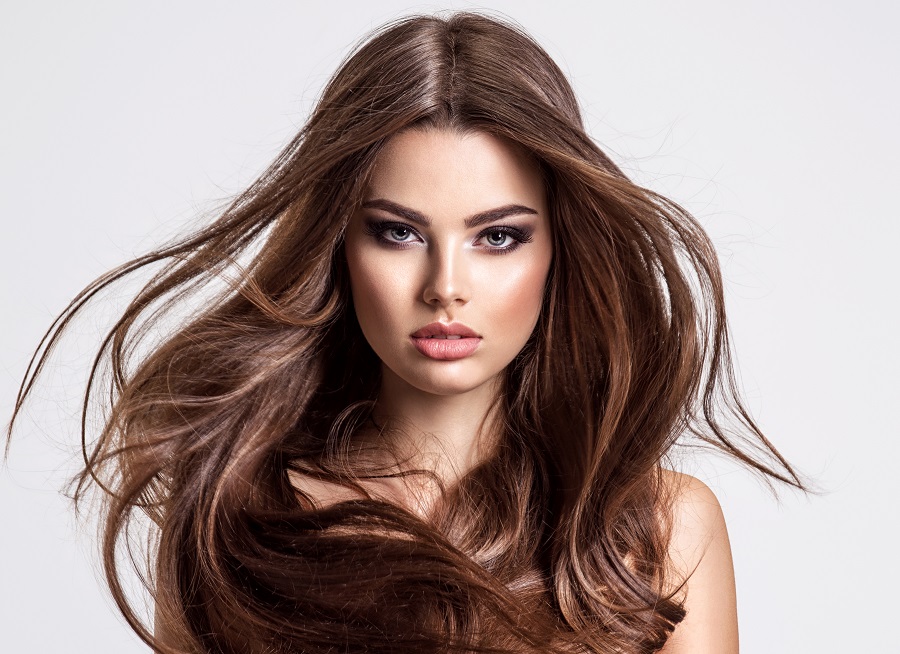 When we think about the perfect shaded hair color, this is the hair that comes to our mind.
This long and straight with a mid partition is the perfect red carpet look. This caramel shade will ensure your hair is the center of attention wherever you go.
Fancy Straight Hair
Brunettes have long been ignored, but not anymore. It's the perfect time to be a brunette because of the countless options available today. This rich brown-colored long, gorgeous hair will ensure that all your angles are perfect.
Elegant Bun Updo
You can never go wrong with this dark hairstyle. This classic sleek side-parted bun is perfect for women of all ages. If you particularly want something to make you look more sophisticated, this hair color is perfect for you.
Ginger Colored Layers
Ginger-hued brown hair has been in vogue for quite some time. It has been the choice for a-list celebrities and movie stars. You can go for a layered haircut with this hair color.
Pro tip: If you're one of the few lucky people with blue eyes, think no further before getting this hair color because no other hair color will bring out your eyes like this one.
Caramel Highlights
Every brunette dreams about getting blonde hair once in her lifetime.
But if you aren't too sure about going blonde, you could try dipping your toes into the style by trying out this gorgeous long light hair color. This is the perfect look to flaunt your long hair.
Thick and Long
Not everyone is a fan of warm tones, and we understand that our girls with a pink or olive undertone also need some cool-toned hairstyles. These long brown curls paired with olive-tinted highlights are nothing like you've ever seen before.
Light Caramel Brown Highlights
Beach waves are a girl's best friend, especially when you pair them with such gorgeous light caramel brown highlights. These loose curls are a simple yet stunning way to experiment with your hair and increase your style game.
Brown comes only second to black when it comes to versatility. As demonstrated in the article, you can do absolutely anything with a long brown hairstyle. From edgy to sultry, we have given you all sorts of ideas for your next salon visit.