Getting highlights is not a tough job, but finding face-framing highlights that suit your skin tone can be a tough puzzle. You see a color you like, but you're not sure whether it will go against your skin tone.
You want to experiment with your hair but are hesitant as you are not sure how it will turn out to be. Chill, we have got you covered by listing out all the amazing combos you can go for.
Hairstyles with Face-Framing Highlights
Here's our list of styles made especially for you so that you don't have to do any hard work.
Brown Highlights for Black Hair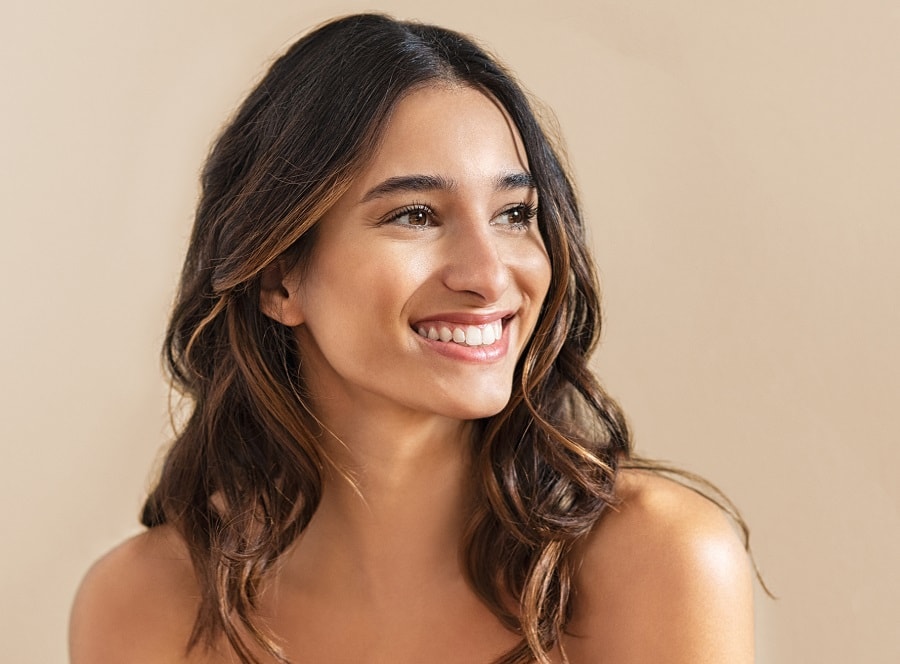 If you are looking for face-framing highlights for naturally black hair, then go this one. They will suit every skin tone, be it fair, dusky, or dark.
That's the beauty of brown color. Any hair length ranging between short to middle length will be the best choice.
Caramel Highlights on Brown Hair
Caramel highlights suit any skin tone between dusky to dark-colored tones. If you have middle-length or long brown hair, go for these without any doubt. Curly or wavy would be a much better way of styling your hair instead of keeping them straight.
Blonde Highlights on Ash Blonde Hair
Every one of you must have heard the term matching. So match your ash blonde hair with blonde highlights. It will perfectly blend with your hair color.
You will end up looking like a beautiful barbie or a gorgeous robot that just came from another world. Keep your hair straight to lock the look.
Blonde Streaks
If your skin tone lies between fair to the dusky range, you should consider blonde color.
Of course, you can also get thin layers of blonde color in between your hair, but as we talk about face-framing highlights here, the main focus should be on your face. Let the hair cover your cheeks and fall freely to give your face a more attractive look.
Auburn Foiling On Black Hair
When you have naturally black and thin hair, you should try those to create an impression of volume. Any lowlights will not do the right job here, so try auburn foiling.
They are dark in color, match with black, and the main part creates an illusion of voluminous hair. Let the front fringes fall to one side of your face, and make outward curls at the end for a better look.
Chestnut Streaks
Try these streaks for your naturally black or brown hair just once, and then see the magic. We bet that you will not think about changing your hair for nearly 2-3 years. It will suit mostly fair skin tones and long hair. Round faces will have an additional advantage.
Grey Babylights on Black Hair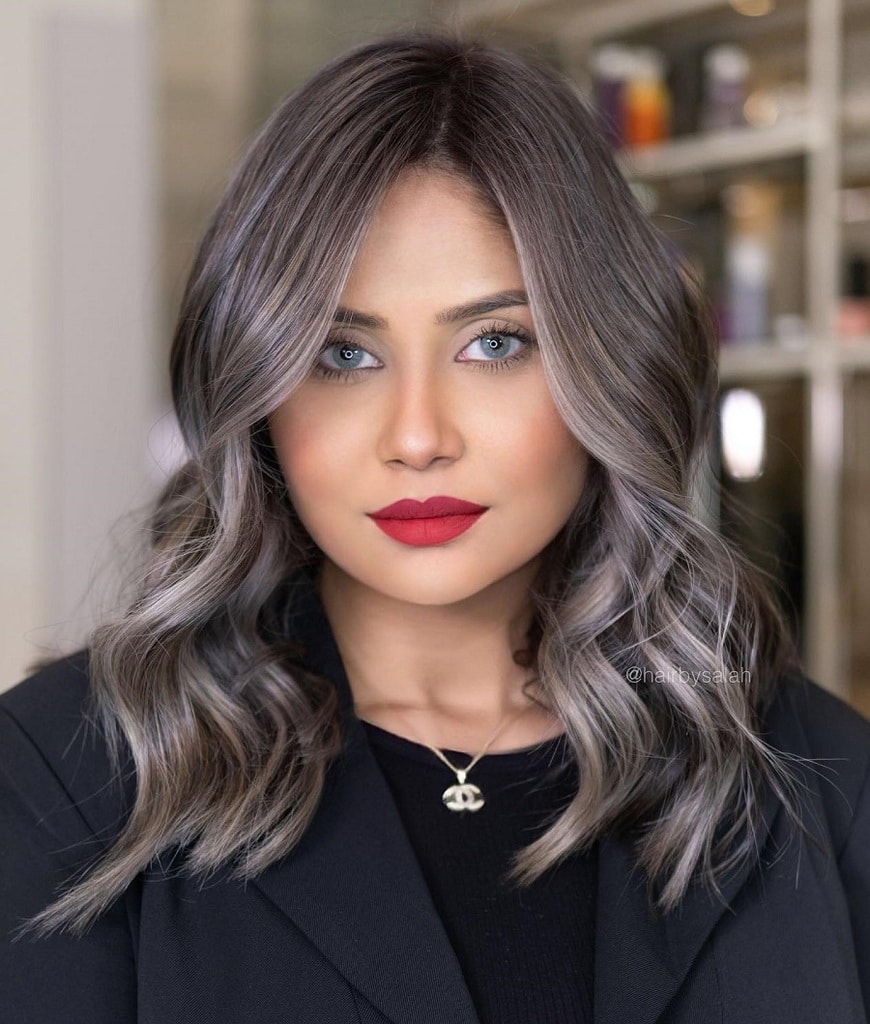 Get into the corporate feel with grey face-framing highlights on natural black hair. They look classy and give you a very bold look.
It's suitable for both short and middle-length hair and goes with any skin tone from fair to dusky.
Honey Blonde Streaks
Wavy hair plus honey blonde highlights, that's the look you have been waiting for. It makes your thin hair look not so thin and also goes well with any outfit.
Fair skin tones should definitely go for this style. This hairstyle is exclusively for long hair only.
Short Blonde Hair
Do you want to get face-framing highlights but don't want to sweat in the summer? Short blonde hairstyle is your solution to this problem.
You can keep your hair open and not face any sweating. Instead, keep your hair wavy or make light waves using a curler.
Buttery Blonde Balayage
The beauty of this hairstyle is you don't get bored of keeping your hair open. Those beautiful buttery blonde balayage will shine on your face irrespective of your skin tone: dark, light, or dusky. Outside curls would enhance your overall look.
Creamy Blonde With A Lob
Don't know which color will suit your naturally blonde hair? Get creamy blonde highlights; they blend well with your natural hair shade and, on the plus side, shine like a star on the front. A straight lob would be a wise haircut here.
Blonde Highlights on Brown Hair
If your natural hair color is brown and wants some face-framing highlights that match your hair, then go for blonde color. They naturally blend with your hair color and make their own spot on your hair. Curly or wavy hair will bring out the beauty of this style.
Light Bronze Roots
Have you ever tried a color that focuses mainly on the ends of your hair? If you're not sure which color you should try this style, don't worry. Light bronze is perfect for this style and matches your natural black hair.
Warm Blonde With A Straight Lob
The next time you go to your hairdresser, show them that you want your hair just like this. This hairstyle is only for those whose natural hair color is dark blonde.
Babylights suit well on darker but not that dark hair colors. A straight lob is exactly what you need to finish the look.
Auburn Fringes on Red Hair
Are you looking for face-framing highlights that suit well with red hair color? Get auburn fringes and you will never get enough of this look.
Each day you will fall a little extra in love with this combination. Curtain bangs and middle-length wavy hair is what makes this look perfect.
Pink Highlights With Blunt Bangs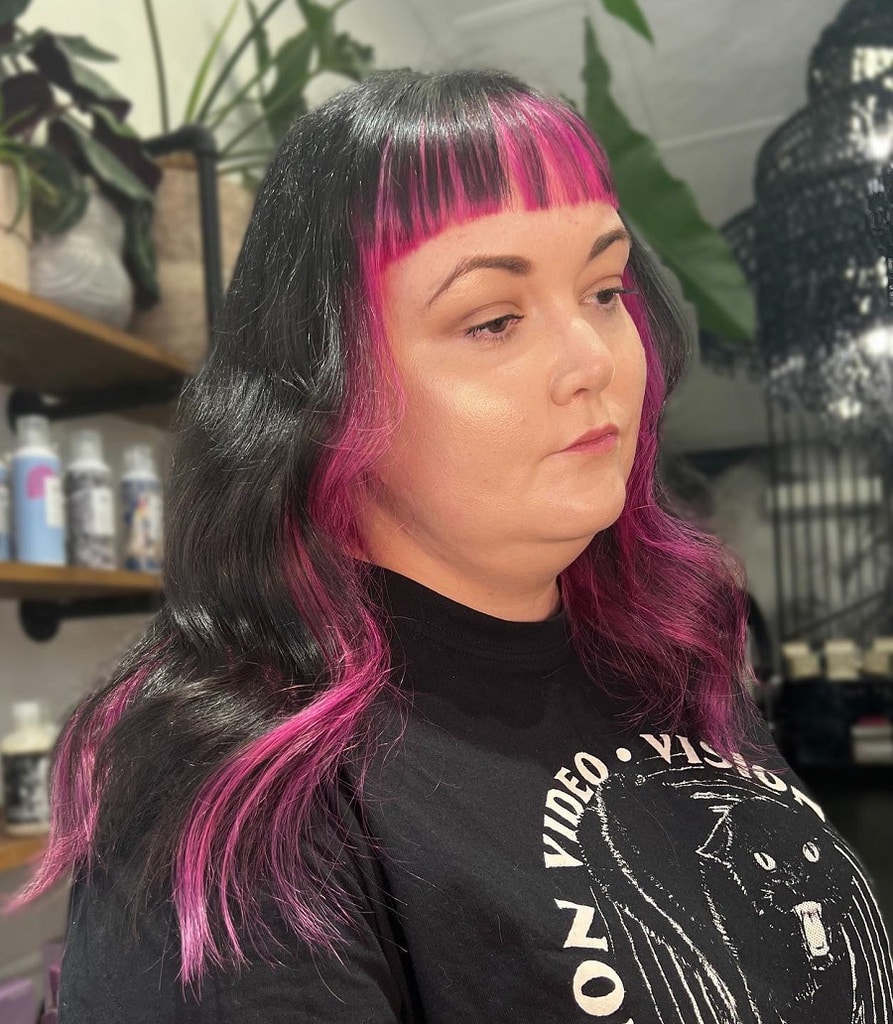 We know that pink color matches with black but does this combination work on hair too? Try it yourself, and you will find out that it does! If you have a round or chubby face, you should definitely try this look. You can also get bangs for your wavy hair.
Dark Blue Fringes and Roots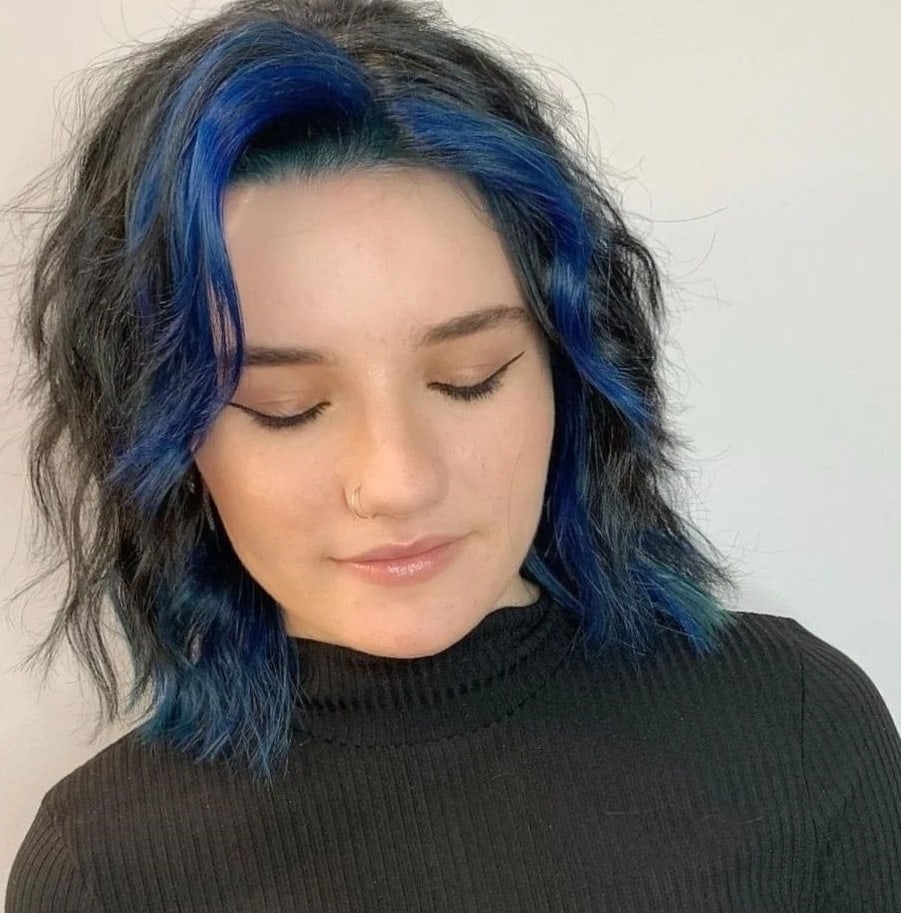 Shifting your outfit colors into your hair is a unique but beautiful idea. Dark blue highlights from roots to ends of fringes will match your natural black hair. Keeping your hair short, maybe in a wavy bob or lob, would work well. It's a fun look worth trying.
Platinum Blonde Streaks
Want some face-framing hairstyles that can go with long hair? Get platinum blonde highlights on brown hair, and you will see the wonders. Get beach waves to have a beautiful look. Trust us; you will not regret this.
Light Blue Balayage Highlights
When we talk about highlights, go for a blue balayage look. Light blue looked great on fair skin—Color the front of your hair and the ends from the backside with it. Then, you can tie your hair in a half ponytail for a complete look.
Beige Blonde Highlights
We recommend you try this combo if you want a subtle look. Your overall look remains subtle, but you look somehow sexy too. Such face-framing highlights suit each type of skin tone, so you don't need to worry about that. Middle-length or long hair would be great.
Ginger Red Streaks
A few ginger red stresses on natural brown hair will give you a charming look. If you have a round face or chubby cheeks, go for inside curls that will suit your face shape. Keep your hair length up to the chin or just collar bones.
We hope you're not worried anymore about which face-framing highlights to get the next time you go to the salon. We tried to filter each style for each skin tone so that not even one of you feels left out. So flaunt your beautiful hairstyles wherever you go.
We're warning you because a storm of compliments is coming to you, so be prepared. You can also give tips on how you got such perfect streaks to anyone who asks.