Are you tired of your hair color, and do you want to spice things up a bit? Well, we suggest going for auburn hair with highlights.
This stylish hair color will be a breath of fresh air on your dull and lifeless locks. That's not all. The addition of highlights will genuinely make this vibrant color come to life.
And that's not even the best part! Here's what we love the most about this hair color and style is, It comes in different shades that will certainly suit different skin tones.
So are you ready to revive your dull and boring hair and show off your fiery side? Well, keep on reading!
Beautiful Auburn Hair with Highlights Ideas
Are you ready to get the auburn hair of your dreams? Check out these amazing ideas!
1. Natural Looking Highlights
Sometimes, you can stick with traditional highlights and still enjoy natural-looking gorgeous hair. It all boils down to your color selection. To achieve the most natural-looking highlights, the key is to go for highlights shades only around two levels lighter than the base.
2. Golden Blonde Sombré
For some reason, red and gold just go oh so well together. Maybe it's because the combination reminds us of femininity (rose gold) and power (Phoenix).
But for whatever reason it is, you can't deny that the blend of shades and the placement of highlights in this auburn hair with highlights are on point!
3. Vibrant Copper Streaks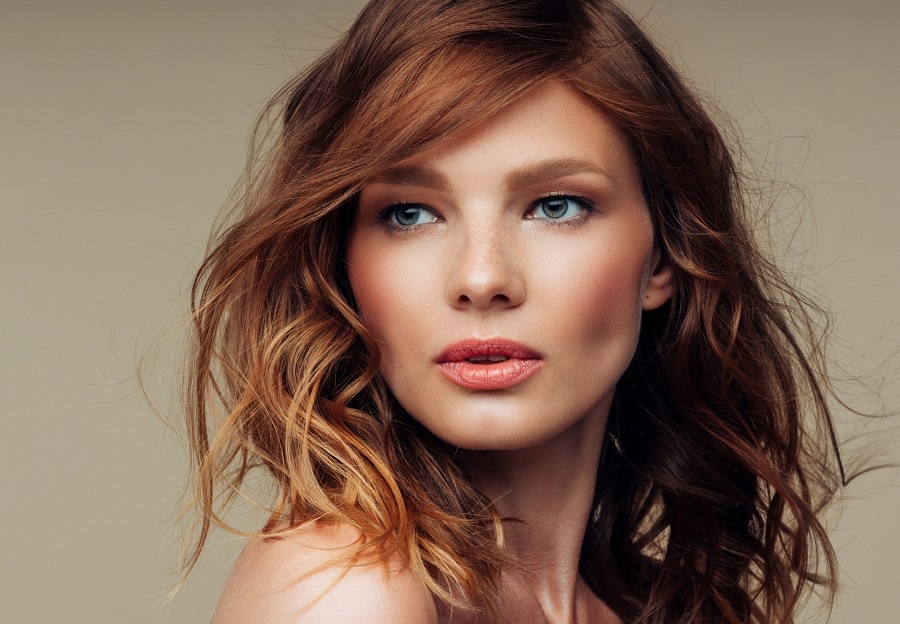 If you want a rich color as a base (hello, auburn hair!), copper is one of the most fabulous hair highlight colors that you can have. This auburn hair with highlights works wonders!
Because the copper highlights are created using a blend of bronze and red shades, so it perfectly matches the auburn base.
4. Dimensional Blonde Highlights
Why choose a certain highlight shade when you can have it all? The best part is adding maximum dimension and depth to your hair when you do. Just marvel at how beautiful the range of color highlights look!
5. Messy Ponytail
Here's another example of natural-looking auburn hair with highlights. Since the orange and blonde shades used only to have a difference of a few shades, they blend pretty well.
6. Natural Red Hair
If you want your highlights to look as natural as possible, dimensional highlights are just what you need. This technique involves using multiple hair highlight colors to create a multi-dimensional effect that our hair doesn't have.
7. Lighter Auburn Highlights
Well, there's nothing more natural than using highlights that are a lighter shade than your base. The contrast isn't noticeable, but there is no doubt that it added dimension and depth to the hairstyle.
8. Messy Bob with Bangs
The thin beige streaks go perfectly well with the wispy hair. This auburn hair with highlights looks so dreamy, whimsical, and extra feminine.
9. Thick and Long
Can't decide whether to go for a lighter or a darker highlight shade? Well, why choose if you can have all of them! When you take the risk, you get these gorgeous multi-dimension highlights that look oh so gorgeous!
10. Auburn Red Ombré Hair
Are you tired of dealing with grown-out roots? Well, you don't have to deal with that when you go for an ombré highlight. But the good news is you can still enjoy an eye-catching hairstyle by donning on a bold ombre color like this one in a light blonde shade.
A gorgeous auburn hair color will already step up your hair game. But did you know that you can undoubtedly win the game by adding highlights to it?
These hair color ideas prove that there's no problem that a beautiful hair color can't fix! So which of these hair colors and highlights do you love the most? Please share it with us in the comments section!