You can be confident that short blonde hairstyle will shave years off your face and make you look glamorous.
It's easy to see why people with this color are considered the most beautiful and lucky in love.
You'll look beautiful, fun-loving, and all-around stylish when you choose to be blond and try one of the styles below.
Glamorous Short Blonde Hairstyles
Take a look at the short blonde styles below to get some inspiration for your new look. There are a lot of variations, so you'll undoubtedly find something you'll enjoy.
Goldish Blonde Pixie Cut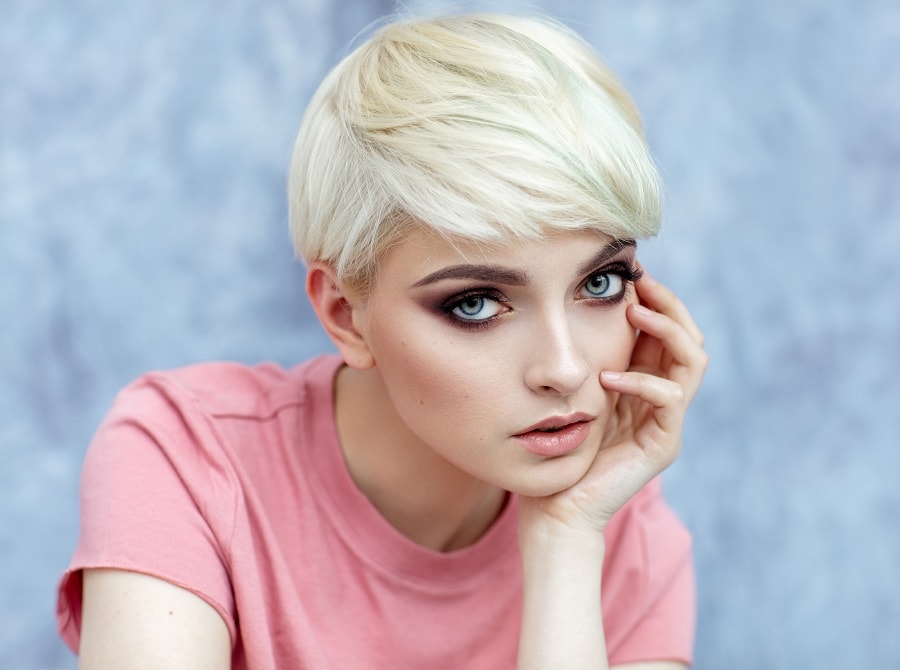 Pixie cuts are the best way to style blonde hair if you want to keep it super short. You can show off your features very well this way. This goldish-blonde hair needn't be dyed frequently.
The soft locks are brushed forward into bangs that cover most of the forehead. The rest is pushed neatly behind the ears.
Smooth Buzz Cut
If a pixie cut isn't short enough for you, then you might want to consider a style like this. The locks are trimmed down a lot.
There's still a lot of texture to help draw attention to the style. The sides are shorter than the top. All of the hair is smoothed down very neatly.
Natural Curly Hairdo
Women with naturally curly hair, especially black and mixed-race women, will enjoy this look. The sides are kept very short and slightly squared off. On top, the blonde curls are packed densely together.
This makes the hair look highly voluminous. The cut has a nice, rounded shape that's stunning.
Platinum Blonde Bob
If you prefer a little length to your locks, then bobs are the way to go. This short blonde bob won't take too much time to style. Here there's a side parting and some side bangs. The tresses are straight. They're pushed behind the ears on one side.
Wavy Bob with Highlights
Waves ensure there's a lot of life to your hair no matter what length it is. They also make it look very thick and fun. The various shades of blonde help the textured locks stand out. There's a lot of depth to the style.
Pompadour Undercut
Undercuts create a very edgy style that many modern women adore. Here it's made even edgier, as there's a stripe shaved into the side of the head.
The stubble on the sides is black, but on top there's a beautiful shade of blonde. The slightly textured hair is gathered up into a pompadour-inspired style.
Loose Bob with Bangs
Bangs are a wonderful choice if you want to help frame your face. The rest of the hairdo has a nice wavy texture that makes it appear very lively and carefree.
Carefree looks are fantastic for everyday wear. They suit people of any age, and they go well with all shades of blonde.
Short Light Blonde Mullet
You can have a lot of fun with texture in hairstyles like this. The back is all ruffled up and thick. The front section is brushed forward from the crown of the head. There's a nice choppy texture to the front of the mullet. It's very unique.
Pixie with Long Bangs
Long bangs are great if you want to cover part of your face. Some longer locks fall over one side and obscure half of your features. The other side of the head has the blonde locks very short and brushed back towards the neck.
Curtain Bangs for Mature Women
Sometimes it's just best to keep it simple. This is a super easy short hairstyle that looks wonderful on mature women with fine blonde hair.
Full bangs cover the forehead and part of the eyebrows. The cut has a very consistent rounded shape around the head. The sides and back are slightly longer than the bangs at the front.
Slick Ponytail
You can still tie your hair up when it's cut short. Here's a fantastic example of it. The tresses are drawn back very neatly. A small, neat ponytail protrudes from the back of the head. It's a minimalistic look that's still glamorous.
Messy Corkscrew Curls
This style is totally inspired by Marilyn Monroe. It's the epitome of a "blonde bombshell."
The short blonde corkscrew curls frame the face. This helps emphasize the sharp jawline and cheekbones. The top has a lot of volume. Overall it's a slightly ruffled look to look elegant and gorgeous.
Slicked Back Hairdo
It's becoming more and more popular to slick all of your locks back. The short blonde hair pulled back from the hairline and gelled down tight to the scalp. The solid shade of blonde is very eye-catching here. It's a nice, warm tone that looks great with tanned skin.
Stunning Wedding Updo
Do you have a formal event to go to soon? You could wear this hairstyle to it. It's perfect for weddings. The locks are drawn back in sections to form a complex-looking updo. There's a lot of movement in the hair. One lock is left free by the face.
Large Waves with Middle Parting
You can clearly tell that middle partings are becoming more popular. They're especially adored by the younger generation. This helps them make you look youthful.
Waves also have a very young feeling to them. This champagne blonde shade ties the whole look together to make it look shiny and totally fabulous.
Simple Warm Blonde Bob
Warm tones in your hair always help you look friendly and approachable. For this reason, you may wish to consider a style like this. It's a nice short blonde hairstyle with a center parting. Some of the locks are slightly shorter. This helps create a face-framing effect.
Wavy Graduated Bob
Having the sides shorter than the bob helps your hairdo frame your whole head. It's a graduated honey blonde bob style that many people are seeking these days. The waves add movement to the hair, and that helps make it look very shiny.
Wavy Creamy Blonde Style
Sometimes blonde locks can look very flat. You can avoid this issue by having darker roots. The rest of the tresses are a much lighter shade. They form elegant waves that frame the features nicely.
Loose Dreadlocks with Dark Roots
Most of the time, dreadlocks are very tight. However, here, the ends end in a loose curl. There are also a lot of flyaway hairs that make the locks appear nice and loose. The locks then form the shape of a bob.
Straight Shiny Bob
Having blunt ends in your hair can be a little jarring. This creates an interesting look that it's difficult to turn away from. Straight hair helps emphasize this effect. It's also very easy to have your locks nice and shiny when they're straight like this.
Are you bold and daring enough to wear these short blonde hairstyles? We certainly think you'll look great in them! Go become the blonde bombshell you are deep inside. You'll have heads turning in no time with your new glamorous look.