The blonde curly hairstyle is vibrant that adds a bounce and life to the hairstyle that other styles can't capture. There are so many shades of blonde and styles of curls to choose from, though, so it feels even more impossible to pick just one style that you like.
We want to help you change that by showing you so many styles that it's impossible to finish reading without picking one.
Some of these styles can be worn by the same person, too, so pick a few that you'd like to try out. Grab your curling wand or your hairstylist and have some fun experimenting with these fun-filled hairstyles of beautiful curls.
Blonde Curly Hairstyles to Show Your Style
The styles below are perfect for all age groups and preferences, so go in with an open mind and snatch up your favorites.
1. Ash Blonde Curls With Dark Roots
Light tones always make blonde hair pop, and here's very light but not quite platinum. The dark roots create a great gradient that'll make you stand out.
The darkness blooms from under the mass of tight curls that really can't be tamed but in the best way.
2. Volume and Perfect Wavy Curls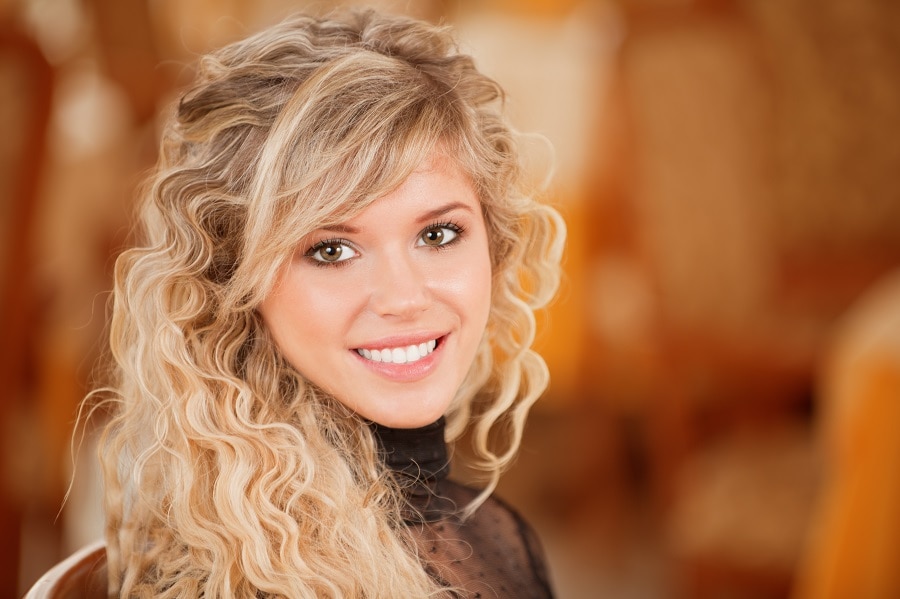 Want to try something new? This is a very natural hair color with darker blonde undertones towards the roots.
The hair is brushed back with lots of volume, and there are bangs that sweep across the forehead at an angle. The curls are wavy as well as curly, and they're very thick.
3. Elegant Braids With Bun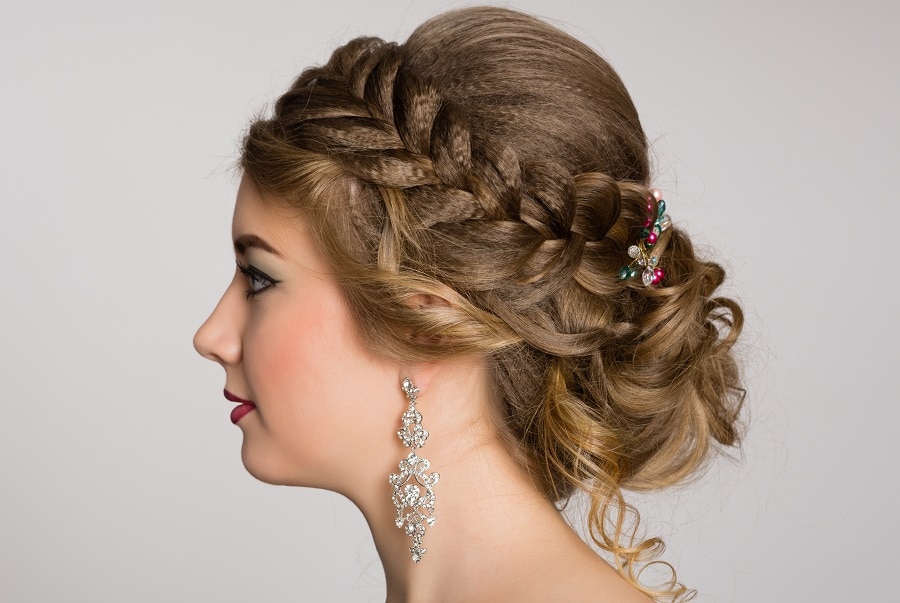 A blonde curly updo is perfect for weddings! The dark blonde curls are pinned back in a low curly bun, and the front of the hair is decorated with a thick braid that sits just in front of a large bump of volume that adds elegance.
4. Perfect Corkscrew Curls
Tight corkscrew curls are really fun to have. This funky blonde curly hairstyle looks that's also great for natural blondes, and you can see that as the roots are dark and the rest of the hair is much lighter. It's such a fun look for every day!
5. Space Buns and Cascading Curls
Another truly mesmerizing look is where the hair is pinned up into elegant space buns that are looped beautifully, and the rest of the hair falls down the back in perfect curls that exude beauty and elegance. It's definitely a look you'll want to try out at some point.
6. Messy Frizzy Bob
Do you love your curls but you want to look as natural as possible? This blonde curly bob look is one of the most natural you can get.
The curls are there but they're also frizzy so they're somewhat all over the place. It's a great easy look to achieve each day.
7. Curly Lob With Dark Roots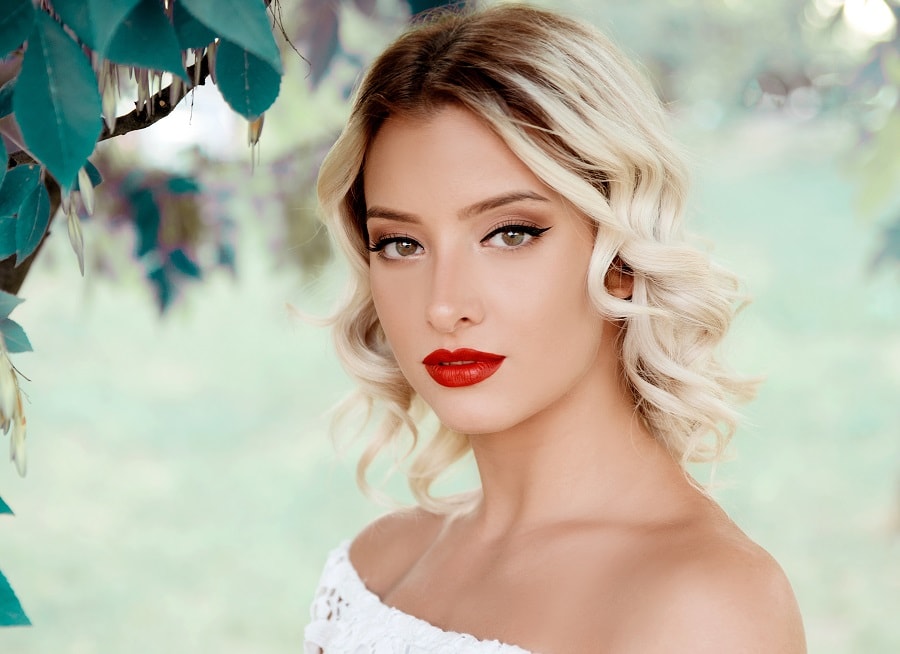 If you want to get a subtle look, this is the perfect hairstyle for you. These dark roots contrast with the platinum blonde shade perfectly styled with the curls. The wavy long bob is parted in the middle, so it looks simple yet magnificent.
8. Finger Waves With Purple Shade
Cut into a nice bob, the hair is styled in the finger waves fashion, and it's very short and reminiscent of the 1920s.
However, there's a modern element to it, as there's some purple color at the side of the hair, and it matches a purple makeup look well.
9. Amazing 1980s Perm Look
Do you love the 70s and 80s disco look that perms provide? This hairdo will give you that. The blonde hair color is all over the head, and it's all permed to perfection.
You'll truly dazzle everyone that looks at you and make them think they've been sent back in time.
10. Thick Bouncy Curls
If you have very thick blonde hair with small corkscrew curls, this is a great look for you. This hairstyle is parted slightly to the side, and the emphasis is really all on the curls.
It has brown roots, and the rest of the hair is in that perfect place between blonde and brown.
11. Loose Curls Wet Look
Sometimes a wet look is best, and these blonde curls have a wet look to them that looks quite neutral and casual.
The curls are very thin and don't follow a particular curl pattern, so they're great if you want that easy "I just woke up like this" look.
12. Pale Corkscrew Curls
Corkscrew curls always look great with a side parting. That's what this hair has, and it helps you see how the light blonde is a very natural look.
13. Short Messy Curls
The messy blonde curly look doesn't have a particular curl pattern. Some are very curly, some are loose and move like waves, and they're all over the place as they bloom out from the side parting.
14. Huge Curly Bun
If you have a formal event or wedding to go to, try this look. The front has a lot of volume as the bangs sweep to one side, but the rest of the hair is scooped up into a big square bun that defies gravity. Curls decorate the sides as they weave in and out of the look.
15. Long Loose Curls
This is a perfect look for long hair. The hair is mostly straight down to the chin, and that is where the curls begin. They're very loose curls that go all the way down, and it's an amazing look that works for all occasions.
16. Piles of Corkscrew Curls
The hairstyle here is so thick and full of volume that it looks like piles and piles of corkscrew curls bundled together. The hair has a side parting that adds extra volume to the top of the hair. It's very long and neat.
17. Elegant Romantic Curls
Look at this elegant wedding look that you'll love. The blonde curls are pulled to the back and hang neatly, secured with a rose at the side.
A thinner curl hangs closer to the face on the other side. Some feathery bangs sweep lightly across the forehead to balance out the look.
18. Casual Loose Curly Look
If you don't have a lot of time to care for your curls, this is a great look for you. It's very much a shake-and-go look where the curls are there but they're not fully formed in every place.
The hair's parting is very natural and almost directly in the middle of the head.
19. Thick Silvery Blonde Curls
Silver, curly hair will make you look like a goddess. This silver hair looks messy yet somehow every curl is in the perfect place.
The curls underneath are thick and winding, and the hair on top is in looser stray curls that decorate the look.
20. Long Girly Curls
Sweet, long curly blonde hairstyles are for a perfect girly look. It's a flowery look fit for summer, and there's also a countryside vibe to it if that's more your style. It's a simple concept, but it gives off so many different vibes you'll fall in love.
21. Loose Long Curls
For something a little different, these curls have a silver hue to them, but it's more on the white side of silver. It gives you a regal and classy look and makes it seem like you're the boss.
The hair is long and the champagne blonde curls are large, but they're so sleek and perfect that it seems like you're in charge of the world.
22. Sweeping Wavy Center Parted Hair
Do you want an easy look? Loose styles like this are great for people who don't want to style their hair too much.
The wheat blonde hair is long enough to fall near the waist. The hair is parted in the middle to add to the ease of creating this look.
23. Medium Blonde Curls
Pale looks and waves are very popular right now. This ash blonde hair gives a natural look as the curls have been brushed out. The hair is a grey shade that goes well with any look.
24. Perfect Blonde Buzz
If you have a hair texture that's hard to handle, then you might be tempted to buzz it short. If you still want to express yourself a little, dye those shaved-down curls to create a chic look.
25. Short Volumized Curls
For those of you with curls, this is a bob haircut that you can easily style. All of the dark blonde hair is very thick and curly but it still looks very free thanks to flyaway hairs.
26. Messy Strands
Variations on typical blonde hair always look great, as you'll see with this strawberry blonde hair.
It's very loose and you can see curls towards the end, but other strands of hair are wavier instead of curly. There's some volume on top near the side parting.
27. Casual Curly Updo
In this curly updo, some blonde hair falls down by the face, but the rest is pinned into a pleasant little updo for everyday occasions. There's a side parting to help the look appear casual and natural.
28. Thick Vanilla Blonde Locks
Thickness is the focus of this look. The curls are perfect in small strands and they're very loose, and the hair is all brushed back and away from the face. There's a ton of volume on top of the hair.
29. Thick Brownish Curls
Dark blonde highlights look that border brown tones are always interesting. Here the corkscrew curls frame the face and fall across the forehead in thick bangs. There's so much volume that you'll fall in love with the look.
30. Perfect White Blonde
Pure white hair is always so beautiful, an amazing variance of blonde that's way too rare. The hair has no distinct parting and there are some shorter strands forming bangs.
Everything is just curls, curls, curls as the style falls to the chin in highly volumized chunks.
How did you like these styles for blonde curly hair? If you loved them, be sure to show your stylist a picture of the hairstyle that made you fall in love with your new everyday look, wedding look, or go-to style for parties.
There's really something for every occasion and preference in the list above, so keep them in the back of your mind for when you want to shake up your look and for when you need to attend an occasion that warrants changing your usual hairstyle.