Smoky hues are highly popular nowadays. They give off edgy and regal vibes. It's a total must if you want to stay on-trend and up to date with all the latest looks in fashion. One of the easiest ways to apply smoky hues to your hair is by going ash blonde.
This hair color typically has dark roots and hints of grey undertones to create a cool blonde tone. It's a great change from the warmth of more golden shades.
Cool and Smoky Ash Blonde Hair Colors
Are you interested in staying up to date with the latest hair trend? Look below for some of the best ways to style this look.
Long Bob with Center Parting
There's nothing cooler than sleek, straight locks. You'll look so simple, but so edgy. Parting your hair in the middle is also currently a trend.
These tresses fall in a nice long bob with dark, greyish tones on top and the blonder ones at the bottom.
Sleek Long Locks
An all-over ash blonde color gives you a pale and mysterious aura. Here the locks are quite long, but they have shorter sections in the front. These sections form the bangs that are much longer than most bangs you'll see.
Long Silvery Hair with Dark Roots
As we said earlier, dark roots are common with ash blonde hairstyles. The grey undertones are also highly visible here.
The lightness of this cool tone is also more evident next to the warmer-toned skin. It gives the hair a very silvery hue.
Short Messy Quiff
You don't have to have long tresses to wear these ashy tones. Here the blonde hair is short with much longer locks on top. These locks are then styled high into a messy quiff that's nice and fluffy and the epitome of edgy.
Long Layered Look
Layers add a lot of thickness to your hair. Here they're very subtle and create depth. The tone starts darker and closer to brown on top, but it's predominantly blonde overall.
The bangs are shorter than the rest of the haircut, but they blend in seamlessly.
Peekaboo Brown and Blonde Bob
Dark brown and almost black tones go well with these ashy colors. In this haircut, there's a very dark brown that's almost black and it's visible underneath the main section of the haircut.
The haircut is a thick bob. It's ashy blonde on one side, but it's brown on the other.
Medium Toned Glamorous Waves
Here's an example of a more regal look with this color. This blonde hair is very long and shiny with large waves in it.
It has center parting and sleek waves that fall in sweeping curtains to frame the face. The medium tone looks great with warm-toned skin.
Wavy Bob with Side Parting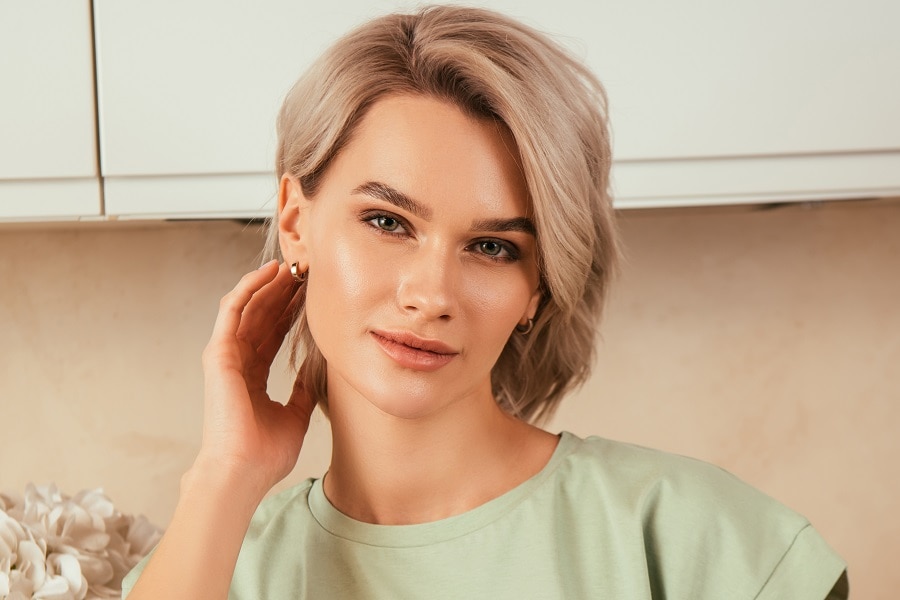 Bobs are one of the trendiest hairstyles right now. Giving them a side parting helps you make one side quite voluminous.
This is great if you like side bangs that cast shadow over one of your eyes. The other side of the hair is pushed behind the ear.
Long Curly Ashy Look
Curls create such depth in the hair. These blonde curls fall below the shoulders and make the hair appear very vibrant.
Curls catch the light in a way that lets you see so many different ash blonde hues in tresses with this delightful tone.
Chic Curly Hair
You need tame hair when you're going to work, as you don't want something that's too distracting or is in the way.
This cool ash blonde tone is perfect for blending in. The curls are long and neat so they don't take up too much attention.
Flower Crown
Do you need a new look for summer? Chic straight hair is great for that. It can blow in the gentle summer breeze and doesn't take a lot of effort to wear every day. Wearing it with a flower crown adds a vibrant touch.
Most ombre looks you'll see have brown hair that transitions into golden tones. This one instead starts with dark ash blonde and transitions to a lighter version of the tone.
The long hair is left in its natural state. It's straight but has a slight waviness to it that makes it appear lively.
Long Waves with Dark Roots
Waves make your hair look so alive. That gives you a very fun and adventurous look. Pairing these cool tones with dark roots also helps you appear dynamic and lively. That's a lot of depth around your face and head area.
Long Layered Bob
Here's a hairstyle that mature women will like. Younger women can still wear it and look great, too. It's a long bob that reaches the lower section of the neck.
There are lots of layers in it that are all feathered backward. You can see several tones in it that make the hair very eye-catching.
Chic Loose Braid
Some ash blonde tones create such an eye-catching look that people won't be able to tear their eyes away from it. Long, straight hair with this tone is very regal.
Here it's made more interesting by pulling some light sections back and braiding them down the back of the head.
Feathered Hairstyle
Feathering a hairstyle makes it look very thick and full of movement and life. The feathering becomes more obvious when the hair has layers like this.
It adds a lot of depth and helps show off the various tones in this dark ash blonde hair.
Messy Bob with Full Bangs
A messy bob always makes a great everyday look. The top of the hair is a little ruffled with some flyaway hairs.
The rest of the bob falls in waves and ends bluntly. There's a lighter tone in these tresses, but it's darker on top. The long, full bangs add a great face-framing effect.
Long Waves with Face Framing Highlights
Here's a look that pairs a medium ash blonde tone with a light one. The long waves fall to the upper chest area and are great for someone who loves having long hair to play with.
The lighter tones are painted onto some of the front sections. They're especially obvious as they highlight the hair around the face.
You can truly create an extremely chic look when you choose to wear ash blonde hair.
It's easy to craft a unique style using variations of dark, medium, and light tones. Mixing and matching shades of color is also a great way to create a unique hairdo.