With most of us tired of seeing and trying out blonde and warm shades on our hair – the ash brown hair color is having its special moment in the beauty world. This cool and smoky shade with a deep base is gradually becoming the go-to pick of every girl, owing to its versatility.
The coloring can be experimented with creatively to complement different skin tones. However, if you have naturally very dark hair, you will initially need to lighten it up by using bleach before starting on the paint job.
Vibrant Ash Brown Hair Color Ideas
Keep reading to find everything you need to know about the top ash brown hair colors.
Dark Ashy Brown
Make your long wavy hair look good with these medium dark ash brown highlights! The color looks super natural and not overly made up at all.
This low-maintenance style is ideal for young girls who have to go to university/college every day and can't be bothered to get involved in the complicated steps.
Dusty Brown Bob
Give your brown tresses a much-needed upgrade with the dusty grey hue. This adorable bob center-parting hairstyle proves that the length does not matter when it comes to the appeal of ash brown colors.
The jet black roots peeking on the top of the head add some nice contrast to the overall bob.
Caramel Brown Balayage
If you love warm tones, this caramel brown is a color that deserves a spot on your hair inspiration wishlist. The balayage tones look both subtle and beautiful.
For those who aren't blessed with naturally straight hair, you can straighten your hair to get the sleek effect properly.
Messy Curtain Bangs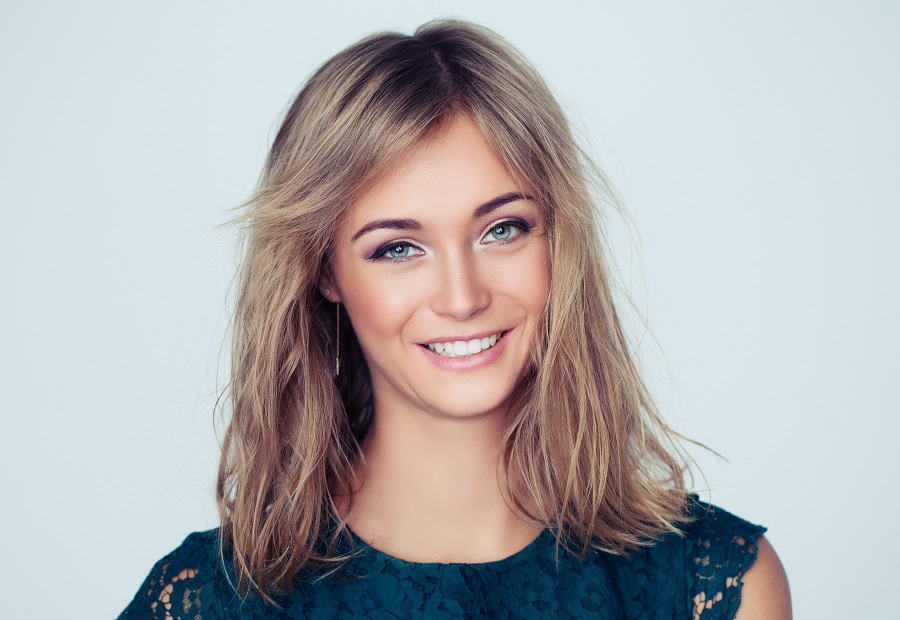 This light brown color with curtain bangs makes for a beautiful hairstyle. This will suit various skin tones, mainly olive and neutral tones. You can use two to three pumps of a texturizing spray for this effortless piece-y look.
Multi-Toned Hairdo
If you can't choose between the ash brown shades available, go for a multi-toned dye job. The center braid mini bun consolidates the youthful vibe of this hairdo.
Tweed Brown Style
Don't feel ready for full-on hair color? Go for this tweed tone with dark blonde highlights and achieve a chic look on your hair.
This tone delivers the right amount of color to the super-cropped hairdo. The no-fuss situation of this neat style makes it ideal for job interviews, meetings, or formal events.
Golden Brown Long Hair
This golden ash brown color holds a luxurious approach to beautifying the traditional wavy style.
The roots display intense cool brown undertones before blending into the golden hues. A curling iron will help you achieve the wavy look better towards the ends of the hair.
Thick Brown Waves
There's no denying that the classic ash brown color can make any hairdo looks exquisite and elegant.
You can always choose to be red carpet ready in this long wavy style. The glossy sheen throughout your hair gives an air of professionalism to this style.
Dark Chocolate Choppy Style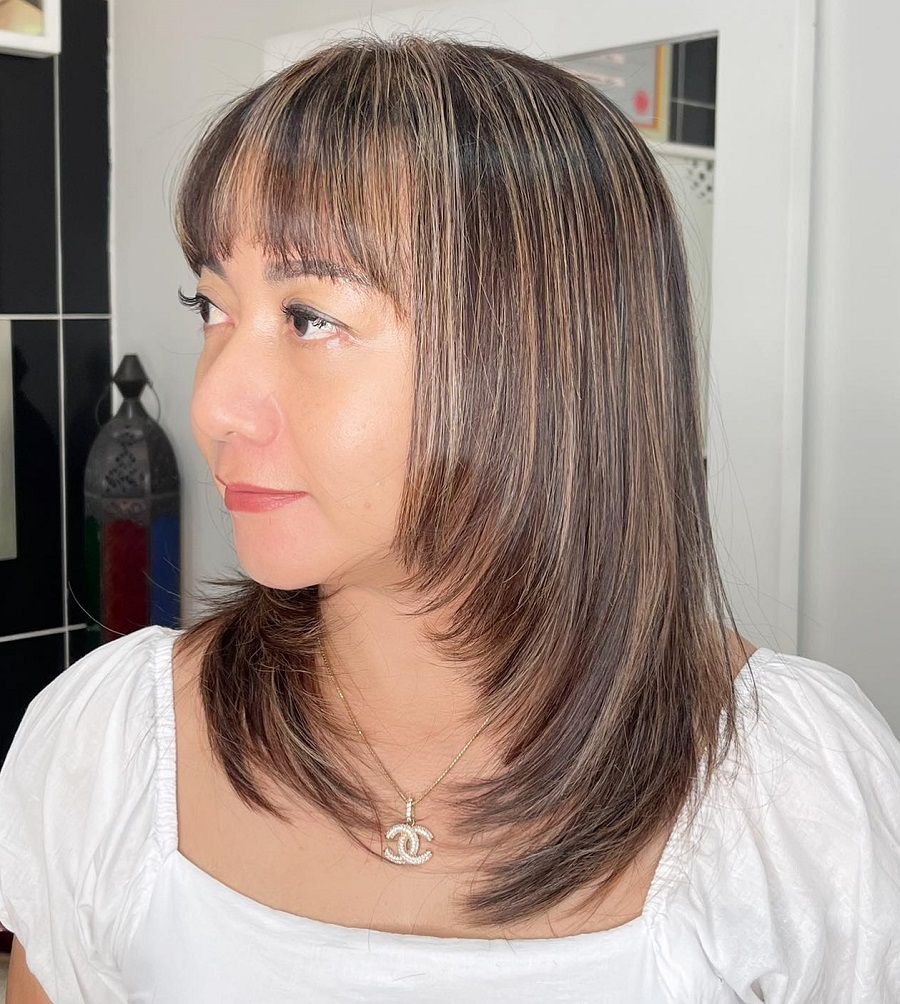 One can hop on the hair color trend train without going too light. This dark chocolate brown hue with ashy lowlights is the perfect way to add depth to your natural brunette base.
The choppy layered mid-length style with front bangs works well with the chocolate tones.
Golden Short Curls
Spice up your short curly hairstyle with this blend of golden brown and blonde babylights.
If you believed that wearing smoky tones as a brunette could wash out your pale skin tone even further, this style does the exact opposite and enhances your skin. Lastly, this hairdo is great for everyday wear.
Yellow Champagne Blonde Balayage
Right now, one of the most stylish color combinations is the cool-toned brown contrast with yellow ash balayage.
You can't help but be charmed by the rich quality of these shades that spread throughout your locks. This long brown style's wavy texture helps add volume to any hairdo.
Silver Wavy Hair
Show off the length and dimension of your hair with this smooth ash brown hue. The color has strong silver and grey undertones which makes it look beautiful.
Cobalt Blue Highlighted Hair
If you want your monotone hair to look vibrant, some cobalt blue highlights against this Havana brunette base can switch things up easily.
Interestingly, the pure cobalt blue hue fades to lighter smoke tones in some places to create a colorful aesthetic. This hairdo is guaranteed to turn some heads.
Espresso Toned Layers
Women who are more drawn to the soft colors will adore this ashy espresso tone. The face-framing outer layers give better shape and definition to your face structure and features.
While the side parting makes you look more casual and pleasantly approachable, the sharp jagged ends have a striking effect.
The Bridesmaid Hairstyle
Who says that ash brown colors can only be incorporated into your looks when your hair is let down freely?
Put an end to all the misconceptions with this gorgeous braided updo with tiny stones. The feminine charm of this hun makes it ideal for the bridesmaid aesthetic.
Dark Mocha Brown Hair
Painting your hair in a dark mocha shade with crushed garnet highlights on the top portion of the head is an excellent way to create a subtle statement.
The textured ends are all equal in length, which gives a unique edge to the blunt cut. We love how easy to maintain this color is; you won't have to take multiple trips to the salon anymore.
Caramel Blonde Layered Bob
For fair skin women with pink undertones, you can opt for a caramel blonde color with nutmeg brown babylights.
This short layered ash brown bob is a great contemporary style that goes along well with the base color. On the upside, you can wear this classy bob hairdo for day and night events.
Medium Brown Waves
Going towards a more medium tone on the color spectrum from an extreme ash brown can be a wise decision regarding aesthetics as ashy shades that won't suit all skin tones.
Here, styling the hair in waves also helps increase the texture and volume quotient of the hairdo.
Curly Balayage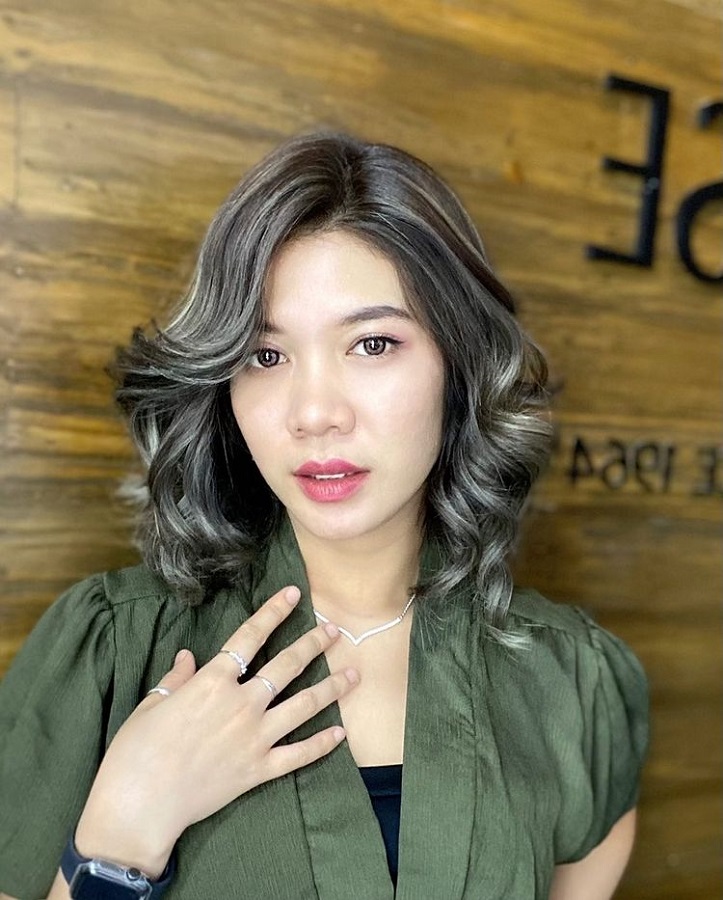 This contrasting ash brown balayage makes your short curly hair look voluminous, nourished, and lush.
Also, you can apply a few pumps of a setting spray or mousse to lock in the gloss and sheen of the hair. Because of its loose cascading curls, this can be a fabulous hairdo to wear at parties and special events.
Mid Length Dark Hair
The dark brown-black base accentuated with smokey ash brown highlights can be an effective way to add some dramatic flair to your hair.
Also, this hair color duo will allow you to embrace your grey hair without any hesitation. The straightened hair quality and proper coloring technique increase the appeal of this hairstyle.
Half Up Knotted Bun
If you desire to transition into the blonde shades from being a natural brunette, this rose gold hue can serve as the first stepping stone in the world of blondes.
Pinks are currently on the hot list, but bright pink hair is not everyone's cup of tea. The half-up half-down style looks ravishing as it reveals the darker highlights in your lengthy tresses.
From brightening up your dull highlights, achieving a fuller-looking hairdo, to cooling down the warmth, or simply wanting to change your original hair color, we now know that ash brown hair colors with their dark roots will be a constant in your life no matter.