You have received the interview callback of your dreams and are fussing over planning the perfect formal attire, but you miss out on an important part – your hair! It's essential to remember that a well-made job interview hairstyle can significantly boost your confidence.
The wrong hairstyle can do just the opposite and worsen your already on-the-edge nerves. From buns and braids to bobs and pixie cuts, there are several hairstyles that you can sport in a job interview. But you must pick the one that complements your hair length and type.
Best Interview Hairstyles for Modern Women
Read on to find the effective hairstyles that will turn the odds in your favor in your upcoming interview.
Straight Brown Down-Do
Straight hair can help perfect a strong and determined first impression.
This mid-length side part straight hairstyle is excellent for any job interviews. You can use a straightener to recreate the same look if you don't have naturally straight hair.
High Bun Hairdo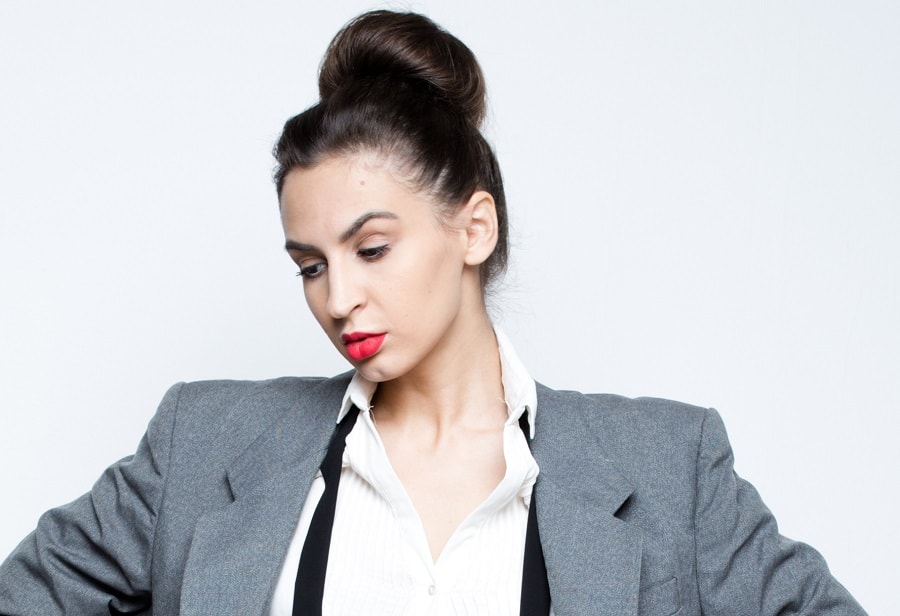 With this hairdo, you can effectively avoid the risk of fiddling with your hair or having to push it out of your face every time. The high bun style will make you look classy and concentrated simultaneously.
Cropped Curly Hairstyle
Who said curls always have to translate into a carefree and chill aesthetic? We have this super-cropped job interview hairstyle that allows curly-haired girls to embrace their curls with professionalism.
Slicked Wavy Hairdo
If you want to be unlike all your competitors on the interview day, a slicked-open hairstyle is your best bet.
Get yourself some hair gel to achieve smooth side parting. The subtle golden waves also enhance the overall hair quality significantly.
Simple Blonde Hair with Dark Roots
There's no need to fret for days when you run low on time to get ready for your interview. You can always keep things simple by letting your hair down. However, remember to brush it thoroughly to remove any knots and tangles.
Curly Natural Hairstyle
Trying to tame your voluminous curly hair forcefully can do more harm for it than good.
The suitable job interview hairstyle, in this case, would be a casual side sweep with bobby pins. This hairstyle can work well until it's kept as frizz free as possible.
Tousled Ponytail
If your dream workplace is associated with beauty, fashion, or the arts, you can skip on the more somber hairstyles.
Tie your long hair into a neat ponytail, and then divide the ponytail on either side of your head. Remember to pull out two strands in the front for an effortless charm.
Dark Short Layered Bob
You can never go wrong with a short layered hairstyle for an organized aesthetic. The layers frame your face elegantly and complement your formal attire. The texture lends an edge to this hairdo.
Ginger High Bun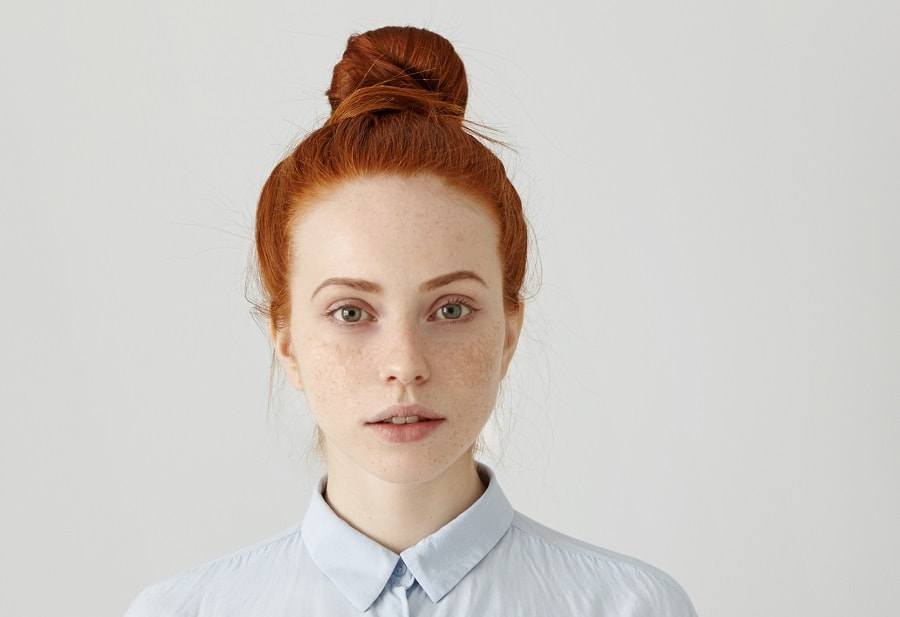 Seal the deal with your future employer by pulling your hair back into a top bun. There is no need for teasing in this hairdo to maintain an air of responsibility with solid stature. For cohesiveness, leave one strand of hair to wrap around the scrunchie or hair tie.
Blonde Hairdo with Bangs
If you are confident about your hairstyling game, you can impress the interview panel with your individualism.
Wear your luscious blonde locks down and show off your full block bangs to make a statement. Keep your makeup light to allow the hair to be in the spotlight.
Cinnamon Open Style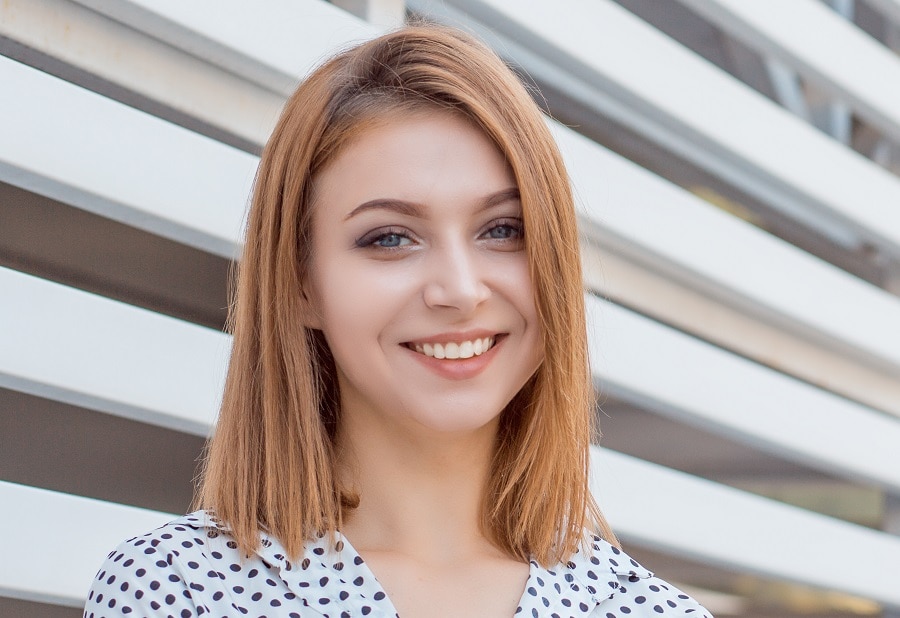 If your hair texture is on the thinner side, you would like to keep the attention away from your hair on this crucial day.
The simple open hairdo is the job interview hairstyle for you. All you need is a paddle brush for a subtle side part.
Short Tousled Hairstyle
Having hair stuck at the length where you can't simply tie it up leaves you with creative ways to style it. Channel your easygoing charm with this lightly tousled open style. A finishing spray can help enhance the texture of this short proffesional hairdo.
Balayage Ponytail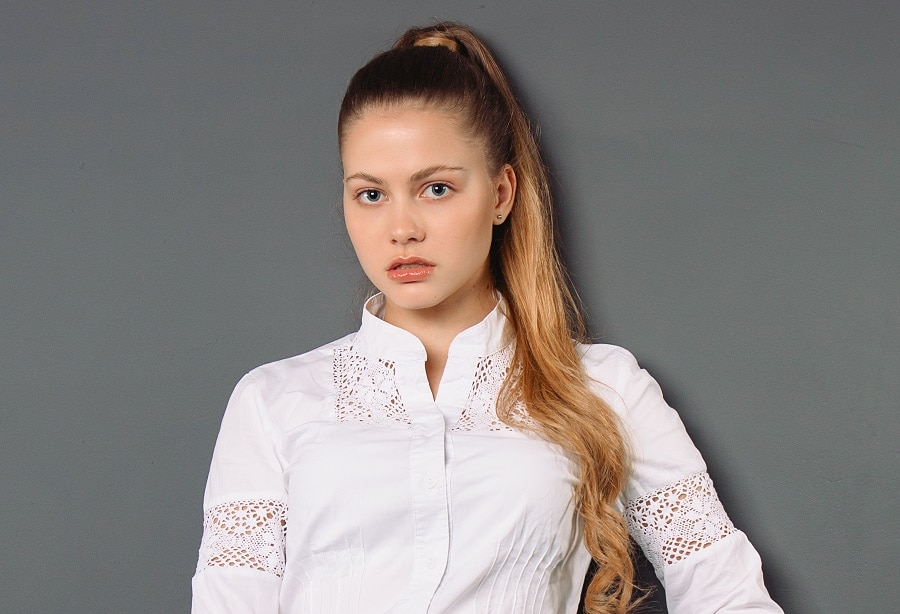 A neat high ponytail always works great for job interviews and other important meetings. The sophistication quotient stays high with this well-polished hairstyle. We adore the transition from dark roots to lighter ends as well.
Orange Brown Bob
The bob with bangs is the perfect hairstyle for young office-goers. You can go a little easy on the combing to let the hair assume its natural shape.
This medium brown hue with orange undertones will create a flattering contrast with your black or dark-colored glasses.
Casual Messy Updo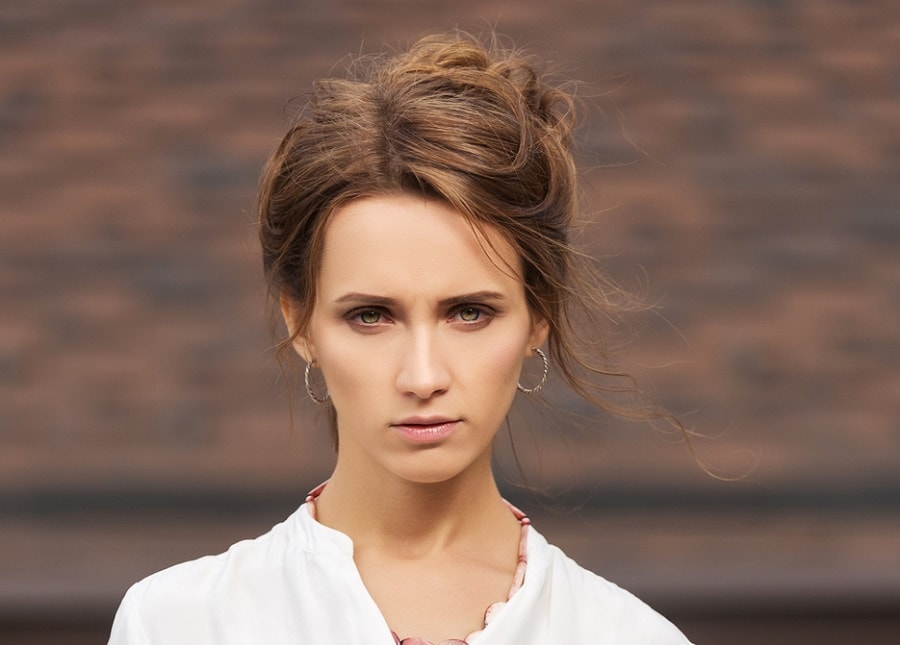 This messy updo is among the most popular job interview hairstyles. It's exciting how this hairstyle gives off equal amounts of confidence and a relaxed vibe. Pair up some minimal hoop earrings to complete this look.
Bouffant Bun
The minimal bun with a bouffant puff is a clean and elegant hairstyle that never disappoints. This hairdo creates the dream look with a white satin formal shirt and trousers.
Pineapple Natural Hairstyle
Stop worrying about how exactly this job interview hairstyle will turn out. Pull up your naturally curly hair into a tight ponytail for a chic look. Now, you can say goodbye bye to the annoying feeling of hair falling on your face all the time.
Two-Toned Bob
You will love this tousled bob style if you have beautiful two-toned colored hair. This bob looks fashionable yet professional enough for a work environment.
French Braid Hairdo

The French braid allows you to craft a smart appearance influenced by academia.
This braided style will highlight your sharp jawline and cheekbones with subtlety if you have an oval or elongated face shape. The intricacy of this hairdo makes it a big favorite.
Sleek Bun with Highlights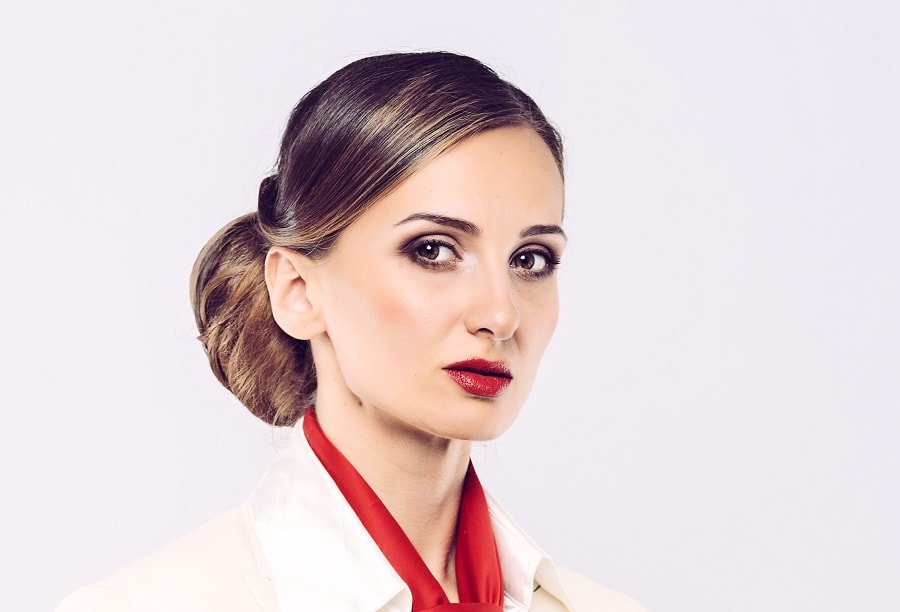 A sleek updo amazingly suits the occasion of job interviews. Though if you have a dinner event late in the evening, this hairdo can also give you a gorgeous appearance there. For taming any flyaways, you can use a setting spray or mousse.
Blonde Feathered Bob
Next up, we have got a beautiful layered hairstyle that will help you show your more feminine side. The curtain bangs and structural layers help create a very stylish outcome.
Dark Curly Loose Style
There's no point in wearing your hair up if it makes you feel restricted and out of sorts with yourself.
This loose middle-parting hairstyle will strike the correct balance between looking professional and approachable. The tight curl coils add a unique feel to this hairdo.
Voluminous Curly Hairdo
An interesting way to show off your hair length and voluminous quality will be with a casual side parting open hairstyle. However, you should opt for this hairdo only if your interview doesn't have a strict dress code.
Twisted Ponytail Hairstyle
If you want a complicated hairstyle, a braided updo will be ideal. Twisted hairstyles are an easy way to show that you have put thought and effort into your hairdo.
To create this look, firstly make a standard ponytail, then start plaiting your hair and apply a hair tie with some hair still left.
Wavy Medium Brown Hair
There are endless hairstyling options for your job interview for all the long-haired girls and women, but nothing can beat a wavy open style. With the perfectly fitted blazer, this will be a look to remember.
We hope this article has helped you in your quest for the perfect job interview hairstyles. Never discount the importance of the little things that can go on to play a decisive role in your career success, like a fantastic updo.
As a rule of thumb, wear hairdos that compel the interviewer to focus on your answers instead of your hair.