Light brown is one of the hair colors that aren't compatible with only specific haircuts, textures, and styles. This warm shade is a universal tone that looks amazing with every skin tone. There's always a shade of brunette that works with the latest fashion and beauty trends this summer season.
It's also a color that is easy to recreate and an exciting way to spice your hair up without doing anything too extreme. With all the hottest celebrities sporting light brown hair colors, it's time you jump on this trend bandwagon too.
Flattering Light Brown Hair Colors to Try
We have rounded up the top colors you want to tell your hairstylist all about.
Cool-Toned Straight Style
This cool brown meets natural blonde is a great way to ease yourself into the community of brunettes.
The long straight locks compliment the universally adored mix of brown and blonde. The natural blonde babylights frame the face beautifully to create a soft look.
Medium Mahogany Layers
This mahogany shade with strong dark undertones is one of our favorite light brown hair colors for layered hair.
The subtle caramel highlights blend in with the roots to help create dimension and increase overall volume in this mid-length tousled style. We love how the side-parting emphasizes the caramel tones.
Long Curly Sandy Hair
This color is an incredible light brown hair color option for all women with long curly hair.
The dark base gradually fades to a medium sandy shade on one side and edges of the hair. You can add a thick knitted hair wrap to the hairdo to make it suited for the winter aesthetic.
Dark Auburn Hair with Highlights
We have got the perfect color for when the temperatures start to dip low, a darker version of the auburn shade.
The lighter cinnamon-toned shades manage to create some contrast and enhance the warm beauty of this style. Lastly, the slightly messy strands give off a carefree aura.
Wavy Hair with Wispy Bangs
If you are looking for a low-maintenance color that looks chic at the same time, we have got you covered!
Wispy bangs coupled with natural light brown hair is a classic color combination that never seems out of style. The separated bangs give a fun finishing touch to this wavy hairdo.
Chic Honey Highlights
The honey-golden highlights look exquisite and striking with the deep roots. If you don't have naturally wavy or curly hair, you could take the help of a curling wand to incorporate some loose curls in this hairstyle.
Caramel Bob with Bangs
This preppy bob has the ideal amount of warmth and tonal transition. The caramel highlights start pretty close to the dark roots to achieve a more balanced look. The layered bangs are here to help you with your big forehead issues!
Balayage Accessorized Updo
If you are tired of searching for the hair color of your dreams that would match your wedding day outfit effortlessly – balayage comes to your rescue.
This gorgeous light cool blonde balayage with natural roots enhances the feminine charm of the pinned updo with a tiara-esque accessory.
Light Chestnut Brown Hair
If you are a fan of understated looks, you will adore this light chestnut brown shade with bronde babylights.
This casual way of letting your hair down is perfect for days when you don't have time to blowdry after a shampoo. The side parting gives some lift to the flat locks.
Light Caramel Curls
This seamless light caramel brown melt-in is what you need if you prefer warm colors over cool ones.
The rolled curls take your colored style to the next level. You can go bold with your choice of accessories to make a statement by donning a hat, sunglasses, and red lip color.
Chocolate Brown Pixie Cut
The light chocolate brown coupled with this pixie cut successfully creates a stylish look.
A little vintage-inspired hairdo experimentation never hurt anyone! The intricately defined curl ringlets in the bob style are tousled forward instead of the usual boring parting.
Long Tousled Waves
This voluminous and enchanting medium fawn tousled hairdo brings the Greek Goddess aesthetic to life.
The lighter brown colored highlights are subtly present in the hair sections. The faux pearl rhinestone headband sits on the crown to serve as a cherry on the cake.
Cool High Bun
You must try out the light ashy brown hair color for a polished look. The blonde highlights are wrapped around the top bun in one strand to cover the hair tie and achieve a cohesive, no-fuss style.
Glossy Contrasting Style
A stunning blend of caramel hair with milk chocolate balayage shines through your glossy mane for a sophisticated hairdo.
The contrast created by the darker roots coupled with the side parting effectively boosts the dynamism of this style.
Mahogany Wavy Hair
Mahogany and cocoa shades have such a rich and decadent feeling that they can turn any regular hairstyle attractive. The lengthy soft waves mixed with the layers make for a simple yet gorgeous look.
Natural Toned Side Braid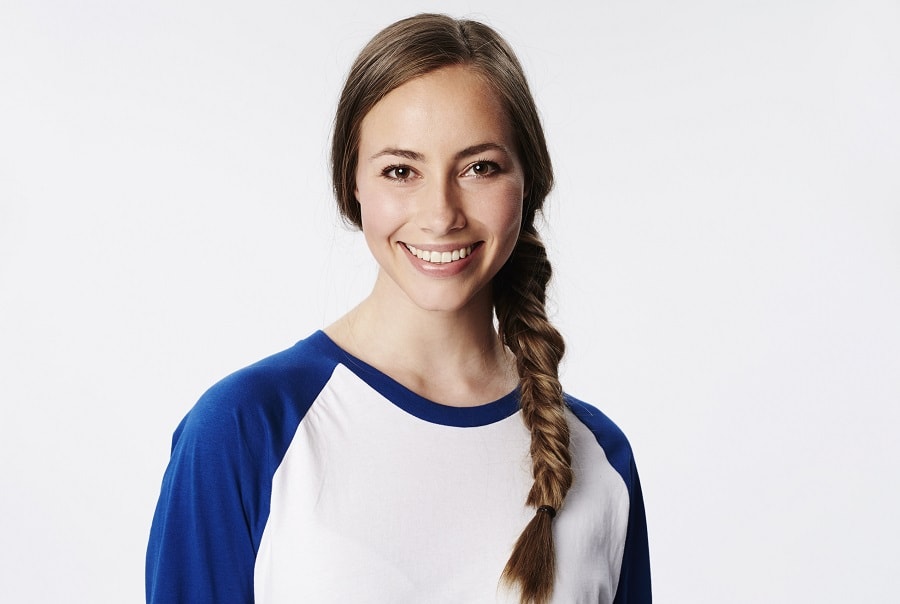 Turn up the sporty girl glam with this natural light brown hair color and a neat side braid.
The end strands have been toned to perfection to get the light sunkissed highlights. Use a texturizing spray to establish a better hold in this hairstyle.
Cool Butterscotch Tones
The almost black scalp has melted to a medium brown and smooth butterscotch hue to create this everyday wear look. This color and hairstyle suit women with thin hair as they create a lovely texture.
Light Bleached Highlights
If you have always had the secret desire to go blonde as a brunette, look no further than these light bleached honey highlights. The chocolate roots help tie the look together.
Elegant Prom Hairdo
If you have any upcoming formal events, one of the best light brown hair colors to opt for is this light cinnamon shade with reddish-orange undertones.
This color, together with the tousled curly ponytail, can help you steal the show!
Cappuccino Pixie Style
You can never go wrong with a super cropped pixie for a clean and youthful look. The cappuccino light brown hair color lends a flattering edge to this hairstyle.
As you know, the light brown hair shades range in plenty from honey and caramel to auburn.
We hope this ultimate brown hair color guide has helped you choose the best hair color that is perfect for you to rock for your summer makeover.