Have you run out of ways to style your blonde balayage hair? Chill, we've been there too; we're here to help you out. We color our hair because it's trendy but soon, our ideas to style it ends. One hairstyle can look boring daily, so you need a change.
We want to give you some tips and tricks to style your hair the right way. After looking at these 20 ways, your mind will surely be blown away. We've everything in the store, from coloring to unique hairstyles for your hair.
Best Blonde Balayage Hairstyles
Coloring is fun, and so is styling in different fun ways… So, let's see what we have today.
Loose Waves with Dark Roots
Whether you're going to a party or a professional event, curling your hair works both ways. Having a darker shade in your roots brings subtlety to your hair.
Your hair should be side parted to suit your square-shaped face. Curl your hair in tight waves to give bounciness to your hair.
Half-up Knot Hairdo
If you don't know what style to make on your blonde balayage hair daily, then relax. A half-up knot hairdo will very look flawless and takes less time too.
Having a straight hair texture will look pretty decent. You can make this hairstyle if you're a student.
Beach Curls
Blonde balayage hair color can suit your naturally brown hair. Plus, the beach waves hairstyle will surely add a beauty factor.
You should try beach waves when you're going on a date or meeting your friends at the club. It's a classic way to style your hair by maintaining decency.
There are so many shades of blonde color. A light shade hair color will go well with shades like black will be perfect.
Keeping the texture of your hair slightly wavy can make it a decent look. This hairdo is suitable for casual occasions like birthday parties.
Slightly Low Ponytail
A high ponytail is for teenagers, while a low ponytail gives a boring look. However, a slightly low ponytail looks classy and suits every mature face.
Let your hair be a little wavy if it's not naturally wavy for a bouncy look. It's an effortless look for a busy day.
High Bun with Long Bangs
We find brown to blonde balayage hair very sexy. The fusion of these two shades is just stupendous.
Make a high bun to highlight the balayage on your hair. Long curtain bangs are going to make this look effortless. This can be your go-to look for daily chores.
Messy Braided Bun
Sometimes a messy look suits on occasions like weddings. The lighter shade of blonde will be enhanced when you make a messy braided bun.
No need to change the texture of your hair; keep it natural. Even keep your makeup light as it's a mellow look.
Double Pull Through Braids
Pull through braids works beautifully when you have blonde balayage hair. The braids show gorgeously in the lighter shades. In addition, the darker roots give a 3-D effect to your braids.
Long hair will be an advantage as pull-through braids look more beautiful the longer they are. It's a great look for casual hangouts.
Middle Parted Hair
A decent look for college students and professionals is middle-parted hair. It looks classy, effortless, and on point.
A brown to honey blonde balayage hair will suit short to medium-length hair. Keeping your hair straight can look dull. Curl them very loosely to get a wavy texture.
Side Parted Wavy Hair
With so many different shades of blonde, it can get a little overwhelming at first. So ash-blonde in the shade you should pick when you want subtlety in your look.
A side partition and curly ends will be the final part of making you look gorgeous.
Curly Pixie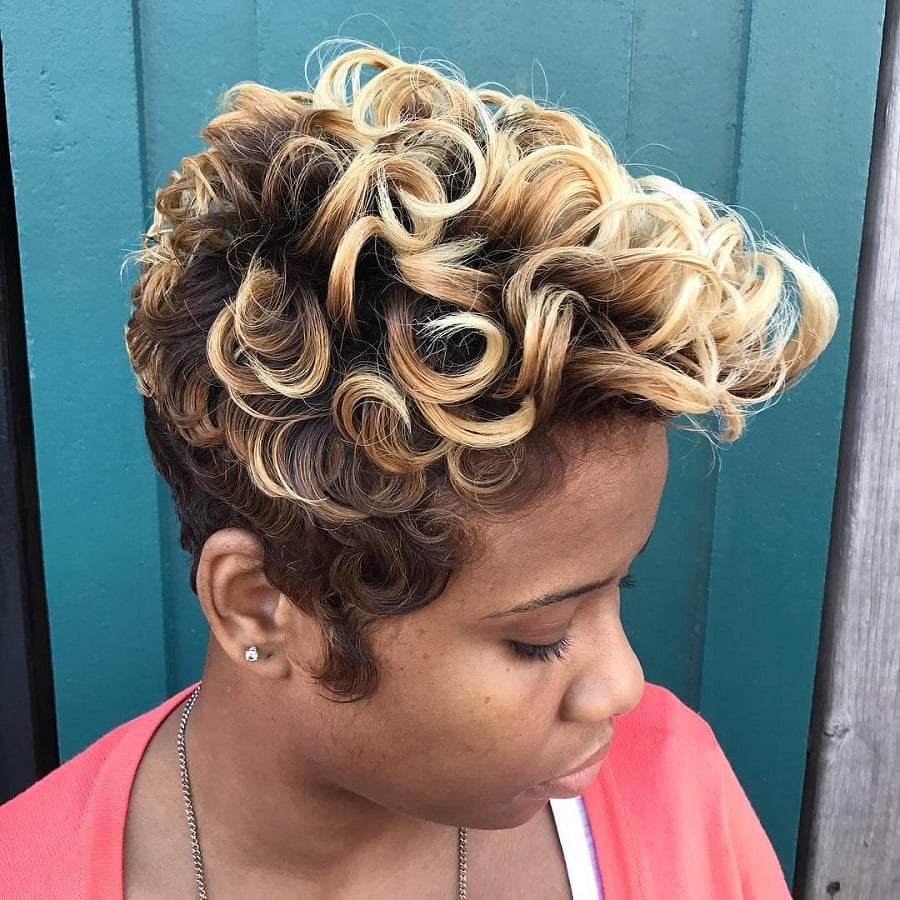 Do you admire short hair very much? Then, a pixie haircut is a perfect style for you. It looks classy and not so boyish when you curl it.
The golden blonde balayage short hair will bring a feminine touch to your look. Keeping your pixie in spikes will definitely look cool and unique.
Wavy Lob
A lob haircut is great for a sharp jawline or chin. It brings width to their face while showing off their facial features too.
Keeping the texture of your hair wavy, you'll achieve a world-class look. But, of course, everyone will stare at you once you get this haircut.
French Twist Updo
Got an invitation to a formal party or your friend's engagement? Whatever the reason is, the french bun is here to help you get ready.
A french bun has been a classic hairstyle for many years, and it still is. Add a little twist to this hairdo with curly tendrils.
Half Up Fishtail Braid
You all know that a fishtail braid is usually made using the entire hair. But we've got a unique way to make a fishtail braid.
A half-up fishtail braid will look so gorgeous on your blonde balayage hair. The shades, the style, everything will just blend perfectly. Long hair will look mesmerizing in this look.
Congratulations on your special day! If you haven't decided what hairstyle you're going to make, no worries.
This one side-braided bun with side bangs will look so beautiful. It's a very decent and subtle look. Your partner is surely going to get happy tears after seeing you.
Wavy Edgy Hair
The good thing about waves is that they suit every hair texture and length. Light blonde to dark balayage hair will give beauty to your hair. You can wish to keep your hair center-parted if you want to create an illusion of a long face.
Yellowish Blonde Long Hair
Chill, yellow is a brighter shade of your favorite blonde color. Keep the ratio of your natural hair color and yellow 2:3.
That means yellow will get more space to show off. Wavy to curly hair will be a great idea. Keep your hair loose even if it's summertime.
Blonde Balayage Highlights
Whether you're seeking a bold look or a new haircut, a bob haircut will be there. A layered balayage bob looks so classy as well as bold.
Asymmetrical layers of your hair will fall beautifully on your square or diamond-shaped face. Teenagers should give this hairdo a shot.
Straight Pixie for Older Women
Older women can rock blonde hair just like young girls. However, a straight pixie haircut should be the first step in making you look cool. Here, the crown area of your hair will be light, whereas the rest will be dark.
Short Hair with Side Bangs
If you have long or middle-length hair, it's time to get a new haircut. A chin-length haircut will surely make chubby faces look even cuter. Curl the ends of your hair and get side bangs too. Bangs add beauty to the whole hairdo.
We hope that these above ideas gave you some satisfaction in styling your blonde balayage hair. Styling your hair is not that difficult when you've got the right way to style it. It's alright to get overwhelmed at first by looking at all of these tips.
Once you read them patiently, you'll see how easy it has become to style your hair. With just a few hair accessories and a visit to the salon, your hair will be shining beautifully. Pick the one that suits your needs and preferences.