You can't deny how absolutely stunning dark hair is! If you want gorgeous locks with lots of dimensions, then you need dark brown hair with highlights. The highlights are what truly make these looks pop. You can even add a little auburn into the mix to really shake things up.
It's easy to create rich, dynamic looks by simply adding a few lighter highlights on top of your natural or dyed dark brown tresses. With so many colors and highlighting techniques to choose from, there's something for everyone.
Amazing Highlights on Dark Brown Hair
It can be tough to choose a look on your own, as there are so many available. Take a look at the style selection below to help you make your choice!
Highlighted Waves
One way to add a lot of movement and depth to your hair is by adding a wavy texture. Dark brown waves help the highlights in your hair pop more than ever. Give yourself a side parting if you'd like to wear your hair modern.
Bob with Side Bangs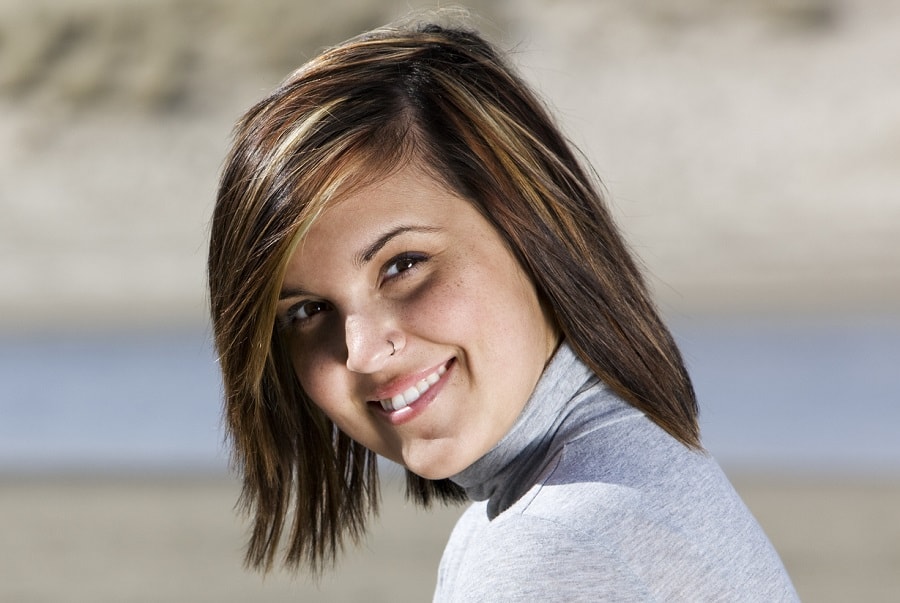 You can achieve a highly youthful look with a bob. Make the ends a little choppy and ensure you have heavy side bangs. Add highlights in a significantly lighter color if you'd like them to stand out even more.
Ash Brown Highlights
Cultivate a unique look by heavily highlighting your hair with a shade significantly lighter than the base color. This ash-brown tone looks almost blonde in comparison to the dark shade underneath.
Straight Face Framing Highlights
Sometimes all you need is a little extra color around your face. The blonde face framing highlights with long dark brown hair will draw all the focus immediately to your features.
There's also a little bit of an ombre towards the end where the brown lightens into a more golden shade.
Caramel Curls
Caramel is highly complementary when paired with dark brown tones. Begin the highlighted section around halfway down your face.
This way people will see a lot of your natural brown color towards your roots. The shape of your naturally curly hair will help the lighter tresses catch the light.
Red Highlighted Updo
Not all dark brown hairstyles with highlights have lighter shades of brown and blonde. Some feature red tones like this instead.
Pull the sides of your hair back and wrap them around some flowers. Add another flower low behind your ear. Pull the top back and give it some volume to create a pinup-inspired updo.
Two Tone Highlighted Bob
Here we see both blonde and red mixed into this naturally brown bob. These are the two best colors to add some dimension to this tone.
Part your hair heavily on the side so a lot of it falls into your face. Also, ensure it's a little shorter towards the back to add further depth to the look.
Updo with Bangs
Some people just need an everyday hairstyle that they can form quickly each morning. Pull all of your hair to the top of your head and secure it in a little bun.
Get bangs to add depth, then add most of the lighter tones to your fringe.
Long Thick Curls
Girls with long, thick curls definitely lead a little pop of color so they don't look washed out. Add some chic blonde highlights on brown tresses, and focus it towards the front.
Messy Ponytail
Would you like another easy style that you can wear every day? Pull your locks into a ponytail right on the back of your head. It doesn't have to be super neat.
Most of the highlights will be in this ponytail, so everyone behind you will be able to view them.
Highlighted Short Tresses
Women seeking a simple haircut should go for something short. Graduate its length so it hugs your face, and make sure the ends are a little choppy. Add thick sections of highlighting so you stand out.
Short and Colorful
If you're looking for an edgier type of look, then you can go for the dark chestnut brown shades with colorful highlights.
Cut your hair short and then add some purple and turquoise shades into the mix. Leave a few strands long at the back.
Highlighted Front
Getting a full head of highlights is a significant investment, and it's sometimes high maintenance if you want to keep your hair looking its best.
Consider just highlighting your front hair. This will make them stand out more when you tuck them behind your ear. Add a little color to the other side of your hair if you want to even things out.
Casual Half Up
One smart way to keep your hair out of your face is by pulling back the front sections and securing them. This ensures that your natural dark color is visible even though you have a lot of highlights in your locks.
Punk Pixie Cut
Short, messy hairdos are very punk rock. Get a pixie cut where the top is substantially longer than the sides, then make it a little messy. Add highlights to the very front sections.
Wavy Bob
Many of the styles above are useful, but older women may want something that suits their maturity a little more. Get a wavy bob that falls to your chin and add side bangs. Add some lighter tones to your natural medium brown shade.
Honey Highlighted Curls
Honey blonde pintura highlights will bring your dark brown locks to life. It's a very light shade that creates tons of movement in your hair. It goes well with tight curls, and it helps add definition to your overall look.
Balayage Highlights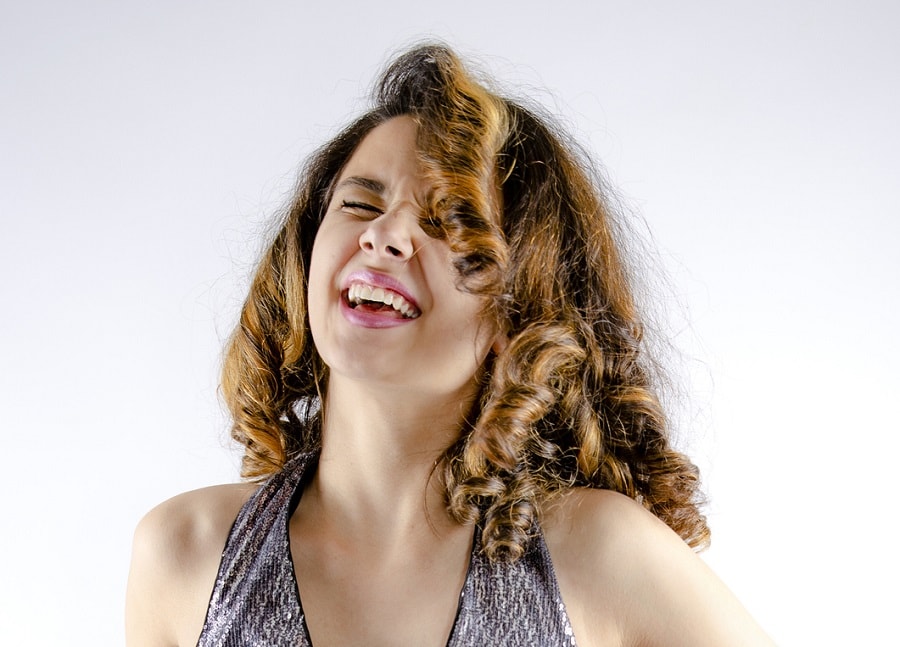 Wearing your hair fully curly is a pretty big commitment. Instead, start your curls midway down your strands. Continue the curl until the end of your hair.
Add a few subtle lighter tones so your dark brown hair looks highly natural with balayage highlights.
Chunky Highlights
Many highlights are gently laced through your hair strands so it creates a subtle lightening effect. Other times, the lighter shade is placed in large chunks as seen above.
The extreme lightness of these chunky highlights will ensure you turn plenty of heads wherever you go.
Layered Look
Asian women with thicker hair may wish to consider thinning it out. Get a couple of short layers at the front, but leave the back long. Focus most of the top layers with highlights as it'll stand out more.
Thick Waves
It's pretty hard to see any definition in thick hair. Getting dark brown waves and blonde balayage highlights will help define your strands. Ensure a dark tone is visible around the top of your hair so you can have a more dynamic look.
Highlighted Curtain Bangs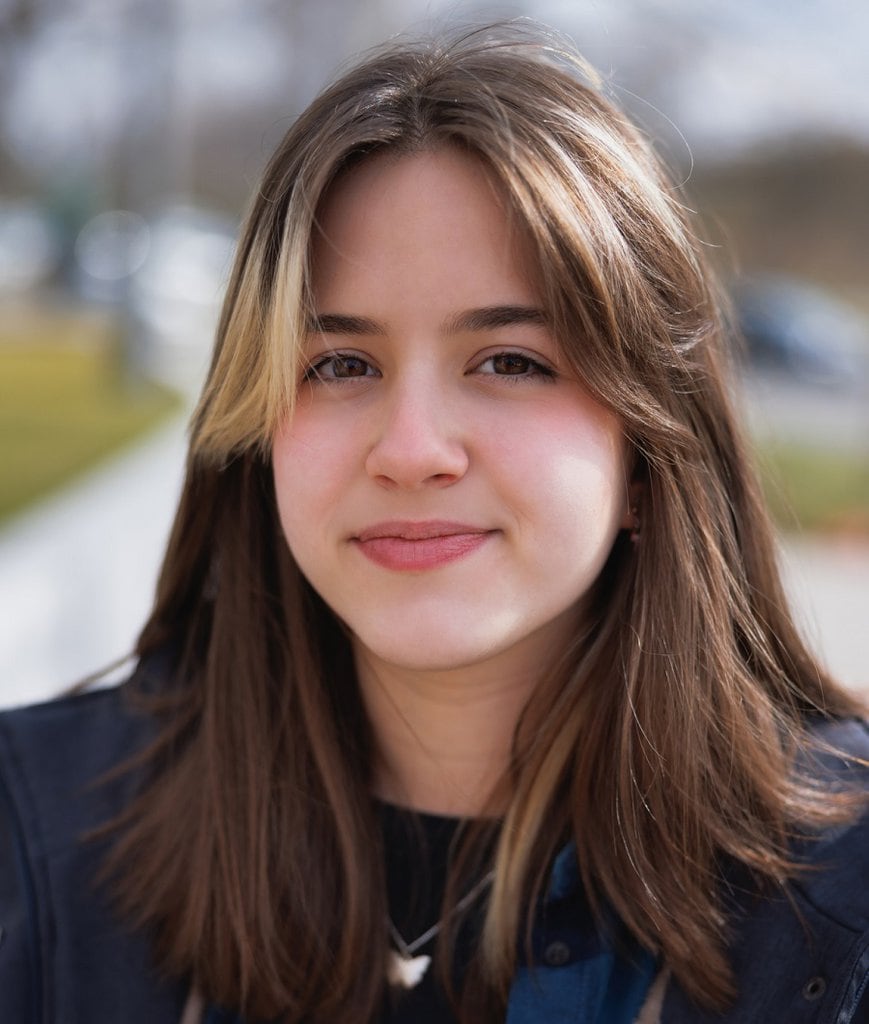 Middle partings are currently in style, so get one if you'd like to stay fashionable. Then cut curtain bangs that are slightly longer than the curtain bangs that were popular in the 90s. Add a pop of blonde to one side of the bangs to keep upkeep minimal.
Wavy Pigtails
Pigtails are a really sweet everyday look that suits most people. From the bunches high on your head towards the back.
Keep some hair free by your face to frame it. It's best if your short dark chocolate brown hair frames the face with highlighted strands.
Chunky Auburn Highlights
Wearing a few auburn highlights with your dark coffee brown hair does a lot to me you stand out. Get some thicker sections of auburn laced through the top of your strands and your bangs.
Where the rest of your hair natural, or dye it a very dark shade of brown if your locks are lighter.
Early 2000s Highlights
We've seen a few examples of highlights in this article, but this is the epitome of chunky highlights. If you like retro look, then definitely consider wearing this color and style.
Several sections of blonde highlights in this dark brown hair look exactly like a hairdo from the early 2000s. The hair is medium length with blunt ends. There are also a few subtle layers cut into it.
There's a style for everybody seeking dark brown hair with highlights. You just have to know what you want, then have the confidence to wear it with pride. You're guaranteed to feel a lot better about yourself after a hair makeover. If you were struggling to select a new look, then hopefully this article helped you out.