All curly-haired women are tired of taking regular trips to the salon to get their hair color touch-ups done. It's time to swap the old bleach and foil method for the pintura highlights- a customized technique that aims to hand paint each intact curl.
This method focuses on preserving your natural curl pattern by pinpointing the individual strands that deserve color attention.
Even though the balayage is similar, more precision is applied here. Since no heat is involved in Pintura highlights, you can generously apply the dye free from the fear of accidentally damaging your delicate curls.
Trending Pintura Highlights to Try
Keep reading to find out our top picks of the pintura highlights that will promise you perfection.
Copper Shine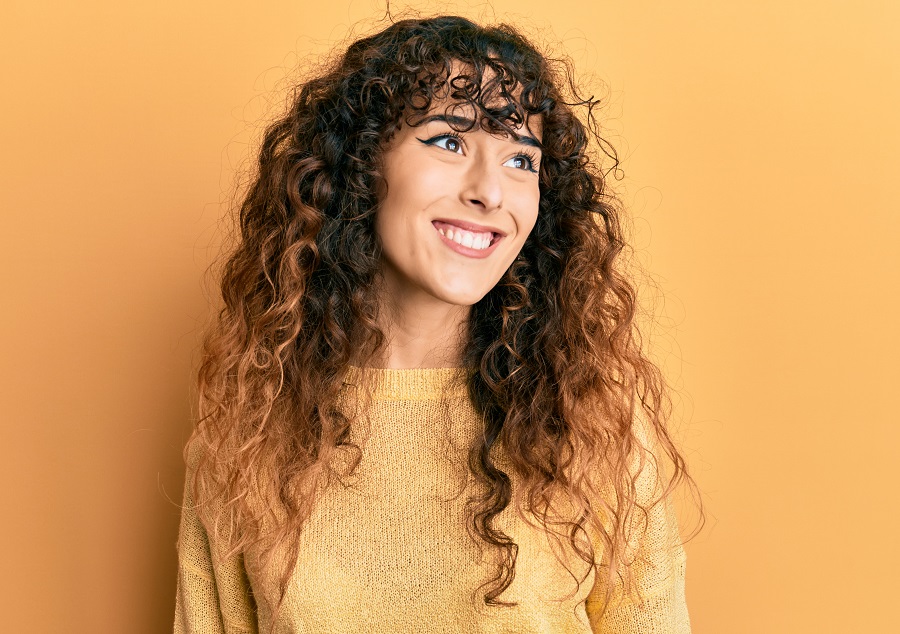 Give your curly locks the perfect makeover with these copper shine highlights that have subtle orange undertones.
On the upside, this hair color will suit most skin tones. Also, the slightly messy curly bangs with strands covering the forehead goes well with the color.
Short Golden Highlights
These glamorous golden blonde pintura highlights will be your preferred choice when you want a show-stopping hair color.
Against this short voluminous side parting hairdo, the golden tones get a chance to shine. You can turn party ready with this hairstyle and some bright pink lips!
Dark Auburn Brown Curls
If you desire to make a modern yet subtle statement with your hair, you must opt for these dark auburn brown highlights.
The best part about this color is how natural it looks on a head full of layered curls. You can even wear this hairstyle for your job interview.
Chestnut Brown Afro Hairstyle
Don't let your natural afro hair texture stop you from being bold with your hair color choices.
The light chestnut brown highlights combine with this voluminous style to create a uniform look. Also, if you are a glasses person, this would be a fantastic way to style your hair.
Honey Blonde Hair
The ultimate it-girl hair color inspiration for summer is the honey pintura highlights!
When natural light hits these ringlets, it gives off a beautiful sun-kissed glow. This basic curly hairstyle with a side part is suitable for everyday wear.
Soft Medium Brown Tresses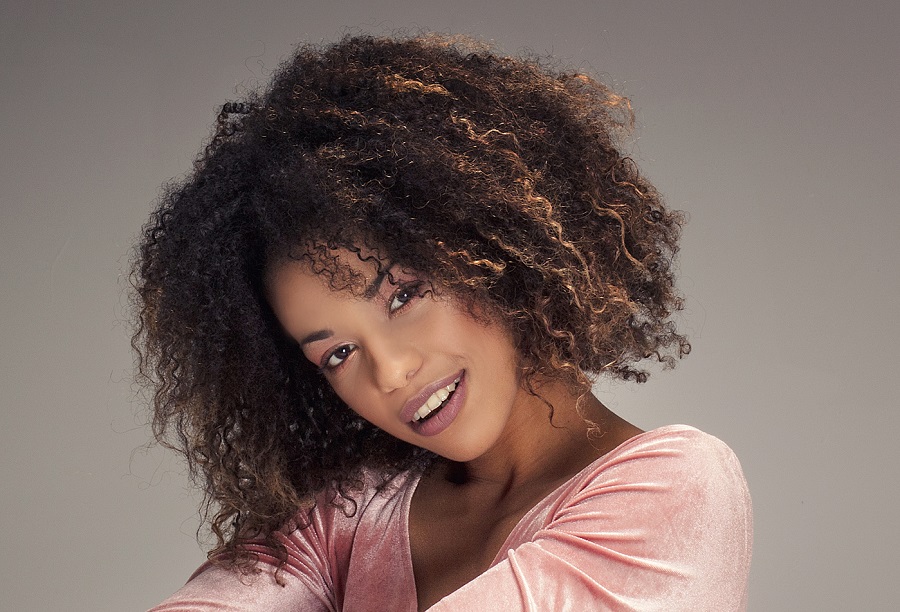 Before advancing to a more intense version of the pintura highlights, you can start with some soft, medium brown highlights against very dark brown hair.
The incredible contrasting effect created with the hints of color contributes to this hairdo's overall appeal.
Honey Bronze Highlights
Add these gorgeous honey bronze highlights throughout the length of your hair for a seamless blend in with your curls.
The dark chestnut brown roots balance this style's flamboyance with depth. In the side parting shown above, the hair falls around your face to create a good framing.
Colorful Wavy Hair
Short wavy hair can look truly exciting with these diverse variations of violet, pink and orange blonde highlights.
This hair color is perfect for young girls in the phase of experimentation, exploration, and figuring out their aesthetics. You can totally liven up the spirits of any place if you sport this look.
Cool Toned Brown Hair
Nail the girl-boss look with this mix of cool-toned curly brown hair and bleached blonde Pintura highlights.
The center-parting long hairstyle complements this hair color to a great extent. Though the highlights are not as dramatic here, it still gives a sophisticated flair.
Ashy Blonde Shag
For all the girls who love to keep their curly tresses short, you should consider this ashy blonde color!
This cropped hairdo has an eclectic feel, which makes it perfect for disco nights or other parties. You can use a texturizing spray for the finishing touches to enhance the texture of this style.
Light Caramel Blonde
Your dream beach hairstyle is here to make waves with some light caramel blonde highlights.
It's observed that the generously added tones have an effortless charm to them. Also, with a side-parting, you can achieve fantastic volume in this hairdo.
Dark Pink Curls
Take a trip down memory lane to the 80s and transform your curls with these dark pink highlights.
The red undertones of this style make it ideal for the fall and winter months when the temperatures start to drop. We can see that the burgundy hue goes well with pale skin tones.
Ombre Red Highlights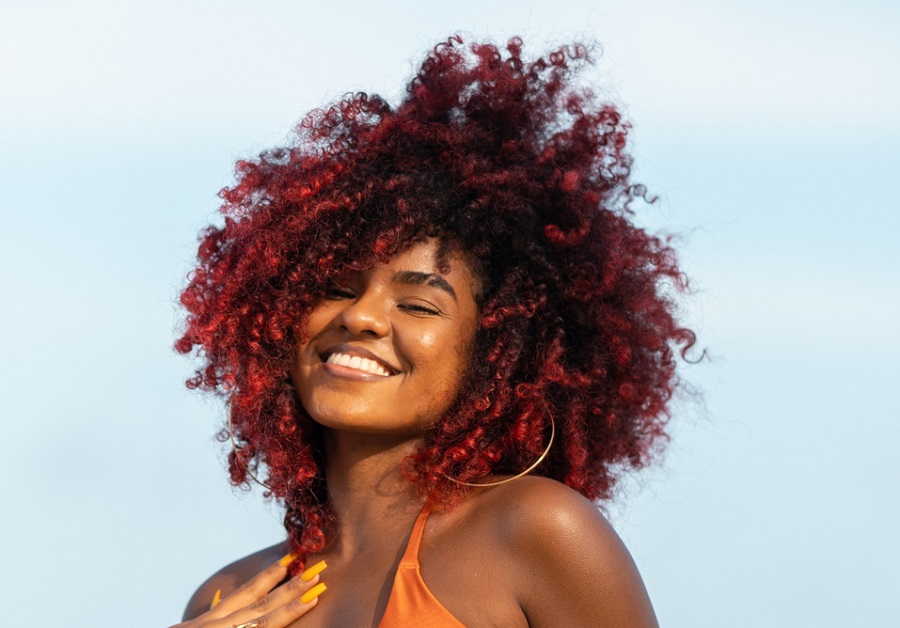 Sometimes all you need is fun pintura highlights to spice up your shoulder-length curly style. This vivid red ombre effect is precisely what you need.
Here, the highlights will create a lasting impact on everyone. You can infuse this look with a retro influence by wearing big hoop earrings.
Classic Caramel Brown
Accentuate your curls with color only a few tones lighter than your natural color for a low-key look.
The caramel highlights blend in flawlessly with the darker black and brown roots to create maximum illumination. Go out in the sun for this color to look its best and help you gain compliments.
Muted Colourful Accents
It's not necessary to always go all out with your highlights; a minimal approach can often have a great outcome.
Here, the very light orange to pink tones on one side of the hair is sufficient to create an impressive impact. Lastly, the unique front puff heightens the edginess of this curled hairdo.
Sandy Blonde Style
If you have thick curly hair naturally, try out sandy blonde pintura highlights to help your ringlets stand out.
This blunt bob hairstyle with evenly cut ends is especially recommended for all women struggling with their heavy mane. A styling gel or mousse might come in handy to control the frizz and maintain the hairstyle's shape.
Auburn Brown Highlights
Give your wavy hair a ravishing movie-star-like feel with auburn brown highlights.
Avoid brushing/combing your hair thoroughly since the messy strands are integral to this hairstyle's color aesthetic. The glossy texture of this hairdo makes it more popular.
Multi-Colour Pastel Pixie
Pastels are trending not only in the fashion industry but also in the world of hair colors.
If lengthy hairstyles aren't your cup of tea in these hot summers, go for a curly pixie cut. A pastel palette of violet, pinks, and oranges gives a refreshing vibe to this hairstyle with the undercut.
Yellow Pintura Highlights
Step out of your comfort zone with this fiery red hair with pintura highlights mixed with orange and yellow hues.
Take a break from keeping your curly hair down by trying a side ponytail. To match the colors in your hair, you could even do a red-winged eyeliner and opt for a yellow scrunchie!
Medium to Dark Hairdo
Take your beautiful bouncy curls to the next level with elegant medium dark brown highlights.
If you aren't sure about how to make a bold first impression, this hairdo will serve as your one-stop solution. This hairstyle looks nice on people with both brown and green eye colors.
Golden Blonde
Unleash your inner diva with these in-vogue golden blonde highlights. This side-parting curly style flatters the bronde hues and reflects a sense of extravagance. Wear this to a party and become the new talk of the town.
Say goodbye to the days of relentless praying for your hair color tones to turn out good. With these pintura highlights, you will have greater control over where exactly the hues will be placed.
Get the professional curly hair look of your dreams with the colors listed above.