It's estimated that more than half of the world's population colors their hair. And why not? With as many hair colors as there are, it would be a crime not to experiment with hair colors!
You might be in the market for some coloring tips if you're a hair virgin. If you're familiar with the process, a little refresher on choosing the right tone for your skin and style could probably benefit you.
Have as much fun as you want with hair color, but try not to make any mistakes by keeping a few tips in mind when choosing the right tone. You don't want to end up with nasty orange, discolored hair!
To help you figure out the best hair color tone for your locks, take a look at these six tips for finding the perfect hair color to suit you:
Consider Your Skin Tone
You've probably heard stylists talking about skin undertones being warm or cool or at least read about it in magazines. Just as a refresher, there's cool and warm undertones.
An easy way to tell what your skin tone is is by looking at your wrists or the top of your hands. If you see blue or purple veins, you have a cool skin tone. For veins that are more green, you have warm undertones, and if you see both colors of veins, your undertones are neutral.
Cool-toned skin means you have a fair or pale/porcelain complexion. You'll look best with golden blonde, medium brunettes, and warm ginger colors; you can pretty much go as light as you want, including platinum!
For warm undertones, stick with neutral or rich browns, a strawberry blonde with honey highlights, or even the copper shades.
A neutral skin tone means you can play with any of these. Lastly, for dark skin tones, opt for caramel, honey, or a mix of the two for a beautiful blend.
Think About Your Hair Goals
Are you trying to nix grays, add highlights, or just go for an all-out new hair color all over? In this case, you'll need to consider more than just your skin tone.
Choosing the right hair color means you also need to consider how much you're willing to pay to get the job done. An all-over hair color job means a bigger price tag, whereas just adding highlights is regular maintenance and will add up over time.
Try a Hair Color App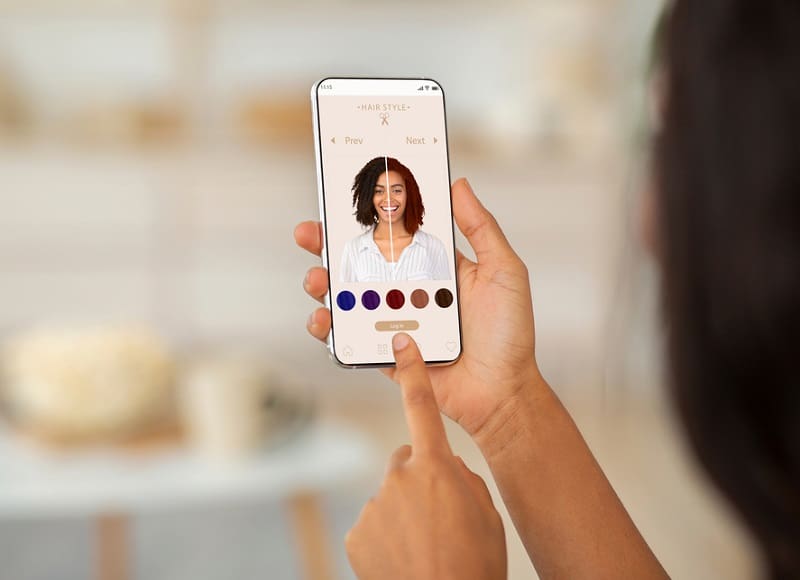 Nowadays, there are many virtual apps or shade selectors to use to see what you would look like with different hair colors.
Try Garnier, Redken, L'Oreal, or search "hair color" in your phone's App Store. You'll simply upload a clear photo of your face, then swipe through the different colors to find your new favorite shade and perfect hair color tone.
Check Out the Celebs
Think of some celebrities with your skin tone, then Google their hairstyles over the years. You can check out Nicole Kidman and Amanda Seyfried for cool/pale skin tones, Jessica Alba or Jennifer Lopez for medium tones, Drew Barrymore and Natalie Portman for neutral skin tones, and Serena Williams or Lupita N'yongo for dark skin tones.
These ladies are lucky enough to access professional stylists, maximizing the chance that you can rock whatever hair color they do!
Think About The Weather
Believe it or not, where you live plays a part in choosing the right hair color for your tone. Living in warm, tropical climates – like Florida, for example – means light hair colors like blonde, honey, or golden shades are ideal since they won't fade.
Living in places that have more seasonal changes, like the Pacific Northwest or New England, don't get quite as much sun as the southern states, so darker colors will last longer.
What Is Your Current Hairstyle?
If your current look includes lots of layers and texture or you're planning on getting this type of cut when you color your hair, opt for a lighter shade as those colors are best for emphasizing the best features of your cut.
While a long haircut looks best with dark hair colors, dark shades are more flexible so you can easily pull off the shade on short hairstyles just as well.
Conclusion
Keeping any of the above six tips in mind when choosing a hair color is not a necessity, but following them will ensure you can wear a new hair color with confidence. And we all know confidence is key for feeling and looking your best!
If all else fails, ask your stylist – they're the experts and will never lead you astray. The good thing about hair color is it's temporary!
Think you know which color you're going for? Be sure to let us know with a comment or photo!