Medium-length hair is all about versatility and many options of styling choices for women of all hair types as well as irrespective of their age. Mid-length hair is flattering since it is not too long and not too short. Women with any facial features get a lot of options with it.
Medium-length hair ranges from mid-neckline to just past the shoulders, with medium-length hair. They are super easy to maintain than long hair and have options of layers, waves, braids, ponytails, curls, etc.
Brunette medium hairstyles have never been hotter than it is right now because it requires less time to maintain the style. In this fast-moving life where hair care is the last thing that comes into our mind, we need such styles which can be easy to do and maintain. In fact, one can also boost the shoulder-length hair to the next level by coloring them.
Let's explore the different Brunette Medium Hairstyles:
Tousled Middle Part Layers
A slightly off-center parting with magnetic layers just below the shoulders. The layers suit well to oval-sized, long face and the subtle color adds so much to its glamour.
These shoulder-length cut hair with natural roots give you all the texture and volume that you need for the super flattering look.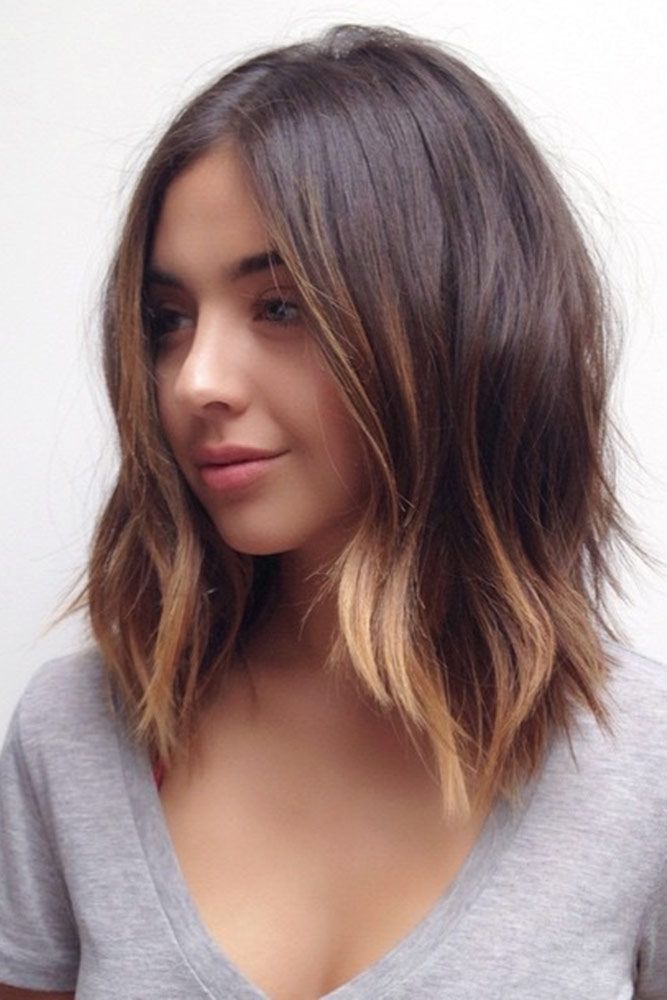 Longer Collarbone Waves
Huge waves work great on medium shoulder-length hair, these types of cuts suits best on long shape face. Mid-parting with colors at the edge takes your glam portion to the next level.
These shaggy waves give volume to the hair and highlight the layers very well and can be styled into any hairstyle like a ponytail or a bun updo as it always looks gorgeous.
Wavy Textured Shag
This brown-colored curls right above the shoulder length create an on-point look for older women, this is a perfect shoulder-length haircut with bangs.
You need to apply a good amount of serum for the blowout and then curled with a flat iron effect of giving a textured finish, easy to maintain these brown curls suits any face cut and wheatish complexion enhance the color of your hair.
Loose Waves with Long Hair
This hairstyle is very casual and cute, the biggest positive point about this hairstyle is that you have many options when you consider the length. These loose waves look great on any face cut and are easily wearable on all occasions.
Some serum is going to be of great help to keep your hair bouncy as well as to add more volume to it. It will make you look adorable. With the offside parting, you can give more volume to that side, thus, making the style look more pretty on you.
Loose Waves with Side Bangs
This mid-parted hair looks very hot and is a very famous hairstyle inspired by famous actresses. This hairstyle suits best on a long face, and the layers add to the volume of the hair very ease you need to have a great texture for this kind of hairstyle.
Bangs in the front of the face cover the forehead and carelessly falls over the eyes to add certain oomph to your style quotient. A little shade of brown makes it look more versatile. One thing that you need to keep in mind before selecting a hair color is that it should suit your complexion well.
Side-swept with Bangs
In this hairstyle the hair is side-parted with most of its hair falling on the right side of your face, really need to have a good volume of hair to flaunt this style and who does not wants that extra shine, choose a color next to your hair and add extra to your glam.
The texture should be smooth so that it falls over the face and the side bangs helps you cover your forehead or else can also be tucked at the back of your ears for a tidy look.
Neck Length Hair with Bangs
A great texture and volume are needed for this hairstyle, mid parted with bangs looks excellent, this type of style best suits long hair.
These collarbone length hairstyles are very easy to manage and can be carried with both formal and casual outfits; the layers add extra volume to the hair. The color perfectly matches your complexion and complements your look.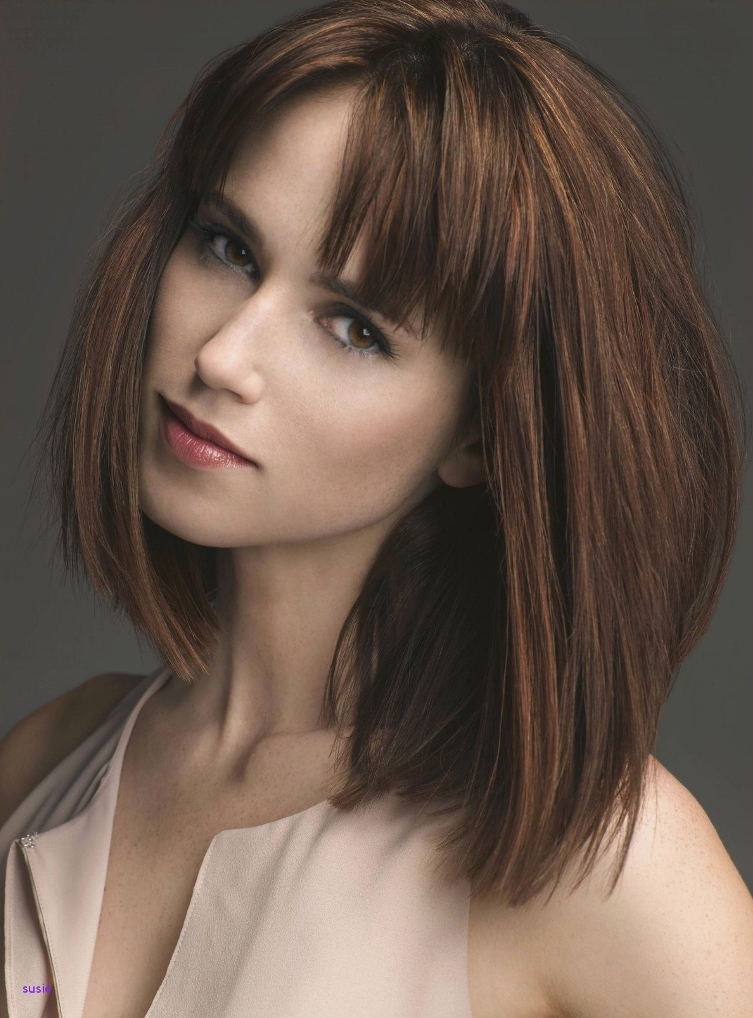 Honey Balayage Lob
My favorite thing about this hairstyle is its versatility. It can be worn straight or with loose waves. It is the best style for people looking for low maintenance yet sophisticated look. you can pull back the hair on busy days and it is a work-play hairstyle.
The loose waves at the end make it look more classic. These easy-going waves even make them idle for beaches, suit every face cut and complexion, can be carried well with every outfit. It looks great on almost any base hair color.
Side Parting Brown Hair
This is a perfect hairstyle for your daily outing, easy to manage and you have many options of styling them in different ways.
They are easily wearable at work or your casual outings; this side-parted hairstyle can be carried on all occasion, subtle brown colored highlight and these amazing layers falls on your shoulders and make you the eye candy of any party.
Layers with Waves
With not so mid-parting this shoulder-length hair with a hint of burgundy is always ready to steal the show.
Your hair texture should be very soft to get the fall, and the layers increase the volume which is very much needed to carry this hairstyle, the large amount of your hair falling on the right side of your face, the slight waves, and the color highlights make it one of my favorite.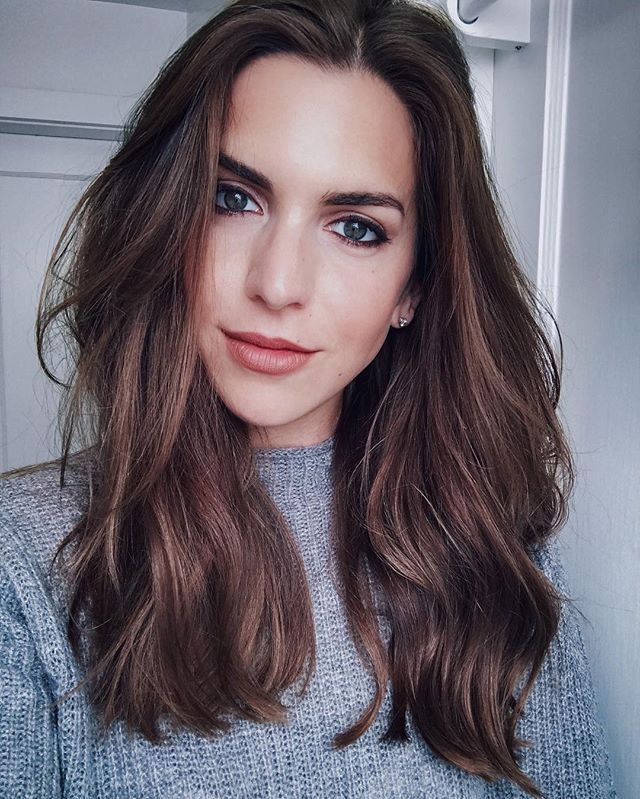 Side Parted Messy Hair
Such messy hair is very idle for beaches, side-parted in this kind of style, the hair falls on the right side of your shoulders. Just brushed them messily, this kind of look can be created at home itself.
These kinds of hairstyle suits every face cut and are easily manageable. With a hint of brown color, this hairstyle can be generally carried with all your outfit whether it's formal or casual.
Long Brown Waves
WOW is the word that comes to your mind at once when you see this style. Extra glamorous, extra sexy, styled with great texture and waves. This is all you get with this hairstyle along with hair volume.
Many styling options are available but keeping it open and flaunting the super silky hair with great brown color increases the hot quotient of your personality.
Mainly suits long face cut people, colors can be chosen according to the complexion, it can also come under the category of work and playstyle as it can be carried at work also by just pulling it back and can be carried at any occasion with ease.
Side-swept with Highlights
This hairstyle suits best with an oval face. This side-swept shoulder-length hair with little waves and brown highlight enhances your complexion.
You need to have great texture and volume to make this style. These side-swept hair with brown highlights are best for any party not only this they can be styled into many other styles also.
Shoulder Length Waves
This hairstyle is easily wearable on your day-to-day basis, effortless to do. It can be carried easily with every outfit whether formal or casual and on any occasion.
The texture is not an issue over here, but the volume should be there to make this style. Coloring can be done according to your complexion.
Mid Parting Coffee Color
This mid-parting coffee-colored hair is really great in terms of texture. This shoulder-length hair with light waves works well on every face cut, even on broad faces, since the hair covers the jawline very well, making your face look slimmer and sexier.
As discussed earlier the color should be worn according to your complexion. This mid-parted hair never goes out of fashion and these waves add to the volume.
Short Hair with Curls
Great volume and great texture are what you need to rock this hairstyle. Looks great when left open can be styled with ease at home and can be carried away with great style.
Looks well with all outfit and on all occasion. Just some serum is that what you need to style your curls, and here you go, girl, to rock the style.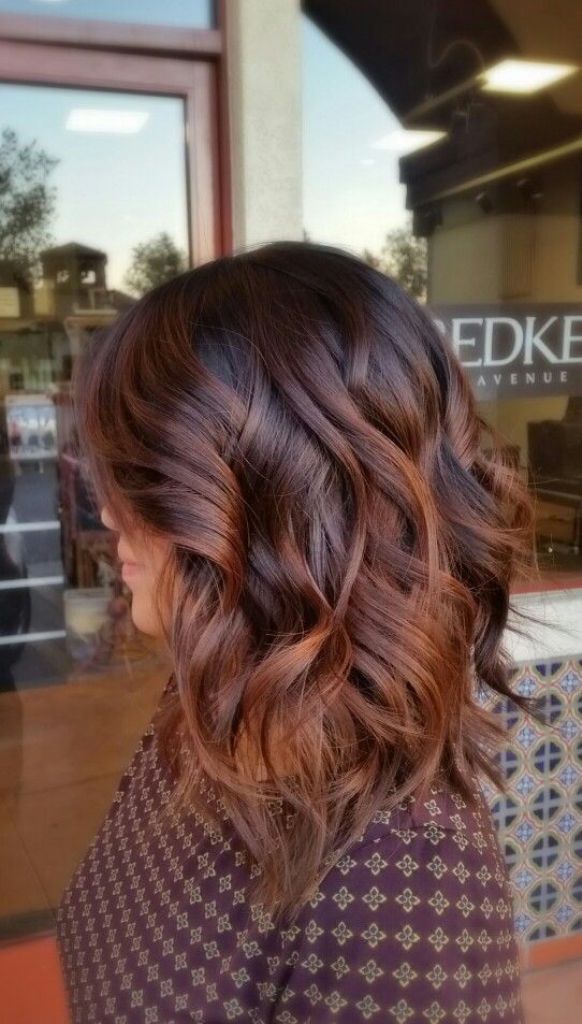 Shoulder Length Light Waves
Side swept hair which covers almost half of your upper face, with a light color highlight of brown and burgundy, slight waves with such color make your style amazing.
Goes on all outfit and this cut suits every face cut and can be carried with ease on all occasion. Can be pulled back or can be let loose to carry on any day.
Collarbone Length with Honey Color
Collarbone length hair with light waves and the color is so flattering that it can catch all the eyeballs at any party, serum comes to help when you need to style this hair, the volume and texture need to be great to carry this look with perfection.
Side swept hair these bangs covers your forehead and this suit well on the mid-age ladies.
Mid Parted with Bangs
Long hair with mid partition looks quite fabulous on long-faced ladies, just add bangs to it to make it sassier.
Formal and casual it suits well on any day and can be carried with ease, tied up to a ponytail when at work and can be let loose at any party and suits every outfit.
Mid Parted Long Hair
This mid parted long hair looks great on anyone. Just need good textured and voluminous hair to rock this look. Those who don't want that extra shine that you get with the serum can avoid using them.
Waves can be easily created either at home or by your stylist. Life of every party, this hairstyle looks great with every outfit and suits best on round face people.
Sleek Hair with Bangs
Your hair texture should be smooth to get this style. This sleek hairstyle can be achieved easily by you or a stylist with the help of a hot iron. Let the bangs cover your forehead making your face look smaller and slimmer.
Generally, this style goes well with all kinds of party wear attires. It makes you look hot and makes you the eye candy of the party. It gives you a smart look.
Mid Parted Messy Waves
This mid parted messy waves can be styled at home without much hassle and suit every outfit. It can be carried with ease at work or to any outdoor activities. You can never go wrong with this hairstyle, looks great on long-faced mid-aged ladies.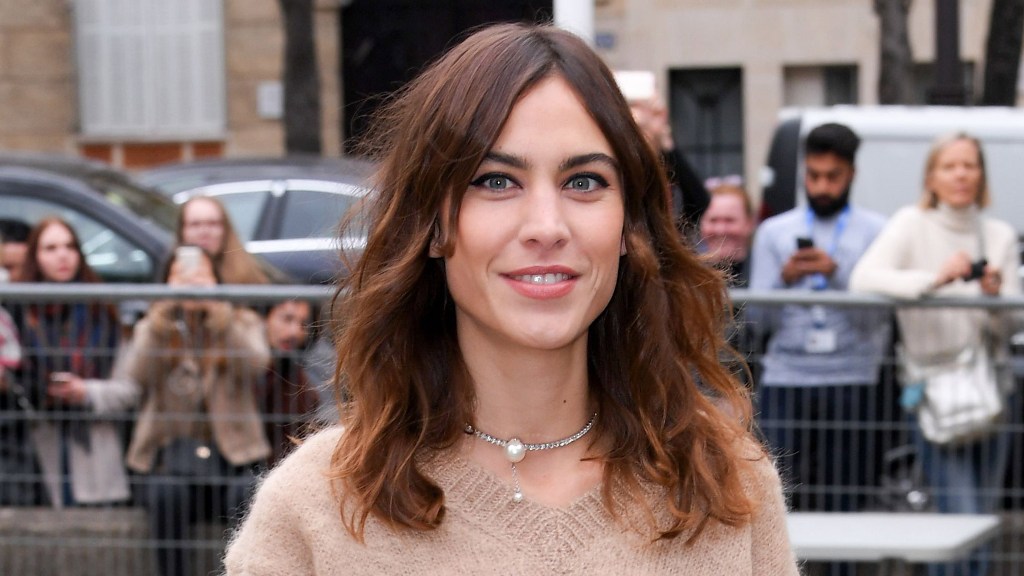 Messy Waves Messy Bangs
This is a total rock star style, but you need to have a great volume to get this style and even texture should be smooth to get that falls of bangs on your forehead. Messy shoulder-length hair is ideal for all occasions and can also be styled in many other styles.
Curls with Bangs
Mid parted with curls at the end and bangs on the forehead complete your look to make you look hotter than ever. I am in love with the color of the hair in this style through the color can be changed according to your complexion.
This style suits all age groups and every outfit and on all occasions, the bangs cover almost all of your forehead and compliment your face very well.
Mid Parted with Curls
This is a style for ladies of all age groups. The color enhances your complexion very well, suits with all outfit on all occasion, carried with ease and definitely need a stylist to get this look.
Voluminous Ombre Feathered Look
If you love hair with volume, then this is for you. The bangs are feathered and the rest of the hair is thick and falls in large waves to the shoulders. The top of the hair starts as a deep brunette, and it slowly evolves into a delightful blonde color.
Tight Touseled Curls
These curls are tight, but there are some flyaway hairs on one side that indicate that this is an everyday look that can be worn anywhere. The hair is one solid color and falls to the shoulders, but it would be slightly longer if straightened.
Thick Loose Waves
Easy waves made for a perfect everyday look. These waves are likely formed from thicker curls that were brushed out, and that gives the hair a lot of volumes as it falls onto the shoulders. There's also volume at the top of the head as the hair falls over to one side in a side part.
Regal Updo
Here's an updo that looks absolutely regal. The hair is swept loosely and neatly to the top of the head where it sits in curls and twists with so much dynamic movement that you can't tear your eyes away. Despite the style's complex nature, it looks flawless.
Smooth Honey-Touched Curls
Smooth, large, winding curls really make a person look great. These curls are neat and fall to the shoulders, and there's some dimension added to them by the honey-blonde highlights that are subtle throughout.
Simple Straight Sheets
This style has the hair fall in simple straight hair right by the face, in solid sheets. It's an easy look to style and can be worn every day with minimal effort. There's not a lot of upkeep either as it's a solid color.
Formal Twisting Bun
This delightful twisting bun is perfect for formal occasions, but it will also make for a great everyday look for someone who likes to look put together.
The hair twists back into a bun with hair wrapped around it, and the solid, deep brunette draws the eye with its beautiful shade.
Blonde-Touched Undercut
Here the brunette hair is made to appear lighter with a touch of blonde running through it on top. It's made more unique by the undercut on one side which features two hard lines shaved into the hair. It's a subtly edgy look that works for every day.
Shoulder Length Layered Waves
This is a brunette medium hairstyle with lots of volume. The hair is cut into subtle layers that are only visible when the hair is curled, as this style shows. The waves are large and dynamic, and there's lots of volume to the top of the hair, too.
Elegant Wavy Bun
If you want a brunette medium hairstyle for formal events, then this hair that gently waves into an elegant bun is for you. It's simple and stunning, and the brunette is complimented with some gentle highlights woven throughout the hair, too.
Whatever the style may be what is most important is your hair, they not only need to look great from outside. But they need to stay healthy from the inside, and that can be possible when you have a healthy lifestyle.