Only girls with thin hair know the struggle to find medium length hairstyles. They are continuously searching for hairdos that can make their hair appear fuller or at least don't show their scalp. But, don't worry, girls, your struggle ends here. With some research here and there, we've come up with many ideas to style your hair in a chic way.
Hairdos will make your dream of styling your hair in a fashionable way true. Each hairstyle has been decided to keep in mind that the main focus is to create the impression of fuller hair.
Best Medium Length Hairstyles for Thin Hair
Let's cut to the point and take you to your destination. Are you ready?
1.
Classy Bun
Use a thin-toothed comb always to style your medium length hair when they lack volume. Make a high twisted bun, but loosen the twists a little when you're securing the bun.
Use hairpins instead of a rubber band to make the bun look puffy. Use hair spray in place of hair clips to secure any loose hair.
2.
Space Buns with Curly Bangs
Creating a bun with long thick hair is quite easy but worry not. You can even make it for thin hair with medium length.
Simply part your hair into two equal halves, and make two buns on the side. Curly bangs will help cover the visible scalp making the overall style even. Some artificial flowers will surely give heavenly vibes.
3.
Half Up with A Headscarf
You can always use hair accessories to style shoulder length fine hair. A headscarf is a perfect candidate for this role.
Make a half ponytail on your curly hair and use a printed headscarf to tie your hair. All the attention is on the scarf, keeping your face natural.
4.
Low Bob Pony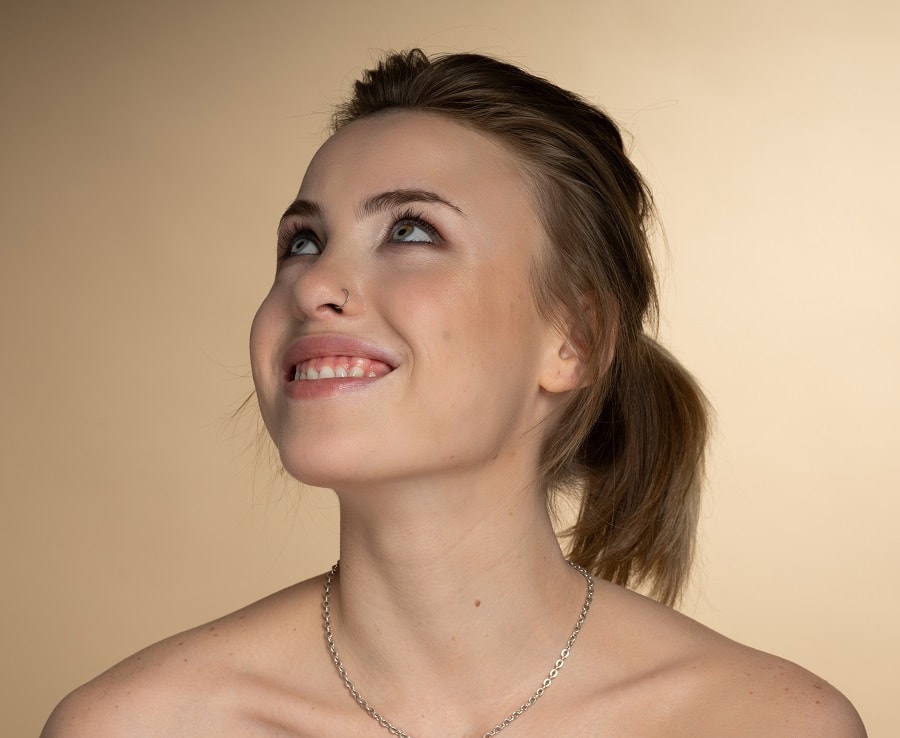 If your bob is chin-length and keeping them open makes them look plain, you can make a low pony.
Use your fingers instead of a comb and keep the pony loose to create a puffed look on the front. You can also spray on the front to make the hair stay above.
5.
Pretty Pink Hair Extensions
If you like to keep your thin hair open, so we've got the perfect medium hairstyle for you.
Hair extensions can add the impression of volume, and when you get different colored extensions, they will make your hair look interesting instead of dull. Contrasting colors will work best.
6. Pigtails with Wispy Bangs
Wispy bangs are meant to be thin, so they're the perfect haircut for your hair type. Loose pigtails will match with wispy bangs and make you look super cute.
Beaded rubber bands like the one shown in the picture will add fun to the look. It's a great hairdo for teenagers.
7.
Pinky Curls
When thinking about medium length hairstyles, hair color comes to our mind. When you color your hair in a bright color like pink, it creates the illusion of thick hair.
Curling your hair will add plus points to this illusion game. A printed bandana is definitely going to look cool.
8.
Braided Updo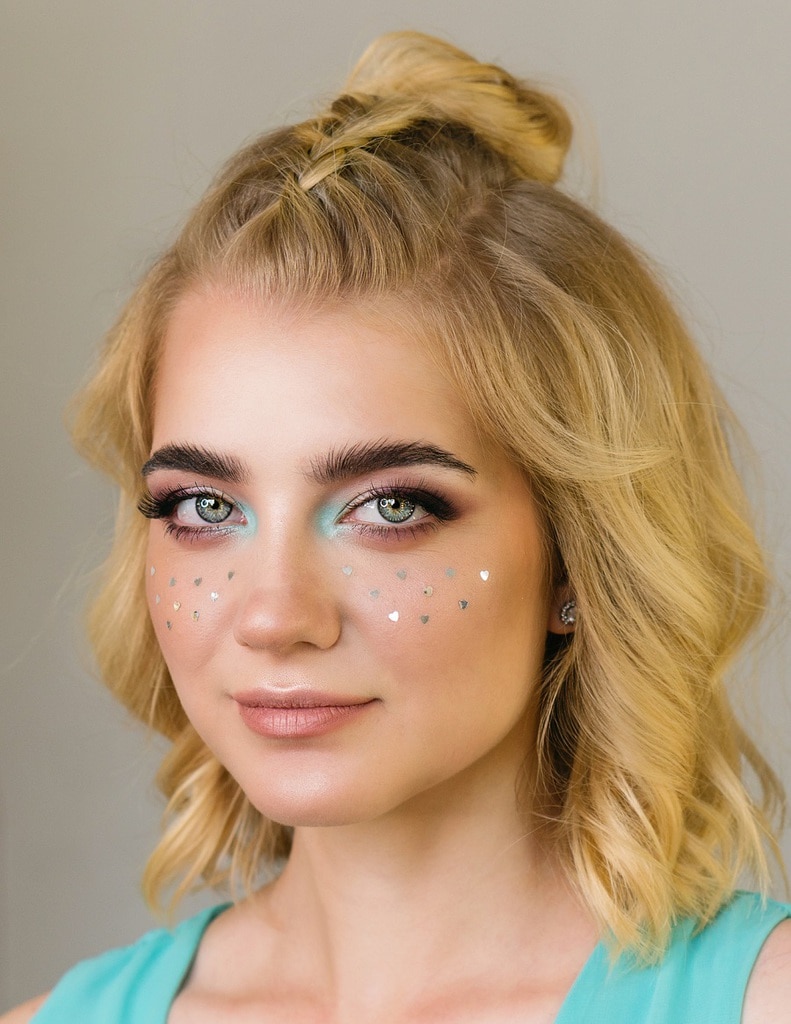 A braided updo looks ten times better than keeping your hair just open. Plus, when you braid your hair from the center, the scalp lining gets hidden.
You can make inside curls on the remaining hair as curls make your hair look fluffy. It's a beautiful look for meeting with friends.
9.
French Twist Updo
Your fine hair needs to be the minimum shoulder length for this style. All your hair is vertically rolled inside and held with a hairclip in this updo.
It's the perfect hairstyle for teachers, professors, and office-going women. You can make it a party look by wearing shiny accessories and dresses. Use a small hair clip for a party.
10. Lob for Women over 60
As age increases, the hair in our head decreases, but that doesn't mean you can't style it. It's a perfect medium bob for older women as it gives them a modern look.
A deep side part will look pretty and make hair look full. This is a very subtle look and can be used at any time.
11.
Bouffant Style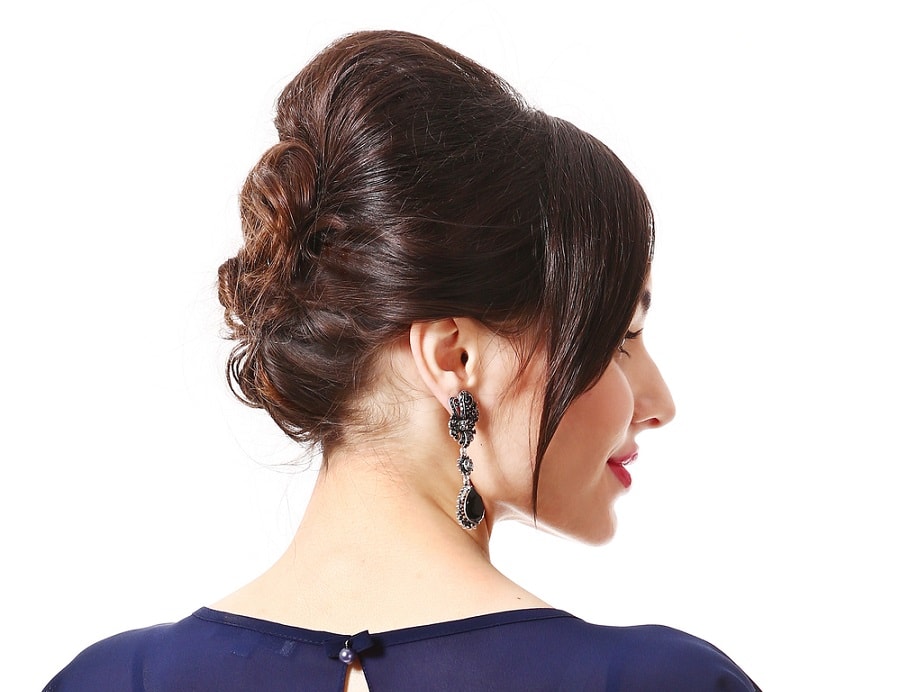 The sole purpose of the bouffant style is to make your hair appear voluminous from every side.
The deep side fringes on the front, puff on the middle, and the big bun on the back contribute to your hair looking full. You can style your thin hair updo this way when going to a lavish party.
12.
Two Buns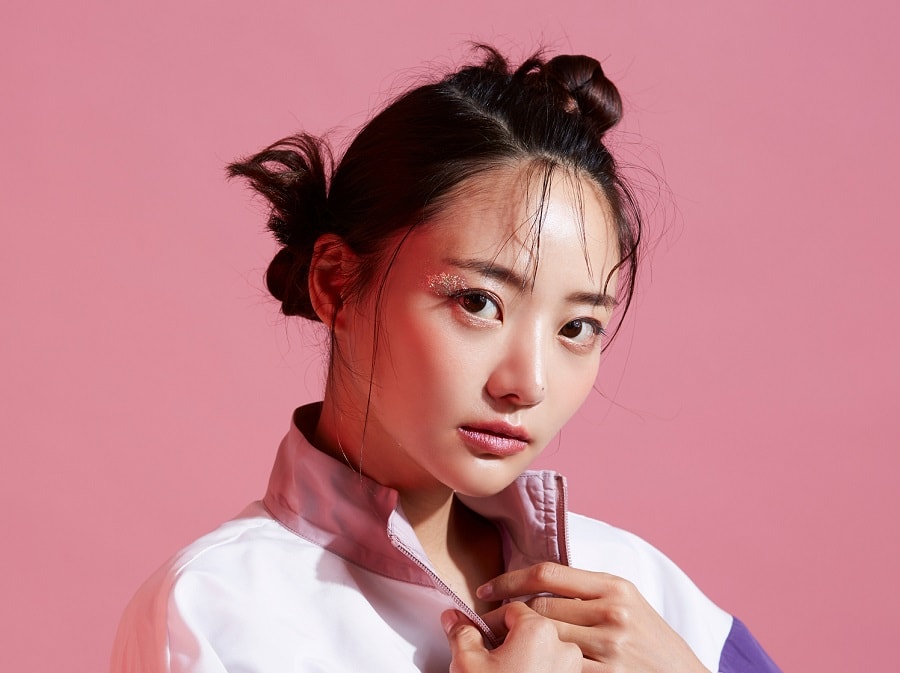 You can always get creative with thin hairstyles. This two bun look is an out-of-the-box idea for any medium Asian hair.
You divide your hair into three sections, make a bun in the center and the other on the back. Leave your baby's hair on the front to make your hair look messy.
13.
Blonde Ombre
Getting an ombre for your slender hair will give you a whole new look. A new shine will get added to your hair as well as your face.
A blonde ombre will look beautiful on every skin tone. You can also get little side bangs to keep up with the look.
14.
Blunt Bangs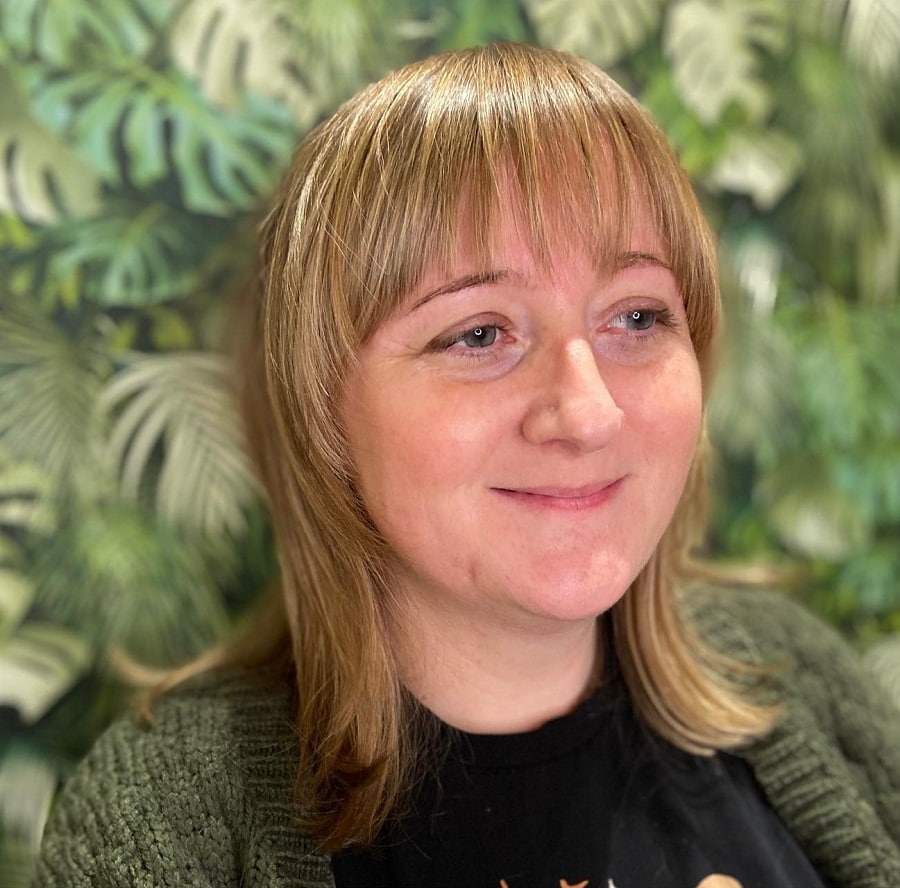 When you have chin-length hair that lacks volume, you need to add volume to it, even if it's fake. Like getting blunt bangs, haircuts will look beautiful on chubby faces.
Plus, if you're worried about a big forehead, bangs will be your rescue buddy. It's a great look for artists and homemakers.
15. Sleeky Waves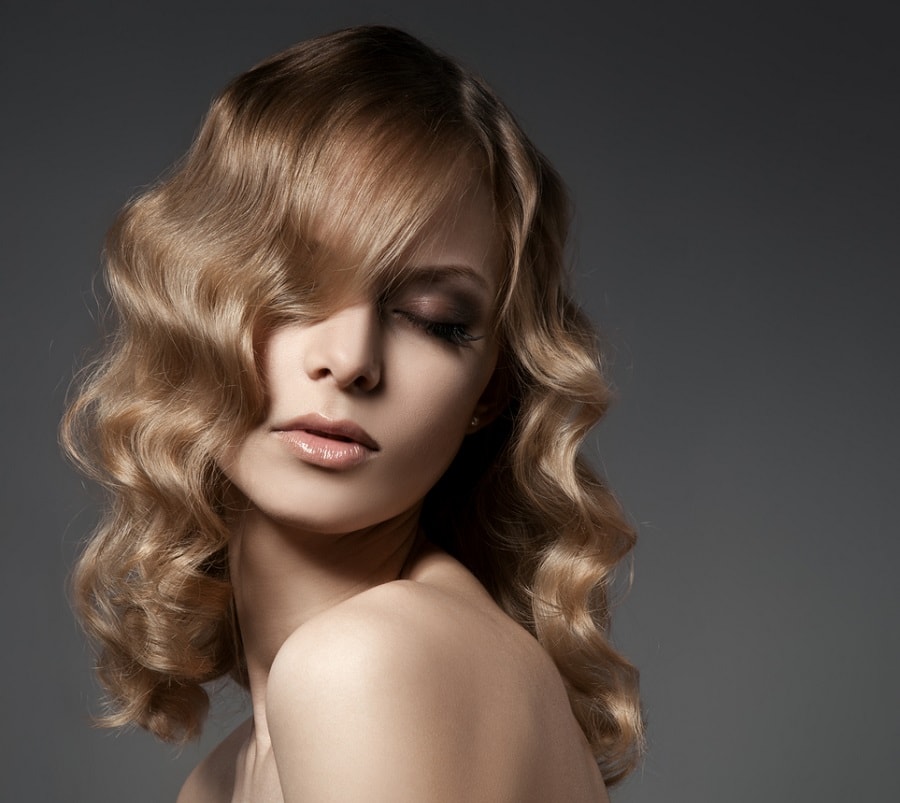 Go all the way up in the style game by making your hair wavy. This is our favorite medium hairdo among all the hairstyles for thin hair.
It looks so sophisticated and classy. You should definitely try this waves hairdo when you're attending a formal party for a great first impression.
16.
Waterfall Braids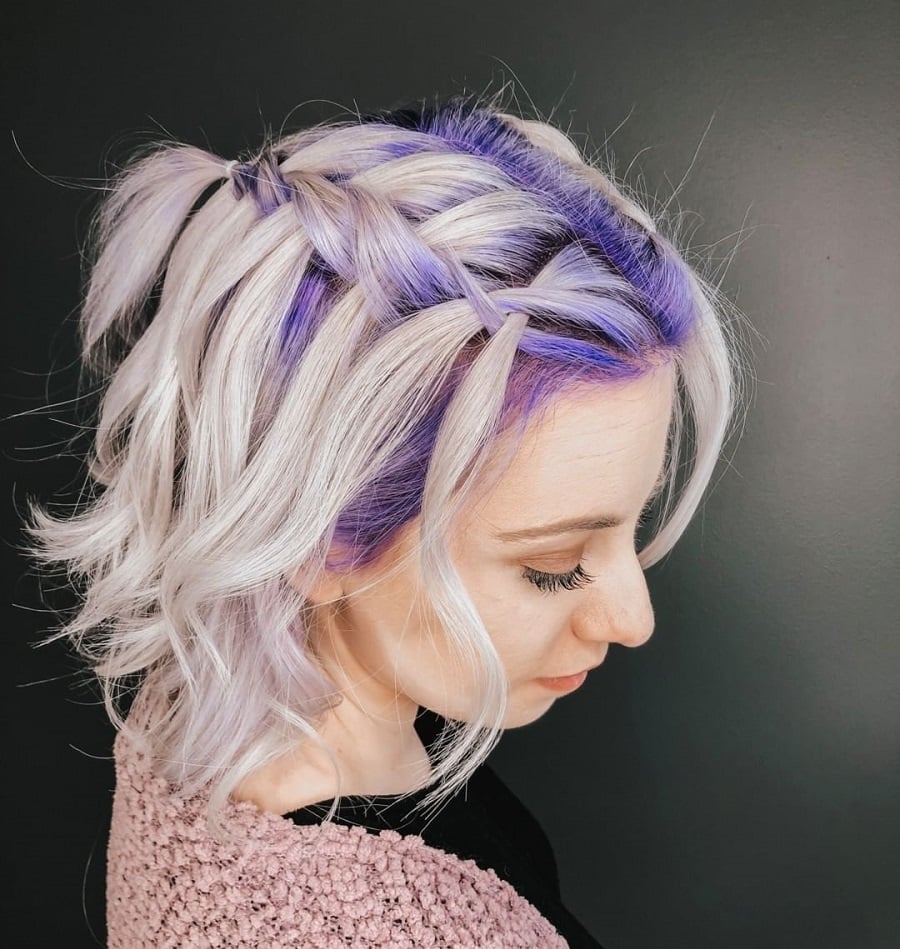 If you haven't colored your hair already, then do it and see the magic. Purple roots with white hair will look so beautiful.
Plus, the double braids hairdo will help in enhancing the color. Keep the braids loose and tie them to make a little ponytail.
17.
Shaved Side
Take the bold risk and shave one side of your hair. Trust us, this look will give a major transformation, and everyone will be amazed by how good you look. Straight hair is a big yes for this style.
18.
Retro Updo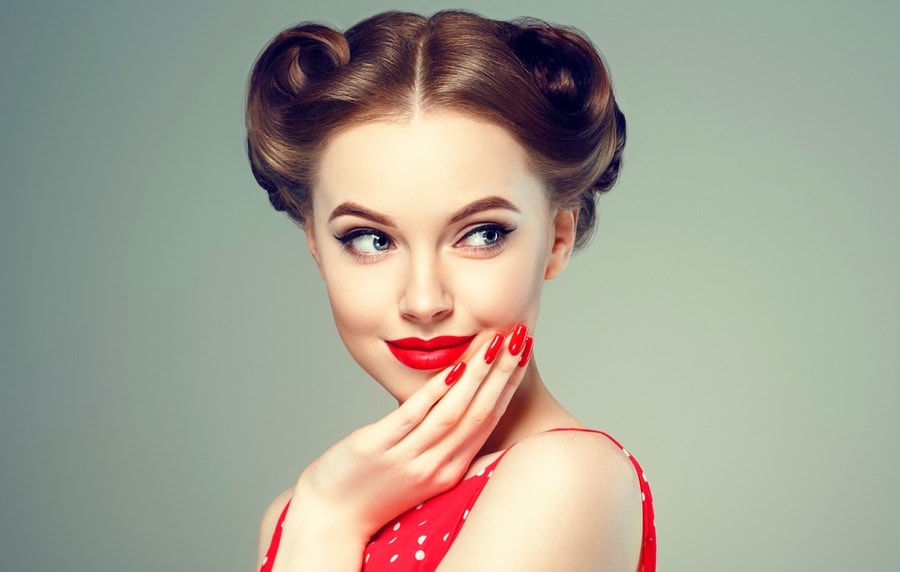 Try a medium retro updo if you want hairstyles for thin hair for a 90s-themed party.
It's the perfect hairstyle for such parties and will look beautiful on oval faces. But, again, try to keep the hairpins invisible by tucking them inside.
Raise your hands if you've picked your medium length hairstyle from our list for your thin hair. If not, then what are you waiting for? Don't get late because trendy hairdos come and go.
You'll stay chic and trendy if you follow our tips to style your hair. Your trip to the salon is ended because you can make these hair updos at your home with your own hands!