If we live beyond a certain age, we all will experience aging and the effects of aging on our bodies. One such natural change is the transition to gray hair. Now it's all up to us how we decide to deal with it. While some choose to embrace this change, others want to hide it. On the other hand, there's a growing popularity of the color gray in the beauty industry.
While there's a group of people looking to hide their grays, another one is getting their hair dyed in different shades of gray. Ironic, isn't it? Whatever it is that you want to get done to your hair, we are here to help you make the best decision for your hair.
Awesome Thin Gray Hairstyles for Women
We have created a list of 20 hairstyle inspirations for thin gray hairstyles.
Messy Balayage Bob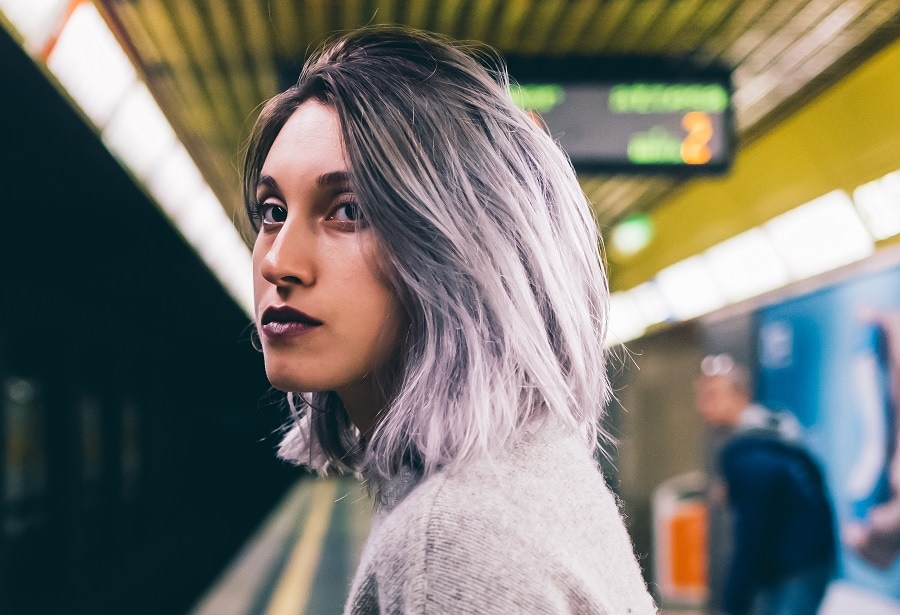 Messy looks work great for thin hair. It's a great way to compensate for the lack of volume that usually comes with thin hair. You can never go wrong with a long balayage bob as it's popularly called since it's stylish as well as very easy to maintain.
Long Straight Gray Hair
Which girl would say no to long and gorgeous hair? So if you've long tresses, you don't need to stress too much about styling your fine hair. If you're on the lookout for a hairstyle for thin gray hair, you can simply go for a straight hair look.
Layered Shoulder Length Hair
Another great hairstyle for women over 40 is this gorgeous layered cut. This shoulder-length hairstyle is classy, chic, and perfect for the boss-woman within you.
Gray Short Chop
Here's one for the bold and gorgeous women out there. A pixie cut works for many reasons, but most of all, we have to agree that there's nothing edgier than a short chop. So if you're looking for hairstyles for thin short gray hair, this haircut can be the right pick for you.
Accent Braids
Here's a twist on your normal ponytail. To style your gray hair, you could try out this hairstyle where you make two tiny accent braids at the front of your hair and let them fall.
It will look like you've put a lot of effort into your look when in reality, it all comes together in less than a minute.
Gray Spiky Hair
Here's a look that's surely going to hold your attention. Try out these spikes to style your short and fine hair and thank us later. We get that this look isn't for everyone, but we insist that everyone tries such a bold look once in their lifetime.
High Puffed Curls
Gray is here, and gray is drama. Why play it safe when you be the drama queen? This unique puffed hairstyle gives ounces of volume to your hair while appearing rather eye-catching. Pin up your high puff and the back, and bring your remaining hair to the front.
Short and Stacked
You need to accept and feel confident with all your body's changes as you grow older and wiser. If you want to flaunt your fine gray hair(which we recommend), there's no better way to do so than to get this gorgeous haircut.
Voluminous Curls
Whenever you feel like you need a little bit of something extra to slay a special event, curls are your best friend. Especially these voluminous and shiny curls. This hairstyle is perfect for girls with mid-length thin hair who wanna look and feel like a diva in gray hair.
Face Framing Bob
This salon-style blown outside swept bob is also a great option for your hair. The light gray color is unique and not something you'd see around a lot. The combination is totally out of the box and very stunning.
Curly Gray Affair
We have something for you if you want to get something completely out of the box. This quirky thin gray bob is going to represent your fun side. Curly bob with straight bangs is a pair that shouldn't work but somehow looks stunning together.
Side Swept Curls
Let out your gorgeous gray hair with these tight and big curls. The side-swept curls open up your face and draw attention to your gorgeous face. The look can work for everyday as well as grand occasions.
Ombre Hair with Bangs
If you don't want to go completely gray, here's an option for you. In this look, brown hair slowly fades into gray, resulting in a subtle yet gorgeous ombre transition. To top it all off, some bangs are added for that extra drama.
Smokey Shade
If you're bored of reading about normal gray hair, here's an exquisite hair color option: smokey gray. This layered u-shaped haircut looks great when paired with this pretty shade of gray. We apologize in advance for all the inquiries you're gonna get about your hairstyle.
Messy Curls
If you prefer short hair, then you could try out this thin curly hairstyle for your gray hair. These curls add character to short hair. This youthful hairstyle is perfect for anyone who's looking to spice things up with their hair.
Relaxed Crop
Try this short gray pixie cut if you're into something light and fun. It feels cool and fresh but could strut down any runway at a given moment.
Professional Layered Bob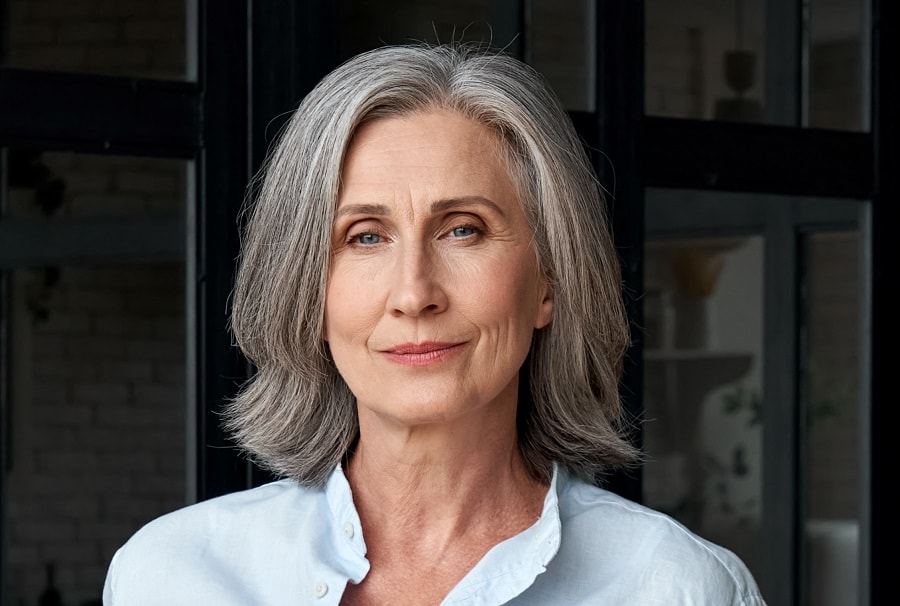 Another gray hairstyle for women over 50 would be this layered bob that looks professional and polished.
Aging is a natural process, and you need to embrace it and love yourself at every stage of your life. This hairstyle is the perfect hairstyle for you if you're looking to grow out your gray hair.
Half-up Braided Crown
A simple half-up crown braid is the perfect hairstyle for thin gray hair. Two strands are taken from the sides and braided and pinned together to achieve the gorgeous look of a crown. The rest of the hair is curled to perfection, and voila! You have the perfect hairdo for a wedding.
Blond Ombre
This gorgeous, silky smooth gray and blonde ombre is one of its kind. The hairstyle looks like it's part of some high fashion magazine. The hairstyle is too stunning to miss, and you should take pictures for your next salon visit.
Full Bangs with Curls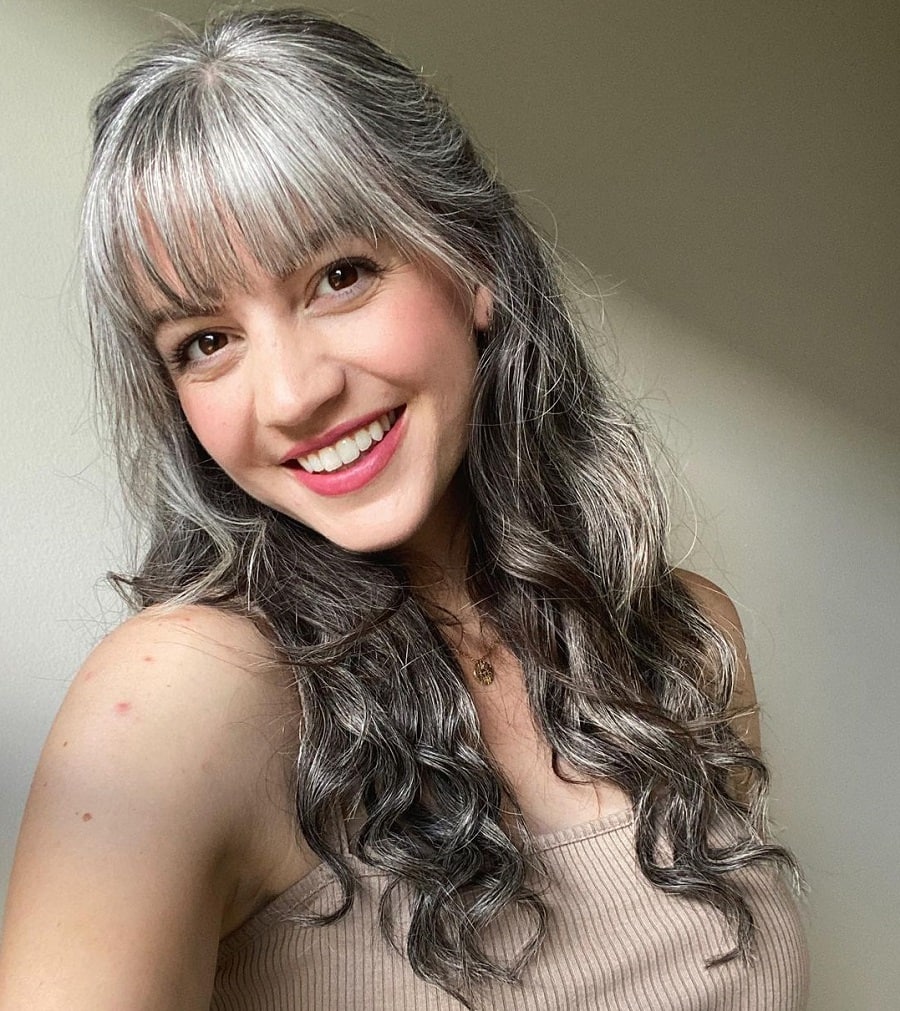 If your thin hair lacks texture, curls can help with that. Curls can make your hair look more voluminous and beautiful. Long bangs that slightly graze the eyes look so elegant. The bangs and curls together make up this beautiful hairstyle for thin gray hair.
Whether you decide to embrace your grays or dye your thin hair this gorgeous color, we hope you found the inspiration that you were looking for. Gray is a unique and interesting color that deserves all of our attention and love.
It's quite tricky to work with thin gray hair, but with the right hairstyles ( as shown in the article), you could easily make your thin hair look amazing.