Ladies, we know how troublesome it can be to manage your fine curly hair. Finding different haircuts or hairstyles can be a challenge too. Thus, we have made a list of astonishing hairstyles for thin curly hair to give you a more charismatic look.
You might have seen various celebrities flaunting their fine curls in movies and award functions. You can also flaunt your hair texture in the same way and get a lot of compliments. Remember to use the right products to keep your curls healthy, hydrated, and shiny.
Amazing Hairstyles for Thin Curly Hair
There is no need to look anywhere to find the best haircuts or hairstyles for your curly, thin hair. Check out our list.
Curly Brown Hair
You can surely lift your overall appearance with this hairstyle for thin curly medium hair that perfectly frames your face. In addition, it will maintain your natural hair texture, giving you a fuller and bouncy look.
Champange Blonde Curls
Not too short, not too long… just keep your hair a little longer than your shoulder for the style. Add the charming hue and let your curls loose to get an illuminating look.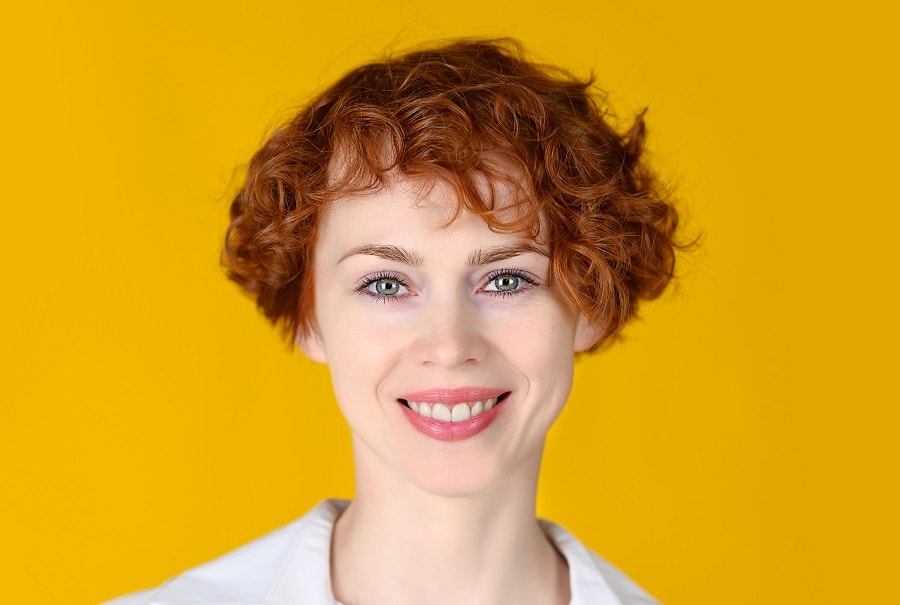 Pixies have always been the best haircut for thin hair, whether the texture is curly or straight. Here, color your hair with the ginger-red hue and go for an ear-length cut.
Best suited for those who want curly hairstyles with thin hair with less maintenance. You can pair it with any outfit and wear it anywhere you want.
Messy Pony
Ponytail looks great on all sorts of hair lengths and textures. For fine-textured hair, grab your hair using your fingers or a wide-toothed comb, then make a pony.
To get a messy look, just loosen your hair tie a bit, create a gap, and roll your entire hair from beneath to get a high pony. Then spread them to create the same look on your dark brown to light brown ombre hair.
Frizzy Long Hair
Teens love this hairstyle as it's easy to make in a few seconds. Curls itself look awesome, so you don't have to do much.
Simply go for a middle partition, and set your hair with fingers, keeping them loose. Now you are all set for the day out—a great way to cover your chubby cheeks as well.
Loose Side Braid
Adding a creamy vanilla color to your fine-textured hair will make you look like a diva. Now, make a side-parted fishtail but in a loose way.
Keep the rest of the hair loose and add curtain bangs to the look. Another great hairstyle for fine curly hair for a party look.
Colorful Pastel Bob
Pastel colors are in trend these days; you can rock in these shades, whether it's about the outfit or your hair.
A neck-length fine bob with a mix of pink, yellow, purple, etc., is a great way to love your fine curly hair. Its best suited for square face people to make their faces slimmer and longer.
Honey Blonde Updo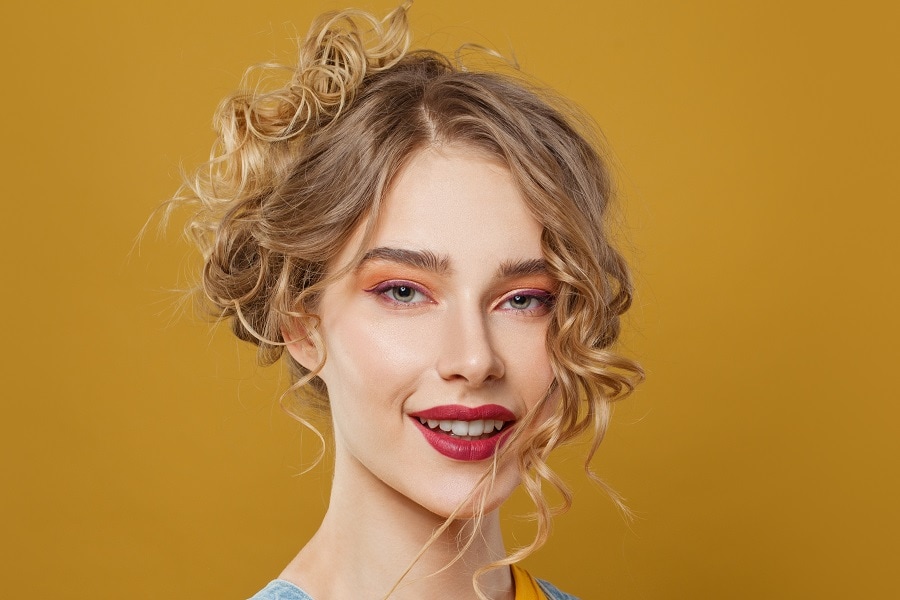 Simply wow, is all that can be said for this style. Grab your hair at the back and twist it upwards. Then use a clutch to hold it. Let the curly bangs fall more on one side.
It's a messy yet classy look, which you can make for parties, and causal outings whenever you are in a hurry. Of course, those with short hair can also go for it without thinking twice.
Cool Icy Bob
"Winter is coming." Of course, we all are quite aware of this statement as a famous dialogue in GOT, which remind us of the icy hairstyles.
It's an awesome curly hairstyle for thin hair, just keep it short till your chip and add this hue to it. A unique yet marvelous look for all seasons and occasions.
Braided Bangs with Low Pony
Managing curls can be tiresome, so we have listed this simple hairdo. Go for braided bangs first and tie them behind your ear.
Then grab your hair and make a low pony. After trying it, take a small partition from it and roll it around your hair tie to get a knotted look.
Fiery Messy Look
Who doesn't love bright colors, right? Then, go for this hairstyle to get a sharp, poised look. Simply part the thin curly hair from the middle in a messy zig-zag way.
Choose the firey colors keeping the roots darker and the ends lighter. Also, the short wavy hair will showcase the look quite prominently.
Long Shag with Highlights
Worry not if you have a thin hair texture, as this hairstyle will add more bounce to your look. Instead, go for blonde highlights, keeping the rest hair dark-colored.
Now, let the bangs cover your front and forehead, giving you a fuller look. Get a voluminous and 3D look with this style in no time. College-going students will surely love it.
Simple And Natural Curls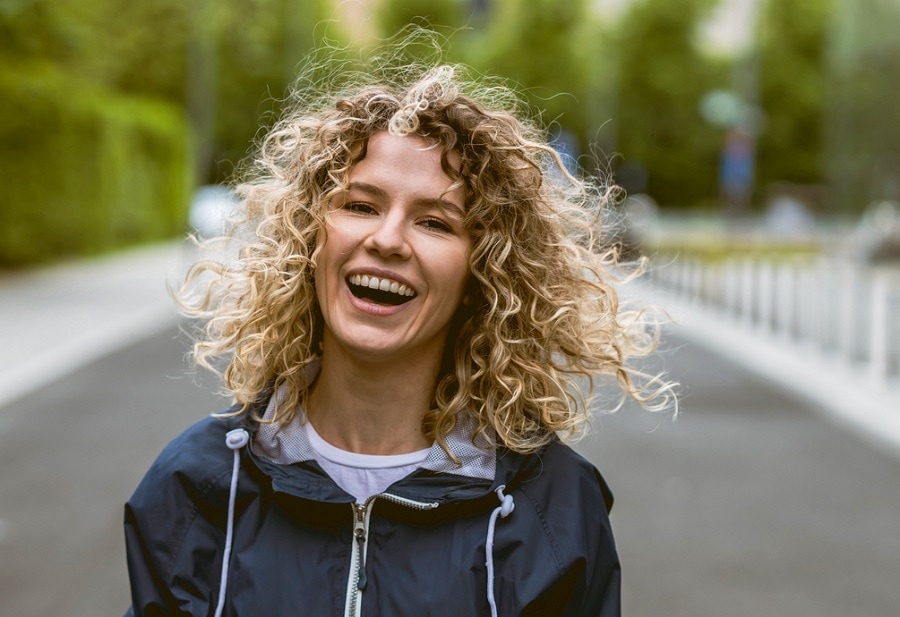 Fed up with your long hair? Well, go for this medium-length haircut. The blonde hue will magnify your curls, giving them a bouncy look. Each strand will look thicker and voluminous.
Bob for Older Women
With increasing age, hair thinning and greying also start. So, to fight the same and get a lovely look, 50+ ladies can choose this look.
Go for nape-length hair and go for outward curls on your wavy hair. This thin curly hairstyle will make your fine locks more enchanted and lovely.
Honey-Vanilla Side Swoop Hair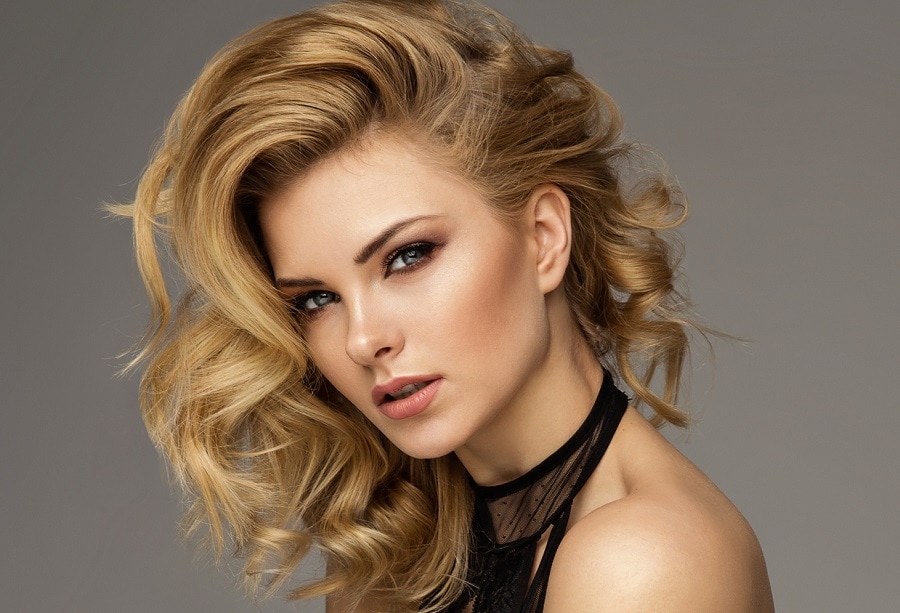 Looking for something different to get a party-ready look? Try this textured hairdo to flaunt your thin medium hair in a sassy way. A side sweep look is fantastic for long faces. Nude makeup will rock the overall appearance.
Ash Blonde Highlights
Side sweeping your thin curls will create an illusion of having a voluminous look. Get an incredible bounce and defined look for thin curly hair with this hairstyle. It really works like magic; try it now.
Asymmetric Long Pixie
If you want to experiment with your pixie cut, you can go for a long pixie, keeping one side longer.
Also, use hair gel or any other product to comb your hair backward to get a more textured look. Finally, the curls will add more glam to the look. You can choose it for a casual as well as a formal meeting.
Bridesmaid Look
Being a bridesmaid is a vital role that requires perfection. So if you are going to be one and worried about choosing the perfect hairdo for it, then here it is.
Keep your hair to one side, whereas let a few curly strands fall on the other side. Also, make a loose braid using a few strands. Then use hair accessories matching your outfit, and voila, you are ready for the day.
Curly Pintura Highlights
Looking for something unique to style your thin curly hair? Well, if you love experimenting with colors, then this is the best one.
Choose baby pink, and violet hues for highlights, keeping your roots dark brown. Then use hair products and make textured curls on your natural hair to complete the look.
Wedding Hairdo
Girls love to wear a tiara, so keeping that in mind, we have listed this style.
A short curly bob will look amazing if you side-swept your hair and then wear a tiara band. It will surely bring all the focus to your face and make you the loveliest one amongst all the ladies.
Side Swoop Rolled Curls
You might have seen this look at various Gala events worn by celebs. So, why not you also try it for your next event?
Use moisturizing products and then side sweep your hair. Use rollers or curlers for this look. It will give you a fabulous look, matching any outfit. Surely, this will make everyone jealous in the room.
Short Curly Bob
Do not let your age stop you from trying new haircuts. Even thin curly hair might look like a problem to you in your 50s, but it's not a problem anymore with this style As said earlier, short cuts are best for thin hair. Go for tight curls so that you get a voluminous look.
White Grey Curls
Beauties in their 60s will love this haircut. Shoulder length bob will be a great choice for you. It will flaunt your white hair in a lovely way, giving you a royal look.
Super Soft Pastel Pink Ombre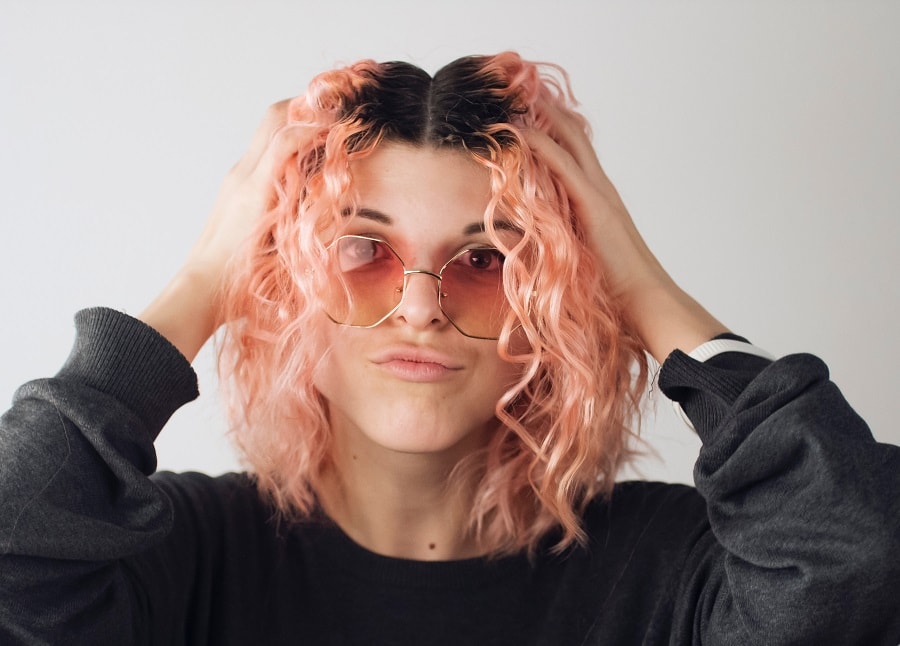 With this amazing pastel shade, get all the attention away from your thin curly hair. Keep only the roots at the crown area dark and the rest all colored with the hue.
Just middle part of your hair to show the colored locks clearly. It's a great summer look that can be paired with all sorts of outfits.
Rolled Locks for Prom
To get rid of the frizziness and maintain the curls, go for this prom hairstyle. Best suited for long thin hair which can be worn at any event, special occasions to leave everyone amazed.
We hope you love our hairstyles for thin curly hair and are ready to try them soon. Don't get stuck with just one hairstyle now; try innovative styles every time you step out.
Let us know how it turns out, and let your girl pals know about it. Surely they will be looking for some tips from you.