Curly pixie cuts are one of the cutest haircuts known so far. Pixie hairstyles came around when the iconic model of the sixties, chopped off her hair. But still, many people wonder whether this hairstyle is for women or not. So here we are to prove to you that this style can be universally flattering.
If you have curly hair and looking for some fascinating haircut ideas, a curly pixie cut might be just what your hair needs. It's easier to maintain curls by cutting them down on the time you spend. This will save you the time you spend on pleading your curls to behave.
If You still think there's still no way you could pull off a curly pixie cut. But still loving the pixie cut trend, here we have to come to inspire you to go for what you like.
If you are tired of your curly hair, remember that there are So many girls wishing they had your curly hair, so it's time to embrace it.
Best Curly Pixie Cuts for Women
If it's time to cut your cycle of straightening your curly hair into a long style, that takes forever, and go for one of the most classic looks of all time, the famous curly pixie cut. It's bold, romantic, a little playful, and it's very flattering on just about anyone. We have got the best of 35 curly pixie cuts, have a look.
1. Messy Long Fringe Pixie
The best part about Curly pixie cuts is that they don't require a lot of maintenance or upkeep. They could be kept with the natural texture of hair. If you're tired of fighting with your curls every morning, it might be time to give them a new change and cut.
A well-styled cut like a pixie cut that keeps a short weave hairstyle encourages curls to fall into place. You can inculcate carefully constructed layers that provide curls breathing room and gives you a messy and funky hairstyle.
Therefore, Instead of trying to tame your curls, keep them in their natural wild selves. If you are afraid of being very short, you can go for a long fringe at the front.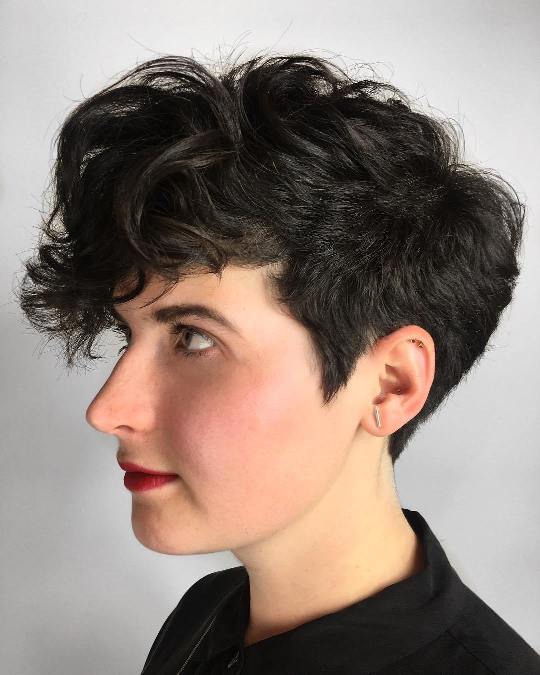 2. Spiky Pixie with Shaved Sides
With a pixie cut, you're out the door in five minutes flat. It is easy to maintain and style. Pixie cut suits a range of hair textures, types, and thicknesses as well as different face shapes. This hairdo brings the influence of Riot Grrrl, which was a movement for women's empowerment, right to the top of our heads.
This hairstyle looks a little spicier and a little more dangerous. As the famous men's hairstyle is inculcated in this, that is the fade cut. The underneath is shaved close on both sides.
This will reveal your newfound identity as a strong, dangerous woman. This is a very bold hairstyle and gives you a bold look. You can keep your curls as such or style them in a spiky form like this one.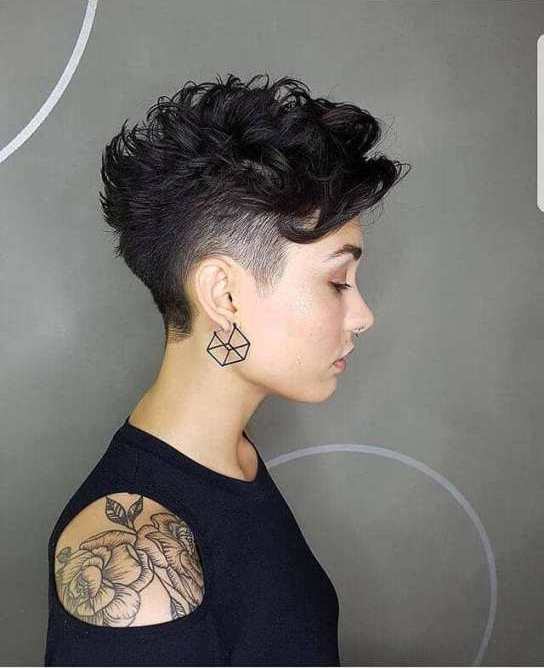 3. Curly Edgy Pixie
This is the most drastic variation of the pixie cut. If you're ready for a super bold look, this one is for you. After a pixie cut, shave the underneath of your hair. With your pixie, create a deep side part of free-flowing, luxe curls.
Keep the curls n soft and pliable. It is a very bold look, therefore look, bolder and more beautiful with other things like a few well-placed tattoos. It provides a very edgy definition of your hairstyle and looks.
The curls are kept messy but well polished. The curly fringe looks very gorgeous when kept on one side of the head and face. You can go for a bald partition line between the faded and shaved part of the head and the curly part of the head.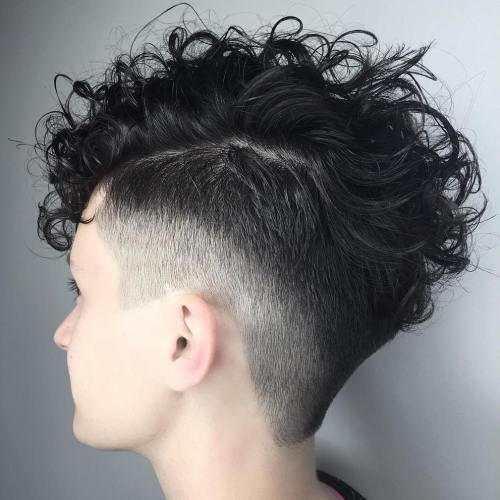 4. Brown-Golden Messy Pixie
The curls are made to focus on the forefront. The curly pixie cuts bring your style to the forefront. Eyebrows play a strong role to enhance your persona while carrying this style because there's nothing to hide as the hair near the ears is kept short as compared to the hair on the top of the head.
Curly hair is given all the freedom and left in its natural texture. This pixie cut with golden hair mixes with the soft and brown curly cut.
In this way, Pixie cut provides you with the best of both flirty and edgy worlds. It's an unexpected twist that you will love it. Pixie cut looks so good with any clean face and hair.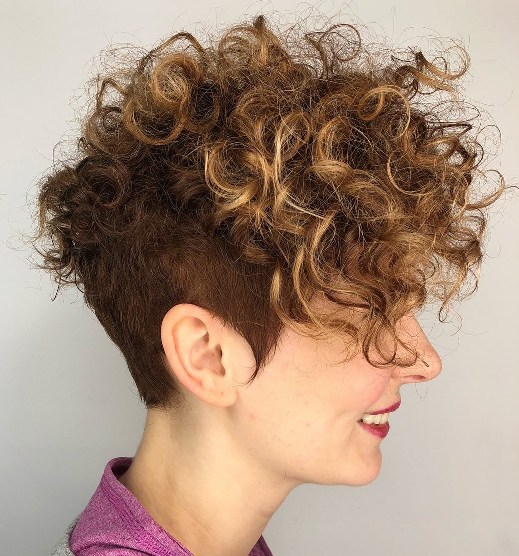 5. Normal Pixie with Blonde Highlights
It's always a better option to take your hairstyle to the next level. Coloring your hair is one of the easy ways to go if you are looking for that extra touch.
Adding blonde highlights to your pixie will not only enhance your curls but will also upgrade your overall look of the hairstyle.
Blonde highlights are also known to embrace your features. This one pixie is our personal favorite. You must go to this one.
6. Romantic Oversized Pixie
This super-soft pixie is another way to style your curly hair in a modern way. It is a beautiful way to spend your dates. It looks great and gives vintage and romantic 90s throwback vibes. Keep in mind that the less you do to your curls here, with a pixie, the better they'll turn out.
Keeping them natural is a characteristic of this cut. We've talked enough about shaving the underneath but this time, let your hair grow out just a bit during the cut.
This will give you a soft, face-framing pretty hairstyle. This one is all about enhancing the softness of the curls to get a face-framing style.
Pair it with any flowy fabrics or maybe some fuss-free overalls for a perfect look with your date and friends.
7. Short Pixie with Side-Swept Bangs
This asymmetrical pixie is kept very short overall. But it does allow for some length in the front to tuck away behind your ear. Or to be kept as such in side-swept bangs. This one will soften your face and will give you a little more play in how you can style your hair.
This one is also swept to the side in the form of bangs, and you can also sweep your bangs back for a faux hawk style. You can also keep them as center bangs. You can add color highlights to your pixie to enhance your curls even more.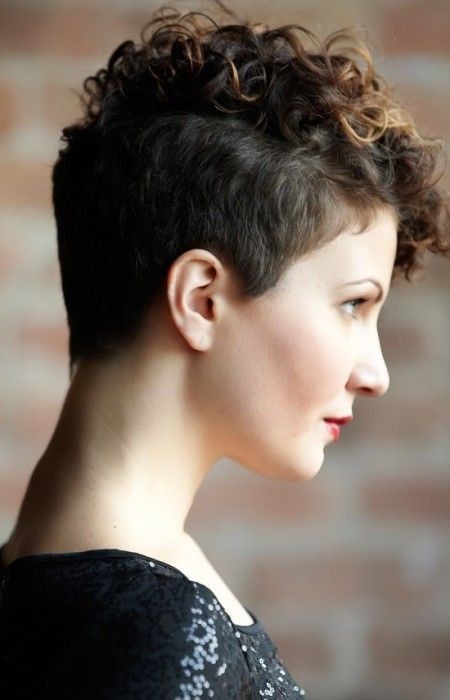 8. Tightly Curled Pixie
Why we love pixie cuts so much is because it works with the natural texture of your hair to give you an easy-to-maintain style. You don't have to worry about using a bunch of unhealthy products or heat tools to style your natural hair regularly.
With a pixie cut, you can just wash your hair and let your curls bounce into their natural place. It's a great haircut for someone with extremely curly hair but who doesn't have time for straighteners.
It makes your curls the center of attraction. Another reason to love pixie cuts, they will let you embrace your curls instead of hating them.
9. Blonde Pixie with Curly Bangs
Blonde is a cool color for young girls. It is a sassy haircut that gives you a stylish look. Pixie cut comes in various types suitable for every woman belonging to every age. This style is a little longer than other pixie cuts.
Right-sided bangs are longer, which frames your face, and another side is shorter which shows your ear studs. Some girls don't want to cut their hair shorter so this blonde pixie cut is best for you. It brings out your fun personality.
10. Glamorous Soft Curls
Most hairstylists suggest short haircuts as the perfect hairstyle for a smoldering look. This stunning pixie with loose curls looks soft and classy. Every hairstyle has its uniqueness; it depends on a person how he/she styles their hairstyle.
It is a timeless hairstyle and it also suits thick and thin hair. No matter what is your skin tone with a classy outfit and makeup, you look best in this. It is easy to style which is a comfortable option for any occasion.
11. Short Relaxed Hairstyle
Play with your curls and cut them right for healthy growth. There are a plethora of ways to style your short hair. Most Hollywood celebrities promote short hairstyles and provide ideas on how to style them properly.
It is a super simple and textured curl that gives your hair a relaxed vibe. It is a versatile hairstyle that gives you a chic look and never goes out of style. This hairstyle is for those women who have naturally wavy hair. Pair it with a simple, colorful dress without any jewelry piece.
12. Round Tight Ringlets
Dazzling round ringlets deserve to be shown off. Curly hair has many types, so this one is full of volume and bounce. Mostly the color of natural hair is black or brown. It gives a retro-cool vibe and rocks with every dress. If you don't have time for proper maintenance, then your hair looks so messy and frizzy.
Natural texture is the main eye-catching part of this hairstyle. This effortlessly alluring hairstyle clearly shows your jawline and tattoos.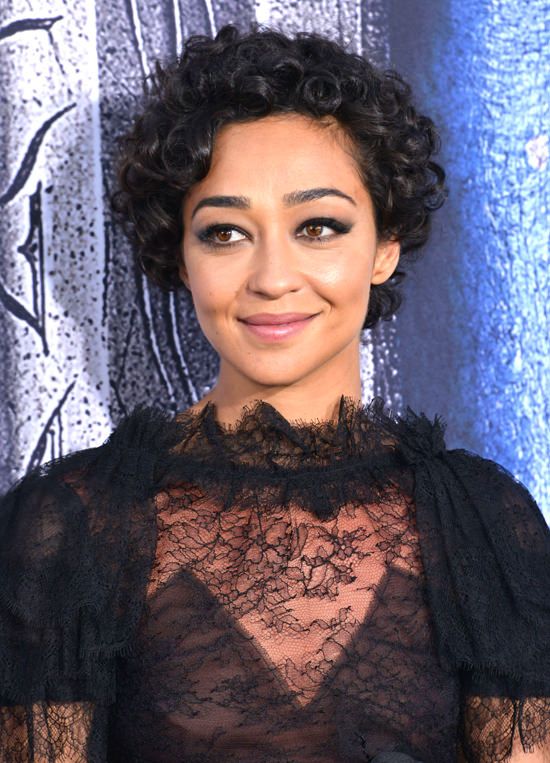 13. Go Vintage
Vintage hairstyles are back in trend. A very short bob with tight curls provides you a vintage aesthetic look. Not every hairstyle looks best on your face shape, so this hairstyle framed an oval, square face shape.
Usually, women above 40s prefer vintage bobs but nowadays, girls love to try new styles. You can style it with an office outfit r casual outfit.
This summer-friendly hairstyle perfectly trimmed your thick hair which is easy to maintain without any styling product. The famous marlin Monroe haircut is also famous among young girls or celebrities.
14. Punk Rock Texture
The best thing about a pixie cut is you can add creativity to it. There are a lot of unique ways to style your pixie without investing hours or days. If you have thick, straight hair but you want a wavy hairstyle, then this punk style fulfills your all desires.
The front part is longer and falling on your forehead. With some styling rod, you can create a choppy effect, but it takes time so you can create this hairstyle for special events or parties. Style your rocky hairstyle with a funky accessorized jacket.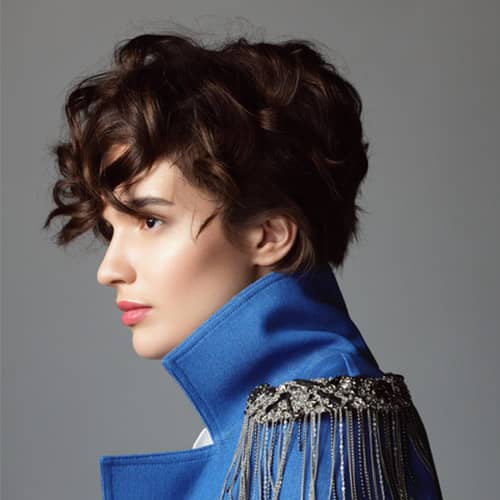 15. Stacked Haircut
Curly hair looks beautiful when cut in short. Choose your haircut, which compliments your texture, head shape, skin tone, etc. It is a light weighted little longer hairstyle.
The dashing curls with some brighter highlights give you a fresh look. The top part looks slightly messy because of the curls and bouncy.
Fringes' falling on the front part looks so amazing with a rose gold lip shade. If your eyes are unique like blue or green, sea blue then always choose hairstyles that do not cover your face. Paired your cute hairstyle with a floral dress or princesses gown etc.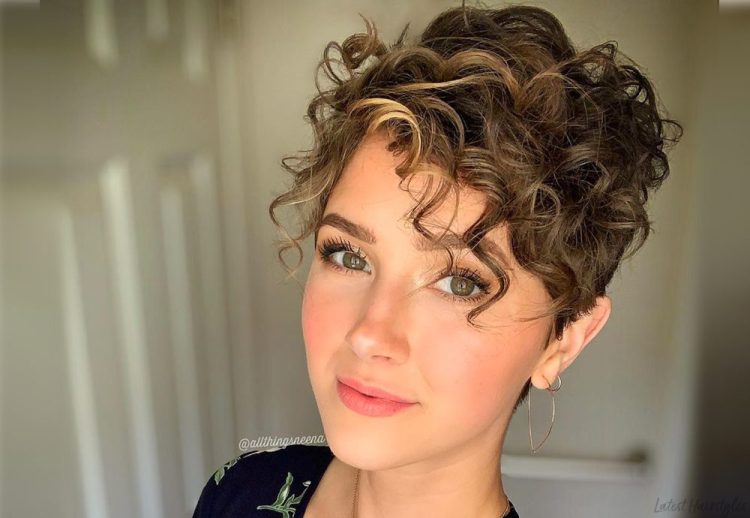 16. Forward Swoop
If you are afraid of losing your hair length and don't want an extremely short pixie cut, then choose this long hairstyle but with a touch of the pixie cut. It shows creativity and a fun-loving personality.
On the top part, the hair is 2-3 inches longer. If you are a strong girl with a lot of tattoos, piercings then color your strands with bold colors. This hairstyle works on fine hair. Groom your hair with different gels and serums. Style it according to your choice and outfit.
17. Modern and Edgy Hairstyle
This hairstyle is in fashion nowadays. It belongs to the family of short haircuts but the sides are longer than the top part.
These relaxed curls give your hairstyle a modern vibe. It is suitable for any hair length, color, texture, etc. This alluring edgy hairstyle is a perfect combination of a classy lady.
You can add some highlights if you want. Wear a pair of simple earrings and nude makeup. If you want more volume in your hair then use curlers for occasions or weddings. Don't trim your hair at home because you don't see how it looks on the top or back.
18. Natural Texture Curly Pixie
As we know, curly pixie cuts do not require a lot of maintenance, and if you have a great wavy natural texture of your hair, then there is no stress or worry about your hair upkeeping.
To maintain your natural curl, you just need the perfect fit hair care product, which will suit your hair type and does not cause damage to your sensitive scalp, and you are ready to rock your natural bouncy curls. This haircut mainly emphasizes on your natural curls.
We can see in the above-provided image shows how the hairstyle is all about ladies' gorgeous natural curly texture. The thick natural curls give her a romantic as well as a chic vibe altogether.
Her soft curls define her facial structure and beg for fingers to run through them. It's an effortless and casual style that will work well for both casual day look plus evening event look.
19. Soft Edgy Nerdy Pixie
A pixie haircut does not always demand to have your head shaved. Without the involvement of saving, you can still achieve pretty relaxed and casual looks.
If you are in search of something which can go with your calm, casual free spirit personality as well as your daily work routine, then I think this haircut is for you.
This hairstyle does not involve any saving; it just contains cutting, side swap, and the addition of soft waves. The smooth edge is formed by short-length cutting and not by any shaving. The border gives it a drastic look as the edge is soft and not deep.
The haircut does not give out a bold look to you; instead, it is an edgy nerdy and more casual look for your daily wear. The side swap of hair over your eyes is the focal point of this haircut.
For your day–to–day work, you can top the hairdo by adding a pair of eyeglasses that are going to complete the hairstyle.
20. Messy Tight Curl
This haircut is an upgraded version of all the natural pixie we have discussed before. In this haircut, we are also emphasizing your natural curls, and in this hairstyle, the natural curls we can see in the image provided is they are messier and have tight micro coils.
These types of curls are not easy to maintain as they are more of a rough texture, but as we have said plenty of times with the usage of the right products, you are going to worry less about your naturally curly texture.
Most of the pixie cuts work perfectly with natural texture and also resulted in gorgeous haircuts just like this one. In this hairstyle, both the sides of the ladies are shaved, but not too much which may result in skin revealing.
The crown hair is short and in its natural form. This hairstyle does not cause daily hustle as you just wash your hair, and you are ready to go. Let your natural micro curls bounce naturally in the air.
21. 90s Inspired Curly Pixie
Pixie haircuts, along with curly textures, are in style as long as the fashion industries were born. If you don't believe you can pull out your mother's or grandmother's school pictures and you will know the truth.
The first look this picture provides will directly take you the images of your mother or grandmother's school picture. The same happens to me.
The hairstyle involves in this image is 90s inspired haircut, and now you will think that in this modern world who would do the 90s hair but let us tell you that this haircut is in trend and you can rock the same look as your mother and grandmother did in their own time.
All the hair on the head is messy natural curls cut at a short length, leaving some long bangs in front. The long bangs are given a soft curl, which is making this hairstyle more pretty and cute to pull. In this hair, do you have to keep in mind that less you emphasize the perfect curls of hair better, they will turn out?
22. Messy Soft Curly Pixie
Love giving yourself a dramatic, messy, mysterious look? But does not want a full hair head? In search of a fresh new exciting look? Herewith this hairstyle we are giving you an answer to the entire question going in your mind. Have a close, in-depth look at the image provided.
You can see a dramatic, bold volumes fluffy haircut. Now you can have the same. The hairstyle involves an uneven cutting that is one side has shorter hair than the other, specifically at the front. Having this type of haircutting can reduce much of your hair weight, and you still got plenty of hair to pull a bold, dramatic look.
The messy side swap along with messy soft waves the hairstyle is giving a dramatic edge plus a bright vibe to your personality. If you are a black hair girl, then you can go for a blond touch to have a fresh look, but the decision depends on you. The bold global hair color is giving out more boldness, and a feminine vibe to the haircut.
23. All Styled Up Side Swap Pixie
If you are the kind of person who likes everything to be in pace and when the things come to your hair, you want them perfect and all styled up. Then I think this hairdo will be a good option for you. From the picture, we can see how every strand of hair is correctly placed and totally styled up.
The hairdo involves side partition and undercutting. The undercutting is done with the help of a razor with the goal that there should be skin revealing, but these decisions always depend on your choice.
The soft curls are added with the help of a straighter, and that is easy as well as less time-consuming. Also, they give out a chic soft, cute look to you.
The hairstyle is set with the help of setting spry, which also adds shine to your dusty blond hair color, but if you are dark hair color, you can use hairspray for setting the hairdo and add the extra shine to your style.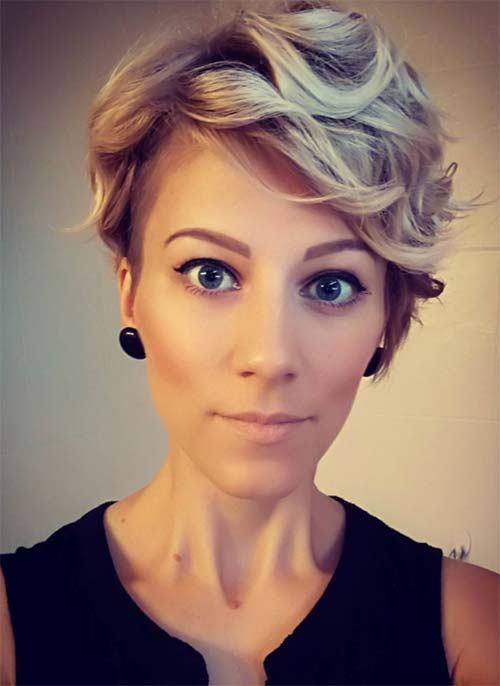 24. Blond Uneven Curls Pixie
Well-styled and designed pixie cuts are one of the favorite styles as well as trendy looks of this year. Along with messy pixie looks, we are definitely going to see some well-styled pixie haircuts in 2023. And from that list here we present one of them to you now.
To pull off this trendy well-stalled touch of a blonde uneven-cut pixie haircut, you just need a short-length cutting from your barer and the rest you can do by yourself. After an appropriate sharp cutting, you have only to add some soft waves, which we suggest you do with the help of a straightener rather than an iron rod.
The main reason is that the hairstyle does not involve proper curls and adding waves with the help of a straightener is easy and less time-consuming. The uneven curled hair is swiped sideward's, leaving bay hair hanging on the forehead. It is a cute formal look for you.
25. Dramatically Curled Asymmetrical Pixie
Asymmetrical pixie haircuts are referred to as short cutting overall, but here the hairstyle has just a touch of this asymmetrical curly pixie cut. On one side, there is asymmetrical cutting, and on the other hand, there are long bang curls.
The long hair on one side gives you a softened yet bold look along with that they provide you a little more play in how you can style your hair in other ways also. Side swapping your bangs brings out a faux hawk-style vibe to your look.
The big messy curls on one side as well as bold eyeliner on the lady in the provided image give a bold feminine look, which is perfect for the upcoming summer season.
26. Honey Blonde Pixie
If you want to take your pixie hairstyle to the next level, this slightly off-beat version of a curly pixie with longer voluminous bangs is a great option.
Instead of picking up your traditional hair brush or comb, go for finger-combing to keep the strands intact and ensure higher finesse. The darker honey blonde shade suits the hairdo.
27. Gray Pixie
Grey is no longer a taboo color; hues of gray are making waves in the world of beauty and hairstyles.
This pixie style is ideal for girls with naturally tight curls seeking a minimalist style. We love how balanced this hairstyle is, which means it will suit almost all face shapes well.
28. Voluminous Short Curls
When the heat bothers you, you must try out a pixie cut to be summer-ready. This hairstyle's single-tone dark brown color gives it a refined and chic edge. This hairdo is heavy on the textured side with small and bouncy curls.
29. Wavy Pixie
This asymmetrical pixie style will be your new best friend if you have a boho and messy aesthetic.
The side parting and very loosely curled long bangs falling across the forehead creates a flattering profile, especially for those with round or heart face shapes.
30. Textured Style
This lightweight pixie cut with a unique and distinct texture is a perfect hairstyle for women in their 50s and 60s. The super-cropped length of the hairstyle is just right enough to highlight the facial features and the subtle curls at the same time.
31. Messy Curly Pixie
Show off your head full of curls with this stunning voluminous pixie hairstyle. This dark brown hairstyle is slightly overgrown, which gives it a preppy school-girl charm. You should use a curl enhancer or a hair spray to give proper finishing to the style.
32. Highlighted Short Hairstyle
If you wish to embrace your natural afro texture yet rock a fashionable look – this pixie hairstyle is for you.
The blonde highlights scattered against the darker hair color create an attractive contrast in the hairdo. You can notice a few curls extending to the forehead to add a touch of femininity.
33. Ashy Pixie
Your search for a chic blend of volume, texture, and movement in one hairstyle ends today with this short curly cut. If you are not a fan of warm hues, this ashy grey tone is what you need. This casual pixie hairstyle can be easily worn anywhere you go.
34. Layered Cropped Hair
A curly pixie is one of the hottest and most tempting hairstyle trends of the season. The layers are here to give a dramatic flair to this brown-toned short hairstyle. In addition, the light blonde highlights in the chocolate brown hair enhance the dimensional effect of the style.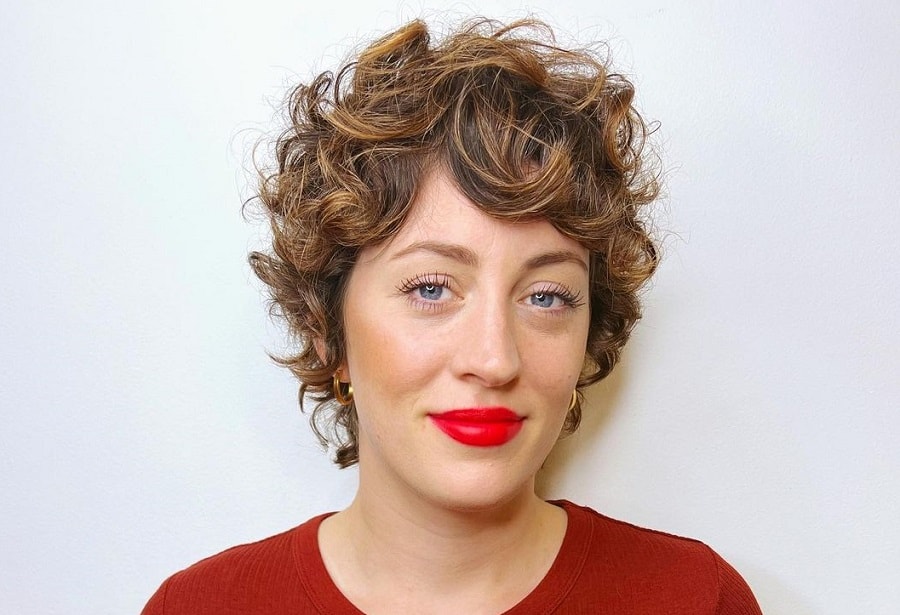 35. Vivid Green
It's time to let your brain run wild with ideas and choose this vibrant, eye-catching pixie hairstyle. The bright green color and gorgeous curls of the style will always help you stay in the spotlight.
These 35 pixie curly haircuts can be pulled off by any one of you. These are vintage, gorgeous hairstyles which will go with everyone's personality. These cute short weave haircuts and styles are going to be so much in trend this coming season.
Pixie cuts are one the hairstyle which provides advantages to people such as less time in front of the mirror correctly setting your hair, less time on their maintenances as well you are always ready to go, and every day you will fall in love with your hair.
These hairstyles for women are subtle and suitable for both the occasion- going day shopping or having a busy day at work, along with its evening events and activities. Pixie haircuts give you a lot more freedom to style your hair.
We hope through the natural hairstyles we have discussed, you will stop cursing your naturally curly texture and embrace them with lots of love.