If you desire to modify your hairstyle, a short weave hairdo is a great option. It can give you a short hairstyle that gives out a voluminous appearance.
The best part is that you can achieve this without cutting your hair short. They are generally appropriate for everyone and come in a variety of styles. Such as short bobs, curly haircuts, and much more.
Short weave hairstyles are just like natural hair that may be cut and groomed. Hair extensions can be added with ease to create a distinctive and genuinely spectacular style. Prepare to capture and pin the hairstyles you adore.
Trendy Short Weave Styles
The stunning weave hairstyles shown below can keep you fashionable and active:
Mid-Parted Bob
Nothing can evoke more personality in you than this beautiful mid-parted short weave hairdo. It is simple to style and works well with or without embellishments.
The hair is versatile and simple to style, making it ideal for any event. In addition, the haircut was ideal for all face shapes.
Layered Red Pixie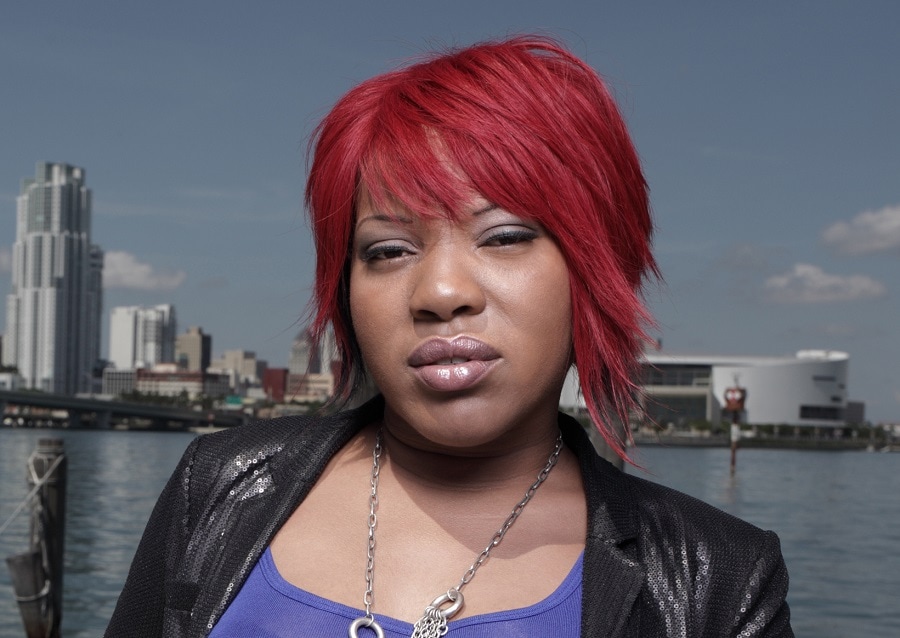 If you want to bring out your internal diva, you must wear this red. It has a realistic texture owing to delicate accents throughout.
A modern shade will make the style completely new. This hue is undoubtedly extraordinary, as is obvious. Be brave if you wish to stand out.
Lavender Lob
Purple can be subtle and captivating or deep and powerful. Of course, your hairstyle and the specific volume both play a role.
Your summer appearance will feel lighter and fresher under a lilac bob with soft, smooth waves.
Volcanic Swirls
This hairdo definitely rocks. It's not simply because of the warm color and fiery red swirls. This hairdo illustrates how seductive short weave hairstyles can be.
All you have to do is maximize the short hairs you have. Layers that are feathered on the sides will give it life.
Bob with Bangs
Popular hairstyles like the colorful bob are ideal for those with oval faces. Leave the bangs in place or have them chop them in layers.
One can look wonderful with the help of piercings, light makeup, and gentle lip color. Go to a trusted hairstylist to get this haircut.
Turquoise Tales
Using this turquoise blue styling, you may brighten up your short weave hairdo. Play with vibrant colors to increase the brilliance.
Every facial type can pull off the hair. Use nice cosmetics and jewels to give the haircut more personality.
Wispy Angled Bob
Your hair can look wonderful owing to the side weave. Use a charcoal color to enhance the sides while maintaining length.
This hairstyle makes faces that are circular, oval, or oblong appear confident. It goes well with glossy lips and your preferred jewelry.
Colorful Splash
This short weave hairdo combines several color tones. Make sure the colors you select to complement the color of your skin. To style them, part your hair in the middle, beginning at your forehead.
With strong makeovers, it looks fantastic on all facial shapes. Use the extras of your choosing.
Afro Blooms
For added appeal, this afro style gives fashionable waves to the entire face. Use numerous accents to turn heads and inspire envy in every woman you encounter.
Many situations can be treated in this way. For example, wear bouncing or dramatic clothing with studs if you want to look classy.
Textured Bob
To give the bouncing bang a special and endearing appeal, add highlights. Usually, the fluffy side bangs seems messy in terms of the hairdo. Instead, the hair elegantly accents an oval face.
It also helps to highlight the endearing features and aspects. Use it with any jewelry or makeover.
Short Bangs
In comparison to long, waist-length hair, a lob looks more natural. Straighten your short weave hairdo using a blow dryer to achieve this breezy look.
You can opt for a simple layered bob to create an elegant and sophisticated look. Smooth, sleek hair will highlight the color choice. Put on nude cosmetics and huge hoop earrings with this.
Curly Waves
Women with structure in their hair have a fashionable alternative to curly haircuts. The layers thin out the hair and give it air and fluidity.
It's undeniably attractive in layered and messy bobs. Choose a smoother texturizing spray to avoid over-layering your mullet on short fine hair.
Sleek Short Hairdo
A style that appears timeless and lovely is silky, straight short hair with a side part. If you've curly hair and always wished it were straight, this short weave hairstyle has granted your wish. To get the curves just right, a professional stylist is needed.
Vibrant Money-piece
Bright money-pieces weave is the best technique to breathe new life into lifeless hair. Wear your hair short with no bangs.
Choose curly hair so you can change the looks whenever you like. Add a small wave toward the rear of the head for an adaptable appearance.
Neonic Lob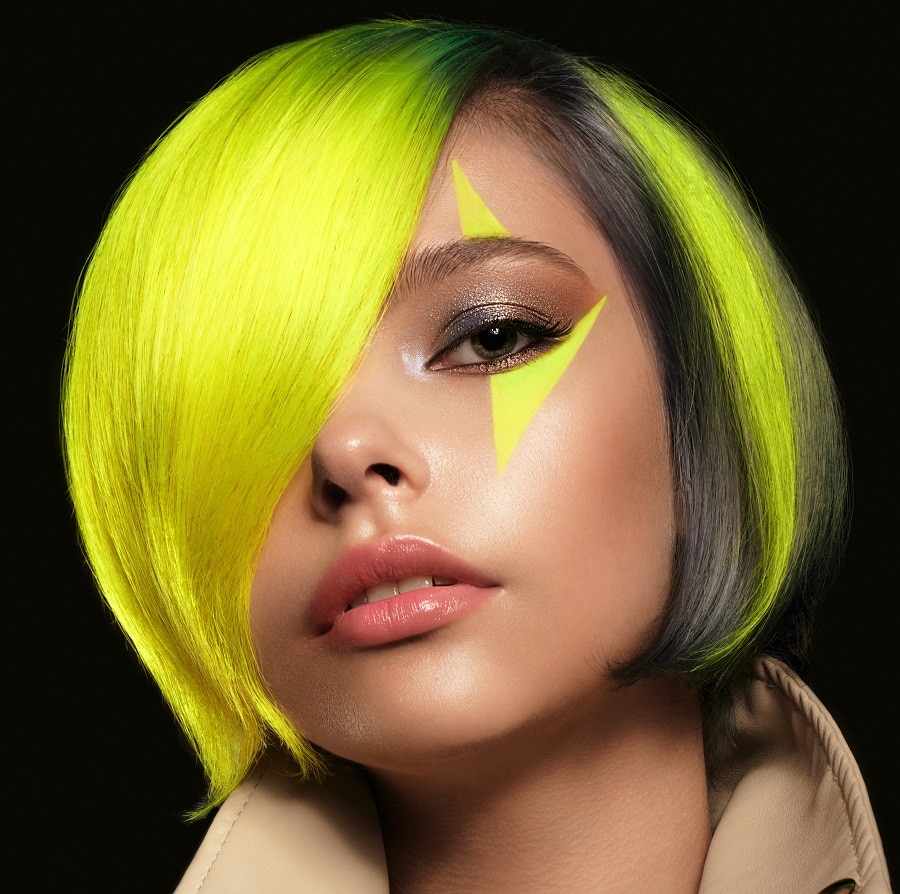 This short hair is fantastic for women with oval faces who prefer to keep things understated and elegant. A skilled hair stylist is required to obtain the cuts on the hair well.
Due to the sheer neon color, it looks good on fair and dark complexion tones. Wear it with glossy pink lips and little makeup to emphasize the look.
Golden Coils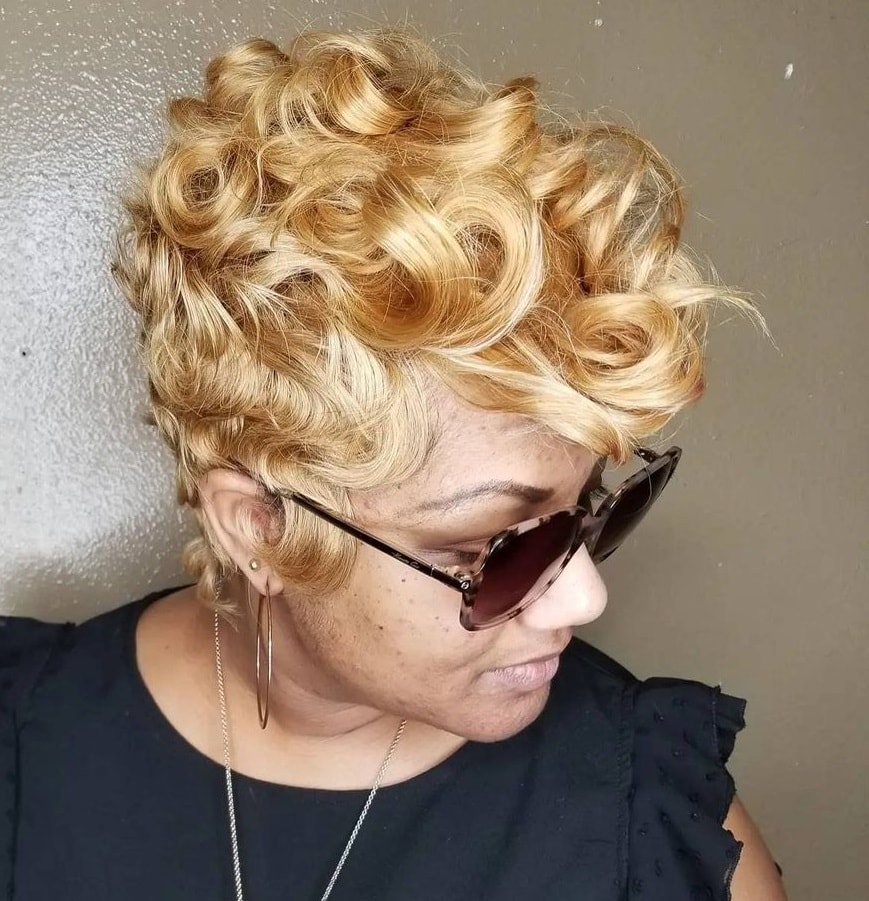 This hairdo is a real beauty. These short blonde coils provide an incredible touch of elegance to the short haircut.
Not to forget that the long curls give the appearance of being heavier. The ideal technique to switch up the texture and color of your hair is through weave cuts.
Coiled Pixie
A fantastic option for spicing up your hair is this short weave hairdo. One of the finest methods to style hair while keeping it safe, is by doing this. People look simple and elegant due to their adorable hair.
It suits women with heart- and diamond-shaped faces the best. Any hair color will look stunning with jewels.
Side-swept Waves
This hairstyle's side weave gives it a very natural and delicate appearance. It also has side-swept bangs that are more fashionable.
With the appropriate jewelry, all face shapes looked stunning in this fashion. In addition, the hair is easier to style and needs minimal upkeep, which is a plus.
We are aware of how valuable it is for you to find a great-looking hairdo. Choose a short weave hairdo from the given images. Or, You might look at young influencers' haircuts.
Short haircuts are usually completed with short, medium, or long bangs. Decide how to best describe your new self. Remember that your hair can be lovely and still be vibrant and real.
You can now choose from 18 breathtaking weave hairstyles. Pick one, then show the world how you like to weave! Now is the time to experiment.