Short hairstyles without bangs are a great option for anyone who wants a chic, low-maintenance style. This look is perfect for women who want to keep their hair off their face and neck during the summer months.
Whether you have curly hair or straight hair, there is a style out there for you, so you can find the perfect one for your face shape and personality. There is good news for women who don't like bangs or who have a difficult time styling them. Now you can choose from several hairstyles!
Most Elegant Short Hairstyles Without Bangs
So, if you are looking for a new style that doesn't involve bangs, we have you covered! Check out these 25 amazing styles that will make you look chic!
Vintage Touch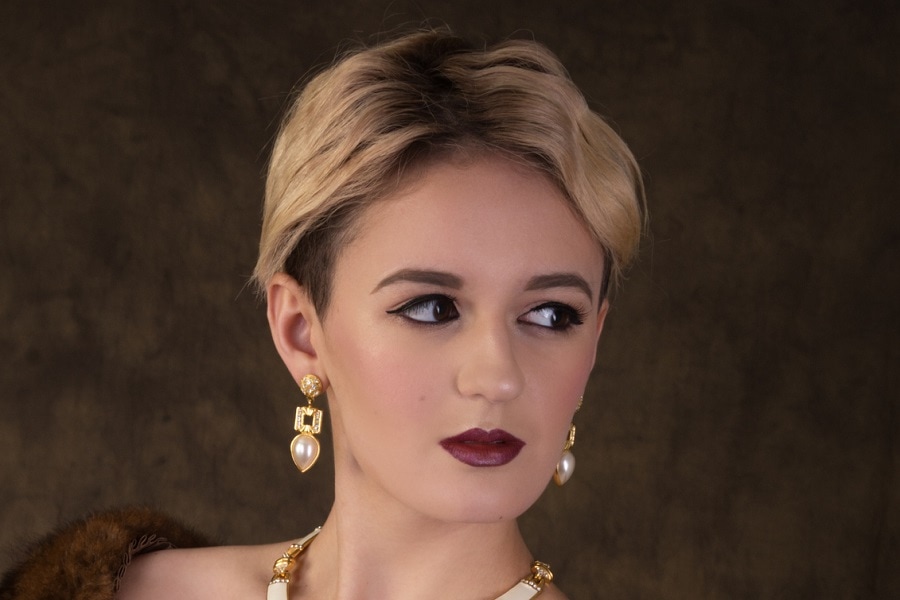 If you have a desire to look more glamorous, you can certainly try a short hairstyle from the 20th century. This type of hairstyle from the 1940s is well-suited for any occasion and will always be chic and timeless.
Short Blonde Curls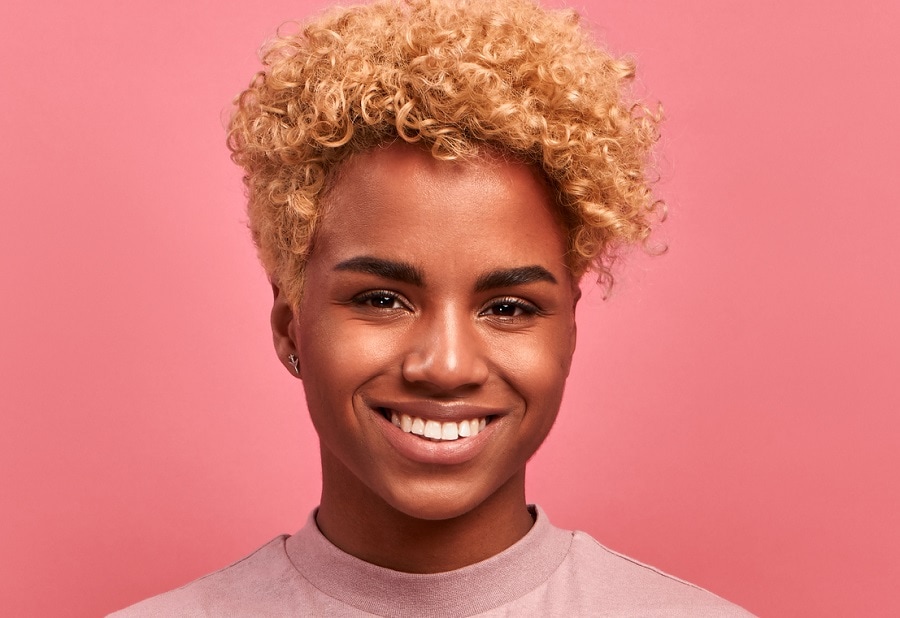 While a short curly hairstyle without bangs can certainly give you a more androgynous look, it can also be incredibly stylish, chic, and sexy.
With the right cut and blonde hair colors, a curly hairstyle can flatter your face shape and skin tone. It can also be low-maintenance and easy to style.
Asian Bob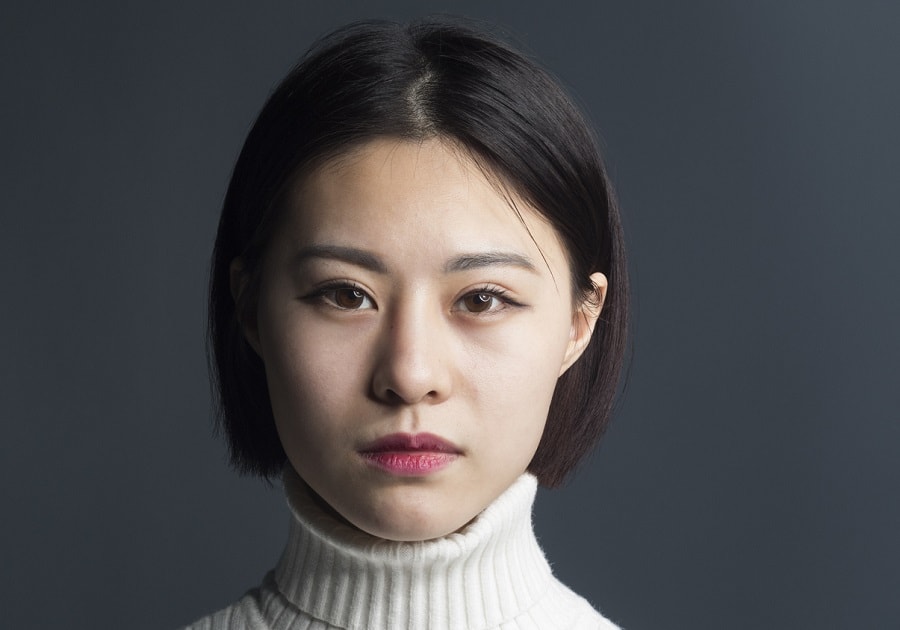 This Asian bob style is short and typically hits at the chin or just above the chin. You can style it straight or with curls, and it is a great style for those who want a low-maintenance look.
Moreover, it can be styled sleek and straight or with soft waves and is an excellent style for a more feminine appearance.
Cropped Pink Hair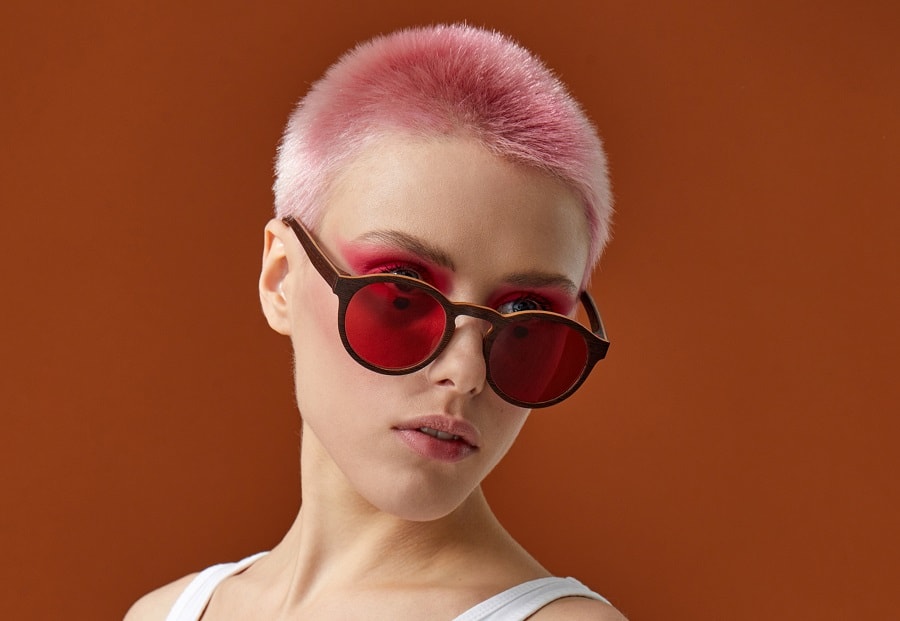 If you like short hair, why don't you chop it up! You can crop them, which makes them easier to maintain. Since you don't even need to comb, it is super comfortable for summer days. And it looks more stylish if you color your hair pink.
Sultry Finger Waves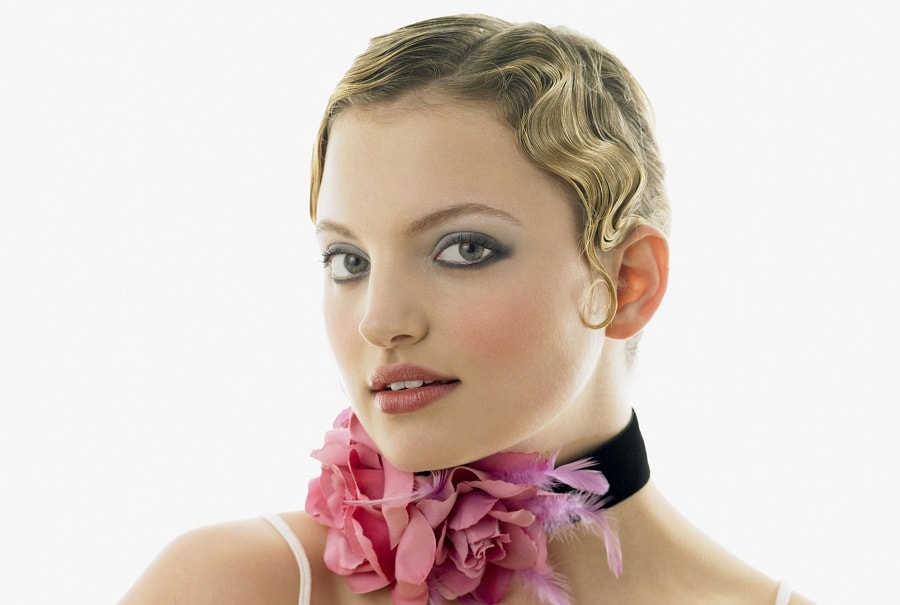 It gives a soft and natural look, making it ideal for any kind of occasion. However, it does require that you have a natural wave or wavy hair to get the best result.
If your hair isn't naturally wavy or curly, then you'll have to either grow it out or use styling products such as curling tongs and curling iron to help achieve an authentic finger wave look with a vintage touch.

Wavy Layered Bob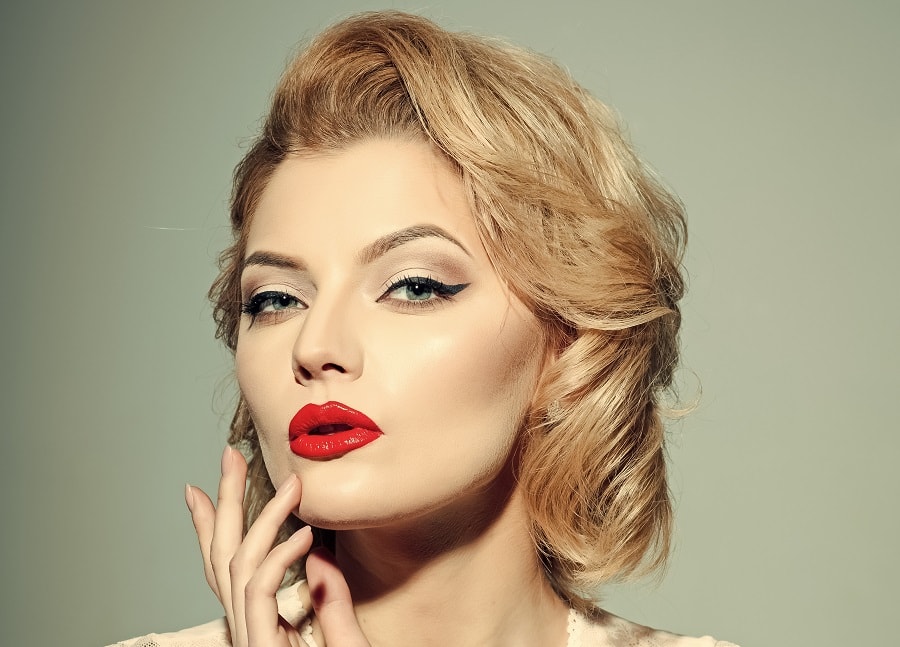 A layered haircut is easy to create and can be customized to flatter your face shape and hair texture. You can start by parting your hair in the middle.
Then, take a section of hair from the front and keep it in layers. The best thing about this hairstyle is you can quickly undo it.
Androgynous Hairstyle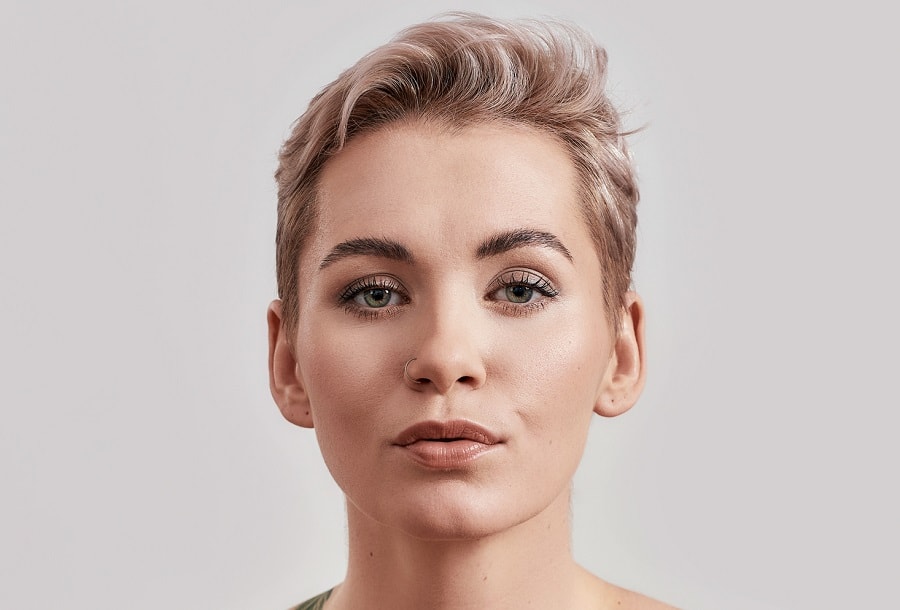 A short androgynous hairstyle without bangs can be a great option for anyone who wants to look professional but doesn't want to spend a lot of time on their hair.
Moreover, this gender-neutral style requires very low maintenance. In addition to that, it can be styled in a variety of ways to suit your mood or outfit.
Tousled Messy Waves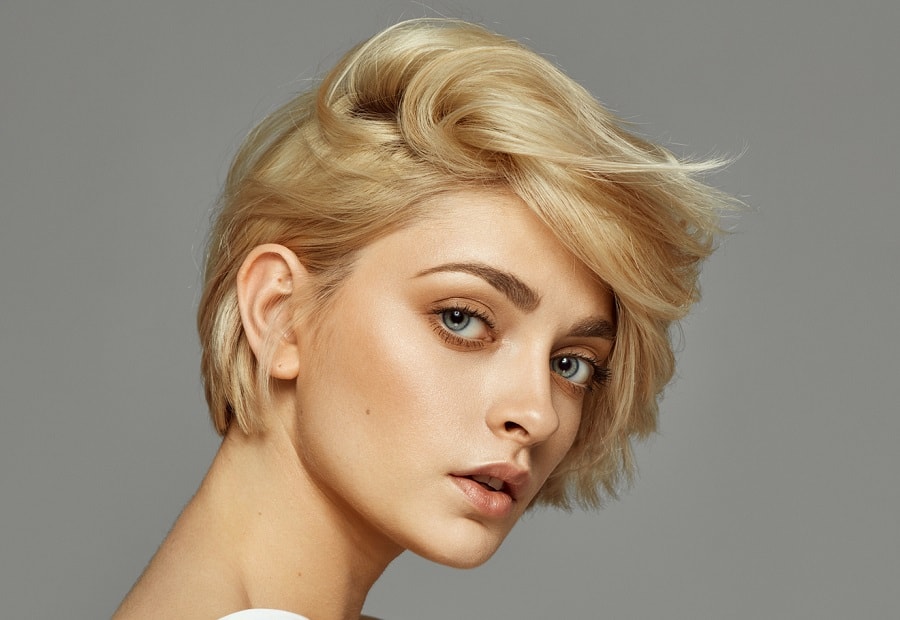 A short blonde hairstyle is a great hairstyle for women who want a low-maintenance style. This haircut is easy to style and can be worn sleek and straight or messy and tousled.
It is also perfect for summer weather, as it does not require much styling time and is light and airy.
Angled Bob with Blonde Highlights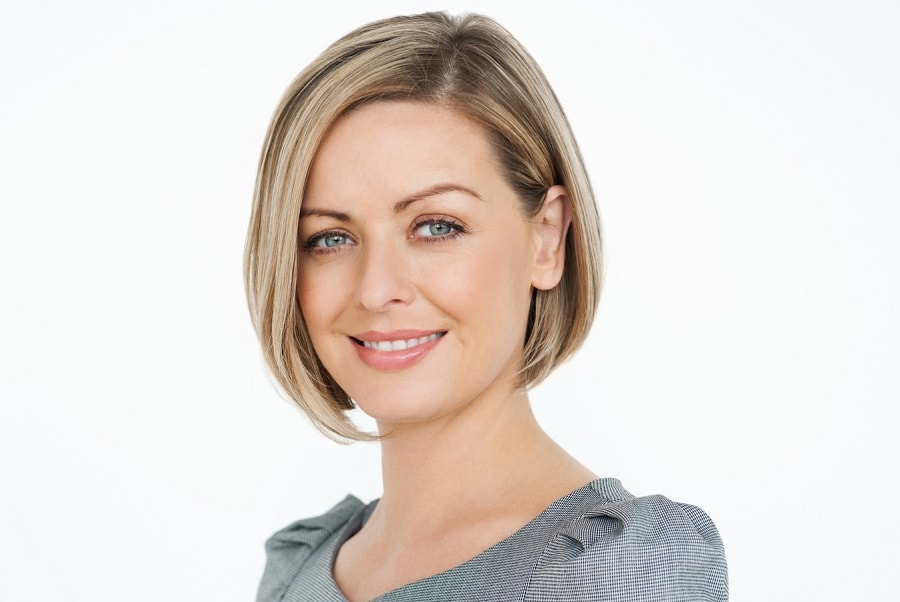 This style is a great way to add some flair to a basic bob. The angled bob is tapered at the neck and features blonde highlights.
The angles add visual interest and the blonde highlights brighten up your look. This style works best on hair that is medium to thick in texture and has some natural waves or curls.
Blue Choppy Pixie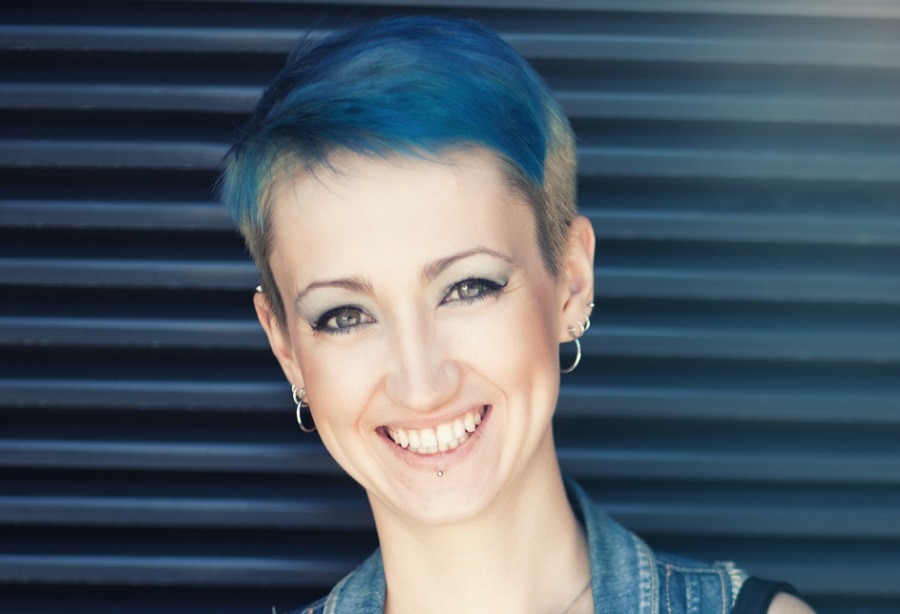 This style is very easy to style and can be worn both casually and dressed up. Blue choppy pixie cuts are also a great option for those with thicker hair, as they will help to thin out hair and give it more body.
Short Afro Curls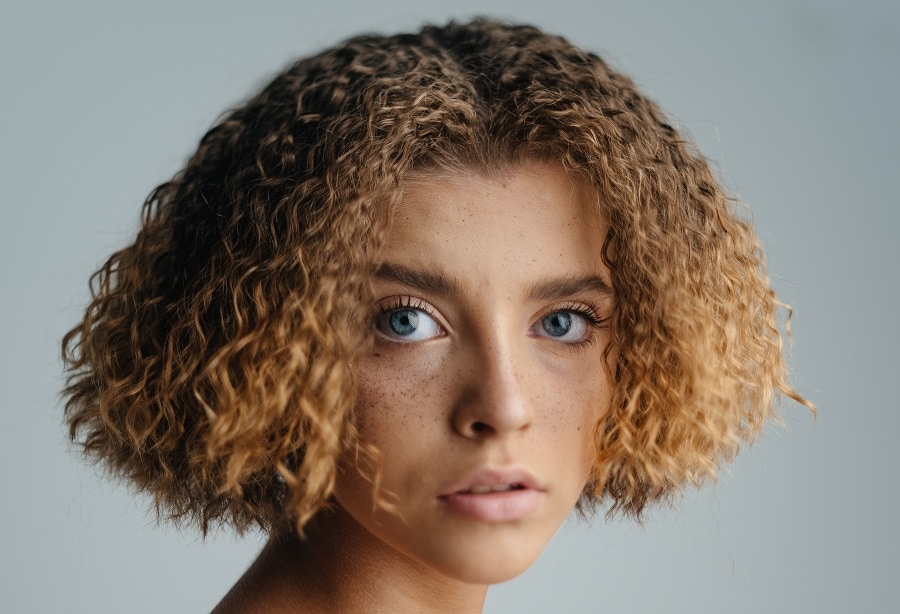 This hairstyle is perfect for black women with natural curls or kinks. The short length and lack of bangs make the Afro curly style easy to manage and maintain.
However, use a round brush and spray some heat-protecting spray in the end for the best outcome.
Chicky Brunette Bob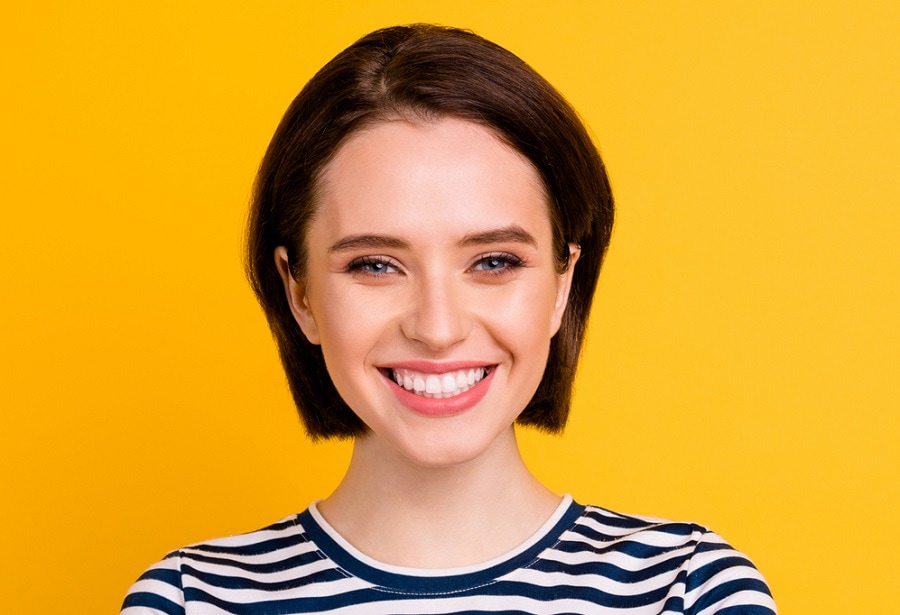 A short brunette bob without bangs is a timeless look that can be worn by women of any age.
Some women may choose to wear it sleek and straight, while others may choose to add waves or curls for a more casual look. This style is also great for special occasions, such as weddings or formal occasions.
Wavy Ginger Hair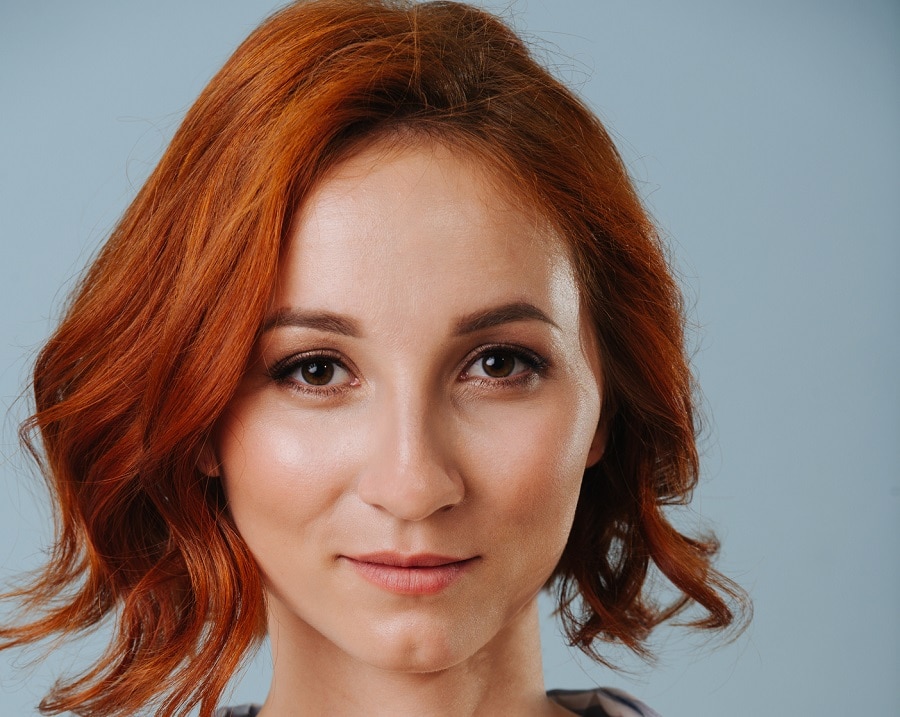 The ginger bob is perfect for someone who wants to keep their hair low and easy to manage but doesn't want to go too short.
The waves give it some natural texture and body, making it a little more interesting than a straight bob. You can wear it straight or wavy, and it works with any face shape.
Bristly Ombre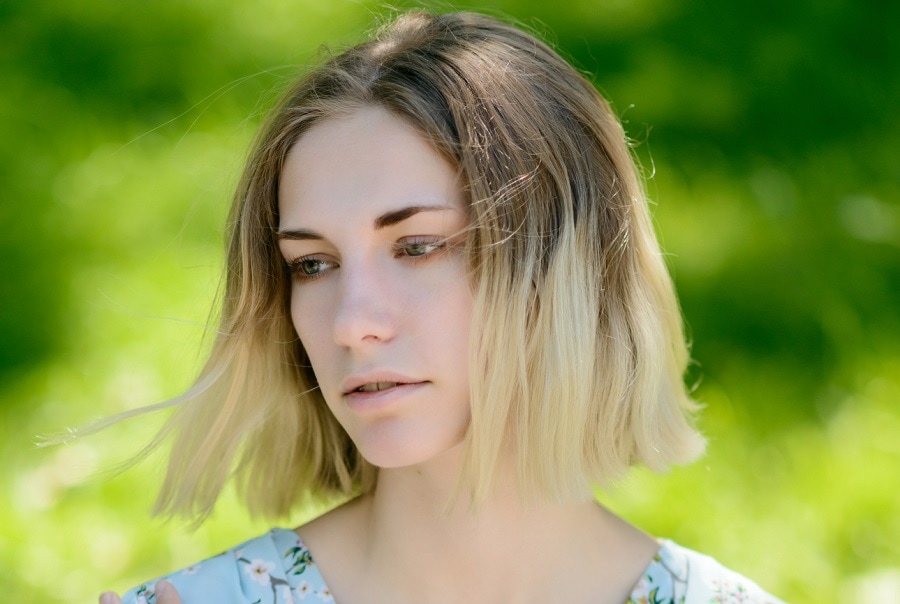 There is no need for bangs with this short style, and the ombre effect can be created by adding highlights or lowlights in different shades.
This style is perfect for women with round or oval-shaped faces, and it can be worn straight or curly.
Crinkly Blonde Curly Hairstyle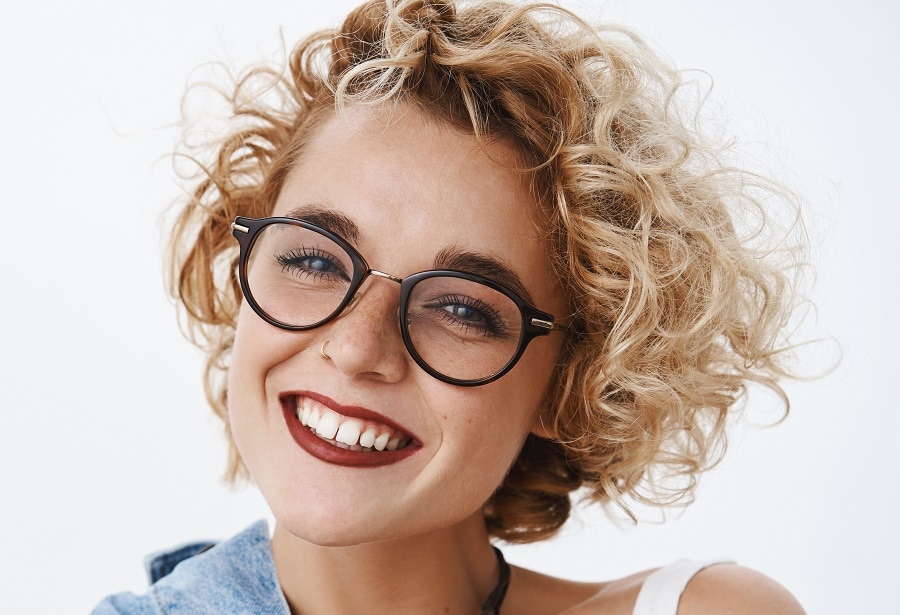 This style is typically cut shorter in the back and longer in the front with a lot of curls. While anyone can wear a curly blonde style, it tends to look its best on people with oval or heart-shaped faces.
Oval face shapes have balanced features, while heart-shaped faces have a pointy chin and wide forehead.
Sleek Bob with Side Part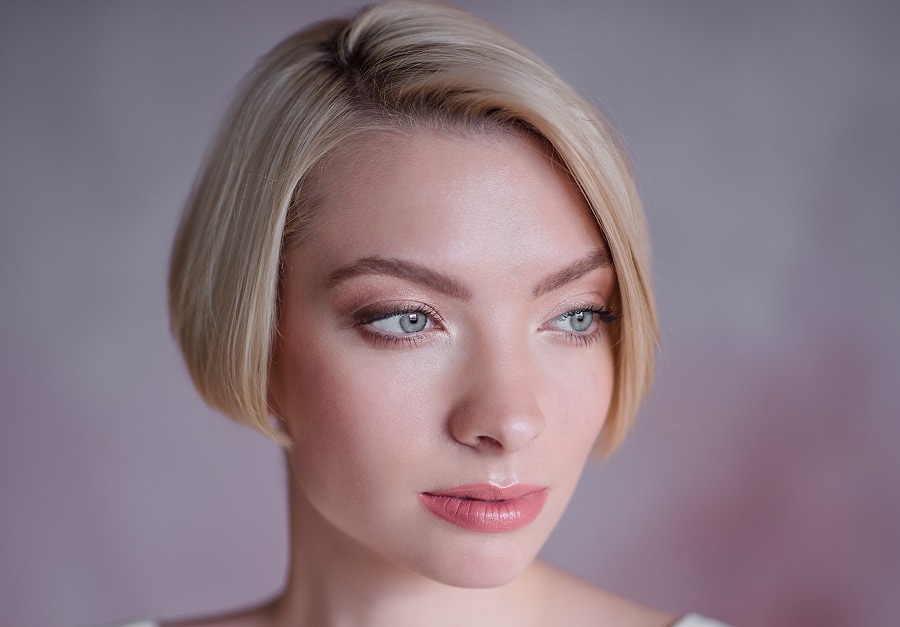 It is a great style for those who have shorter hair because it makes your hair look longer and gives you a more polished appearance.
However, if you have curls in your hair, make sure to smooth out all of the kinks and curls. Once your hair is straight, use a comb.
Layered Pixie Bob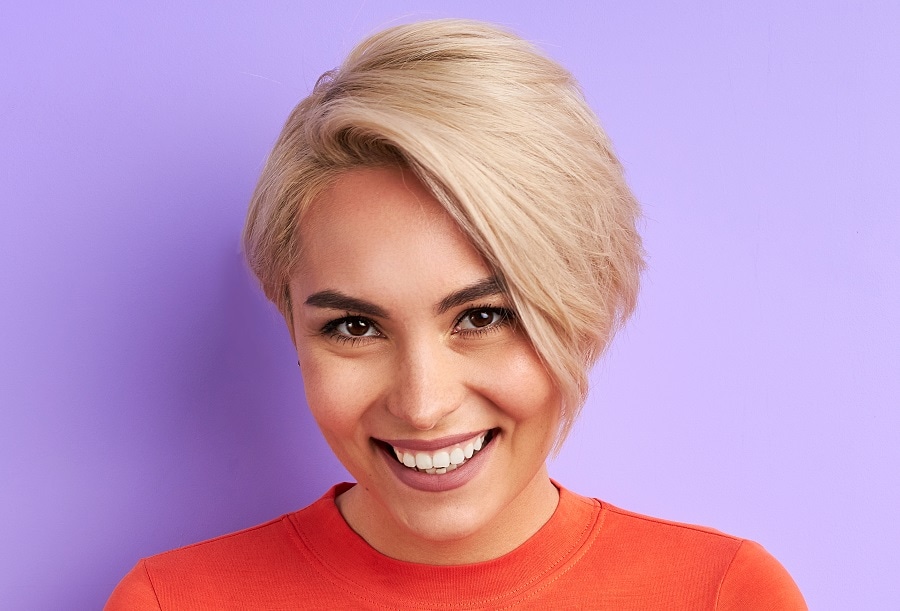 The pixie bob hairstyle is a contemporary take on traditional pixie haircuts. It is perfect for women with small hair who want a stylish and modern look. The hairstyle is simple to style and can be worn both straight and curly.
Messy Red Hair with Shaved Side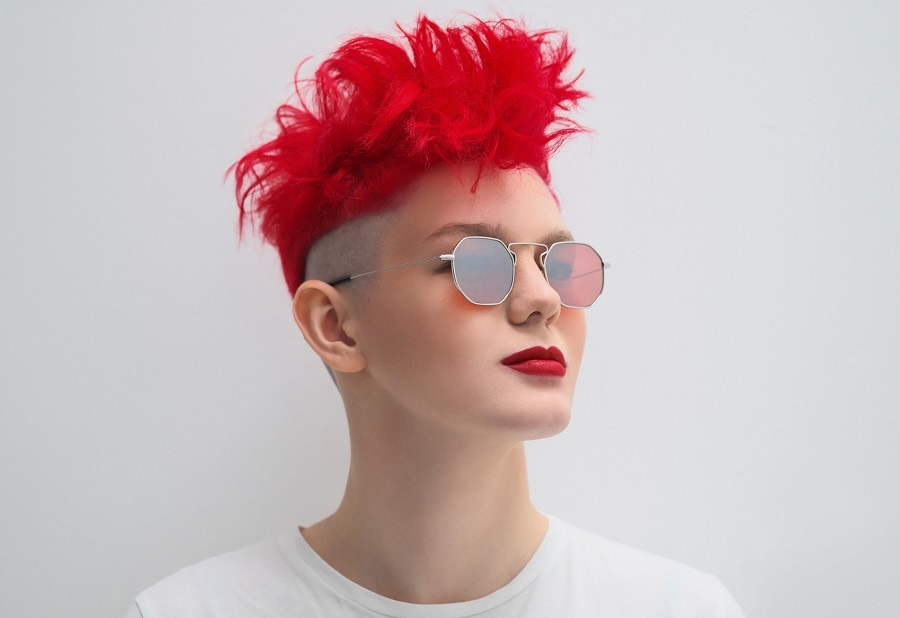 It's a really fun and unique style. Also, messy red hair with shaved is so versatile and easy to style. It can be worn both dressy or casual. Also, this short hairstyle is perfect for anyone who has a busy lifestyle.
70s Retro Look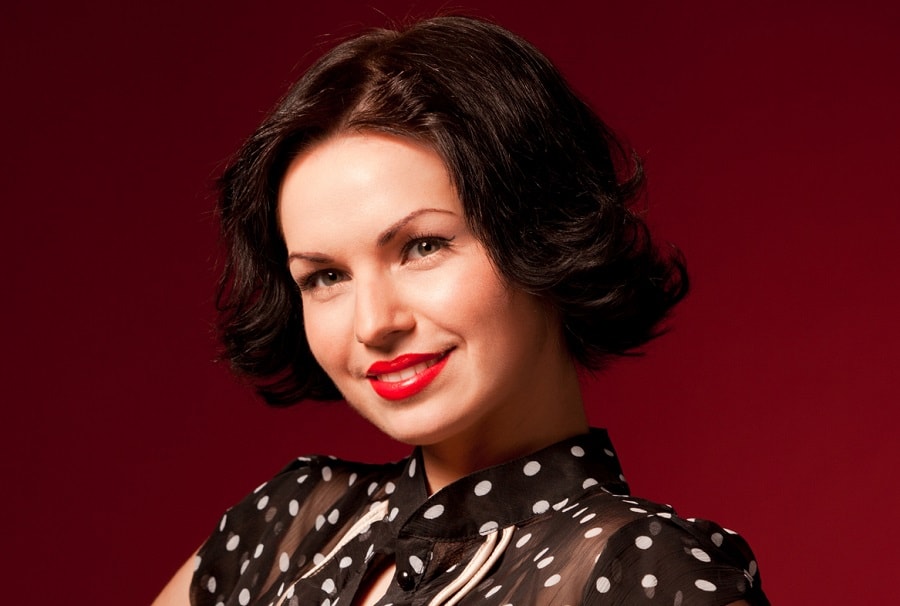 The popular style for vintage bob is to keep the hair short and straight, without any bangs. This style is simple to maintain and can be styled quickly with a flat iron or curling iron.
The front hair can be styled to frame the face and is perfect for women with oval, rounded shapes, or square faces.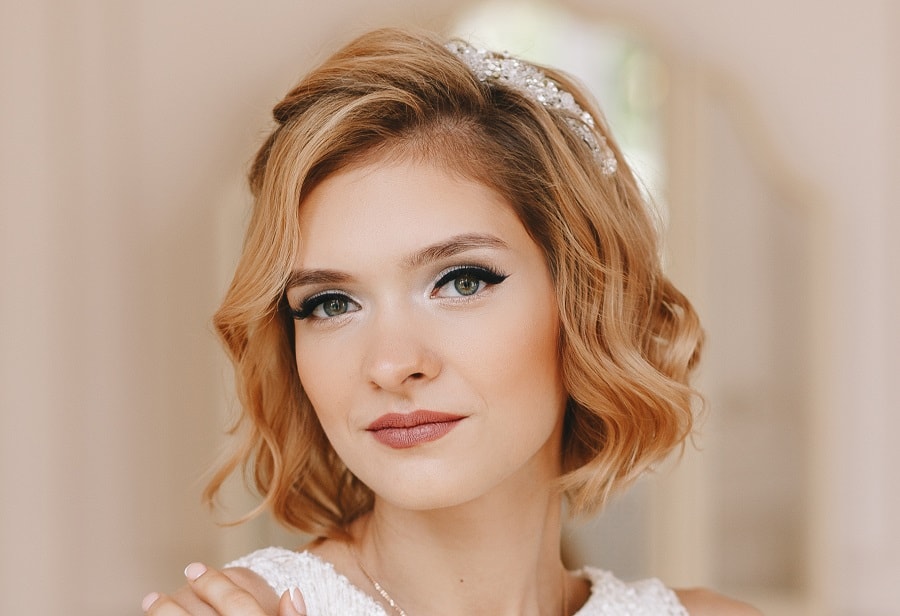 It is especially for brides who want a more relaxed and natural look on their wedding day. You can even wear your hair half up and half down. This style is a bit more casual but still elegant.
Platinum Blonde Pixie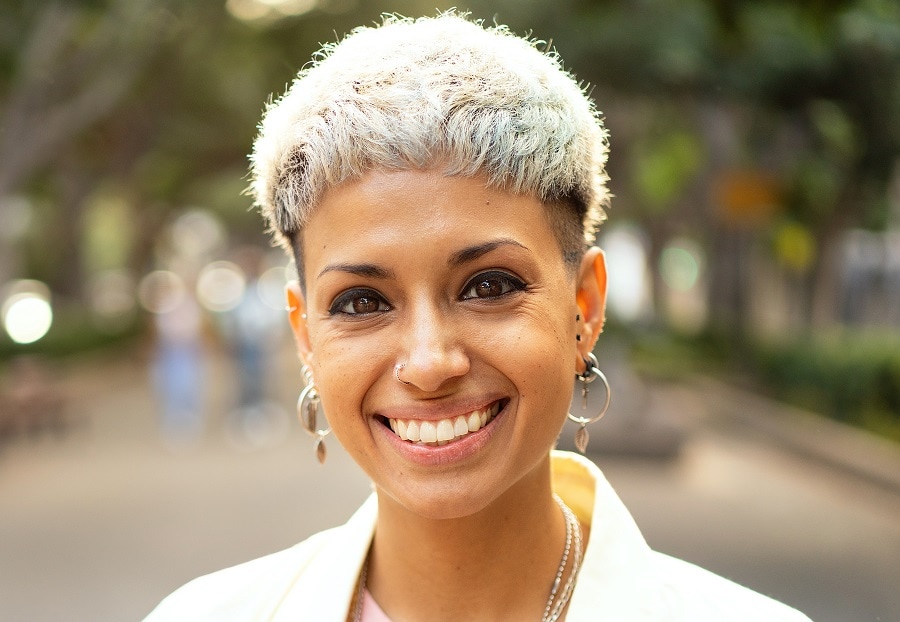 This style is perfect for showing off your delicate features and will require minimal styling. It's simple, elegant, and flattering for almost everyone.
Plus, it's a great option for anyone who wants to go close-cropped without having to commit to a full-on buzzcut.
Fabulous Orange Bob
The orange bob without bangs is a modern variation of the classic bob. It is perfect for women who want a stylish and sophisticated look that is also easy to manage.
Professional Hairstyle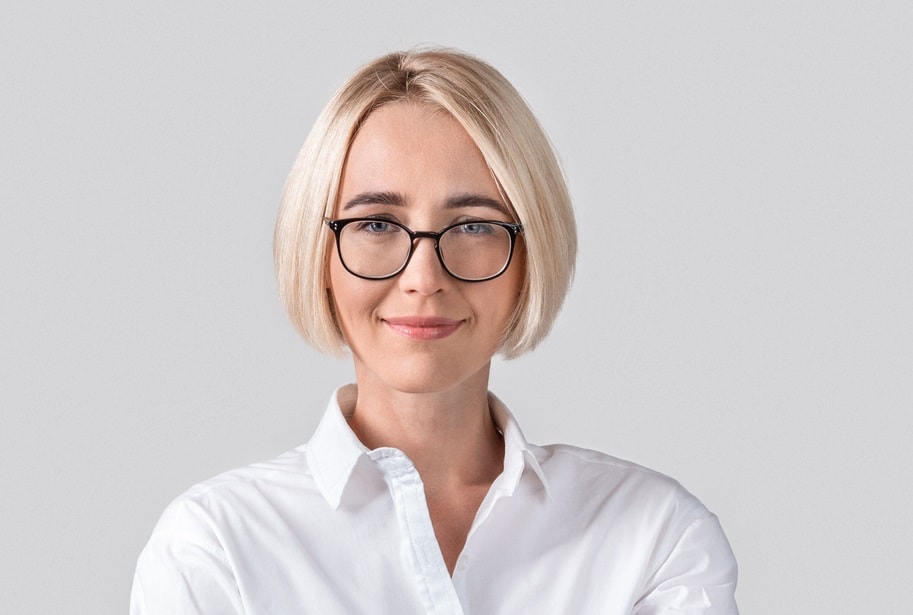 Many women find bobs too young, and having the option to get them without fringe can make the style look more age-appropriate.
A chin-length style with shorter layers and soft waves can also be flattering for women with glasses.
Thin Short Bob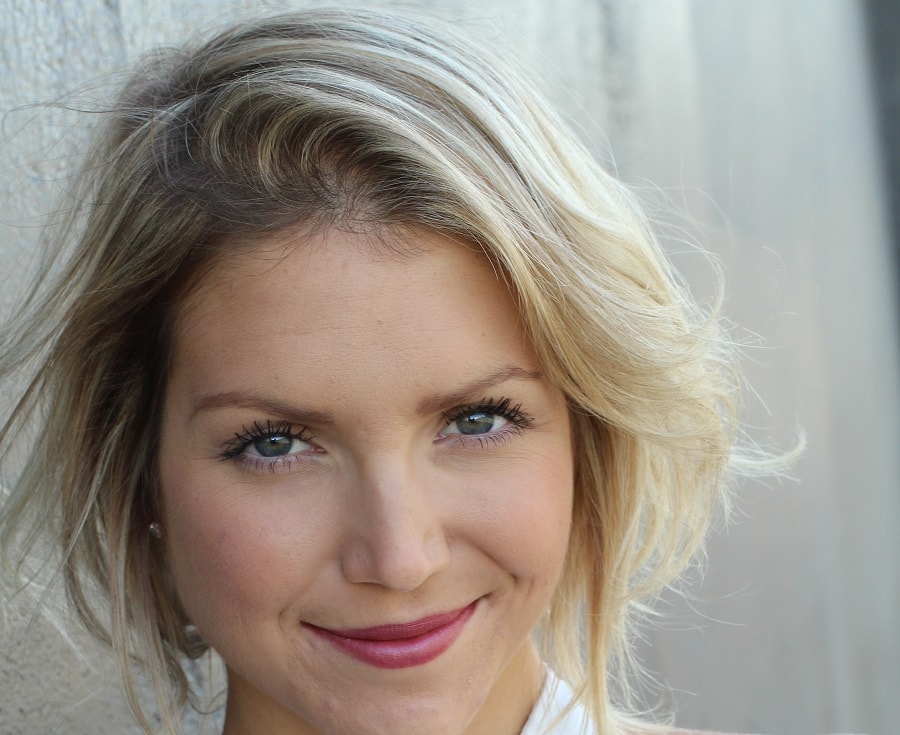 It is a sleek and modern hairstyle that is perfect for women who have fine hair. The style is also great for those with a high forehead, as it will help to shorten the appearance of your forehead.
Thin Side Braids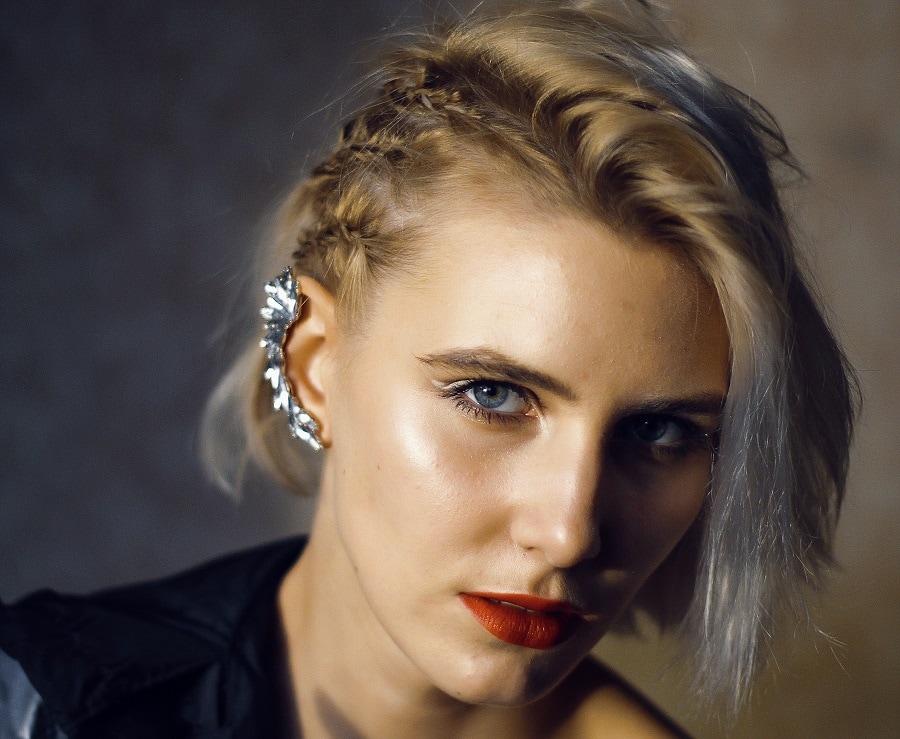 Braids are versatile hairstyles that can be worn in many different ways. Moreover, braids are a great way to keep your hair out of your face, and they can also add texture and extra volume to fine or thin hair.
There are many different ways to style a braid, and you can even add accessories to change the look. A multi-braid with a bob retouch on the side will certainly make you bold.
Many different features comprise short hairstyles for women. It can be extremely versatile, and there are numerous ways to style it without bangs.
The main purpose of this hairstyle is to be easy to maintain. Our 25 short hairstyles will certainly help you to find the perfect one for you!