Unique hairstyles are considered incredibly stylish these days. This has led to androgynous haircuts becoming more popular than ever before. These haircuts are bold and dramatic.
The cuts suit lots of different face shapes, hair colors, and personal style choices. Anyone can look incredible with an androgynous hairstyle like this. Although, finding the perfect style for you be tricky, so you need to have lots of options.
Super Stylish Andryogynous Haircuts
There are long and short haircuts below that you may find appealing. You'll definitely feel a sense of euphoria when you find the one that's perfect for you.
Purple Pixie with Undercut
Undercuts are quite popular in androgynous haircuts. Here the soft purple tone has a feminine edge. The cut is overall masculine. It's the perfect mishmash of androgyny.
Blonde Side Parting
Quiffs are totally classic masculine haircuts. These haircuts look incredibly androgynous when worn by someone with softer features.
The bleached blonde hair is swept sleekly to one side. The sides of this cut are nice and short. It's a very simple and clean-cut look.
Classic Buzz Cut
It takes a very confident person to wear a buzz cut. This shaved hairstyle suits everyone.
There's some stubble left on the head to create a textured look. It's great for showing off your features and letting the world see how daring you are.
Tight Messy Curls
If you have natural curls or a perm, then you can easily look good with this style. The curls are ear-length at the back of the head. They're much shorter at the sides and front of the head.
The tightness of the curls adds lots of volumes. The shortness makes it a simple cut to style each day.
Short Slick Hair
Keeping the androgynous haircut very short is a great way to show off your masculine energy. The very bright blonde color is one more traditionally worn by women.
The locks are very slick and pulled over to one side. On the side, there's a gradual fade that looks very bold.
Shoulder Length Waves
Shoulder when length waves are a common and carefree hairstyle that can be worn by any gender. It can look more masculine or feminine depending on how you style your clothing and whether or not you wear makeup.
Curly Top with Shaved Sides
Very tall, curly hairstyles are often worn by black women. However, it has a softer shape and looser curls. This gives it slightly feminine energy.
The combination of masculine and feminine vibes makes it a great curly androgynous haircut.
Side Swept Blue Hair
If you like showing off your unique side, then a bright and bold hair color light blue will suit you.
This is a totally edgy look with a hard parting and undercut. There's also a Z shape shaved into the side of the head.
Cornw Braid + Shaved Sides
The braids here form an interesting pattern. One large braid wraps fully around the head. An even bigger one sits at the back of the head. Then, lots of little braids decorate the top section of the hair.
The sides are shaved very short. There's also a hard-line shaved into the hair. It separates the top from the side sections.
Decorated Dreadlocks
Dreadlocks are a classic androgynous hairstyle that anyone can wear while looking fabulous. These black and brown dreads are piled up on top of the head in a large bun. Some hang free by one side of the head.
The dreads are decorated with beads and crosses so you can show off your personality with them.
Loose Bob
Anyone can wear a bob-length haircut. This version of it is very carefree and totally gender-neutral. It's shorter in the front and gets longer at the sides.
The cut has a side parting and lots of volume at the front. This makes it frame the face very nicely.
Simple Straight Hair
This hairstyle has a golden-toned shade that gets lighter toward the end. It has a center parting and falls bluntly to the shoulder.
However, people of any gender can wear this hairstyle and look fabulous. You can make it look masculine, feminine, or completely androgynous depending on how you style your face and outfit.
Messy Spikes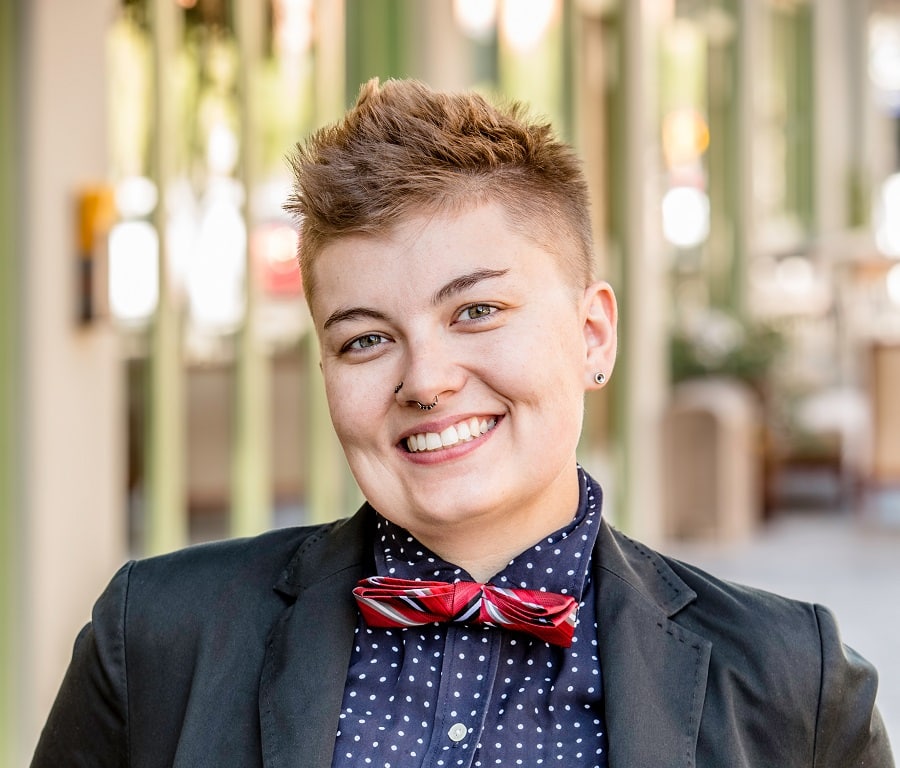 Messy and totally fun spiky hair makes you stand out. The back here is slightly longer than the sides to help very the overall texture. The hairline and jaw shape are both very square. This creates a very cohesive style.
Thin Subtle Layers
If you want something that says, "I just woke up like this," then nothing does that better than waves. Here the locks are jaw-length. This makes them easy to style.
Someone with a strong jaw can make this haircut look very androgynous. It's parted slightly to the side and has a lot of liveliness in it.
Spiky Undercut
Hair that stands straight up creates a bold style. The sides and back of the hair are in an undercut style.
Some sections of the hairline at the front have been shaved shorter than the sides. This creates the effect of having a square hairline.
Side Part and Bangs
The back of this short androgynous haircut is longer than in many of the styles above. However, the sides are kept short. Side bangs keep across the forehead. It looks very casual. The dark color gives it a slightly edgy vibe.
Modernized Retro Hairstyle
Here's a short punk hairstyle that wouldn't look out of place on Elvis Presley. A large slick quiff bows over one side of the head. Some of the hair is swept backward to create a dynamic look.
One section of hair curves towards the forehead. The sides and back are kept very short.
Straight Pink Ombre Hair
Ombre styles add a lot of depth to your haircut. These tresses are straight with blunt ends so the extra depth is fantastic.
This is an androgynous haircut where your face shape and clothing style really matters. Because it's a traditionally feminine look, the way you style yourself overall is what will make this appear truly androgynous.
Androgynous Pixie + Long Bangs
Bangs help create a very mysterious look when they hide your entire forehead. The hair has a side parting and most of the hair is on one side of the head.
The back of the hair is much longer than the sides. Part of the bangs is much longer than the rest of the hair. This creates a very interesting shape that helps you stand out.
Very Short Green Hair
Green helps you stand out a ton and it's great for unique-looking hairstyles. The cut itself is also very unique. The sides have a fade. On top, the hair is a little longer.
There's a line shaved into the top of the head. The line swoops around the hairline and disappears into the opposite side of the head.
Retro Greased Pompadour
Here is another look that was popular decades ago.t's a very slick pompadour. The sides are pushed towards the back of the head. It's a very bold androgynous hairstyle that has a lot of volumes.
Messy Bowl Cut
Bowl cuts were once something considered unstylish. However, these days they can be styled to look very cool. This one is blonde with a lot of darker hair showing through it.
There's an undercut on the sides with the fade. The fade is very sharp and distinct.
Blonde Bangs
Many of these androgynous haircuts are very unique and outlandish. This is a more soft, common one. The hair is very fluffy as it falls to cover the eyebrows. On the sides, it's ear length and thinner.
Pink Mullet
Mullets are amazing unisex haircuts. You can make it more unique by shaving the sides and coloring it blonde. This ensures people know you have a fun and slightly edgy personality.
Blue Box Braids
Braids can be worn by anyone. Here they're styled into a high bun right on top of the head. Some are left to fall down the back. White beads decorate this androgynous hairstyle to make it look very fun.
Some androgynous haircuts appear truly genderless. Some of them look more masculine or feminine but can be made neutral due to your clothing, makeup choices, and face shape.
It's a lot of fun to play with these different looks and make yourself appear totally different. Don't be afraid to experiment and see what kind of gender-free style looks best for you.