A traditional pixie cut comes with short hair, whereas long pixie cuts give you the freedom to keep long hair within the style. These hairstyles are full of funk, wherein the back and sides will be trimmed. This will be complemented with longer bangs on the top.
Pixie cuts are known for adding volume to hair in a very organic way. If hair thinning is bothering you, then going off these layered haircuts will save your look. You can spice things up by playing with colors and different types of undercuts.
Chic Long Pixie Cuts for Women
It indeed is a very complex decision when chopping your hair short. However, these hairstyles will surely do justice to your decision to get a pixie cut.
Breathtaking Blonde Pixie
The Layered Pixie that sits on your forehead gives a very vintage look. You will not have to go for an undercut to achieve this look, as the hair length will be approximately the same. A blonde hue will go crazily perfect if you have a lighter to brownish skin tone.
Fudged Layers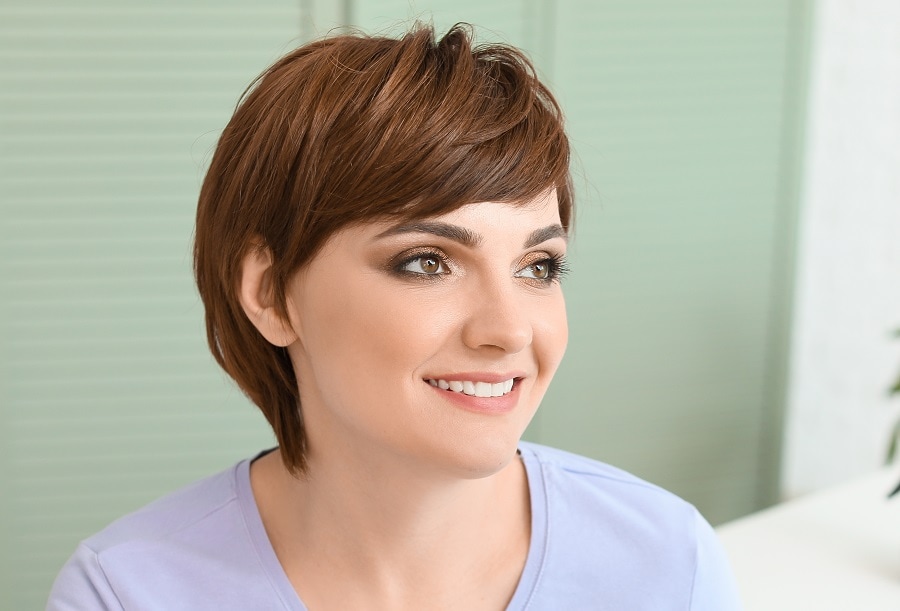 Locks flowing down to your neck and layered side bangs on the front look like a dream haircut if you want to go short on hair.
Long pixie cuts are known to provide volume, which is what this haircut will do. You can go with a fudge brown color if you want to play it safe.
Messy Bangs
These long and sexier bangs on the side will surely make heads turn. Bangs can be awkward, but you will be left with an alluring updo with these layered bangs.
With the help of some styling products, you can go from professional to playful with this haircut.
Asian Hairstyle
A varied version of a grown-up mushroom cut will help you have the desired amount of short hair mixed with a pixie.
The haircut will provide relief from heavy ends. In addition, your hair will be thicker from the top and will go quite well if you want to flaunt your shoulders.
Stratified Undercut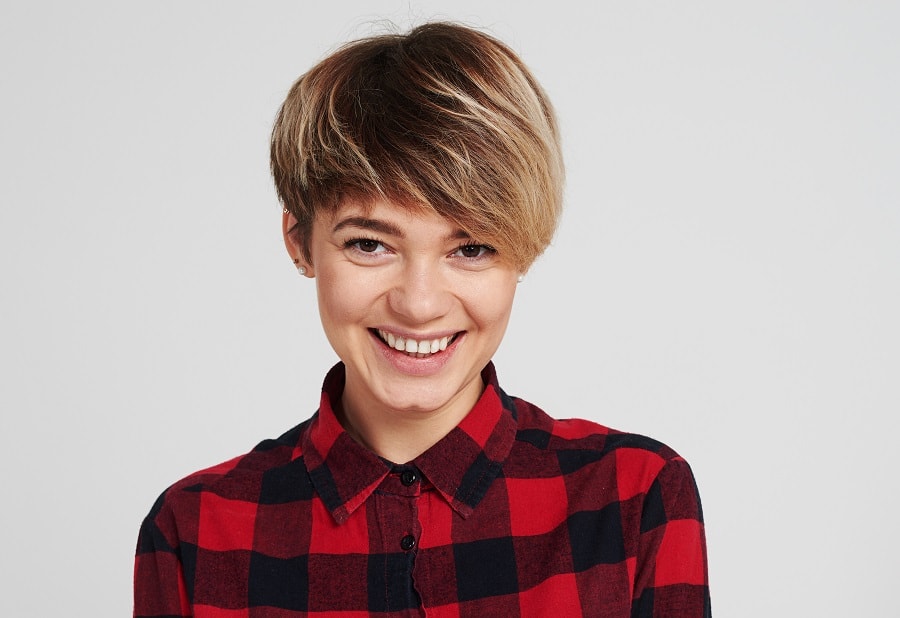 This textured haircut will allow you to be in between playful and classy. The hair on one side will be shorter than the other, creating a flowing look.
Long pixie cuts with undertone cuts are known for giving voluminous styled locks, and this is exactly what you will get here as well.
Flaxen Locks
Women who love to play with their hair should turn them blond this season. You can go with minimal black to brown undertone hair covered with blonde strands to get this playful look.
This style can be your go-to look if you want to look elegant but with a low-maintenance hairstyle.
Choppy Layers
Choppy long pixie cuts are best if you want to take away the attention of others from your chin.
Also, if you have a prominent heart face, this cut will flatter your features very well. Even clips and fringes on the side will give you an elevated pixie experience.
Strawberry Blonde Pixie
Lighter shades will make the carefree short hair experience worth it. You can go for hues such as peach, light pink, and even diluted cream to achieve the look.
Keep in mind that the color you choose goes well with your skin tone. The lighter color looks best if you have a fair skin tone.
Platinum blonde hair is in trend, and you can slay this if you have that punk inside you.
However, women who want to have funkier hairstyles should go with this messy one as it gives a promising out-of-the-bed look. Hair will be layered and of different lengths to fulfill this look. You can even go for electric blue if you want an edgier look.
Blue Hues
Talking about the blues, here we are with all blue and classic long pixie haircuts. For this hairstyle, your sides and back will be short-trimmed. This will be a layered haircut where your hair will go forward, touching your forehead.
Curled Up Bob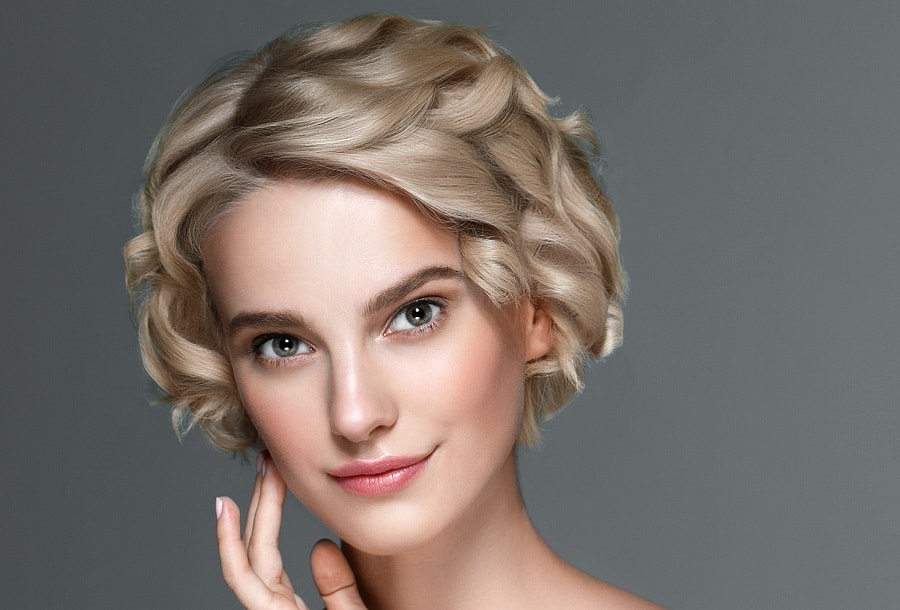 For creating an undying hairstyle with short blond hair, just curl them up. To achieve these flaunting curls, you can go for different heating methods for curlers. This is best when you want to attend any special function and will also go well for your date nights.
Margined Pixie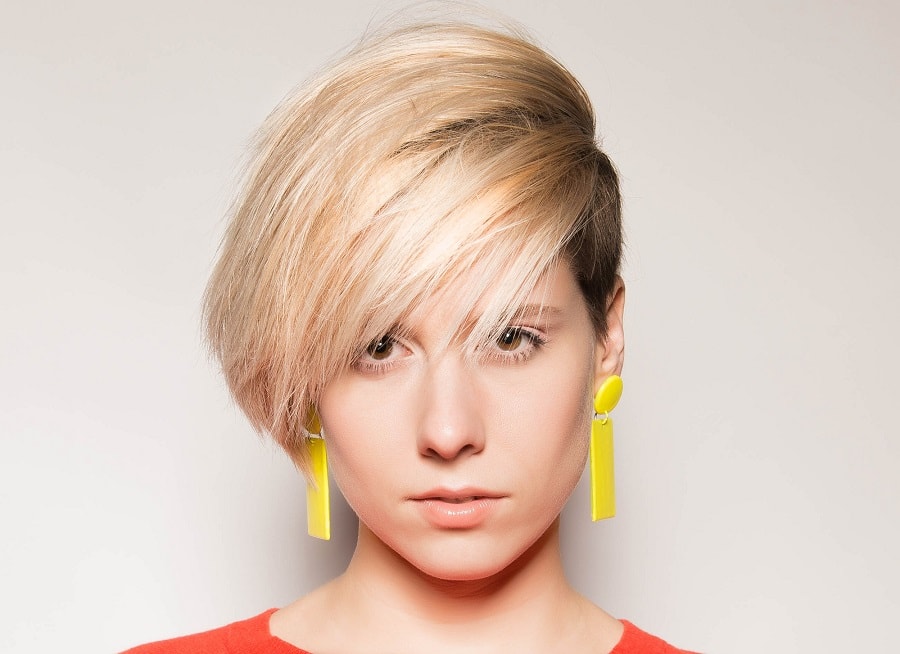 This is a groovy look you can go for if you want to be reckless this season. It is a side-swept pixie complemented with trimmed edges and back.
Hair is shorter on the backside, and its length gradually increases as they come forward. This hairstyle gives a bouncy look to your hair and is best for playful nights.
Slicked Back Top
You do not need to chop your hair too short for this hairstyle. It is a very simple yet cool-looking haircut that you can own by shaving out the sides and backs of your head.
The hair on the top is slicked back using setting products to achieve the final and neat look.
Hot Pink Highlights
Having blonde hair gives you the freedom to play with colors. Going with hot pink doesn't sound like a bad idea if you love hues. It does need a lot of thought, but in the end, you are going to look different than anyone with this hot long pixie cut.
Sun Colored Highlights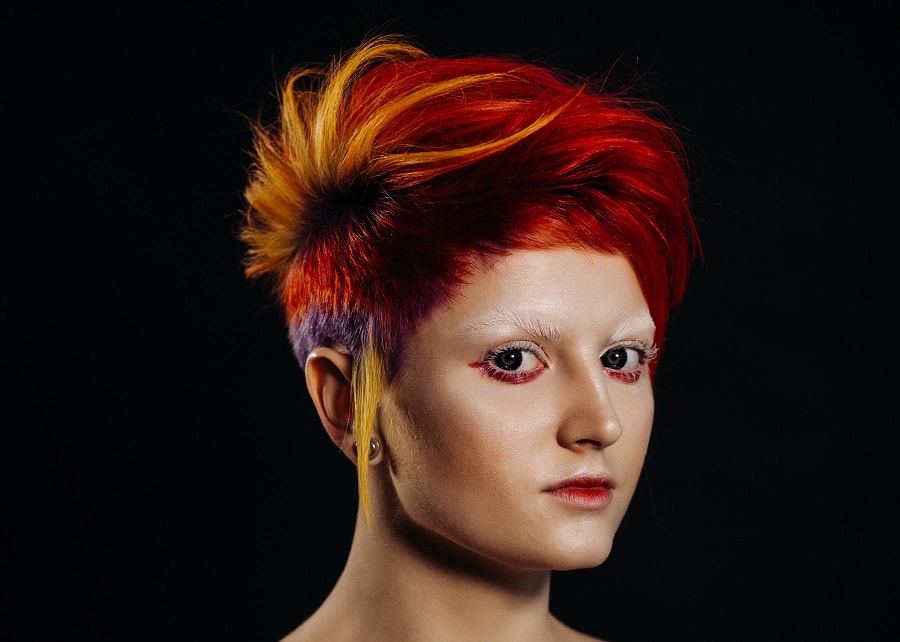 For fashion-savvy individuals, nothing is too much, and if you think you can carry off colors very well, then why not take a chance and dye your hair with multiple hues?
You can experiment with the side-swept pixie as one side of your hair will be short-trimmed. You can also add neck-length flicks to your style to look funkier.
Long Pixie for Women Over 50
It is a fact that women of age tend not to experiment as the younger ones. If you think darker color suits you the most, no one can take that from you.
Go with natural colors along with elegantly layered pixie. This will give your head a fuller look and hair that you can maintain very neatly.
Asymmetrical Locks
If your thoughts tell you that bob and pixie will suit you well, then asymmetrical pixie is what you should get. The strands are neatly chopped and parted, giving a distinctive look that you can wear to work and parties.
Women of older age can go for long pixie cuts with softer bangs on the top. It will help you create a fuller look with a flick of softness to that. You can always chop your hair shorter or color the strands of your liking.
Ginger Red Hair
Red hair not only looks distinctive but is eye-catching. You can go for a relatively short pixie cut that layers out in the front to get this nervy hairstyle.
Hot Long Chops
Yet another funky long layered cut with an option to style with some colors. You can color the main-sided long hair with the color of your choice and wear them as they are on the trimmed section. Of course, this will give you a highly savage look.
Long pixie cuts go well with individuals who want to be gentle with their hair throughout the season. Nevertheless, these are very easy-to-maintain haircuts that come with experimenting.
In short, you can take a look at what suits you best while having long pixie cuts as hair does not require more time to grow from short to long. Pixies can be elegant and playful; it all depends on what kind of look you are seeking this season.