Pixie cut styles are a very adorable hairstyle that also presents a lot of space for creativity and innovation. A pixie cut basically features longer layers of hair on the front while it has a shorter back and sides.
While these styles are very trendy, it is to be remembered that essentially pixie styles are very short haircuts and they do require some guts and confidence if you want to try it out. It is definitely not a style suited for the weak-hearted.
Pixie cuts are just a modern variation to the classic cropped or bob hairstyles. The reason why it has become so popular is that they are a comfortable and convenient hairstyle that also requires very little maintenance. There is a right choice of pixie cut styles for both thick hairs as well as thin hair.
Unlike braids that add elegance and grace to your look, pixie cuts are more on providing you dope and cool look which is also what many people are after these days. If you are up to it, then we have listed here 90 pixie cut hairstyles that are sure to blow your mind away.
All these styles are definitely proof that a pixie cut is just what some of you may need in your life right now.
How to Do A Pixie Cut?
Before we get into the different pixie cut hairstyles, let us see how it is actually done. Styling your hair in a pixie cut involves several procedures. Here is a step by step guide on how you can do a pixie cut:
Cut the back first
Make sure your hair is damp enough before you start cutting it in different layers. If you are unsure about cutting it properly then you can just tie it in a ponytail and cut it. Trimming and shaping can be done after that.
Cut along the nape
The next step is to cut your hair along the nape. It is easy to make the v-shape along the back simply by using your fingers along with a comb. You don't need to cut all the hair but simply shape and refine it.
Separate the hair into two sides
The next step involves sectioning your hair into two parts both on the front and the back and then separating them. After securing the hair on both sides, you can cut the vertical section of the hair as well as the middle part of the head.
Once you are done with the vertical section, you can move on to cutting the hair along the horizontal section of your head by cutting it against the vertical ones. All the layers should be done in the same manner by crossing the horizontal against the vertical. This step is crucial if you want to get the perfect pixie cut.
Cut the sides and the back
In this step, you blend the rest of your hair together and then proceed to cut the sides and the top. It should be cut equally on both sides; otherwise, your hair may look uneven.
And finally the undercut
After you have followed all these steps in order, then you can cut the undercut on the back or the sides as per your style choice, and then your pixie cut is ready.
Tips to Maintain A Pixie Cut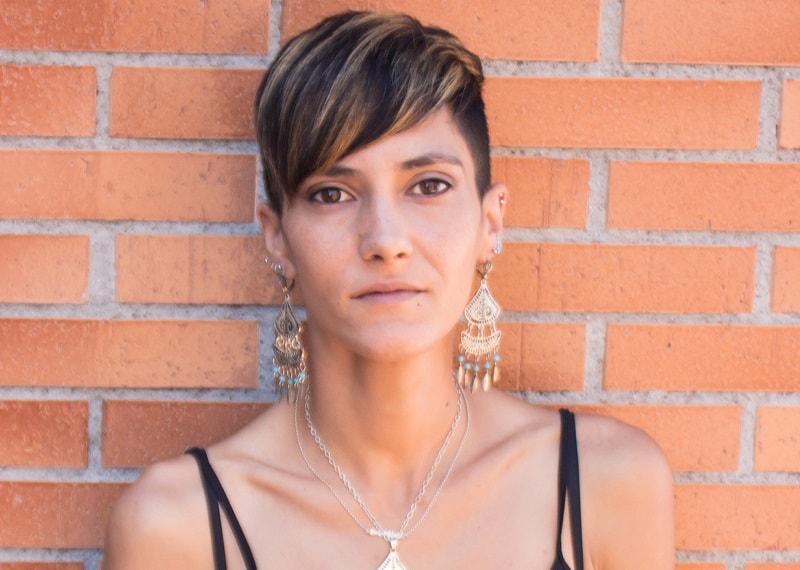 At first glance, a pixie cut surely looks like an easily manageable style but you need to know that maintaining a pixie style is not that easy. Here are some tips to make the best of your pixie hairstyle without putting in too much effort.
Go to the salon for maintenance once every month
Be aware of what exact products you need to be using such as hair shields and volumizing texture spray
Make sure you have chosen the right pixie cut for you that suit your hair needs and goals
Now that we have learned about how to cut a pixie haircut and the proper ways to maintain it, here is some gorgeous pixie cut hairstyle that you should check out.
Pick a Picture-Perfect Pixie Haircut (say that 3X fast!)
You can style pixie haircuts in a number of ways that are especially flattering to upper facial features like your eyes, forehead, and cheekbones. Arrange the sides and front area to create a natural frame for your face that directs the viewer's eyes to the features you want to enhance.
1. Long Blonde Pixie
Pixie haircuts with long front pieces are a good choice when you want to grow your short straight hair to a longer bob style. Wear the bangs as a combover or mushroom top, which will show off your eyebrows as well as the contrasting tones of your dark brown roots and light blonde balayage or ombre.
2. Short Brunette Pixie
A short pixie haircut that's one solid color has a conservative, low-key vibe that's perfect for women who don't want to spend a lot of time styling their hair every day.
Short bangs can be swept to the side or brushed down on the forehead to frame the face and the eyes. Triangular-shaped sideburns accent dainty earrings for a slightly feminine touch.
3. Curly Messy Pixie
You'll be known as "the cute and confident girl with the curly pixie cut" when you wear your ringlets proudly.
Let lots of loopy bangs frame your forehead, and go with either one solid color and long curly side pieces, or bright blonde highlights and sharply angled sideburns. Curly pixie cuts look best when worn with long dangly earrings to help balance out the height at the top.
4. Blonde Wavy Pixie
Tame your thick, wavy hair to keep it manageable and looking spectacular. Short pixie haircuts that make the most of your waves are a flattering option. Don't fight your curls, part them on the side and position them as a frame around your forehead and eyes.
Top off dark roots with a metallic blonde, silver, or beige hair color that matches perfectly with your naturally dark eyebrows.
5. Colored STraight Pixie
Pixie haircuts might be short in length, but that doesn't mean they can't be long on the color! Short hairstyles allow you to play with your hair color; if you don't like it, then just grow it out and try again.
So take a chance and go for light fuchsia or a dark rusty copper to bring out your best features. Use side-swept bangs to accent your forehead or large-framed glasses to enhance your eyes. A tousle in the crown section adds a bit of extra height to straight hair that usually lays flat.
6. Pixie Cut for Black Women
Add a bit of height to short pixie haircuts for black women by tousling the top with your fingers or a brush. To add three to four inches of height, tease the roots and add some stiff styling gel to keep the locks on edge.
A vibrant splash of burnt copper or rich magenta highlights draws even more attention to the top of the head. The no-bangs/mohawk silhouette shows off your forehead's flawless complexion.
7. Layered Pixie with Bangs
Side pieces that point in the direction of your cheekbones are the perfect balance to pixie haircuts with long, choppy bangs or tiny baby bangs.
Choose a pink/taupe tone for some extra flair, or highlight your natural brown color with golden strands on the side.
8. Pixie for Fat Round Faces
Stay away from center-parted pixie haircuts when you want to create a slimmer facial silhouette. A side part does a much better job of dividing the face, so it appears more narrow and elongated.
Tousle the top and let a few wispy peek-a-boo bangs cover one eye, or go for a smooth textured pixie with long layers styled close to the head.
9. Pixie for Square Face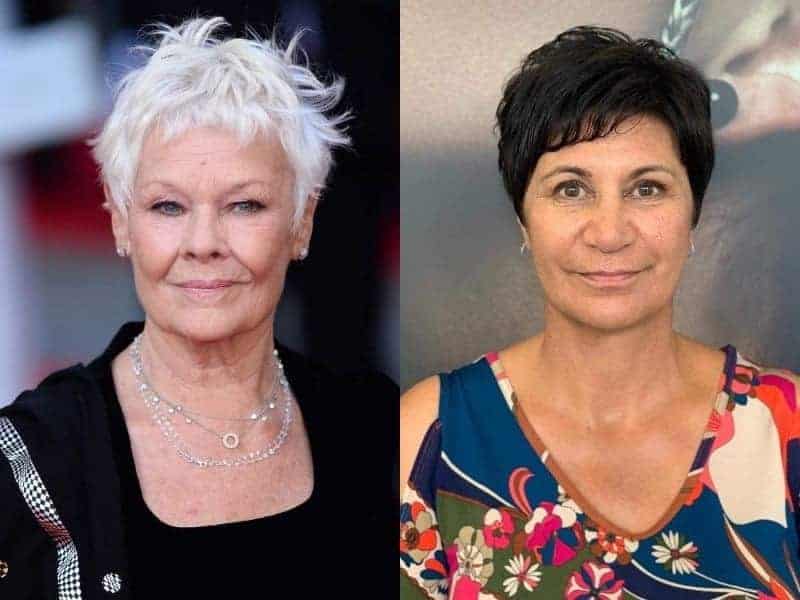 Pixie haircuts with triangular sideburns that point directly toward the jaw create a natural dividing line between the top and bottom of a square-shaped face.
Women who are blessed with this angular silhouette can achieve a sassy, feminine appearance by wearing short bangs that occupy the center or one side of the forehead. To create a messy, unruly look, finger-comb the sides and top in an upward direction.
10. Thick Pixie with Vibrant Colors
You're one of the lucky ladies who figured out the best way to wear super-thick, wavy hair is to cut it into an extra-short pixie haircut with close-cropped sides and a lot of height at the top.
But don't think that your conservative choice is destined for dullness, (au contraire!); the shock of yellow and pink or effervescent neon blue with jet black roots gives these no-bangs pixies an edgy, modern appearance.
11. Black Pixie for Thin Hair
Women with thin hair should wear pixie haircuts in styles that discreetly camouflage the fine textures.
Comb short bangs and side sections in a forward direction to hide a too-high forehead, and arrange the locks so that they cover areas that are beginning to recede. Avoid the sharp line of a defined side-part, to prevent the scalp from showing.
12. Textured Thick Pixie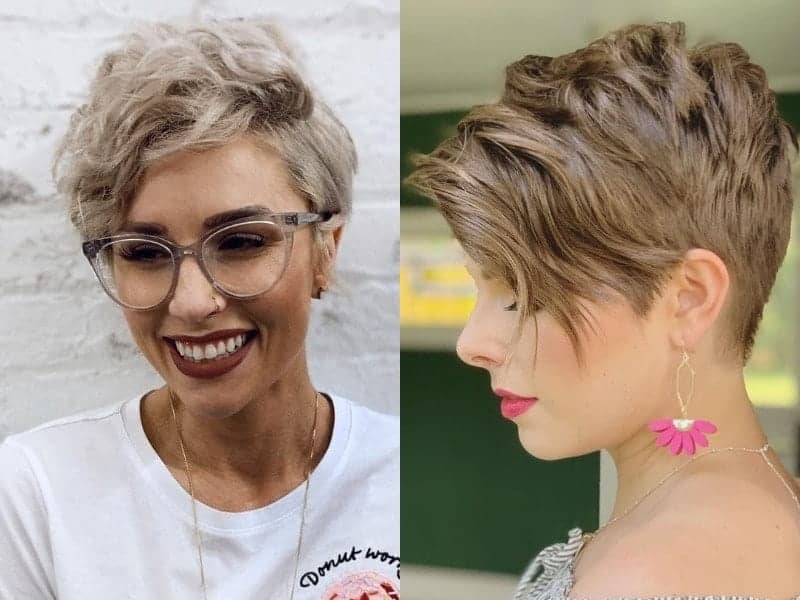 Pixie haircuts with textured layers are a modern twist to an age-old classic style. Piece-y, tousled layers at the top and a deep side part adds a lot of volume and height. Face-framing combover bangs decrease the forehead's width and direct attention to the cheekbones and ears.
Dirty blonde hair blends well with beige eyeglass frames and creates a sharp contrast to naturally dark eyebrows. A textured pixie can have a sporty or dainty feel, depending on the way you style your clothing and jewelry.
13. Straight Blonde Pixie
Women with straight and fine-textured canary or white blonde hair have a clear advantage when wearing a tomboy-style pixie haircut.
Long layers are full and voluminous at the top and gently cover the eyebrows and ears, and the tapered back area lays close to the nape. Ladies with thicker straight tresses should wear their tomboy hairstyle with an undefined part on the side.
14. Pixie Lob
On the longer side of pixie haircuts, you'll find bob-style pixies, whose stylish angles and long pieces do wonders to frame the face.
Women who are transitioning from shorter to longer hair will appreciate the versatile qualities of pixie-bob haircuts. The hairstyle looks sharp at all stages of the awkward grow-out process.
15. Undercut Pixie
Cropping or shaving the sides of your pixie haircut close to the scalp is a courageous move, and not all women are game for the risk. If you're the bold type, then why not color your hair a dark burgundy with magenta highlights, or incorporate an understated pattern into the shaved section?
Either way, leave your bangs long and combed over to one side to reduce the appearance of a long forehead while accenting the angles of your eyebrows.
16. Messy Pixie
Thick and wavy hair sometimes has enough natural texture and body to stand up straight on its own. If not, or if you have thinner, finer hair, you might have to use a dollop of mousse or some hair gel to keep the pieces of your messy pixie haircut up and off your forehead.
Here's a great opportunity to play around with color; light lavenders and fuchsias or metallic coppers and bronzes are a good place to start. You can match your eyebrows to your hair color or leave them their natural tone.
17. Dyed Pixie with Shaved Sides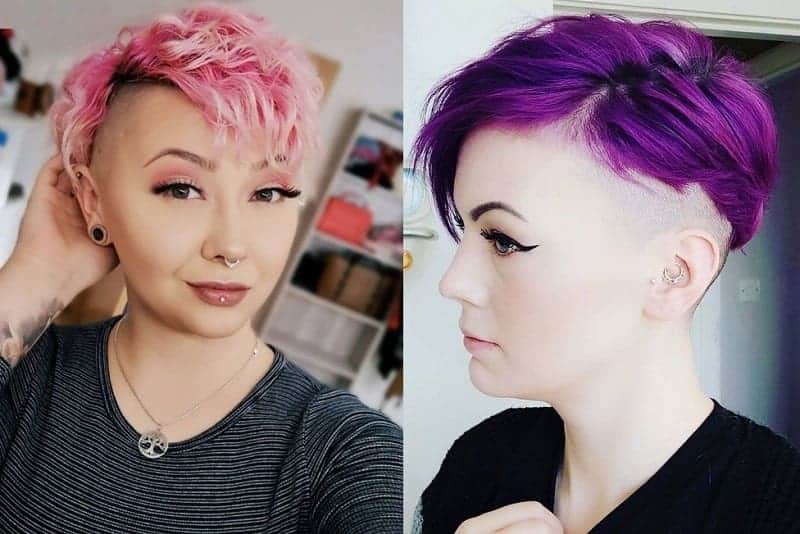 Are you ready to buzz cut the perimeter of your short pixie hairdo?
This extreme undercut hairstyle isn't for the weak of heart; not only do you need the confidence to embrace your "inner bald," but you need an extra dose of courage to dye your remaining locks iridescent purple or a striking blonde/hot pink ombre. Take the chance and create a signature style that works with super-straight or wavy hair textures.
18. Long Shag
Whether your hair is straight or wavy, jagged, uneven pieces and lots of textured layers are the hallmarks of a shaggy pixie haircut.
In both cases, tousle the hair at the top and let side-swept bangs frame the forehead and eyes. The hair is longer towards the front and combed forward on the sides to cover the ears.
19. Layered Straight Pixie
Layered pixie cuts for straight hair have wispy feathered textures that are usually created by cutting the ends with a razor. The back section has a gradual, tapered angle toward the nape, and the side layers are long enough to cover the tops of the ears.
Side-swept bangs frame the face and give the haircut a youthful, stylish appearance that works for women of all ages.
20. Pixie Cut for Older Women
Age is just a number! Wear a colorful pixie cut with a few streaks of blue or orange highlighting and you'll feel and look younger than your years.
Front-forward bangs on pixie hairstyles for older women serve two functions: 1) They disguise a receding hairline, and 2) They cover up worry lines on the forehead and around the outer edges of the eyes. Long side pieces touch the cheekbones and draw attention upwards and away from the jowls.
21. Short and Fine Hair
This picture is fine hair at its best. Most people believe that to have beautiful hair truly, your hair must be thick enough; otherwise, you are just unlucky. But this hairstyle here would totally bust that myth and prove that short and fine hair can be just as classy too.
The hair here has been styled in a layered pixie cut with the longer layers of hair neatly parted to the sides. Instead of going for dramatic layers, you can simply choose subtle layering to get a soft and glowing look.
22. Textured Pixie Cut with Bangs
A pixie cut is never truly complete without the presence of the short bangs that make them look even more beautiful. In this style, the length of the pixie cut is quite short as the hair has simply been cropped and maintained at the length of the nape.
The hair is quite thick and textured here so it does help to add in some serious volume to the look. For someone with thick and textured hair looking for a makeover, this is a perfect look.
23. Blonde Pixie Cut
The classic pixie cut hairstyle in a beautiful shade of silver-ish blonde. This is an all-time favorite look among women and is especially suited for older women who are looking for a low-maintenance hairstyle.
The hair is quite short even though it has been cut in layers, especially at the backside. This is because the hair has been chopped in very short and wispy layers.
The blonde shade isn't exactly a golden shade but more of a metallic color, which is currently one of the hottest trends these days. The kind of shaggy hair at the back and the middle will definitely have people gushing about your chic new haircut.
24. Pink Pixie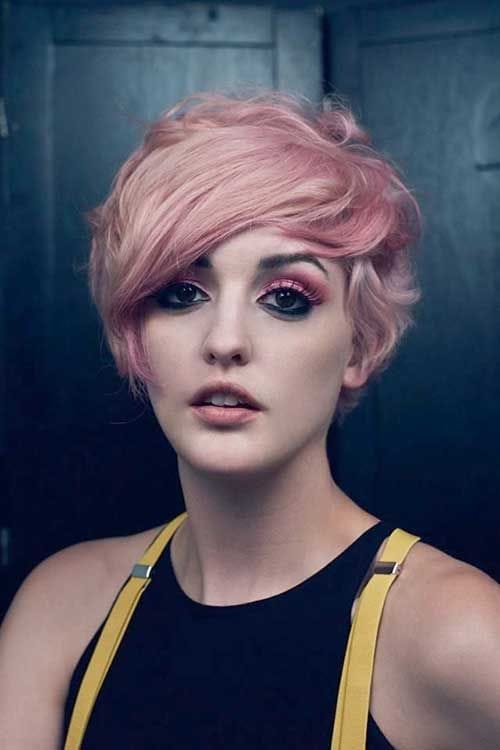 Not too fine and not too thick and textured; this is the perfect hairstyle for those who have medium thickness hair. It is kind of a wavy look with the hair falling in short and soft curls all across and a little longer side-swept bangs on the front.
The hair has also been dyed in a beautiful shade of soft pink which really makes the whole look glowing. This is actually an asymmetrical pixie style with longer layers of hair that cover part of the forehead.
So if you are looking to get your next big haircut, then we would definitely recommend this killer hairstyle with a pop of pink.
25. Short and Chic Pixie Cut
This short pixie cut is an adorable hairstyle that is also quite a dramatic and bold look you can get for yourself. The highlight though would be the natural black hair as it has simply been maintained in the black roots instead of going for color highlighting or dying and such.
This one is ideal for those who are willing to go the extra mile and love to experiment on their hairstyles. It is a choppy pixie cut with the hair being kept at a very short length.
26. Pixie Cut for Thick Hair
This is a textured pixie cut style for women with short and thick hair. It's a style that can be easily maintained so it's best for those who love to keep it simple with their hair.
The best part about this style is that it can be styled in a wide variety of ways wherein you can switch up between your styles each and every day. You can look classy and both conventional punk all with this single hairstyle.
If you really want a new hair update with very short hair, but want to keep it simple and low-key, then this look is going to be perfect.
27. Round Pixie Cut
A round face can always be made to look better with the simple technique of styling your hair in a round pixie cut, which also has long layers of hair on the front. In this particular style, the long hair has been styled to the sides and maintained as side-swept bangs.
This definitely helps to add some structure and dimension to your face without having to go for any other treatments. The rest of the hair on the sides and the back have been chopped in layers and left falling freely all across.
28. Medium Voluminous Pixie
Even with shorter hair as in a pixie cut style, you can show off all the volume of your hair in all its gorgeousness, and this hairstyle is proof of that fact. This look has a vintage charm to it where the hair has been pulled up and blow-dried to create the perfect look on the top of the head.
The rest of the hair is pulled towards the sides. It is essential to remember that to keep the hair in place for a long time, blow drying is a must. The side part is also very casually swept across the forehead making this hairstyle look as natural as it can get.
29. Long Choppy Pixie Cut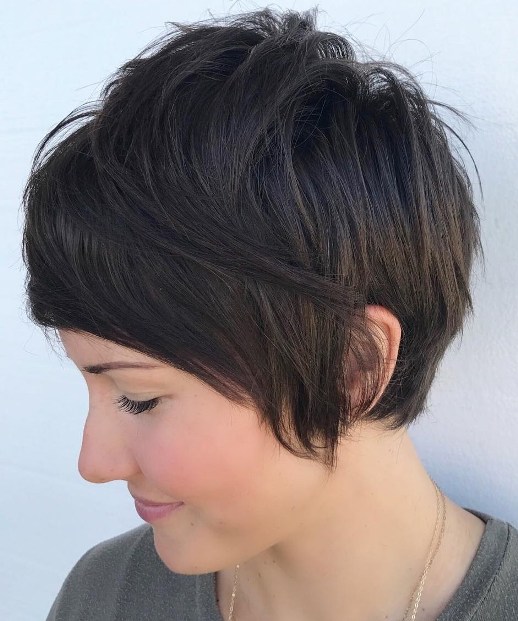 There is just something beautiful about brunette hairstyles no matter how simple they are. The hair here has been cut in a medium pixie with long layered hair and shorter sides. The front hair is styled as long side-swept bangs that frame the face perfectly.
The rest of the hair has also been cut in long and choppy layers thus making the overall look quite perfect. This hairstyle is best suited for those who have long and thick hair.
The layering surely does help to add some depth to the otherwise short haircut. When you pair this style with some honey highlights, then it is going to be perfect.
30. Choppy Pixie
The very short hair club is officially a thing as short hair is a cool look that also makes you look very edgy. The hair here has been painted in a brilliant shade of golden blonde, which is very radiant and shining from within.
The hair is maintained as a short pixie cut with it being cut in short and choppy layers all across. The front hair is been cut in long layers of bangs and has only been side swept partly while the other part remains on the forehead itself.
31. Pixie Lob
A short lob like this is great to show off your hair no matter how thin or fine it may be. The hair is simply styled by cutting it at a short length on all the sides and then doing it in the choppy pixie cut style.
This hairstyle also featured long side-swept bangs that really help to frame the face and make the forehead look much bigger.
A short pixie cut like this is an ideal hairstyle that helps you to stay away from all the messiness that otherwise comes with managing short or long hair. This is totally a style that everyone seems to be digging especially as it's trending in 2023.
32. Wispy Rose Gold Layers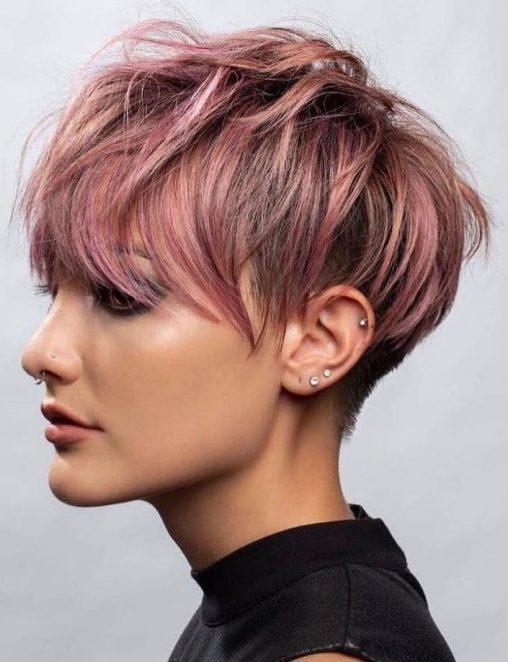 An amazing hairstyle from which you just can't take your eyes off it. The length of the pixie cut is quite short as it has been maintained at a little below the nape, and then on the front and the sides, the hair has been maintained in long wispy layers that cover the entire forehead as if it were bangs.
The back has been styled with a subtle undercut without any fade and to make them look even merrier; it has been colored in a beautiful shade of rose gold.
33. White Pixie Cut
The stark whiteness of this look is simple enough to make us be all in awe about it. The hair on the front features long side-swept layers while the length of the hair on the back and the sides is relatively lower.
On the back, it has been tapered very neatly into a cool undercut style that simply looks ravishing. This is a great hairstyle that will give you major hipster vibes and make you look very cool and chic quite effortlessly.
34. Salt and Pepper Textured Pixie
The salt and pepper style is one that seems to be ruling the fashion industry these days. While earlier, it was mostly associated with older women and men, that seems to be changing as even youngster is trying out this cool new look.
It's simple, relaxed, and classy, which are the three factors that people seem to look for while trying out a new hairstyle. The hairstyle featured here is a simple choppy pixie cut with shortly cropped layers on the front and paired with an undercut on the back.
35. Short and Shaggy Styles
Here is another look from the series of white hairstyles and again we have to admit that they all look really beautiful. This hairstyle features short, shaggy, and messy hair.
With messy hairstyles increasingly becoming a trend these days, it is only acceptable for anyone who would love to try out such a hairstyle to embrace the beauty of this look in all its glory. The sides and the back hair have been cut very short while the hair is comparatively longer on the front.
36. Voluminous Red Pixie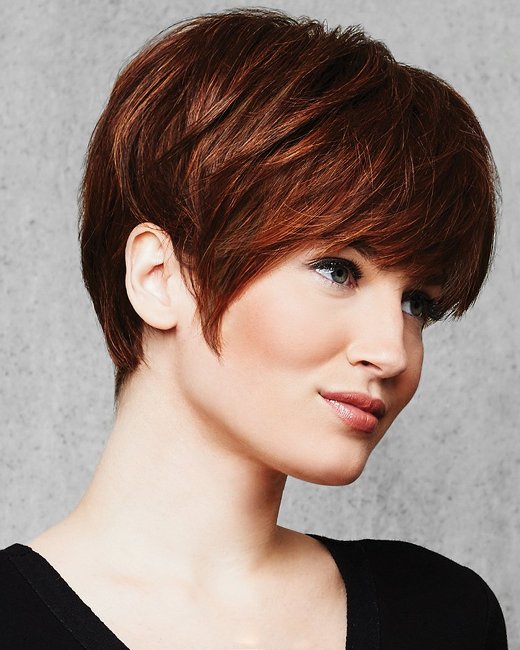 If you are someone who has really thick hair that is full of volume and are looking for the best style to maintain it in, then this hairstyle would be quite suitable for you. It is a cool and chic style that is full of feminity and grace and the late Princess Diana popularized this style.
The hair has been painted in a beautiful shade of brownish red which is simply the total highlight of this look. You can also get this hairstyle done in any other color to create a cool and funky look.
37. Cute and Short Pixie
A classic and iconic look that will do well at all times, this pixie hairstyle is one that is most suitable for those women who have a round face. It helps to accentuate your features very well, especially the area around the cheeks and the jawline thus making you look more attractive.
This is a simple and basic style without too many additions to it. This is another beautiful example of how short hair looks really good when you have a round face.
38. Choppy Pixie with Long Layers
Do you want a bold and defining look that is unconventional and looks better than other hairstyles? Well, then you might definitely like this look which has been styled in long layers paired with short chopped hair on the other sides.
With style like this, try out a great statement accessory such as the big earring is shown here and you will surely look like a million dollars. The hair is also painted in a gorgeous shade of chestnut brown which complements really well with the skin tone of the model.
39. Cool Pixie with Bangs
Moving from salt and pepper and silver-blonde hairstyles, we are now looking at premium grey-colored hair, which is not the usual color. It has a classy look about it and seems very effortless.
The hair has been styled with long side-swept bangs on the front and is an ideal look that is going to look great in your professional life too. Subtle layering has been done on the hair to create a sense of fullness on the hair that is otherwise of fine thickness.
40. Very Short Choppy Pixie Style
The shorter your hairstyle is, the more adorable you look. This is a brilliant hairstyle that has been maintained as a very short pixie cut where the longer layers of the hair have been maintained as a short fluff in the middle, which is a fascinating look that is not always seen.
This choppy pixie cut style surely looks stunning on her as it frames her round and cute face very well. The little extra fluff is something we can definitely try out on other pixie hairstyles too.
41. Audrey Hepburn Short Pixie
The classic look was popularized by the queen of fashion and the classic icon Audrey herself. It's a very low-key as well as a low-maintenance look that wouldn't require much effort either.
The hair has been cropped in short layers on the front as well as the back and sides. The hair has been slickly combed to the sides and the back which helps to maintain the neat look of this hairstyle.
42. Short Layered Pixie Cut with Fringes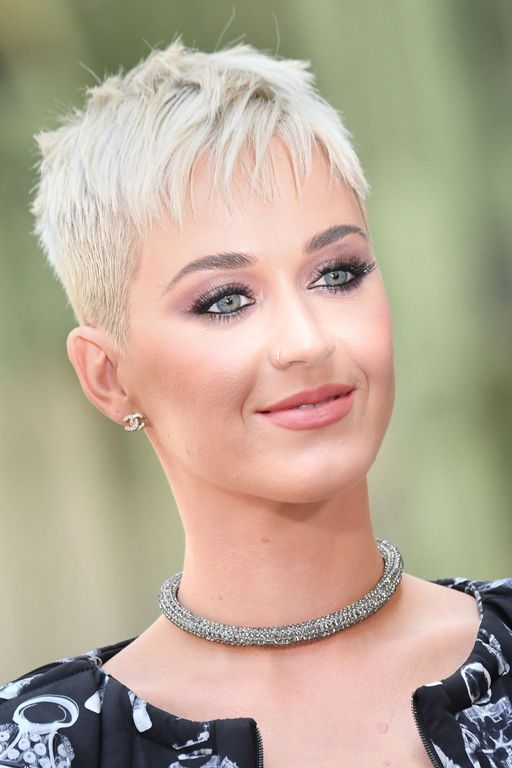 Katy Perry simply looks stunning in this short pixie-cut, which is all adorned by short wispy fringes on the front. The fringes do not cover the entire forehead and are instead maintained in an asymmetrical manner which makes this whole hairstyle very cool and edgy.
The hair is colored in a beautiful shade of golden blonde that is also a little faded which helps to achieve that moody vintage look that is quite a trend these days.
43. Long Bangs
Charlize Theron is a stunner in this golden pixie cut that features long bangs that cover the entire forehead. The hair has been maintained in long layers on a short hairstyle which looks quite beautiful and helps to add some serious dimension to the hair.
The fringes or the long bangs are the total highlights of this look as they help to make her face look bigger and brighter. the texture is also quite visible in this style which is also a favorite look among celebrities.
44. Layered Voluminous Pixie Cut
Here's a style that will totally blow your mind away with its sheer beauty. The top hair is maintained in several choppy layers that have been done in a lifted fluff style. This creates so much fullness and volume in the hair.
It has also been highlighted in various streaks on chestnut brown that simply look gorgeous. On the back, the hair has been neatly trimmed short, almost to resemble an undercut.
45. Side Bangs And Pixie Style
Emilia Clarke is always a stunner and is also known for her bold looks. This is a classy look that she sported and has ever since becoming a fan favorite. The hair is simply done as a short pixie cut with the hair colored in a mixture of golden blonde and chestnut brown.
The hair has enough dimension that makes it appear full and on the front, it has been adorned with few side bangs that totally take the whole look to the next level.
46. Side-Swept Blonde Look
A perfect look that will make you more feminine and graceful than ever. We have to state again that this look is not just beautiful but simple perfection. The hair doesn't look like it has been styled or anything, but more like weaved in a beautiful golden thread.
The hair length has been cropped at the nape itself and long layers of hair have been swept to the sides to create this look.
47. Shaggy Pixie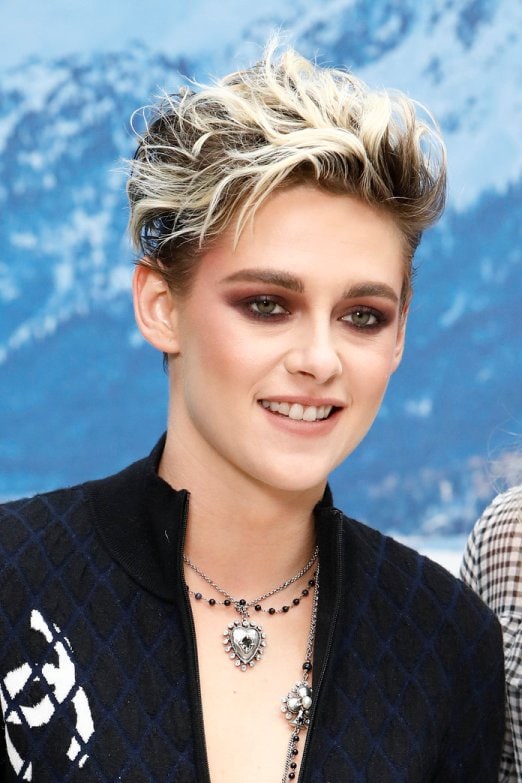 A bold and unconventional look that you should definitely try out if you love to experiment with your hairstyle.
It's a cool and funky look that is also giving out major hipster vibes and the parts of the hair that have been dyed in the golden blonde shade simply look amazing. Thanks to the texture that is available in this look, the overall haircut looks very classy.
48. Classy Black Hair
This is the perfect cool-girl look you can get with a style as simple as this one. The hair is in its natural black roots itself and is cut in several choppy layers. Since the texture of the hair is wavy in itself, the layers help to create soft curls that look very gorgeous.
The hair has then been swept to the sides and we're sure you will totally love this look. The free-flowing hair also helps to accentuate the face in a structured manner.
49. Classic Round Cut
The classic bowl cut has been reinvented in a different way to present this round-cut hairstyle. And the one wearing it is the iconic Zendaya, who looks dashing in all her outfits and styles and is simply the fashion queen of our times.
Dressing up your pixie haircut in style like this definitely calls for everyone's attention and will surely make you the star no matter where you go.
50. Stylish Side Bangs Pixie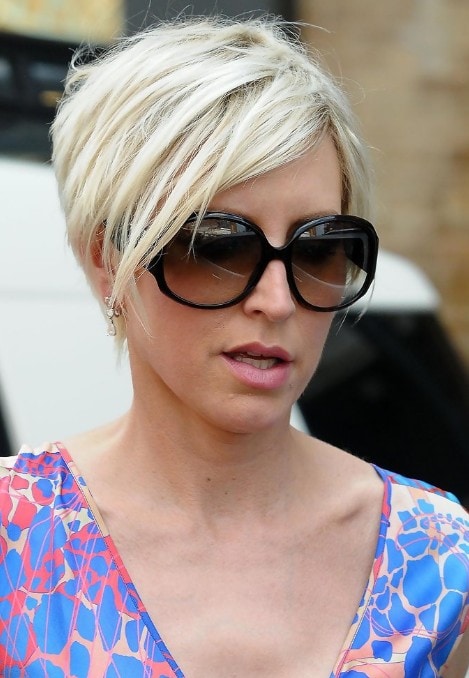 This adorable pixie cut is one that would look great as well as extremely stylish on older women. The texture truly is a blessing if you need to rock a hairstyle like this one as it will help to make you look very sophisticated and classy all at the same time.
The hair which has been dyed in a blonde shade can also help to hide your grey hair strands and help you look confident in this style.
51. Layered Golden Pixie
This hairstyle features long fringes that have been placed asymmetrically all over and which adds some serious texture. A cute and adorable hairstyle that can be styled in a wide variety of ways, this would totally suit you if you have been looking for a short style.
The layers have also been asymmetrically but not too messy enough that the neatness of the look is gone. It is a perfect combination of both neat and messy.
52. Side-Swept Pixie Style
The main highlight of this style is the short bob-like pixie cut with side-swept bangs. The blonde dye is quite visible over the roots of the hair in an appealing manner that truly brings out the charm of this look.
The hair has also been done in subtle styling which helps to make this hairstyle a killer look that is best suited for medium thickness hair or even fine hair. The best part about this hairstyle is surely the fact that even while being a long layered pixie cut, it reveals most parts of the face very neatly which is a great thing.
53. Short and Shaggy Curls
Soft curls are always a look that we fall over and over in love with, and this hairstyle is no exception too. It's a beautiful hairstyle done in the black and pepper hairstyle trend.
The hair has only been done on the upper middle section, and the rest of the hair on the back and the sides is neatly tapered into a cool undercut style. The hair on the top looks glowing in the soft wavy pattern that has been done on it.
The salt and pepper style too is flaunted in the best way possible in this amazing hairstyle. You can also try out this look with any other color, but we would suggest that there wouldn't be a better combination than this one.
54. Slick Side Bangs
A slick pulled over to the sides looks like this one shown here is surely a great look that you can try out. It's very cool and edgy and is also all sorts of hipster-looking. The hair has been dipped and dyed in a beautiful shade of platinum blonde which is a hugely trending color these days.
This short haircut is paired with an undercut on the front and the sides itself which makes it a very bold look for you to try out. Miley Cyrus has surely pulled off this look with sheer grace and we're sure that you would too.
55. Short Textured Pixie
A stylish look if you have the guts to try out a really short hairstyle like this one. The hair is cut in many choppy layers that create an overall shaggy look but one which also looks adorable. The layering done on the hair is quite deep and helps to add volume to the otherwise short and fine hair.
This is definitely a trendy hairstyle that is making a huge hit in the year. This hairstyle also features some sideburns that make it look even better.
56. Simple Lob with Long Side Bangs
How gorgeous is this style? We have to admit that it looks extremely adorable and beautiful even for a short lob style. The hair has been maintained in long layers on the front and then swept to the sides to create the effect of long and face-framing side bangs.
On the back and towards the sides, the hair has been cut in a deeply layered style that makes the whole look quite amazing. This hairstyle is all about elegance and grace and one that will definitely have you feeling confident in your own skin.
57. Pink and Unicorn Theme
Pink hair and unicorn themes are the latest trends of this year and the hairstyles seem to be catching up with them too. The hair has been maintained in a shaggy manner that is isn't too voluminous either.
The fineness of the hair strands is quite visible but they are nothing to hide and instead simply make this style look even more beautiful. This hairstyle is perfect for those who have naturally wavy hair as the strands that fall in the wavy curls look quite amazing.
58. Medium Blonde Pixie
With much longer layers and fine hair, this style is the perfect combination of classy and trendy. As the saying goes, when in doubt, go with highlights in any color and you're sure to receive the best hair transformation you have ever had.
This hairstyle works perfectly well with short hair as well as medium hair. The long side-swept layers of hair on the front helps to make it look charming and frame the face in the perfect way possible.
59. Shaggy Pixie Cut
This shaggy pixie cut is also known as an androgynous pixie cut, which is a very simple and bold look. The term androgynous simply refers to being gender-neutral, and this is one such style that is seen on both men and women alike.
It's a retro hairstyle with shaggy curls that simply elevate the look to a whole new level. Even if you have straight hair you can easily achieve this look with a little bit of styling.
60. Choppy Black Pixie
A brilliant hairstyle that is full of creativity and style. The natural black roots of the hair look very amazing and help to add some serious structure to the face as well. The hair has been styled by sweeping it to the sides in a long bang style.
It's a very versatile hairstyle that not everyone tries out. If you want to make your face look much more defined, this hairstyle will definitely help you in achieving that as it will make the jawline and your cheeks look very enhanced.
61. Short Fluffy Pixie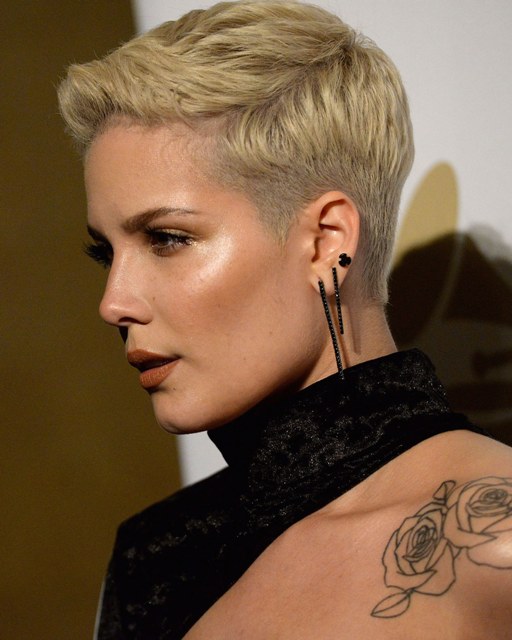 This short and fluffy pixie hairstyle is great for those who love an unconventional look that is quite simple as well, minus all the drama.
Halsey simply looks amazing in this hairstyle, Done in choppy and short layers of hair with the hair on the back almost being similar to a shaved undercut, this hairstyle is less in maintenance too so that you don't need to worry about taking extra effort to care for your hair.
62. Extremely Short And Choppy Pixie Cut
We're still in awe about how beautifully and gracefully this haircut has been styled. As we all know, pixie cuts surely do provide the opportunity for various experiments to be done on the hair, and that too in a wide variety of styles.
This look is all about swag and hipster vibes but one that you can wear to casual and formal events alike without any fear of being judged. This look is quite close to a buzz cut and very closely resembling it.
63. Turquoise Green Layered Pixie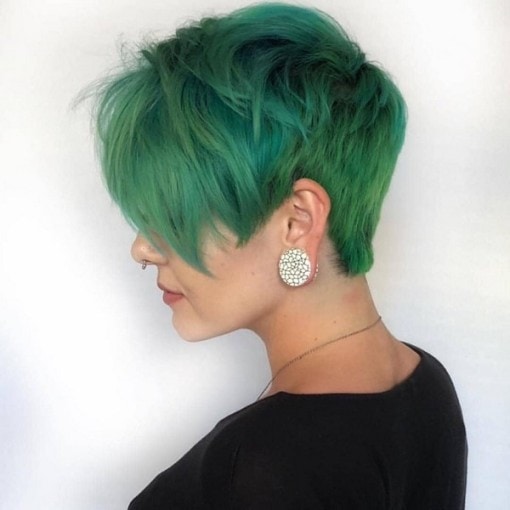 A layered pixie style like this one with all the long layers is simply a fantastic hairstyle that has went on to become one of the biggest trends of the year even though the year has only begun. And it also comes with long side bangs that spice up the entire look.
You can also choose to get this style done in any other shade such as the silver or golden blonde color, but if you would like a pop of color in your life, then this hairstyle is perfectly suitable.
64. Voluminous Pixie with Side Bangs
The chestnut brown highlights on this hairstyle simply are adorable and they look great on the natural black roots of the hair. The highlighting has been done in only a few steaks making it a gradient textured look.
If you have long hair and want to try it out in a pixie style, then you can try it out in this long choppy style. When done on thick and textured hair, this style is sure to look very full and voluminous especially with some hair lifted on the top.
65. Very Short Pixie Cut
This short tapered pixie cut style worn by Rihanna is classy and fabulous. It's a very short pixie style that also features asymmetrical layers of hair all over. The deep layering done on this style helps to make it look very iconic.
This is also a modern makeover to the classic Audrey Hepburn-style pixie cut. The waves and very soft and tousled, and although not too much visible due to the short length of the hair, they look quite adorable in their own peculiar way.
66. Short and Round Pixie
This hairstyle is as simple and basic as it can get, but yet it is all sorts of fashionable with the shortly chopped layers being a very versatile look especially when taken in the context of women's hairstyles.
The hair has been neatly side-swept making the entire forehead very visible and adding to the facial features of the model hence.
The hair is also painted in a beautiful shade of ash brown which not only adds some grace and feminity to the hairstyle but makes sure it is the highest thing of attraction no matter where you go.
67. Short and Tousled Pixie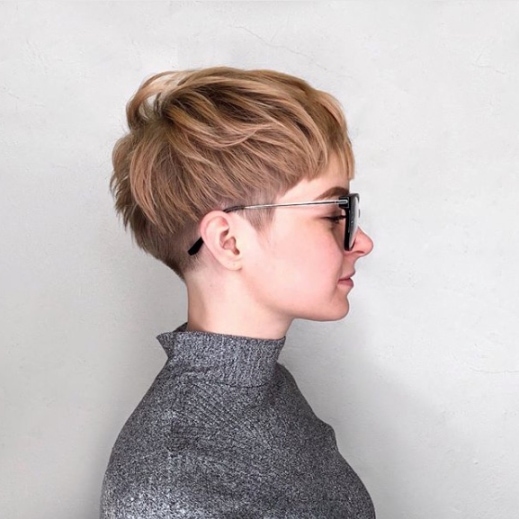 This short tousled pixie style, which has been done in a stacked style at the back is looking very gorgeous. The perfect look for all seasons, outfits, and occasions, this has got to be our personal favorite look. It is simply very classy and is all about getting your style quotient right.
The hair has been styled with choppy and long layers of hair on the front, while it has been blended in well with a neatly shaven undercut on the back. This makes all of us purely craving for this amazing hairstyle.
68. Stacked Pixie with Long Bangs
A look that is so full of volume that will make our eyes pop out in awe. This is an amazing stacked hairstyle that has been done in the salt and pepper style and a style that should definitely be tried out by anyone with thick hair who is looking to get a pixie cut.
Voluminous pixie styles like this are very flattering and are going to make you look times prettier. This style is also complemented with extra-long bangs on the front thus making the whole style look very cool and chic.
69. Shaggy Orange Hair
A shaggy style in a beautiful shade of orange is simply blowing our minds away. The sheer beauty of this look is focused on the beautiful color first, and then the asymmetrically cut layers of hair second.
The coloring done on the upper fringes are of a lighter shade of orange while on the lower portion, they get significantly darker making the contrast of the colors look amazing. On the back, it has also been trimmed very short to create this look in the perfect way possible.
70. Pixie Cut with Shaved Sides
And now, it's time to end this long list that consists of many different hairstyles in the iconic pixie cut look. To end it, we have decided to choose the last and final look like a very simple yet classy pixie haircut which also features shaved sides and side-swept layers of hair on the front.
Closely resembling the boy-cut style which is very popular among men, this is a simple and basic look at its best. But if you want to spice up the look or add some drama to it, you can go for coloring your hair in bright colors or even have your hair done with more deep layering.
71. Asymmetrical Pixie Cut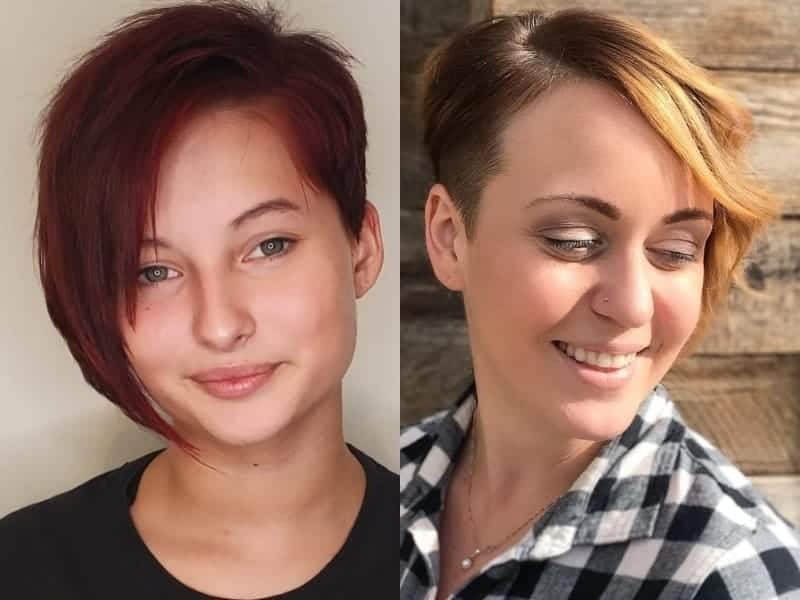 72. Asian Pixie Cut
73. Messy Choppy Pixie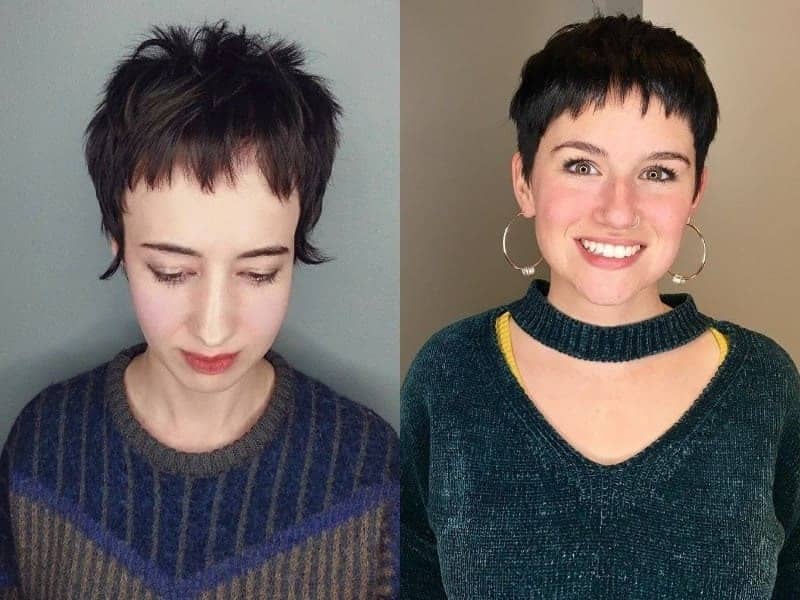 74. Very Short Layered Pixie
75. Spiky Pixie
76. Pixie Cut for Chubby Face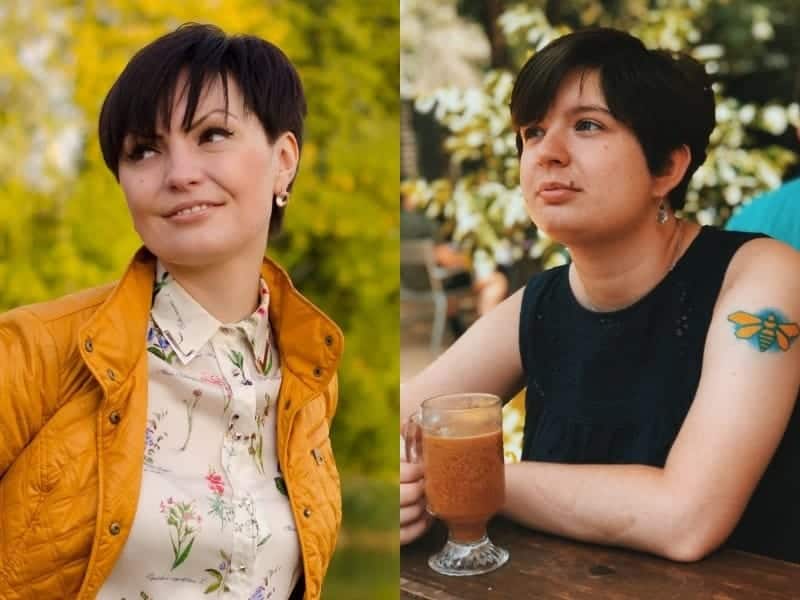 77. Pixie for Kids
78. Pixie Haircut with Glasses
79. Pixie with Highlights
80. Pixie Haircut with Fade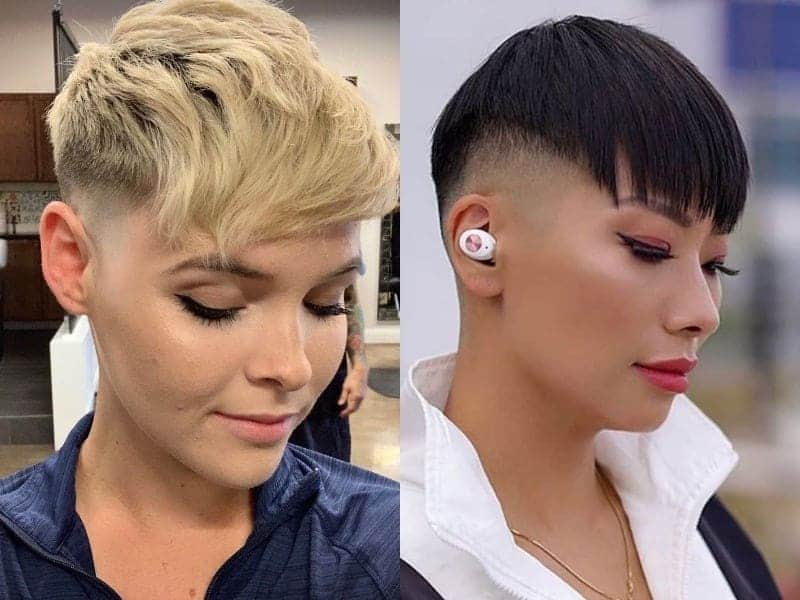 81. Purple Pixie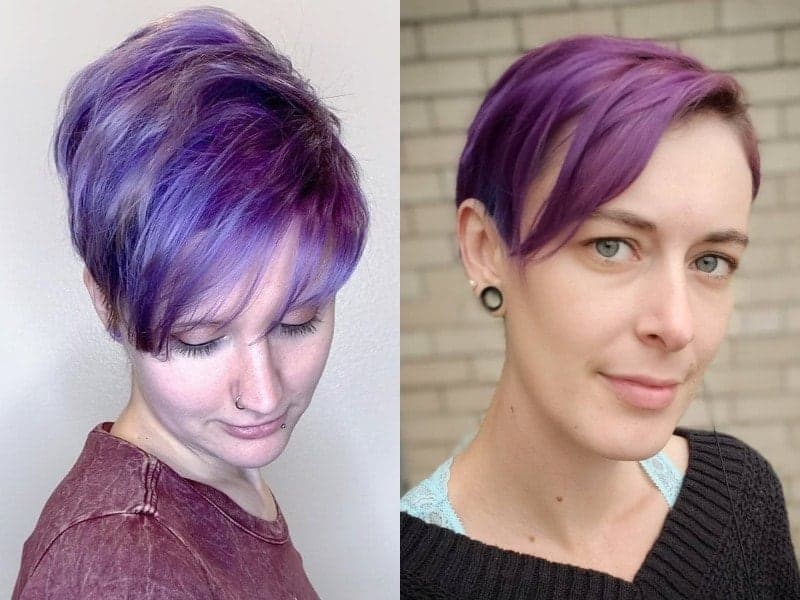 82. Grey Pixie Hair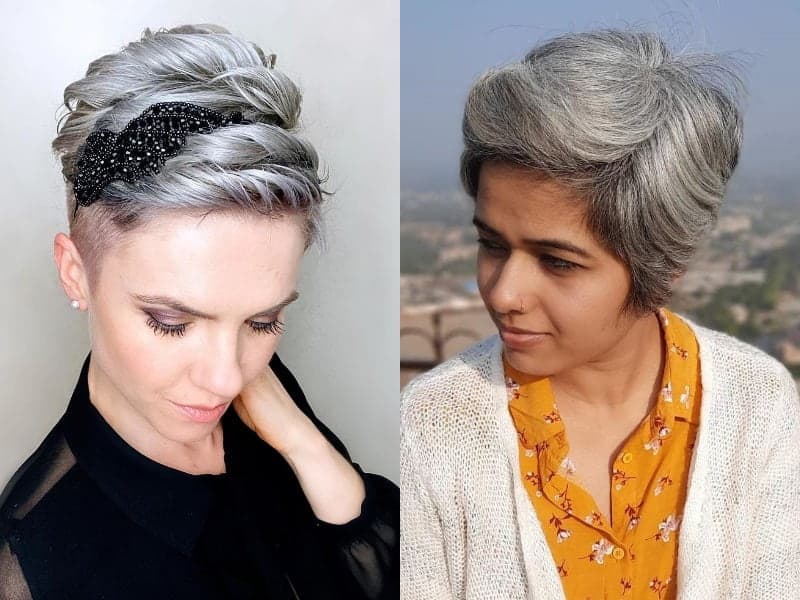 83. Brunette Pixie
84. Ombre Pixie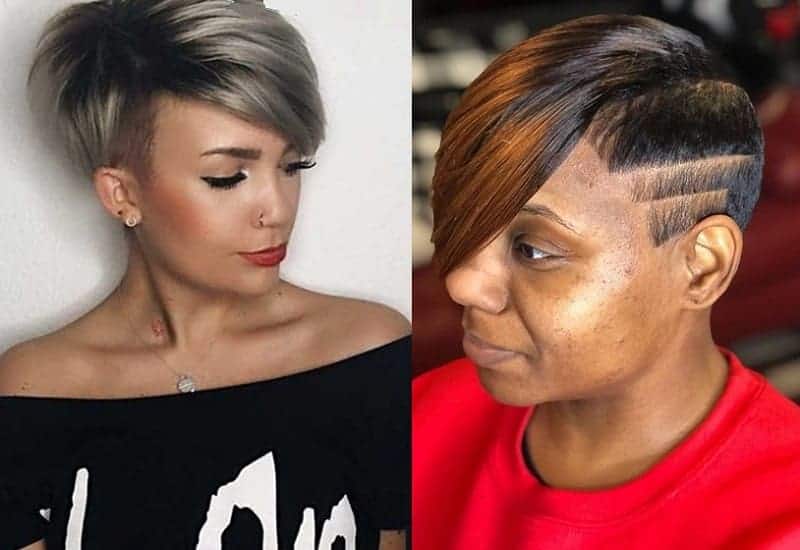 85. Short Tapered Pixie
86. Angled Straight Pixie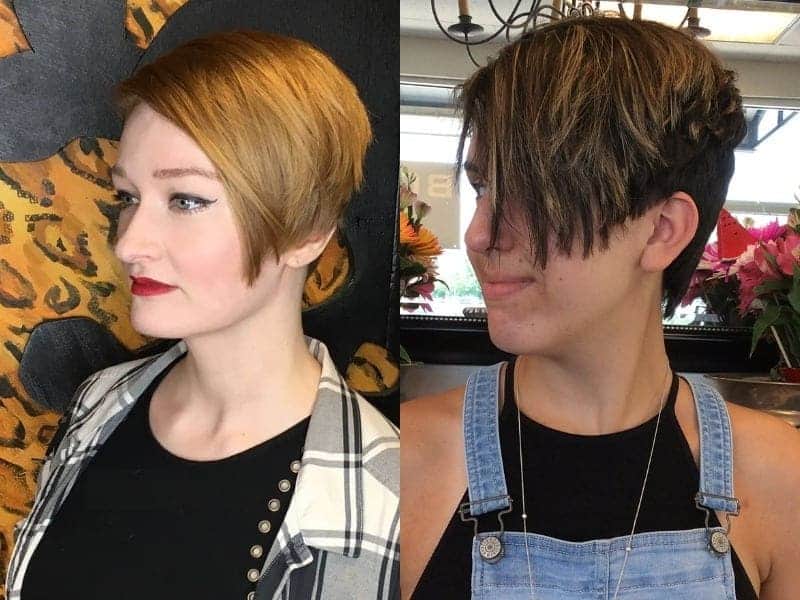 87. Dyed Pixie Braid
88. Korean Pixie
89. Emo Pixie
90. Long Feathered Pixie
And with that final look, this long and perhaps exhaustive list of pixie cut hairstyles for women ends here. But we are sure that you would have definitely found out the best suitable style for you. Pixie cuts are usually fuss-free styles and almost all of them are low-maintenance styles too.
So look no further and draw inspiration from any of these hairstyles before you get a hair makeover for yourself. And if you are in doubt, you can always come back to this list. It's highly likely that you will find many other styles that you'll absolutely love.