Are you looking for more depth and dimension in your hair? Consider getting a stacked haircut. The way these haircuts are formed makes it look as though different sections of hair are stacked on top of each other.
This stacked appearance is achieved by having long, smooth, and visible layers. It's very common in bobs and pixie cuts, but there are some longer looks that benefit from this style, too. You can make it look even better by getting the right color combination for your aesthetic and skin tone.
Beauty Enhancing Stacked Haircuts to Try
Without further ado, let's take a deep dive into the world of this style and see how many options are available for you to wear.
Layered Pixie Bob
Do you struggle to maintain your thick tresses? Getting some layers can keep your pixie bob looking full but it makes it easier to manage.
Also, keep your locks short and cut above the jawline. You can still show off by getting a side part and sweeping some hair across your face.
Textured Stacked Bob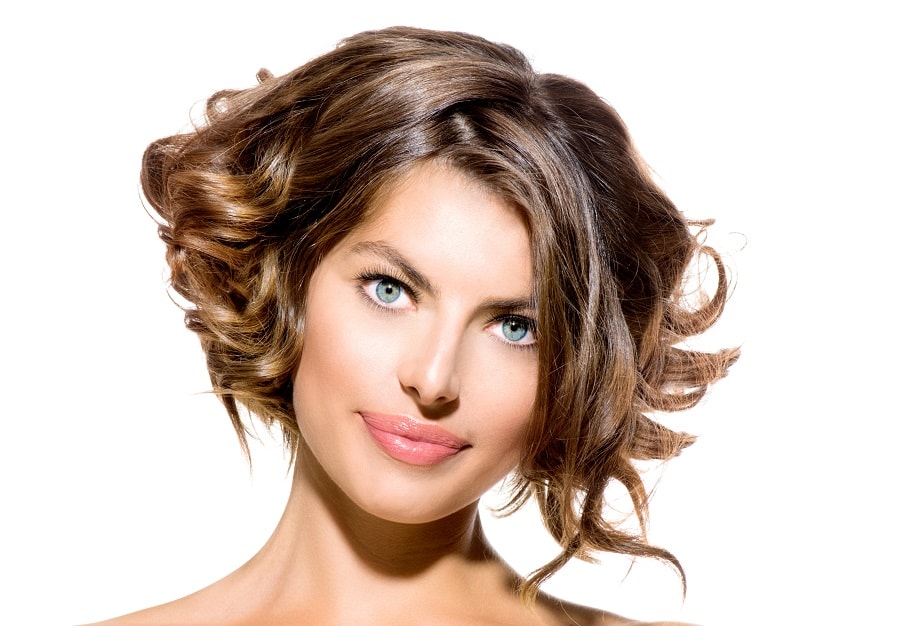 As we said earlier, bob haircuts are very common when the layers are stacked.
Add even more life to your look by adopting a wavy texture and fanning some hair out around your head. Leave a couple of locks longer on one side than on the other.
Face Framing Bob
It's easy for women with stacked haircuts to make them look stylish. The bob is thicker around the top so the bottom looks tight up against your jawline.
Leave the other side a little looser with fewer layers to add an asymmetrical touch.
Golden Curls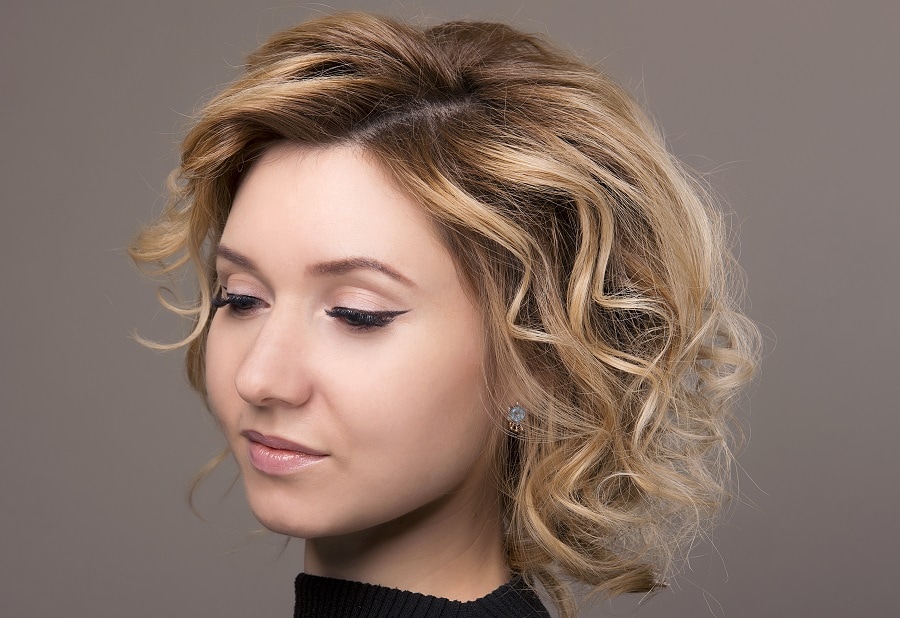 You can increase the curl definition by getting layers. It also helps with comanagement. The various hues in your golden locks will easily shine through, too.
Part your hair on the side and tease the top for a little extra volume and wear it in a bob length cut.
Pretty in Pink
Want to look super sweet? Dye your hair light pink and keep it short. You'll create a lot of volume on top by focusing most of the layers on one side of your hair.
Long Messy Pixie
The haircut has the same shape as a classic stacked pixie cut except it's much longer. The very obvious layers give it a somewhat messy effect.
It obscures the forehead and falls into the face so that the effect is enhanced.
Red Side Bangs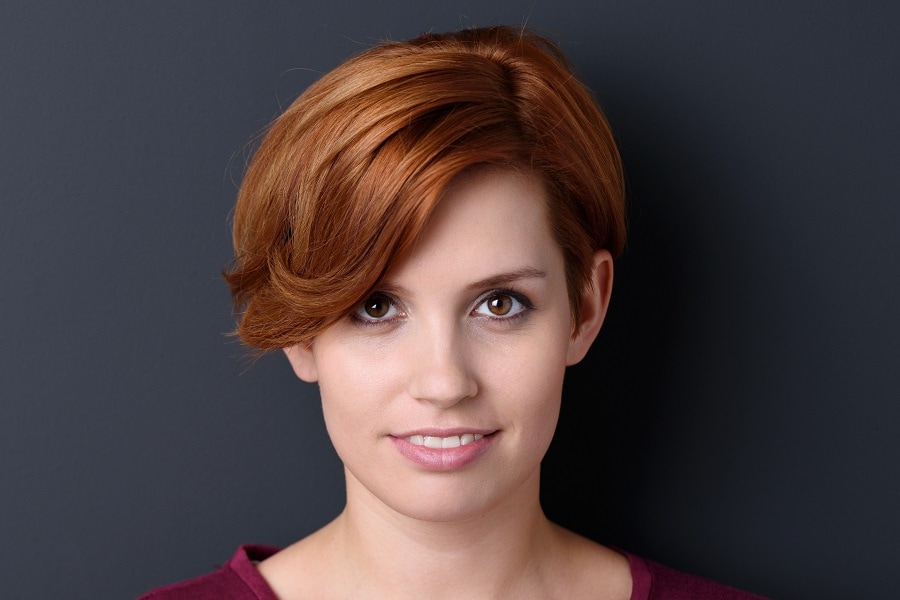 Consider making your bangs the focus of your look. Sweep them across your forehead and curl the ends up.
Let the stacked cut make the rest of your hair remain lively even though the style is minimal and easy to wear every day.
Blue Crimps
You may have seen a lot of crimped hair in the 2000s. It's still fashionable in alternative styles. Wear this texture and dye your hair blue to show the world your edgy side.
Side Swept Fine Hair
Women with fine hair will get a lot of benefits from stacked haircuts. This type of haircut will make your hair look much thicker.
Sweep all your locks over to one side so your tresses don't look too limp when framing your face.
Purple and Red Bob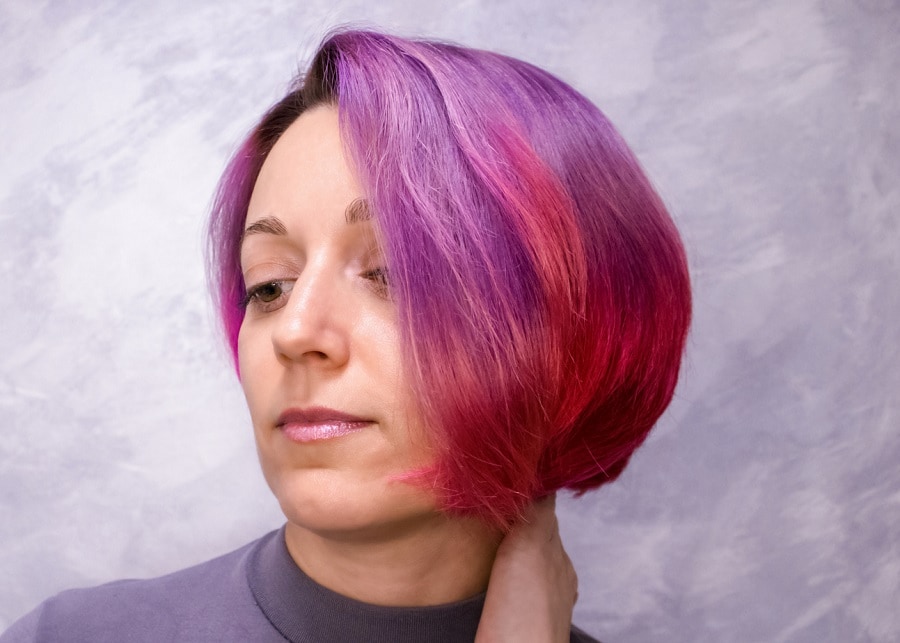 Create a twist on a classic style by dying it purple with red ends. Give yourself a side parting so most of the layers are focused on one side of your head. Let the ends curl in under your chin.
Blonde Waves
Lighter almost white shades of blonde are becoming more popular and they can really make your features stand out.
Adopt a wavy texture to show off where the different layers in your hair ends. Also, curl the ends of some of the shorter layers so they twist upwards away from your head.
Short Bangs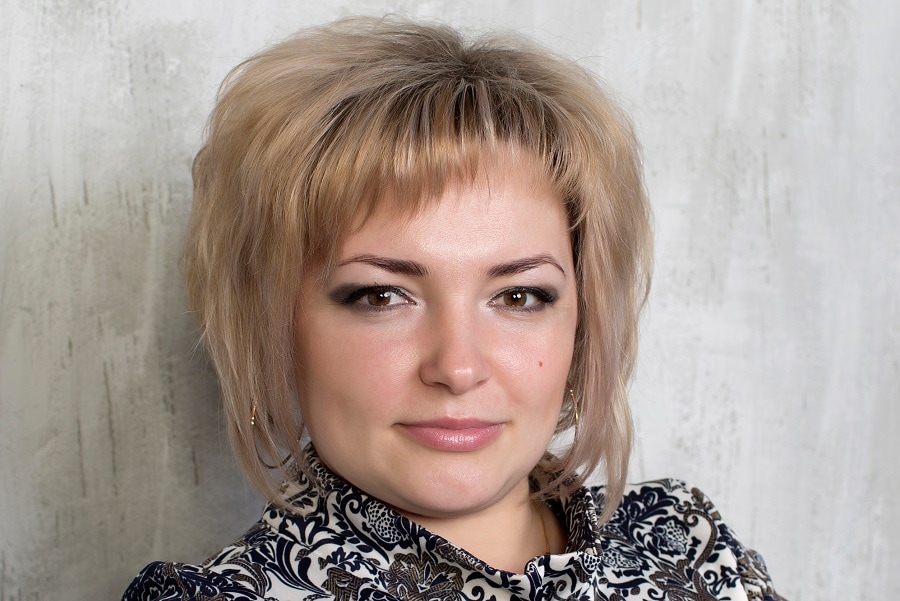 Looking for a look that will make you stand out? Consider getting an asymmetrical stacked haircut with short bangs.
They're a lot less common than their longer counterparts so they'll get you some more attention. Get quite short layers on the top of your hair and tease it out to create a slightly retro look.
Red Pixie
If you want to look like a shorthaired pinup girl, then consider wearing a red stacked pixie cut and pairing it with bold makeup.
Make them look fuller by getting subtle layers to create the stacked effect.
Purple Asymmetrical Bob
Bob's can sometimes look plain, so part your hair at the side. Make your bangs longer than the opposite side of your hair.
Wear purple as a base color and get a couple of streaks of lighter purple as highlights.
Colorful Waves
If you like colorful styles then consider this turquoise and pink–purple cut. Any color combination you like will work, though.
Show off the shine in these unique tones by wearing your hair wavy. The stacking layers will give the waves more life.
Long Stacked Bob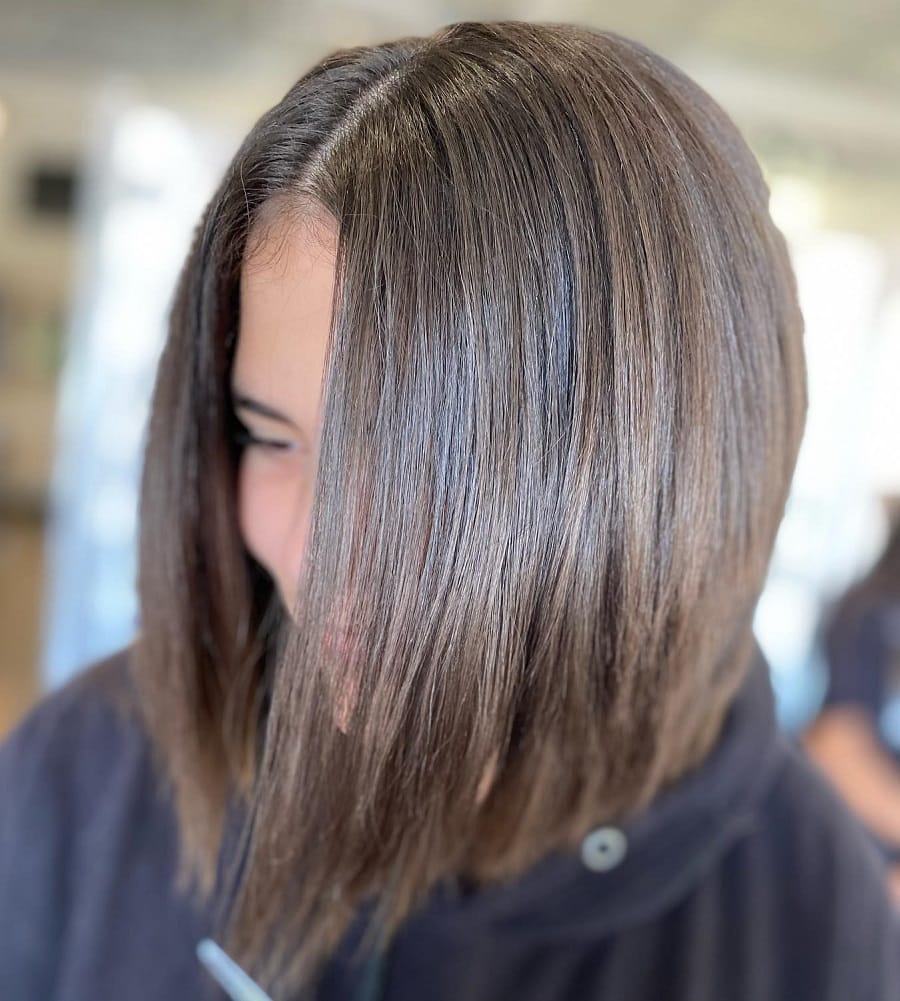 We told you stacked haircuts can sometimes be worn in longer looks, and here is an example of that. It's still a bob cut but it's longer than average and the stacking effect is more subtle.
Women who need to have plain hair for work should consider this look. The layers will make you pop just a little more than other people with similar haircuts.
Graduated Bob
Graduated stacked bobs that are longer in the front and shorter in the back are completely in style. Get some wispy bangs and mess up the top layers on the sides of your hair to create a contrast with the neater back sections.
Gentle Waves
Gentle waves can create an everyday messy look that easy's to achieve. You can create these waves with loose overnight braids.
Make sure the ends of your hair are a little choppy to amplify the messy effect. Let your roots grow out a little darker if you'd like to add some depth to the look, too.
Red Highlights
Many young women are opting to wear red highlights to complement dark hair. Wear your hair straight so people can see where the different layers end.
Leave the front sections considerably longer than the sides and back to create a face-framing effect.
Messy Bangs
It's really easy to create a messy look with a stacked haircut. Let your bangs fall into your eyes so they look a little messy and add waves to the top layers of your hair.
It's a highly textured look that will ensure you stand out. Keep the ends straight if you want to create even more texture.
Silver Graduated Bob
Want a look that's very in style? Consider dying your hair silver as it's been one of the trendiest unnatural hair colors to wear since the early 2010s.
Keep the back short and create a steady lengthening effect as you move toward the front of your hair. Make sure the stacked layers form very thick sections so they're highly visible from any angle.
Women who want to shake up their bobs and pixie cuts should definitely consider getting one of these stacked haircuts.
You'll create so much life and dimension and your hair will be noticeably prettier than somebody who didn't create this stacked effect. If you want to shake things up even more, then look at one of the more unique colors.