In the world of avant-garde, everyone wants to look progressive and smart to match the latest updates in fashion. Good hairstyling is very important to look trendy, smart and attractive to boost your confidence and make you look gorgeous.
So if you are looking for a new hairstyle, then you must try the contemporary Stacked Bob Haircuts. It has become the talk of the town and the love of celebrities and youth.
Whether you want long, short or very short hair, stacked bob haircut styles will do complete justice and can never go wrong. This unbounded hairstyle has a lot of variations and options to hybridize and customize as per your look, need, and suitability.
It provides you with a wide choice of colors to edgy elements. Stacked Bob is also known as graduated bob, in which layers are used to give a robust, voluminous and perfectly shaped hairstyle. This hairstyle was invented long back but has become an ageless fashion and almost every hair professional's recommendation. It is a perfect choice if you want to look chic and sassy with a touch of elegance and urbanity.
The stacked bob hairstyle is multifaceted, alluring. It is quite amazing in a way that it can give you a complete make-over by changing your entire look and gives you a new style statement. In this style, layers can add magnitude, volume, and profundity to the hair effortlessly and make the hairstyle look cherishable and splendid. So go for this hairstyle and get in love with your hair.
Here is the list of some of the awesome and beautiful stacked bob haircuts for you, have a look:
Jet Black Stacked Bob
To make the parietal region of your head more dense and voluminous high-end stacked bob is the best option. It will give your hairstyle a magnificent look. The jet black color followed by ashy grey at the end strands giving it the most stylish appearance and complimenting the high-ends with facile.
The straight front hair will draw attention to the length of the hair and maintain the balance between a bold and soft girly look. This style is best suited for all generations and befitting for all types of faces.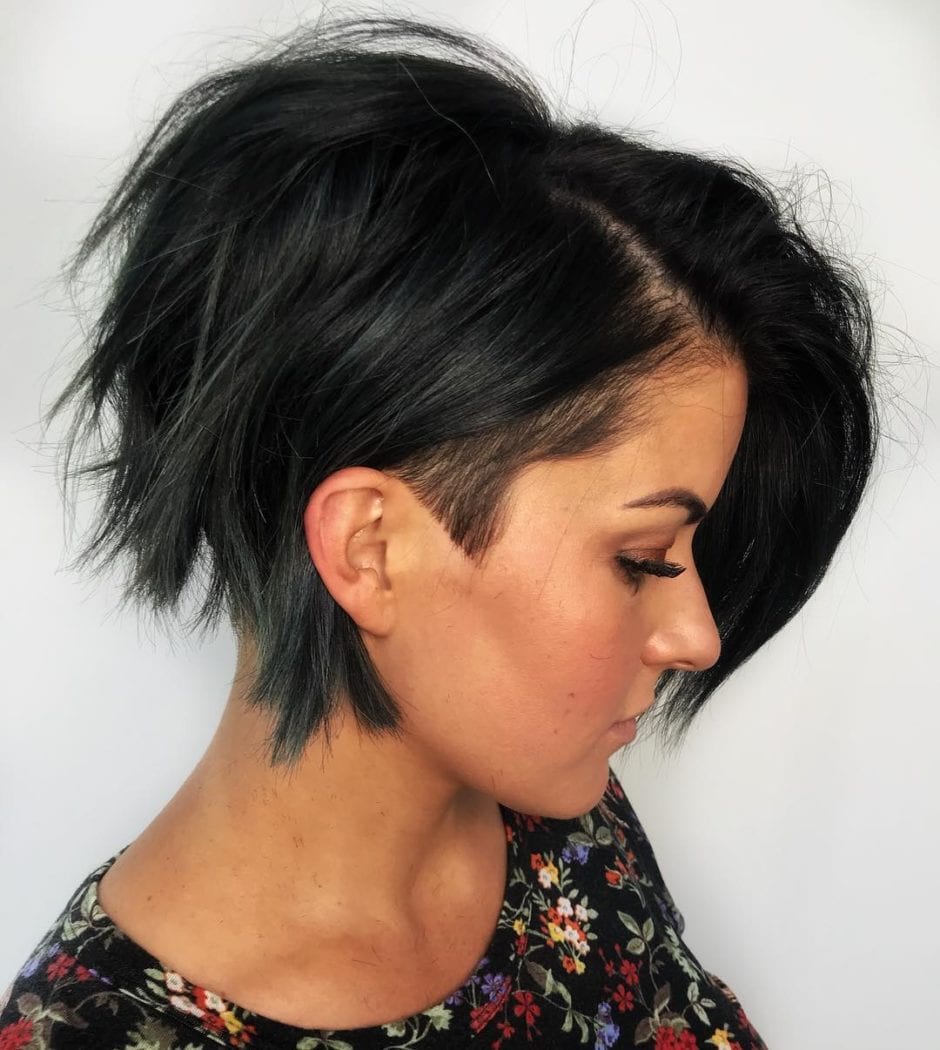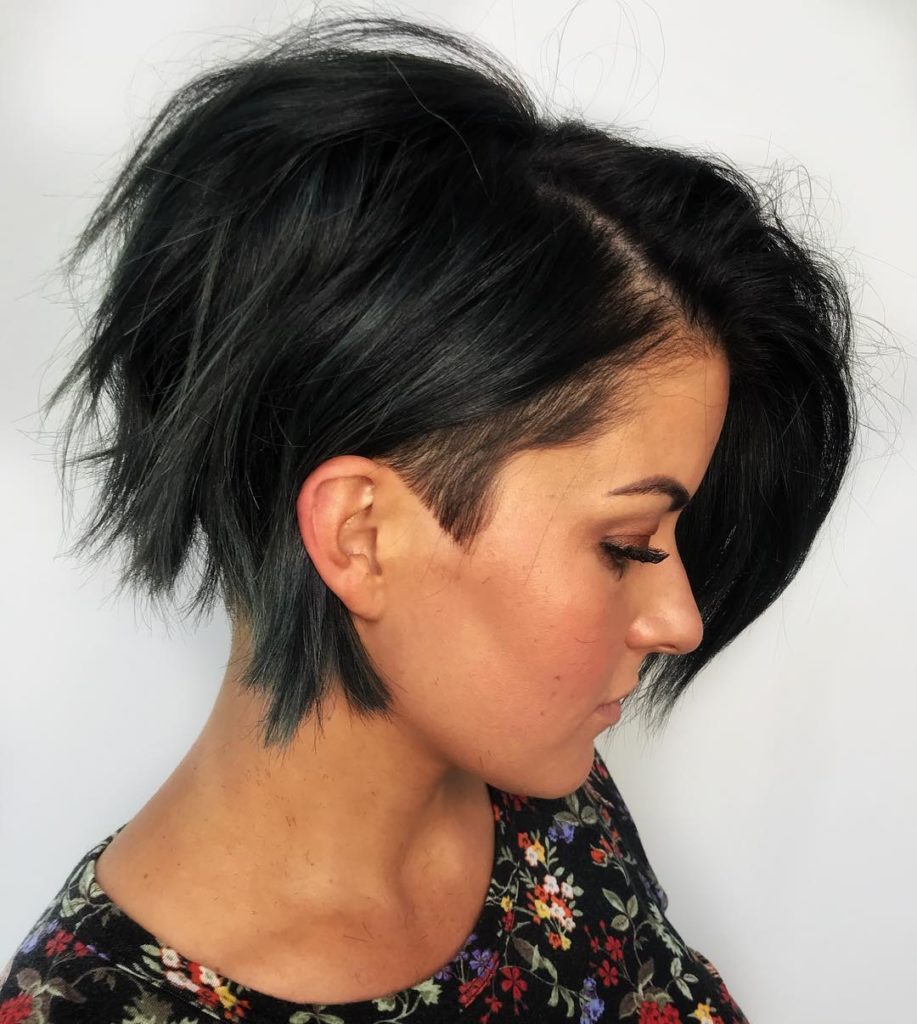 Pirouette Golden Bob
The beautiful golden balayage with shaded highlights giving the hairstyle a spectacular effect. The uneven curled tangles are short at one side and long at the other side is making the hairstyle look very innovative and eye-catching.
It is actually a blend of off-white brown and grey color highlighted with golden that when combined looking flawless and nothing less than gold. It is apt for those with thick and silky hair and can be worn anywhere. This is a style every modern woman would love to have and cherish.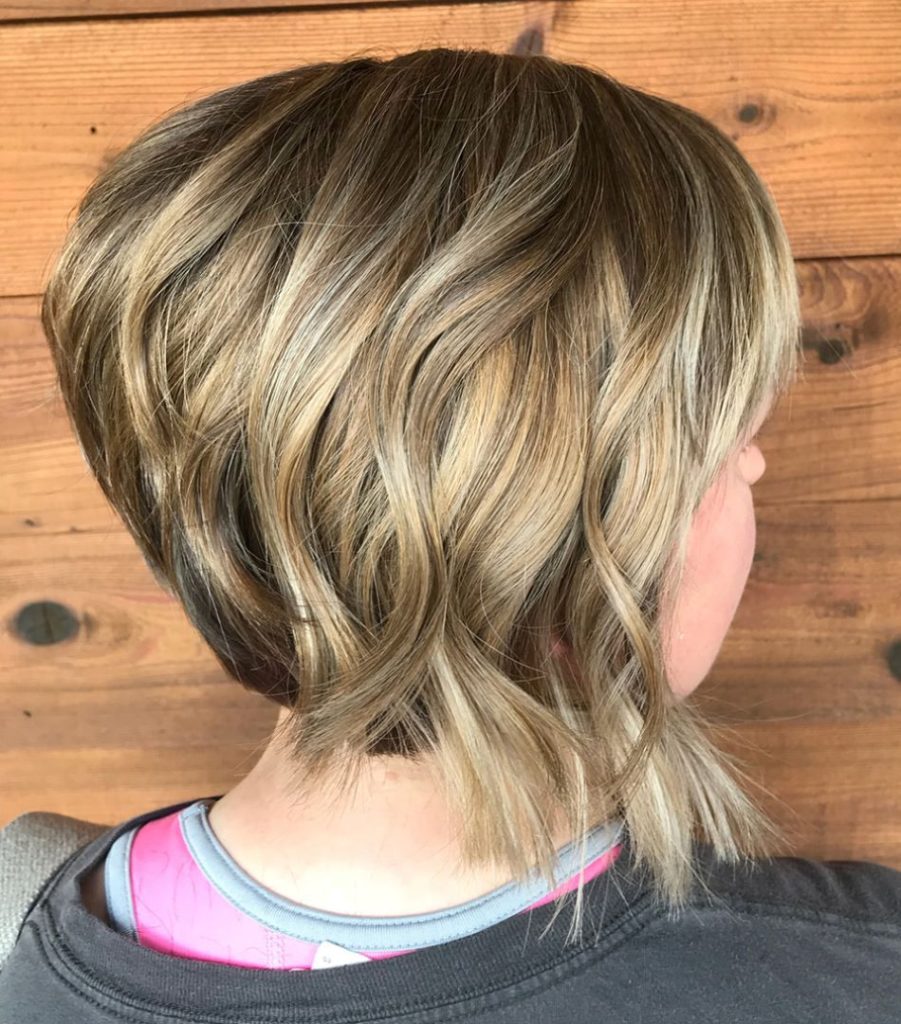 Dusk-Dawn Duo Stack Bob
The chin-length short hair with asymmetrical cut and such a beautiful style is looking really bold and sassy. This is the most unique and innovative style in the profession of hairstyling.
The glossy, shiny platinum hair with the black colored hair peeping from inside gives this style an appearance of day and night and a touch of fearless and dauntless look.
This is the style that will make you stand out in the crowd and make others say wow. This is another great option for teenagers and fashion-oriented women and is best suitable for those with thick and dense hair.
Brunette Green Curls
The beautiful luscious shiny hair with smooth, soft and twirled tangles. This style is all about the contrast of colors and texture. The style is appropriate for thick and mid-length hair. The fringes coming over on the forehead are putting stars to this ultra-modern look.
This style can be carried off gracefully with all groups and is perfect for oval and heart-shaped faces and can be worn with any outfit. It gives the hair a dense and free look that will make you look super gorgeous and evergreen beautiful.
The Autumn Matt Bob
If you have that forever love for chest-nut hue then trust me this is the style for you. The colors are used so purposefully to make it look messy, matt and gangster yet with such a style that you can wear it like a boss and flaunt your own style statement.
The sober fewer curls combined with straight hair strands make you look a pretty, carefree and fun-loving girl. This hairstyle solves all the problems for girls with light and shallow hair. The curly tangles will give your hair an impression of thick and voluminous hair.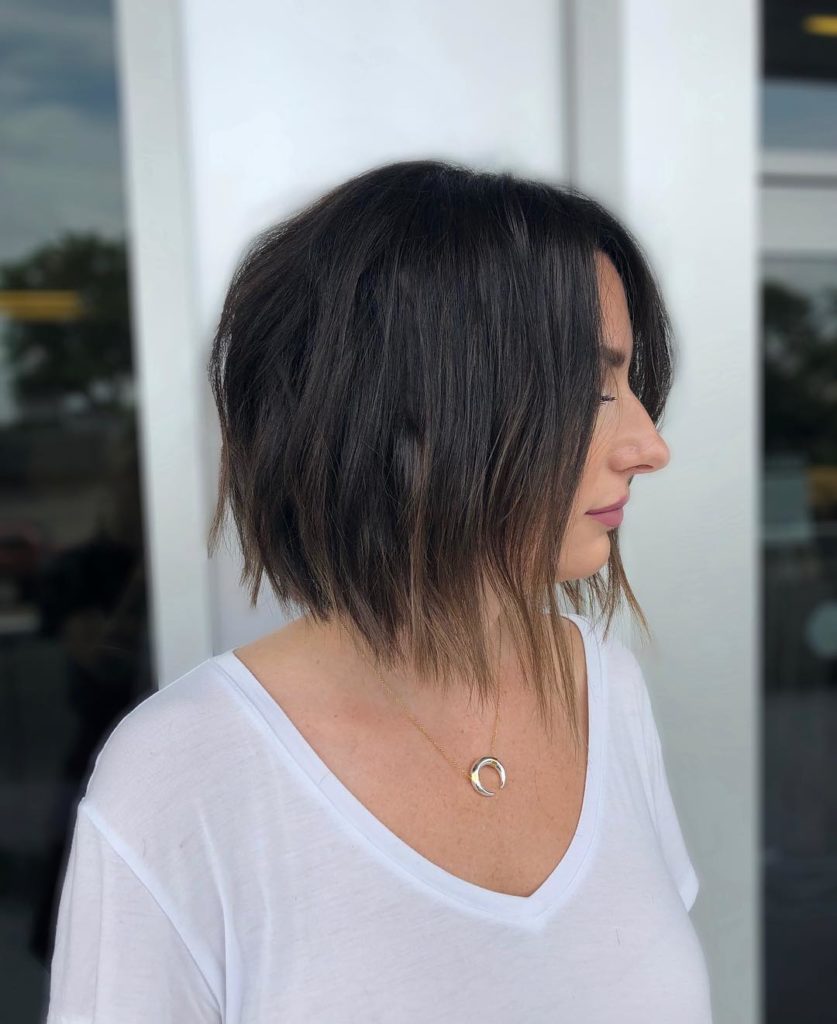 Inverted Upside-Down Bob
For those who are very touched by a brown brunette, here is the style for you. The thick, luscious, smooth and straight hair with such a beautiful stack bob cut is lovely and magical. This hairstyle can be worn by anyone irrespective of age, type of face, complexion, and style.
Though going short is not easy for everyone but trying your hands in a different look to know your various shades is not a bad idea at all. This hairstyle will surely work for you and make you look even prettier in shorter hair.
The Orange Sunrise Stack Bob
This look is very progressive and unique with the balayage of orange and red color. The color is combined so well together in a way that it looks so positive like a sunrise. It is a melodious blend of metallic red and matt orange with slightly upturned wavy hair that gives it a windy look and classic touch.
The mixture of straight, wavy hair with such beautiful hues is tremendously amazing. The use of orange color in a hairdo is quite a challenging job, but here in this stack bob style, it has been brought out beautifully.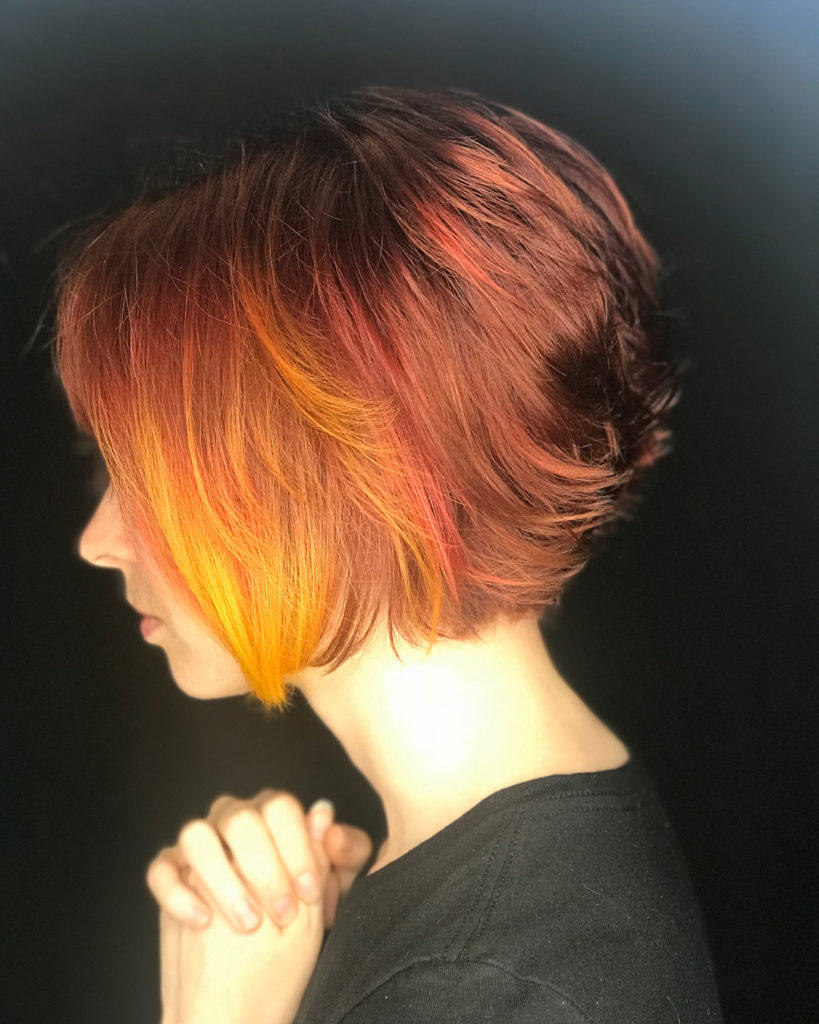 Lustrous Shades of Brown
The chin-length inversely curved hairstyle is apt for all types of hair, be it thick, average dense or light. However, soft, smooth and silky hair can is more appropriate for this hairstyle.
This asymmetric stack bob cut style is perfect for all age groups and especially for women who are in a profession where they need to look presentable all the time. The perfect blond stacks are making the style look very seductive and eye-catching with many lustrous shades. It gives a voluminous look to your hair.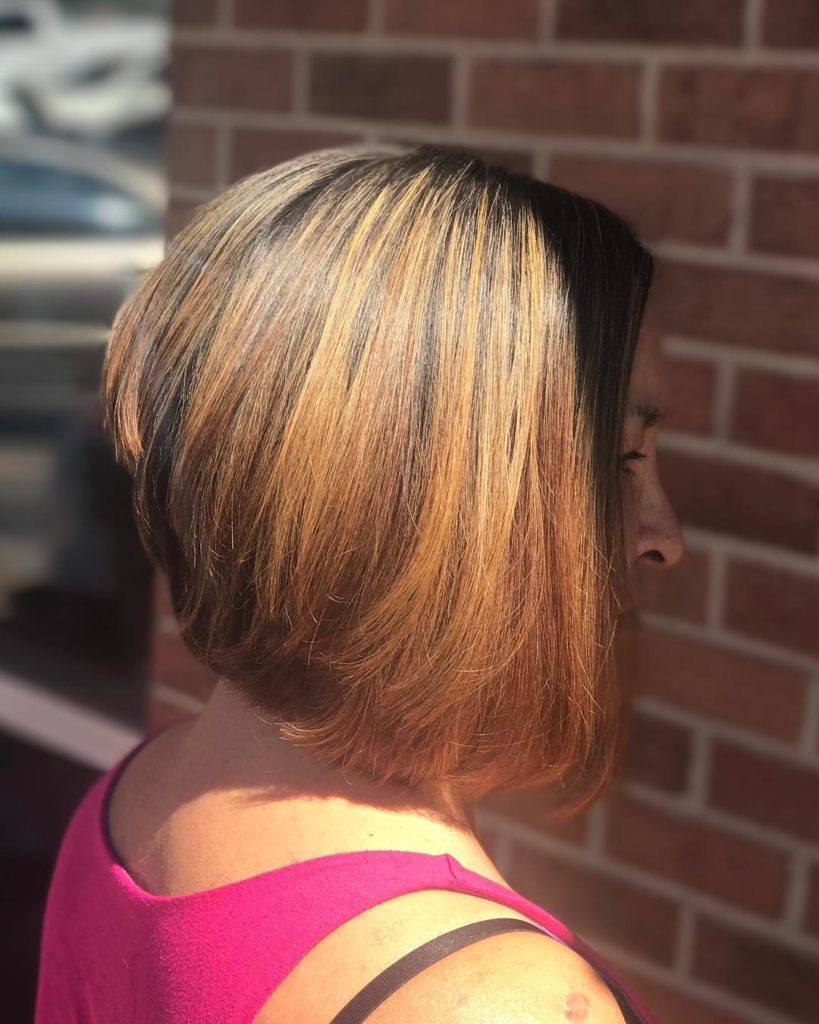 Curly Beige Bob
Curly hair can look extremely gorgeous and outstanding if appropriately styled and wisely portrayed. The short curly hair with stack bob is a style that has come up to make everyone think, can curly hair look that amazing. The color, the hue of beige is a thing, out of the box.
This is a really innovative and fresh concept that gives short curls with steps with a matte finish look. This style is definitely for the one with curly or wavy hair. It is perfect for all age groups and can give the elderly woman that bounces back in their hair that they use to cherish at an early age.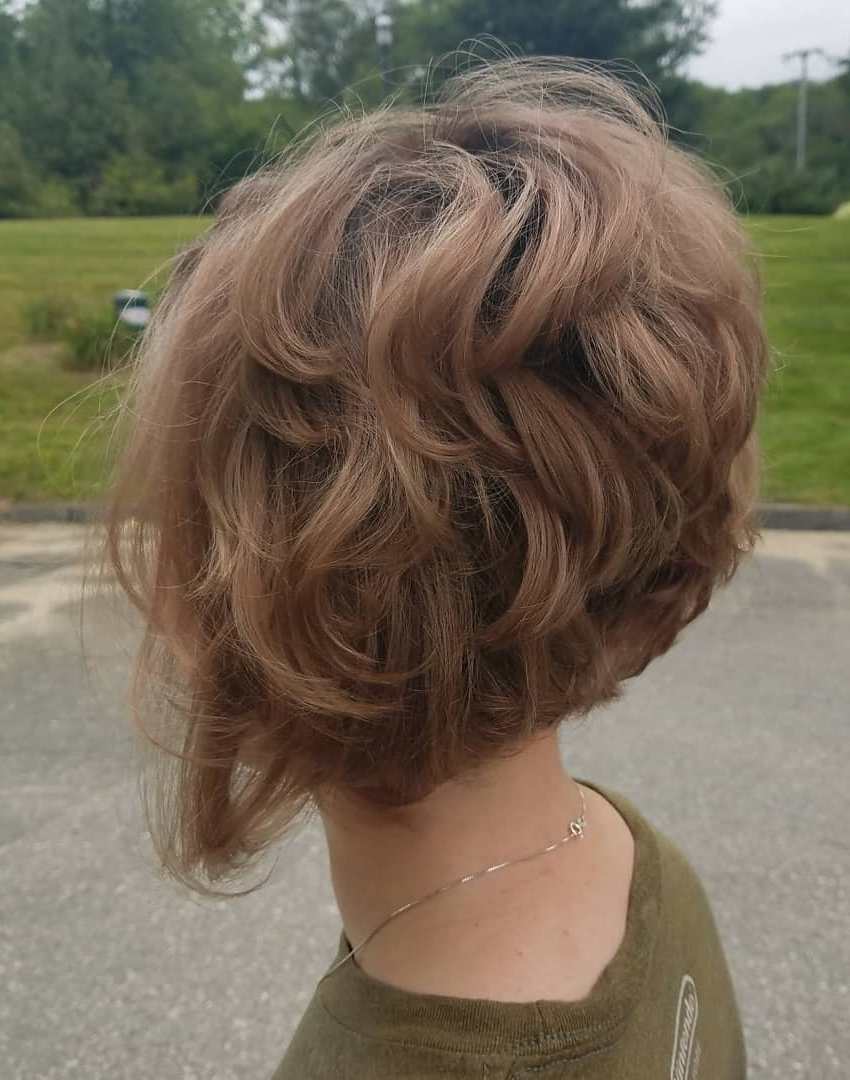 The Brown Stack
A sassy and comfortable style for the woman always on the go. This cut keeps the front hair long while keeping the back hair shorter and frames the face perfectly. It is easy to carry a style that always looks feminine and attractive without putting in much effort.
You can just use your fingers to comb your hairstyle. The shiny brown color followed by daisy strands gives this sober style a progressive look. The side-parted fringes with twirls enliven the style and are apt for daily routine outings and commitments.
The Snow-White Swirls
This snow-white diva-like hairstyle ensures that platinum hue can work wonders with any skin tone and with any style. If you are blessed with natural snow white hued hair, then this is the style that would be perfect for you. The stacks are beautifully carved and styled with smooth, soft swirls.
The hair is cut unevenly longer at the front and shorter at the parietal region of the head. This is a head-turning yet any age befitting look with easy to manage style. The stack provides movement and depth to the classy cut which is looking super cute and ultra-modern.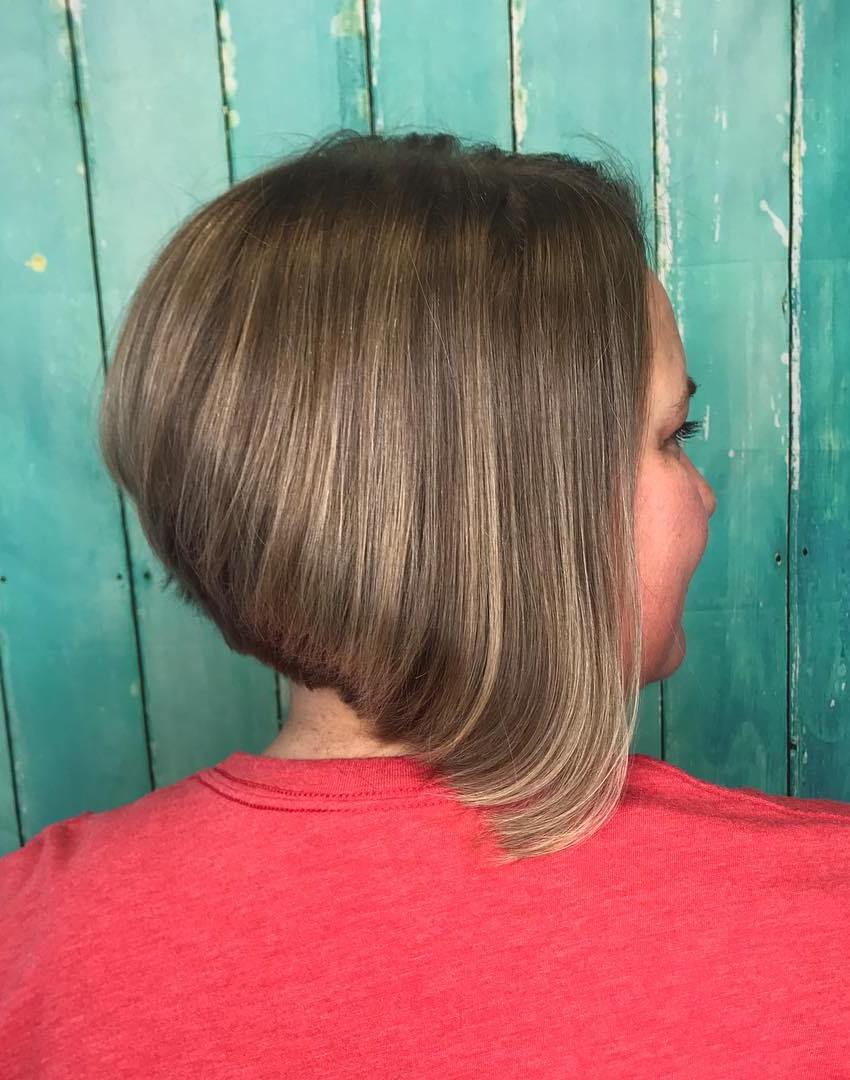 Edgy Silky Gold Stack
This is an angled bob cut with stacks to suit your standard mid-length cut. It looks like spritzing of beautiful gold hue texture on the hair stacks with subtle and smooth straight hair is transforming a simple hairstyle into such a beautiful and awe-inspiring gorgeous cut. Older women can even wear this style with ease.
The edgy layers give this cut a chic and fun look giving both the impression of a hurried up busy working woman as well as all set for partying tonight. The multiple layered stacks provide the appearance of voluminous, dense and thick hair to the woman with fine hair and bring out a new level of dimension to the woman with thick hair.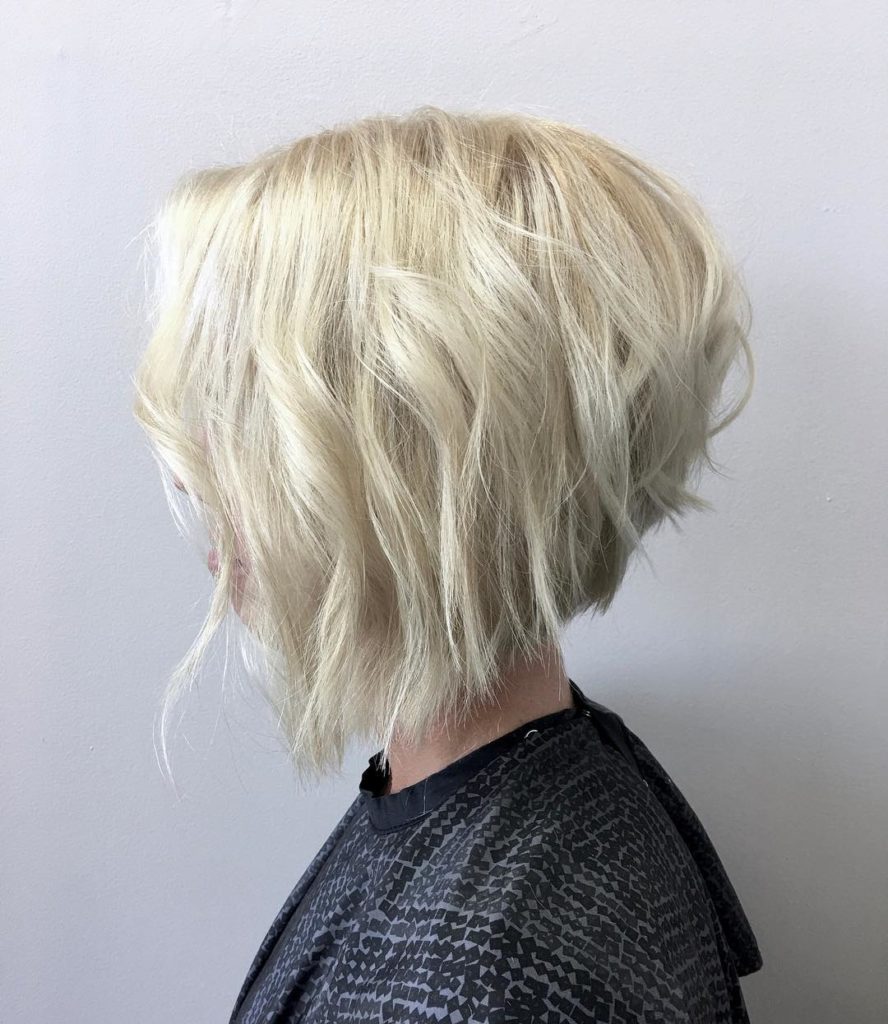 Wavy Stack Bob
Curls are hard to manage and maintain as compared to straight hair and are not easy to pull off with any haircut. For curls, haircuts are designed wisely with an extra focus on it natural curls that are not stable and bounces here and there.
The uneven long curly stacks are absolute canvas with a girly ombre with a touch of elegance and bold look. The blend of brown and caramel shades is gorgeously combined, and the stacks are beautifully highlighted. The blonde mix throughout the curly style is looking as superb as with the straight hair.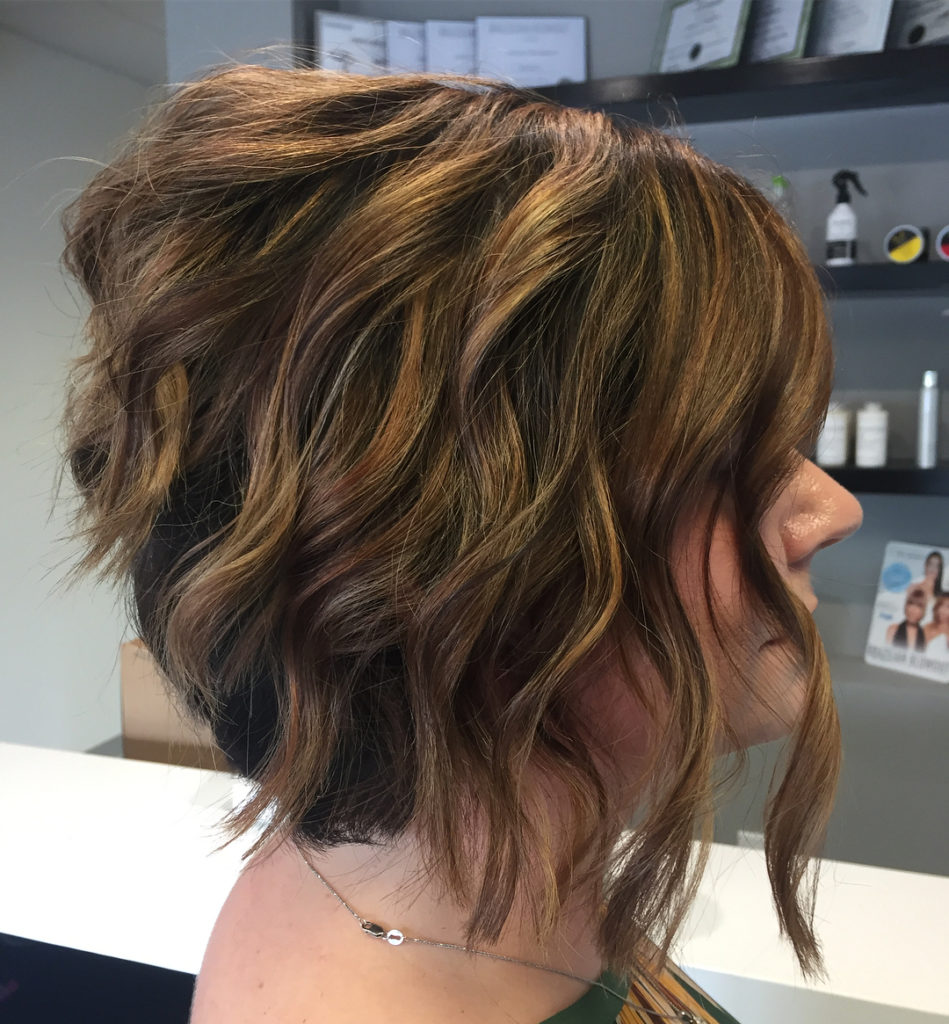 Copper Platinum Bob with Fringes
This style is for very short hair. Though carrying short hair with that girly look and feminism is not easy, if it is not swirled way stacks with fringes style with such a splendid color combination. The style itself has cuteness overloaded.
The way small stacks are swirled and falling softly over the head and the short fringes coming over the forehead is looking magnificent. The beautiful combination of copper and platinum color with salty touch is very fashionable and trendy. This look is so good and can never go out of trend.
Brown Bob with Highlights
Choosing the right hairstyle in accordance with the type of your face is as important as finding the correct diet routine for a healthy body. If you are looking for haircuts for heart-shaped, round or oval face shape, it seems as though a brown bob with highlighted shades haircut is undoubtedly apt for you.
The hairstyle is very sober with inversely curved hair end strands and features subtle wispy layered stacks all over. The length is also not an issue to consider. You can keep the length short, medium or long according to your preference and suitability. The style is ultimate, sophisticated, elegant, mature and professional from all aspects.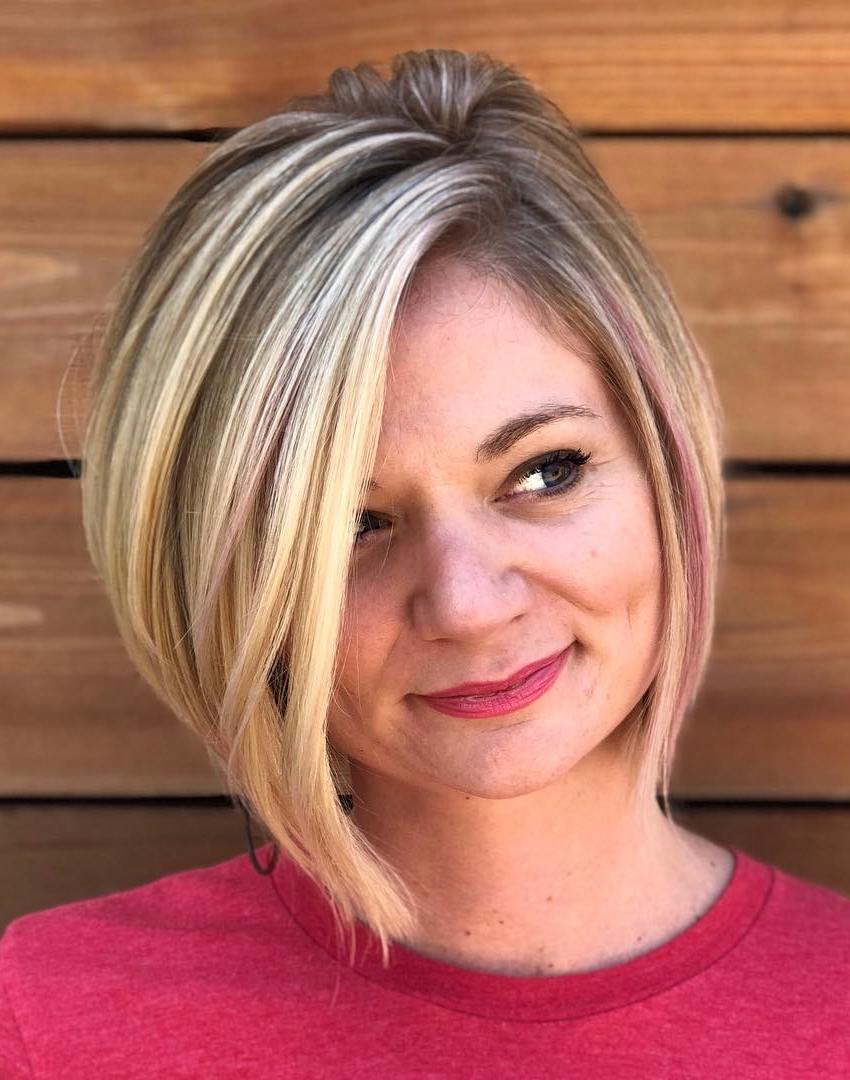 Flirty Peach and Burgundy Layers
If you have a warm hair color tone, then bright color shades and red color hues are appropriate for you. Stacked bob haircuts are the ultimate hairstyles for any woman who wants to look flawless every single moment.
This hairstyle with such classy and risky shades of futuristic colors makes the style very eye-catching and unique yet sober and sophisticated. This medium stacked bob is styled for a short hair look. It is perfect for all hair types, face shapes and all age groups can carry it off with elegance.
Inverted Gold Stack Bob
The flawless, fabulous and pure beauty are the words to describe this hairstyle. The smooth, soft, silky and lustrous hair with variations in golden shades is tremendously attractive. The asymmetric inverted cut with long hair at the front that is going shorter at the back is looking very neat and iconic.
The highlighted beautiful stacks give this cut a bouncy and dense look. This is a perfect look for the bride-to-be or a birthday girl or anyone who to be the center of attraction in a social gathering. So what are you waiting for? Go and get this hairstyle done to look super sexy on your big day.
Messy Stack Blond Bob
This short hair look is apt for youngsters and teenagers. For those who wish to create their own style statement with unique variations in hairstyles and fashion, this messy hairstyle is the most appropriate style. This short hair look with perfectly emphasized blond stacks is giving an impression of dense and volume to lustrous and silky hair.
This bob hairstyle is heart-wrenchingly gorgeous, and the muted shades of black, off-white, brown and grey make it so apt for all modern women of all age groups. It is the style that frames all types and shapes of faces beautifully.
Salt and Pepper Inverted Bob
Short length hair look lets you show off your neck, which is considered the sexiest body part of the body, that attracts the entire male around towards you and admire your beauty and style. So the back look should be perfect if we want to have a short bob haircut.
In this particular style, the back hair is styled so neatly and nicely that they are looking absolutely stunning with a silky smooth texture and inverted curves to look even more dense and thick. This style of bob looks very edgy and trendy. The salt and pepper combination is also much in trend and looks very attractive.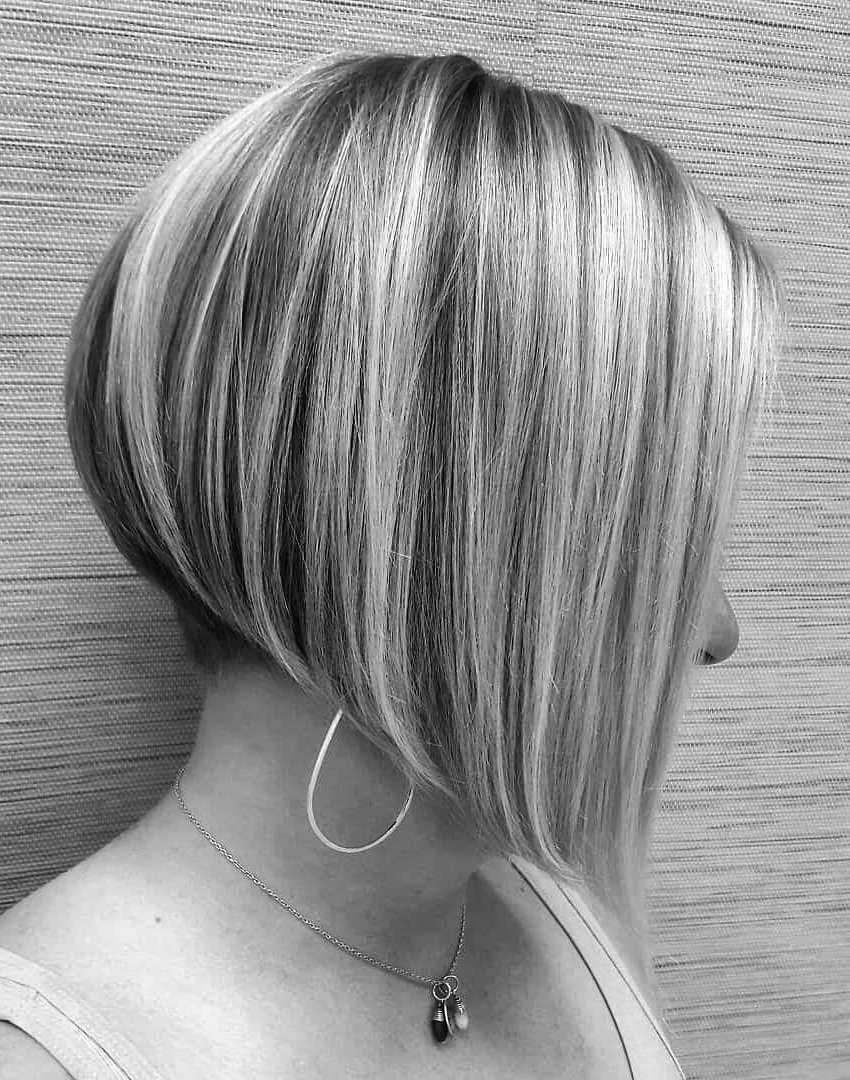 Long Asymmetric Bob
The asymmetric hairdos look splendid. Ideally, the best asymmetric style is long hair in front, and short hair at the back and this style can be found so wanted in today's age. It is a challenging and daring hairstyle to carry and maintain as it becomes too edgy to manage.
But the outcome of the style is always satisfying and worth it. It makes you look so trendy and classy with a grace of its own. The stacks make the style suitable for all face shapes with a glimpse of sophistication and elegance to give the most attractive end result.

These are the most exquisite 20 Stacked Bob Haircuts that we have sorted out for you. We are born with a right to look charming and get admired for our beauty. This type of hairstyle is styled for every one of you with a lot of variations and color combinations to match up with each and everyone's choice, personality and priorities.
To rock the look, you just have to find the right version and most suitable style for yourself, and thereafter, just cherish your beauty and love your hair forever. So, Stop thinking much now and break the shells and go for a bold, beautiful and cheering look with stack bob haircuts.