A pixie is your best friend if you're looking for two things, style and practicality. The ease of maintaining short hair doesn't mean that you've to compromise on style. The wavy pixie cut is way ahead of all other haircuts when it comes to the style factor.
If you need a little makeover, we have curated a list of wavy pixie cuts that might check out the boxes for you. These hairstyles are empowering and will make you look and feel amazing. Don't forget to wear your new haircut with confidence since it's such a dating and expressive hairstyle.
Gorgeous Wavy Pixie Cuts
If you're looking for inspiration to chop off your hair while still looking just as stylish, here are 25 ideas for wavy pixie haircuts that you can consider.
Golden Wavy Pixie
If you have thin hair and you want to make your hair look fuller, then we have a very simple solution for you.
A layered and wavy short haircut with wispy bangs will do the trick for you. The choppy pixie haircut will look stunning, it just needs the right about of layers and waves.
Brown Messy Pixie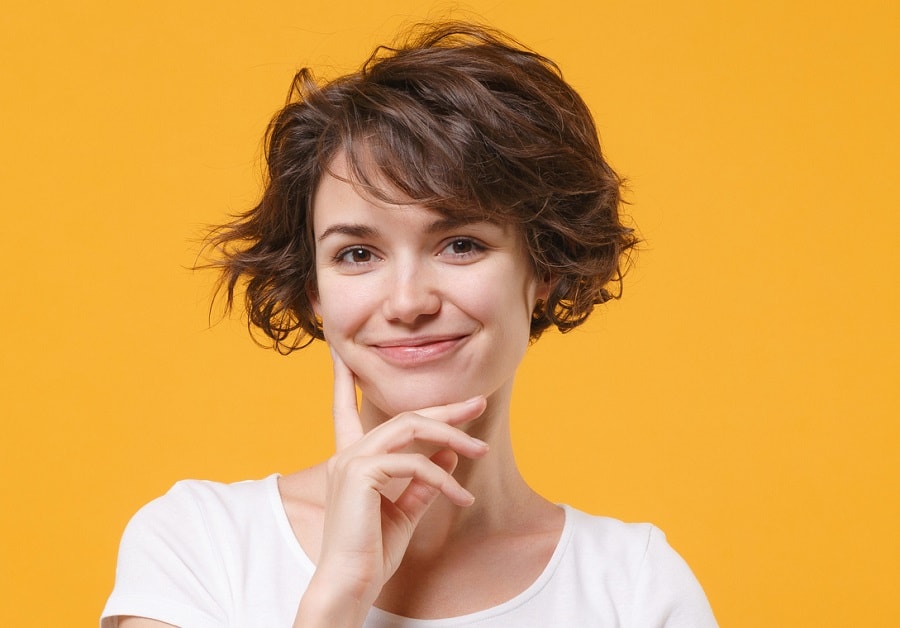 Pixies don't have to be super short. This long, overgrown wavy pixie has been styled to absolute perfection by adding the right amount of waves.
The wavy texture increases the overall appeal of the look, and the side-swept bangs frame the face. Combined, this look isn't something you should miss.
Side Swept Hawk
Side hawk refers to spiky waves created towards the front side, giving the appearance of a side-swept hawk. This haircut is a hybrid between a mullet and a pixie and works exceptionally well with platinum hair.
Tousled Up Look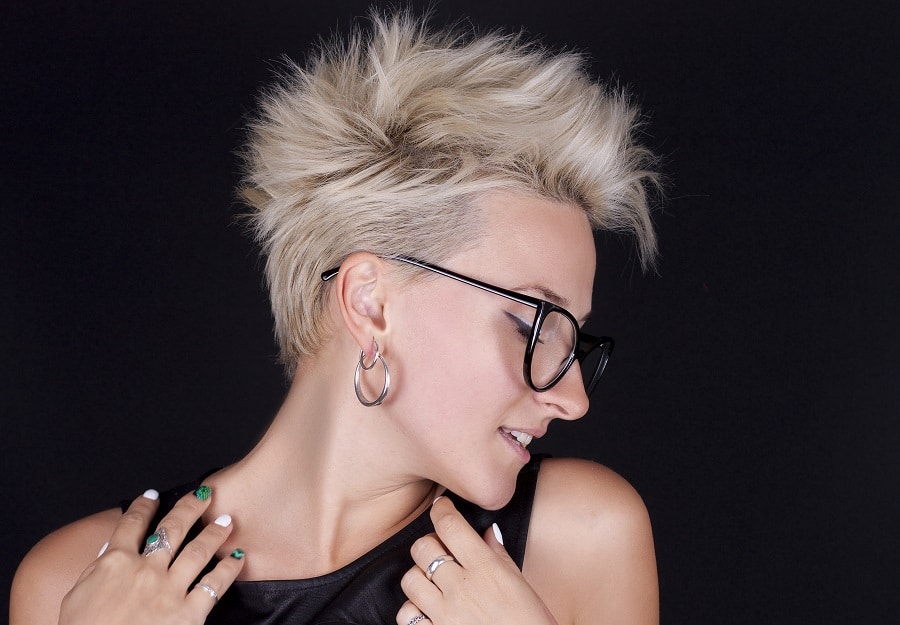 The best part about short pixie cuts is their practicality and wearability. This hairstyle is just perfect to wash and wear.
The tousled hairdo will look perfect when your hair dries down after a shower. The undercut on the sides and the nape created a gorgeous Ashen-blonde "crown" on the head that looks stunning.
The 80's Inspired Pixie
Here's a wavy pixie haircut that will take you straight back to the 80s. The short slicked back sides and the long wavy top are a combination that hardly ever goes wrong. Together they form the perfect hairstyle for a disco night.
Choppy Pixie
Getting the right amount of messiness can be tricky. You can't cross the fine line between messy and dirty.
The look can be achieved with the right amount of layers and curls. It's a classic pixie that works with any kind of hair texture like color. And the haircut has a feminine touch to it.
Multicolor Highlights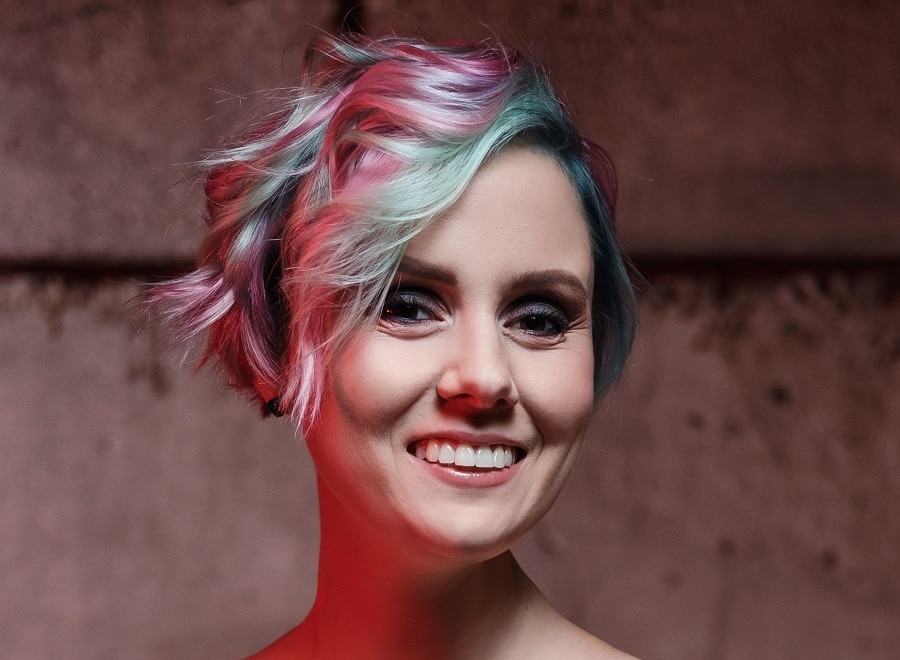 Side parts look amazing on people with square, salmon, or heart-shaped faces because it softens their features, like their jawline and cheekbones.
This long pixie with a side part is also a hairstyle that will suit such face shapes. The soft pastel blend makes this hairstyle even more perfect for softening facial features.
Gray and Gorgeous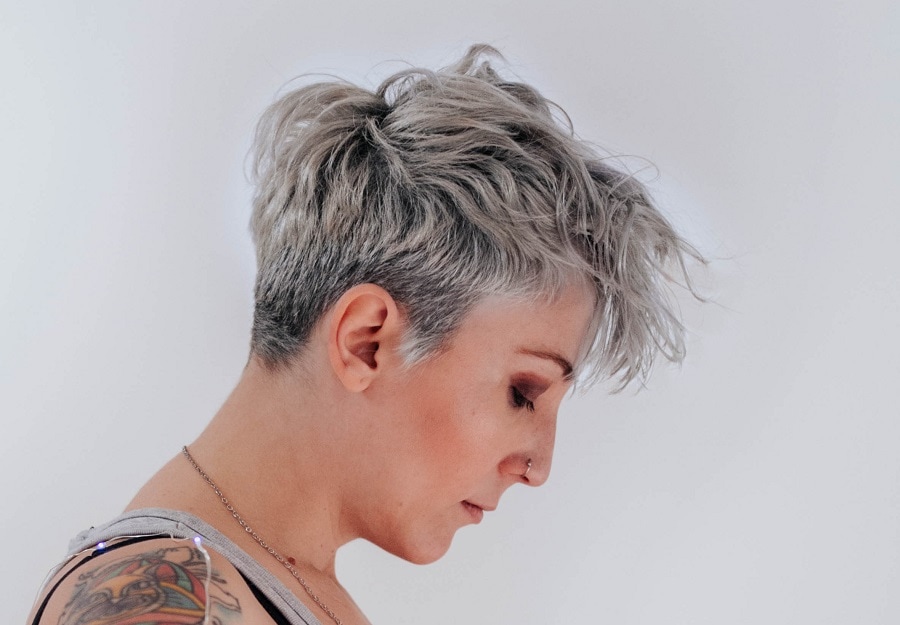 Sometimes a wavy pixie doesn't look flattering on dark or black hair because it overshadows or darkens the features.
But don't worry, that doesn't mean you can't rock a pixie. The best way to go forward would be to try a gray hue for your hair. It will instantly brighten the look and lend it the coolness it needs
Classic Overgrown Pixie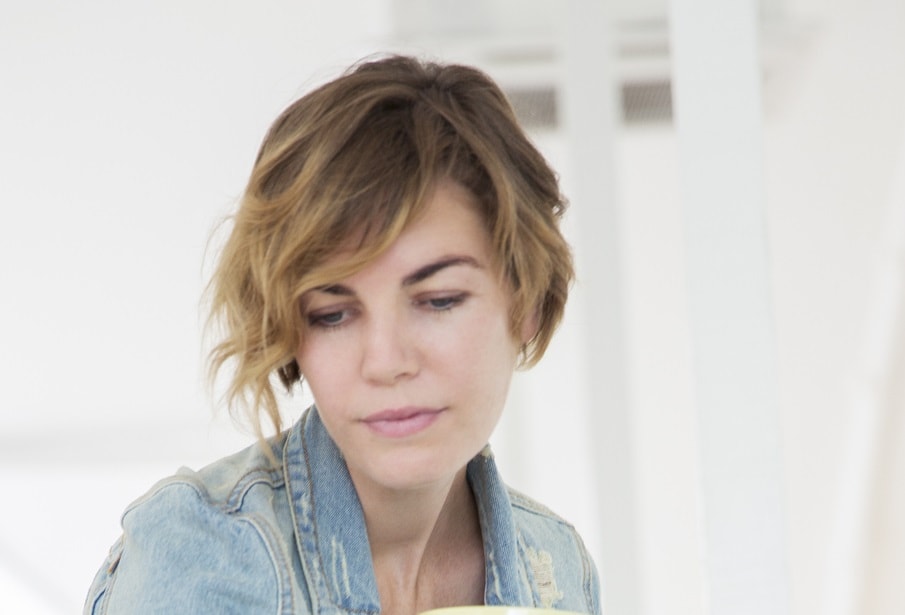 An overgrowth pixie might fall flat if it's left alone. The best way to style such a cut is by adding some waves to it. Let's just admit it, waves make everything better.
Some loose beachy waves add the right texture and character to your hair; this hairstyle is a testament to this fact.
Playful Long Bangs
When you're working with such short hair, there's still a lot of potentials to work and play around with with with.
For example, in this pixie cut with waves, the short sides are paired with long bangs to create a very unique hairstyle that you've got to try out.
Rounded Haircut
Here's a haircut that's very popular among all Korean women. It's just the perfect look for older women because it is easy to maintain and style. The haircut keeps all the hair out of your face making you look more awake and youthful.
Chocolate Brown Undercut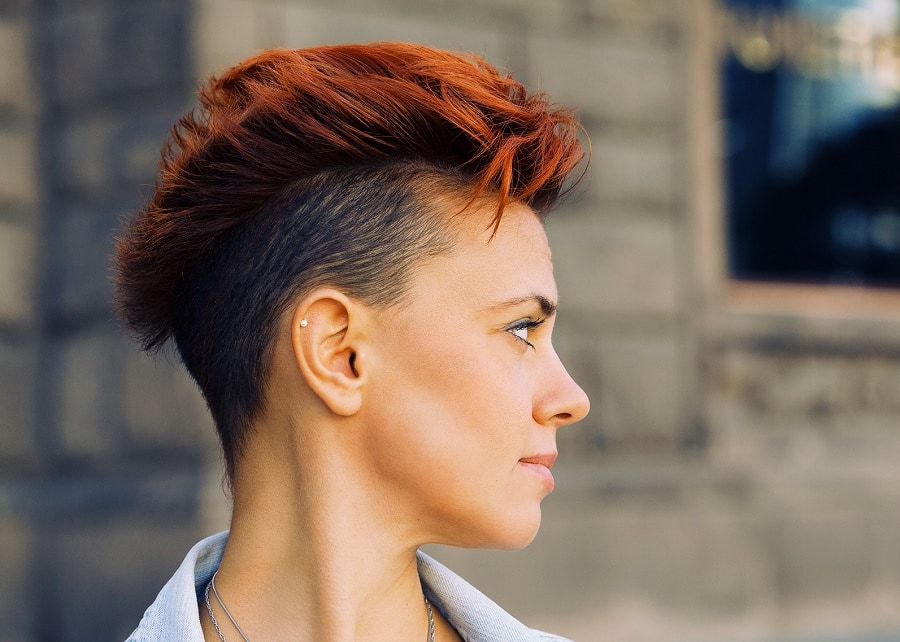 Undercuts have been in trend for ages and won't go out of style anytime soon. If you want to express your masculine side more, this haircut is the one for you. The brown spiky top looks very stylish and defines the whole look.
Blonde Short Pixie
Shorter sides, longer top: this is the simple formula of a good pixie. The effect of layers can be emphasized with very short sides when working with a short haircut.
As in the case of this hairstyle, shorter sides create the look of a tousled and laid-back kind of top.
Bright Red
If you're confused about your hair, just dye it red. Jokes apart, red hair is a gorgeous option even when you're thinking about wavy pixies. The side-swept red hair is a no-brainer but an absolute stunner.
Short Grey Waves
Your Greys are just as beautiful as you and they need just as much loving. Try out this older women's pixie for your grey hair for a new look. A makeover like this one is going to stun everyone around you.
Hairstyle for Older Ladies
In your older years, your number one priority is ease and comfort. But that doesn't mean you have to comprise style.
This short and wavy pixie hairstyle for old ladies offers everything they need. However, the chop must be on point for a neat look.
Fake Faux Hawk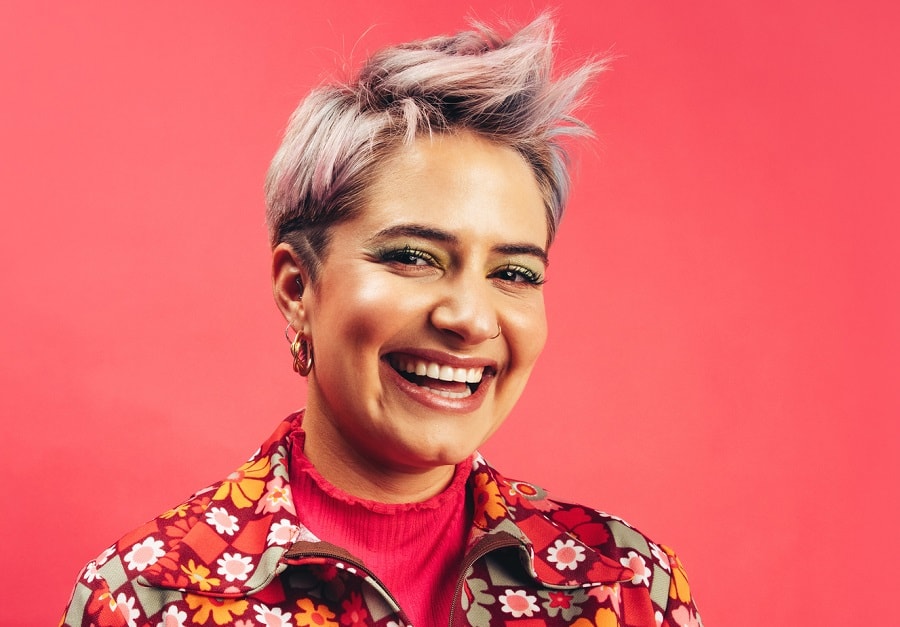 Don't want to take the plunge and get a faux hawk haircut? Let's just fake it! This fake hawk is easy to achieve with a short pixie cut. All you need to do is slick the sides with a styling gel or wax and go with textured waves on top.
Short Wispy Chop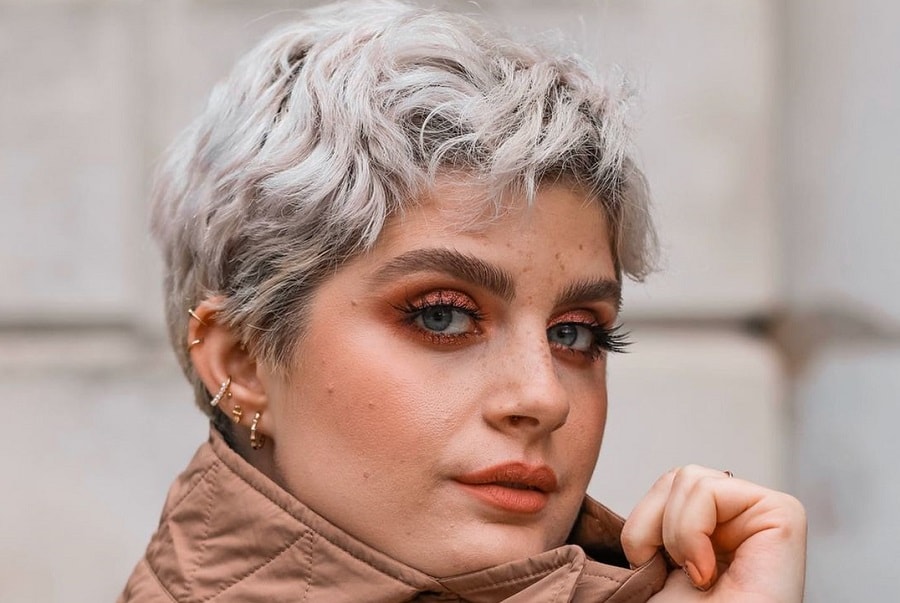 Short chops don't have to look boyish, and this hairstyle is enough to prove this point. Look at how elegant this wavy hairstyle is. The white hair paired with the wispy short chop makes the best hairstyle for short hair.
Pastel Fairy Hair
It isn't too late to live your childhood dream of looking like a fairy by going for this beautiful pastel pink hairstyle. Look at the gorgeous wavy hair!
Here's the perfect wavy pixie of your dreams. Don't forget to show this picture to your stylist and ask for the same hairstyle.
Very Short Pixie Cut
Short haircuts for women may look more masculine or even boyish. The trick here is to add sufficient volume and texture, for the haircut to appear as if it has been featured in a fashion magazine.
It can be done by adding some waves on top. Such a haircut is so easy to maintain and needs nothing more than a towel dry.
Red Mohawk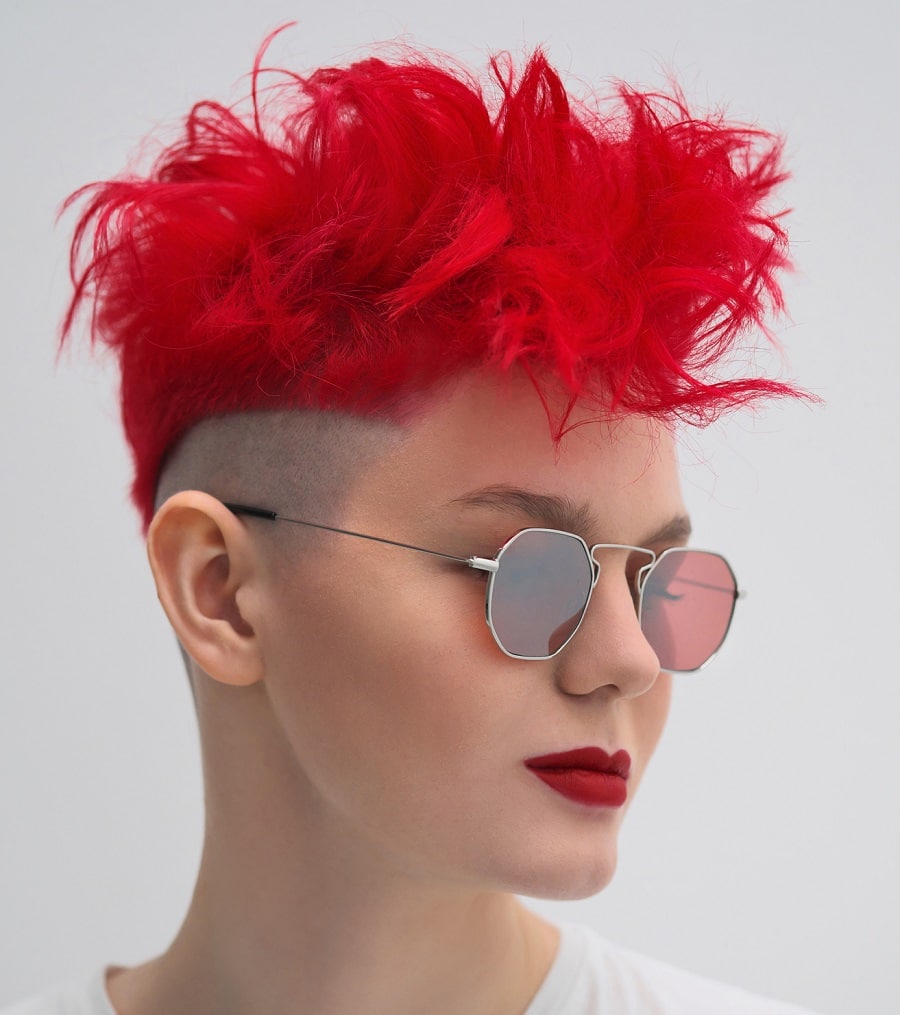 Here's a fiery hairstyle for your fiery soul. A spiky, out-of-the-box pixie that's full of drama. This pixie with shorn offsides and long front hair has an edgy charm to it. Pair this red look with red lips for that extra sass.
Light Brown Highlights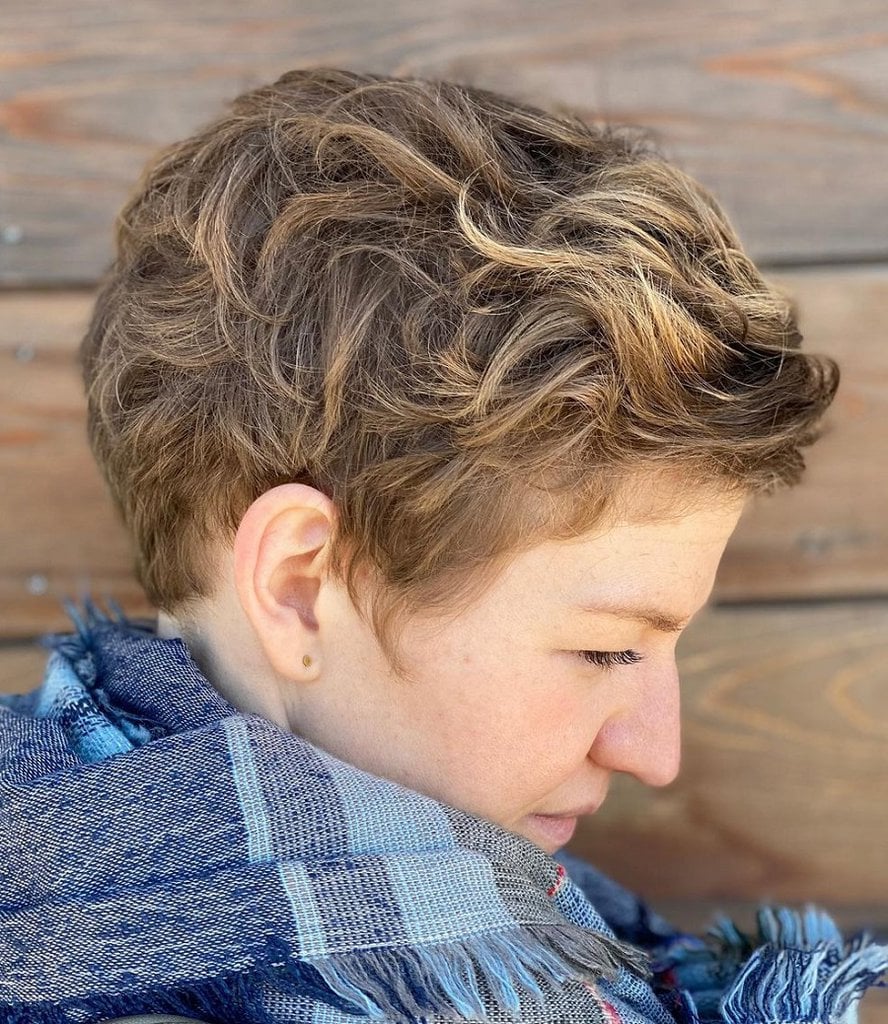 Short and wavy pixie cuts are easy to recreate. However, while working with such short hair you will need a little experimentation for things to stand out.
Something that always helps is a little asymmetry. Some jagged snips here and there go a very long way. Such uneven cuts add fun and life to a simple shortcut.
Pink Asymmetric
With a mixture of unique cutting techniques and a gorgeous light pink color, this hairstyle is something you won't ever come across.
Opt for this hairstyle only if you want to make all heads turn wherever you go. The subtle waves make this pixie even more interesting.
Unique Quiff Cut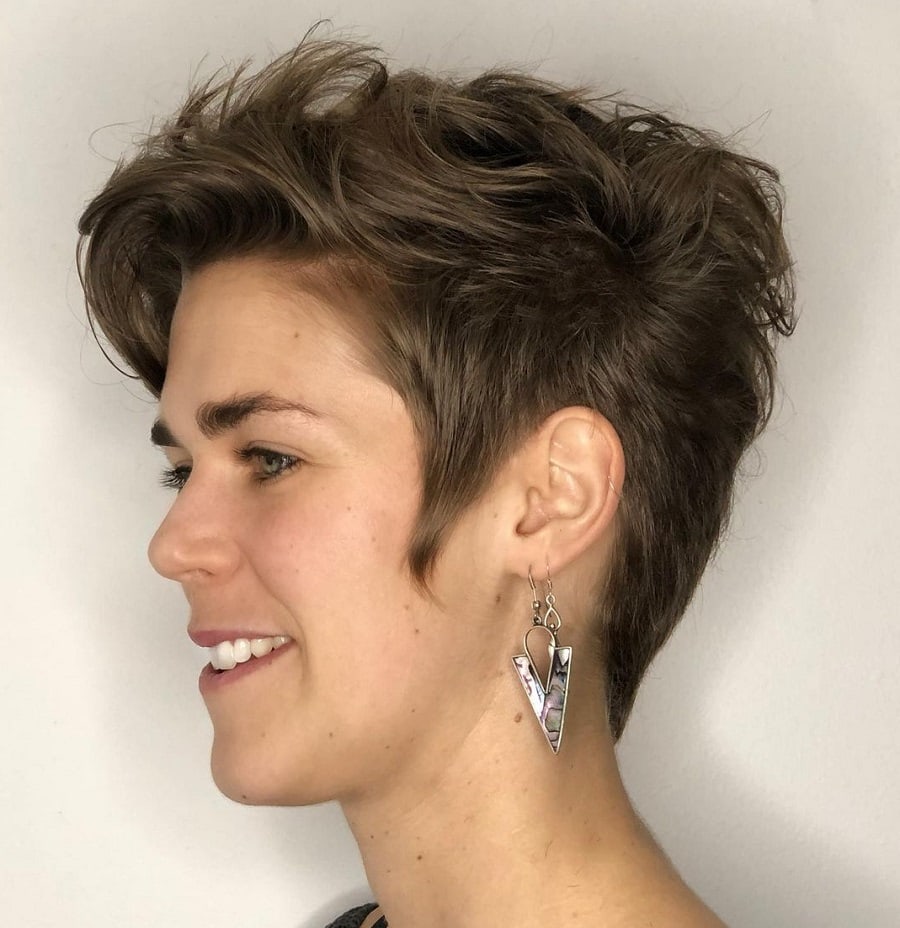 Asymmetry is your best friend when you're working to create magic with a wavy pixie. The long side whiskers are a unique element that makes the whole look stand apart. The voluminous and wavy top makes the face more structured.
Voluminous Overgrown Pixie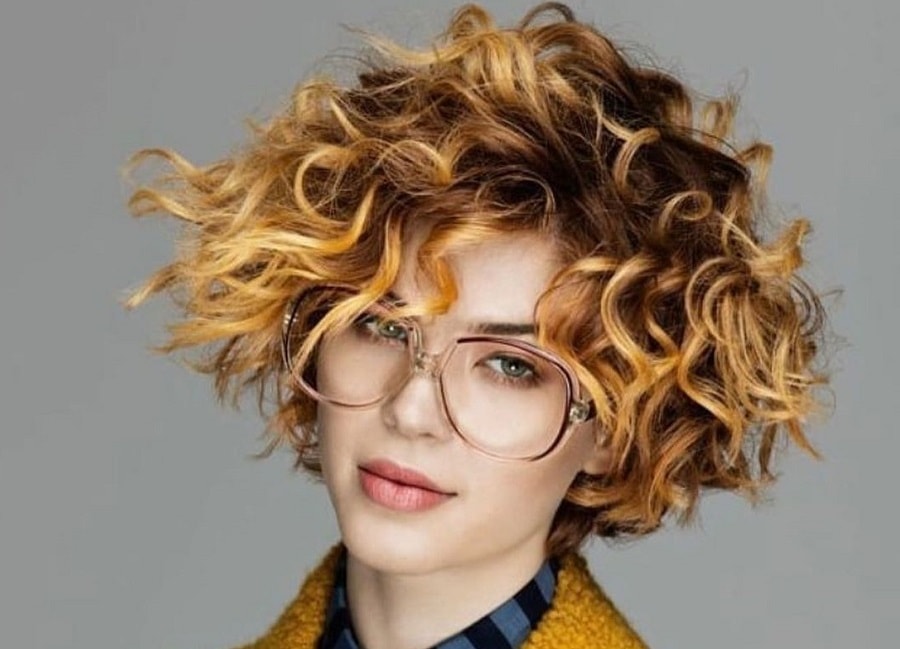 If you have naturally curly hair, then this hairstyle will ensure that you can flaunt your curls the right way. The volume that the curls add to this pixie hair is just unbeaten.
On top of the gorgeous curls, the stunning dark brown to light brown ombre makes everything come together.
A wavy pixie hairstyle checks all the boxes of a perfect hairstyle. The hairstyle is the easiest to maintain but the most stylish.
The waves add a touch of femininity that's otherwise lacking in short haircuts. We hope you found the inspiration you needed to take the plunge and go short.