Do you want to be daring and fun? Then maybe a pastel pink hairstyle is for you. This shade is so mesmerizing and ultra-beautiful. You'll find that it suits a variety of aesthetics, and there's definitely a way for you to rock it on your locks.
You can look soft and girly, or you can look hardcore and totally punk. Explore until you find the real you under the surface!
Super Fun Pastel Pink Hairstyles
There are 23 looks here that you'll certainly want to try out, so don't delay. Start scrolling, and pick something that you adore!
Long and Straight with Split Bangs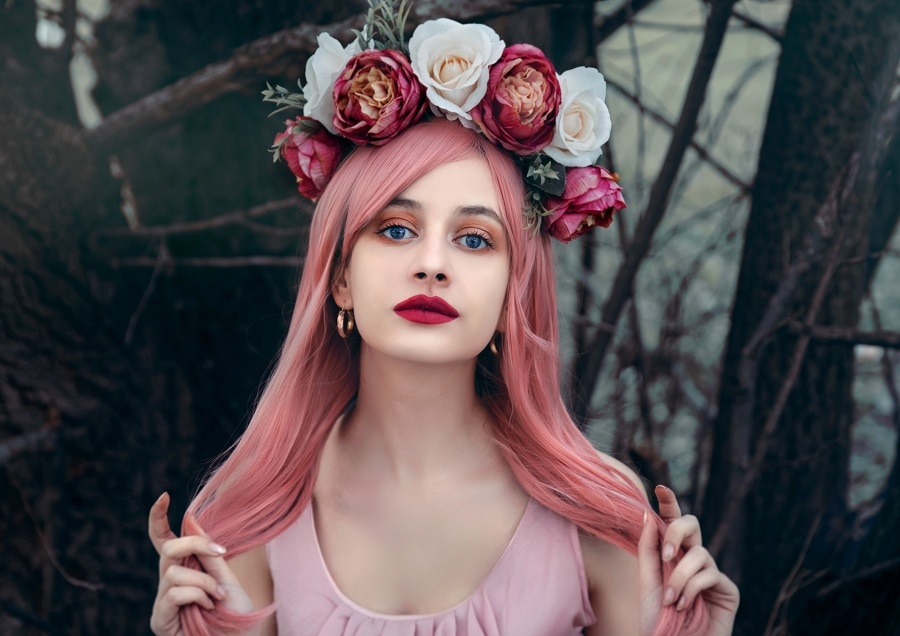 Long, straight pastel pink hairstyles are super simple, but they're effective. They can make you look pretty and mysterious, and it's a great way to explore yourself. These long tresses fall down over each shoulder. Some bangs frame the top half of the face.
Curls and Space Buns
If you want a tone that's a little more vibrant, this one will work well. A lot of the hair is pastel in nature, but there are some strands in a more bubblegum shade.
The locks are pulled up into space buns with strands wrapped around them. Nice curls fall by the face.
Bob with Bangs and Roots
Bobs are simple and effective looks to make you look fabulous. This one has full bangs across the forehead, and longer strands frame the face. The roots show through, nice and dark, to create a deeper look in the color.
Edgy Hairstyle with Two Tones
Punk looks like this are eternally popular. The hair is clipped short on the sides, and the dop is brushed forward over the forehead. There's a lot of volume and shine here, and the ends are nice and feathery.
Faded Curly Hairstyle
Pastel pink styles with curls always look super delicate and girly. This one is so pale that it's almost blonde, and the shine catches the light perfectly when you move your head. A nice flower crown helps complete the look, and bold makeup helps round it all out.
Long Bun with Volume
A nice, long bun along the back of the head helps keep your hair looking stylish as well as controlled. There's a lot of volume where the hair is pulled back, so it looks dynamic and glamorous. Some lighter bangs hang on each side of the face.
Messy Curly Bob
Sometimes it can be fun to keep your hair messy for fun. And pastel pink looks great with this purposefully messy style. The hair is very short and carefree, and the mussed-up curls create a volumized and fun everyday look.
Balayage with Layers
If you want a rustier tone to your tresses, then this shade on the cusp of red and pink is good. The mousy brown roots are shown in a balayage style, too.
The style has the hair falling down in curls over the shoulder. There are some layers that make it look very thick.
Two Tone Middle Split
Two tone hair looks super cute and futuristic. The style is long with full bangs, and the straight hair is simple to achieve. On one side there's a cotton candy shade, and on the other a nice shiny light brown takes over.
Two Tone Vibrant Split
Here's another two-tone look for you to consider. The pastel pink is a little more vibrant than in the style above, and the other side is a vivid yellow. The locks are cut into a bob, and there are no bangs. Overall the hair is very thick, too.
Thin Ponytail with Bangs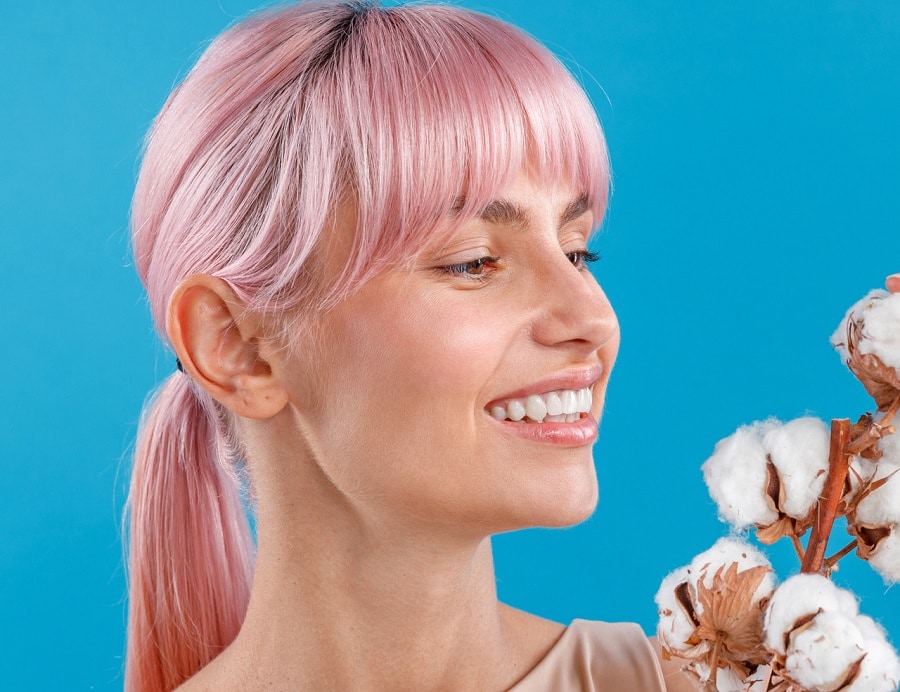 Sometimes you just want a really simple style that you can wear on a whim. This pastel pink hair is one that anyone can do and look good in. The straight tresses are pulled back into a ponytail low on the back of the head.
The drawn back locks are perfectly placed with just enough volume to look great.
Tucked Behind the Ears Bob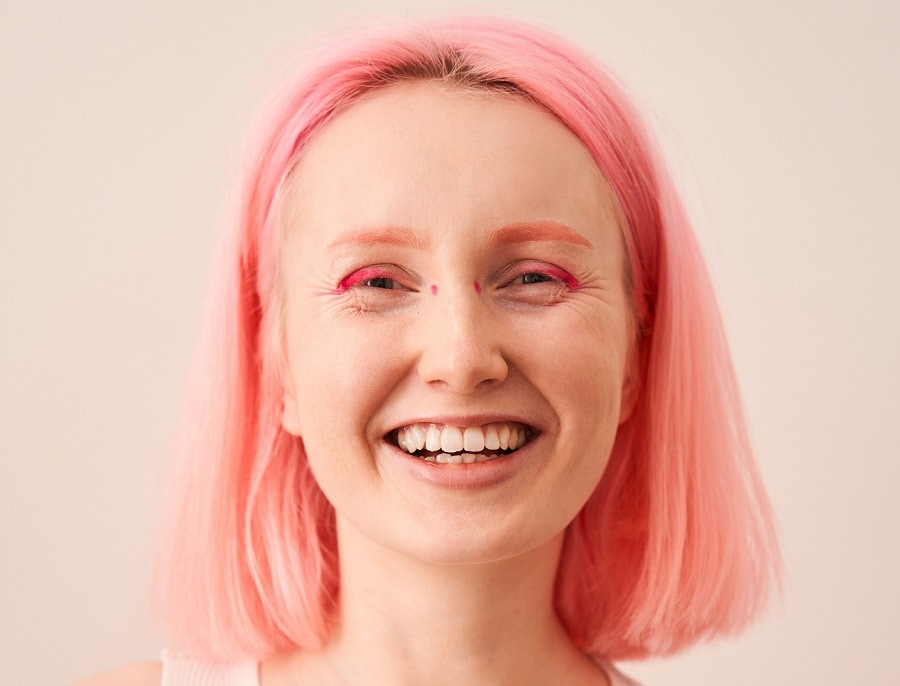 Tucking your hair behind your ears keeps it under control and out of your face. Bon-length locks also make sure you have an easy time caring for and styling your hairdo. Here the eyebrows and makeup are dyed to match the hair color.
Pink and Brown Stripes
Pastel pink looks great alone, but this looks even more vivid and dynamic as there are dark brown sections, too. It's inspired by a chunky highlights style. The tresses are very long and straight, and they're also quite thick.
Glam Wavy Bob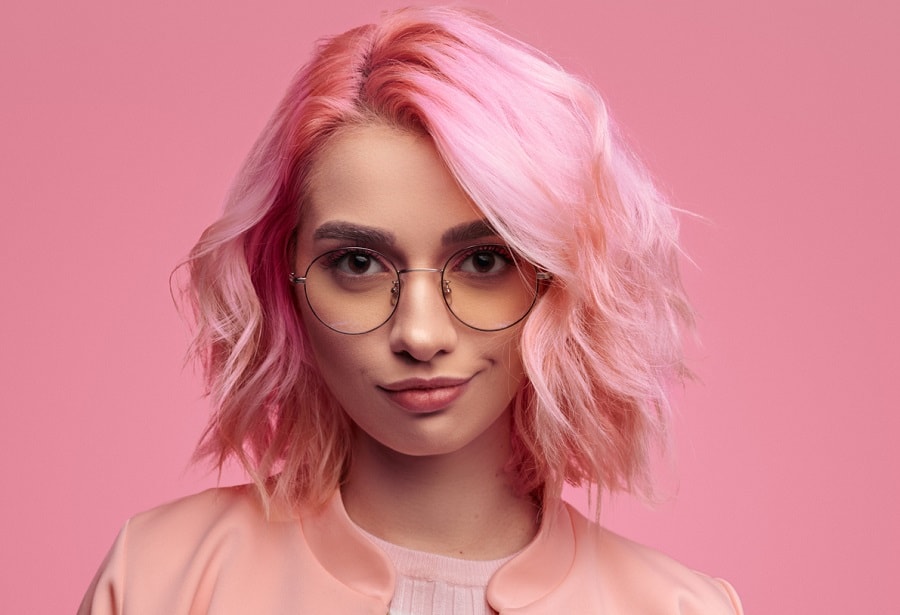 Wavy bobs somehow always manage to look glamorous. This one is parted at the side, so there's a lot of volume in it. This pastel pink locs have some layers that make the hair look very thick and feathery at the ends.
Pink Spikes with Undercut
Do you want to appear super edgy? This is a good style for you, then! The sides are shaved short and kept in their natural tone. The top is long and feathery and forms a style like a mohawk, only it's a little more relaxed.
Pixie Bob
A pixie bob is a cross between a pixie cut and a bob, and here's a great example of one. There are two shades of pink in it, one very light and the other very dark.
There's also a hint of magenta near the back. The overall choppy look makes for a very fun hairdo.
Adorable Two-Tone Braid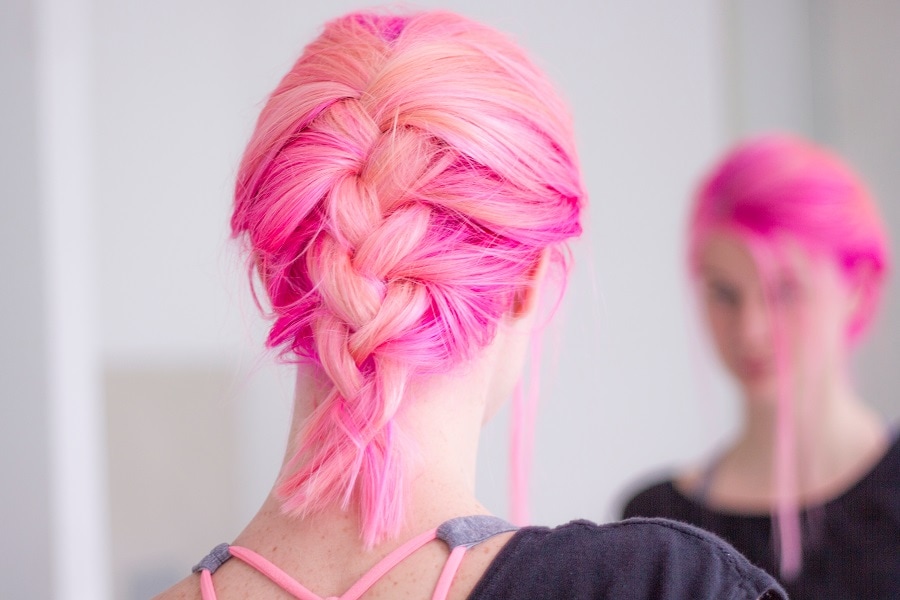 Braids are super cute, and pastel pink braids are even cuter. This one starts at the crown of the head and goes down to the nape of the neck. A long strand decorates the front of the hair.
The end of the braid isn't secured with any hair tie, making it look more unique than you'd expect.
Brown Bob with Dyed Ends
The pastel pink doesn't have to be all over your head. As you can see, it looks very good just in the ends of your hair.
This nice, simple bob creates a chic style that you'll find it easy to care for. The bangs cut bluntly across the forehead at a fashionable element.
Curly Bob with Volume
Curls have a knack for adding lots of volume to your look, but the top of this hair is also teased. That makes it look very tall and alive as the vivid color covers the hair. The curls hang down by the face and end very bluntly.
Mid Length Straight Hair with Center Parting
Center partings have become very trendy in recent years, so sometimes all you need is a mid-length cut with a middle part.
You can wear this pastel pink hair every day and achieve it with minimal styling, making it a versatile and pleasant hairdo.
Many looks with this nice shade start dark. However, the top part of the ombre hair here is blonde. The locks are then very thick and fall way down the torso, past the waist.
It's straight, so it won't be a nightmare to style at this length and thickness. There are blonde undertones underneath these tresses, too.
Simple Beach Waves
Casual hairstyles often have a mixture of waves and curls, as the hair is relaxed on one side but it has a little more styling on the other. It creates a dynamic look that appears very effortless, but it's incredibly pretty and fun.
Some dark roots showing around the front also helps add the natural and effortless vibe to this look.
Pink and Lavender with Curls
You'll mostly see pastel pink in this look, but there's purple on the underside of this. The tresses are super long and go past the waist, and the ends have delightful spiral curls in them that are very thick and bouncy.
There are tons of pastel pink hairstyles you can have fun with, and you'll find that you enjoy experimenting with a lot of them. Mermaid locks and punk styles both look excellent, and there are so many different tones to explore, too.
Visit your hairstylist with one of these pictures to make sure you get the look that you want. You'll be certain you walk out of there looking utterly fabulous with a lot of brand new confidence.