If you are bored with your natural hair color and looking for some cool ideas to color your hair, then try pastel purple hair color this time. It's funky, unique, and definitely not boring. It's the color you don't see on everyone's hair as only the creative ones pick it.
After looking at our creative list of pastel purple hair ideas, we're sure that you will think about trying it at least once. You can opt for temporary hair coloring if you aren't sure how it will look on you. Who knows, you might end up liking this color so much.
Lovely Pastel Purple Hair Color Ideas
Let's get your curiosity at rest and start exploring the styles.
Shaved Pixie
We all can agree that the pastel purple pixie is the coolest hairstyle ever made. It's a perfect fit for the summer season, and when you get sides shaved pixie, you don't have to get irritated by hair falling on your ear.
Leave the shaved part of your head in its natural color and color the remaining hair in this beautiful shade.
Straight Pastel Purple Hair
Break the stereotype that older women don't have a fashion sense by trying a pastel purple hair color.
It will blend with your white or grey hair and look so beautiful on you. You can even get a layered lob for a more modern look. Keep your hair open because it's about showing the beauty of your hair.
Curly Highlights
If you're a fan of highlighting your hair in a particular color instead of just coloring your whole hair, then try highlighting your hair in this eye-catchy color.
You can combine different shades of purple, like dark and light ones, to play with the looks. Tight and short curls will be able to define your highlights more than a straight hair look.
Grunge Hair
Show your rebellious personality just by your hair by getting a grunge hairstyle. It's a messy and untamed look that matches the color pastel purple.
You can opt for a lighter shade along with the roots and darker shades as your hair go downwards. A side-parted and tight curls will be the finishing touch.
Long Dreadlocks
It's time to get dreadlocks if you don't have natural dreadlocks. This hairstyle is a bold and perfect one to experiment with your new look.
The purple ombre will make you look like an angel dropped from heaven. Also, this color will go with your naturally black hair.
Faded Waves
Talking about pastel purple hair color, there's no need to stick to any one particular shade of this color. Instead, you should take a look at the faded version of this color.
It's so beautiful and looks more beautiful when you get your hair super wavy and smooth.
Half Braided Updo
It only looks complicated, but it's just a bunch of braids in reality. Starting from your crown area, make one three-strand braid from each side. Loosen them by pulling out the strands gently.
Do the same with the middle part of your head and the end of your hair. Next, make two flowers with the braid endings from the first two parts.
Blonde to Purple Balayage
Has the thought of mixing blonde and purple together struck your mind? It does to ours, that's why we're recommending it to you.
Try this creative look only when you have long or at least breast-length hair. The crown area of your hair should be blonde, and the ends in pastel purple balayage.
Two Tone Hair
The light shade of pink is so beautiful, and it's the same color as our chewing gums too.
Looks attractive, right? Add pink mix to your pastel purple hair color and see the magical two tone color combination. Anyone with middle-length hair is recommended to give this look a shot.
Curly Faded Purple Hair
Curls look beautiful in any form, be they Type A or Type C hair. If you have naturally curly hair, then you should color your hair in a faded purple shade.
Just have a look at the picture, and you'll love this look. You can twist your hair and half-tie it while your curls flow below.
Shag with Side Bangs
Completely transform your look by getting a shag haircut with long side bangs.
This was a badass look back in the days, and you can still kick it with your unique choice of lilac colors. It's a perfect haircut if you're part of a rock and pop band or a fan.
Balayage with Dark Roots
Balayage is supposed to be a combination of two colors, and most people usually go for colors different from their natural hair color.
You can keep the roots of your hair in your naturally darker color hair and color the remaining with pastel purple. This will create a balayage with a darker root look.
Braided Ponytail
Create the impression of a braided ponytail by tying the middle of your head in a dutch braid. Loosen the strands gently and secure them with hairspray.
For the sides, tie them in equal sections of french braids and let the braids fall down behind your ears. Tie the ends with a rubber band
Wavy Shoulder Length Hair
Short and wavy hair is the look you will never regret getting it. It's the hairstyle that makes everyone finds pleasing.
When you color your whole hair in this shade of purple, it shines through the waves of your hair. A side partition is what you need for this hairstyle.
Color Cocktail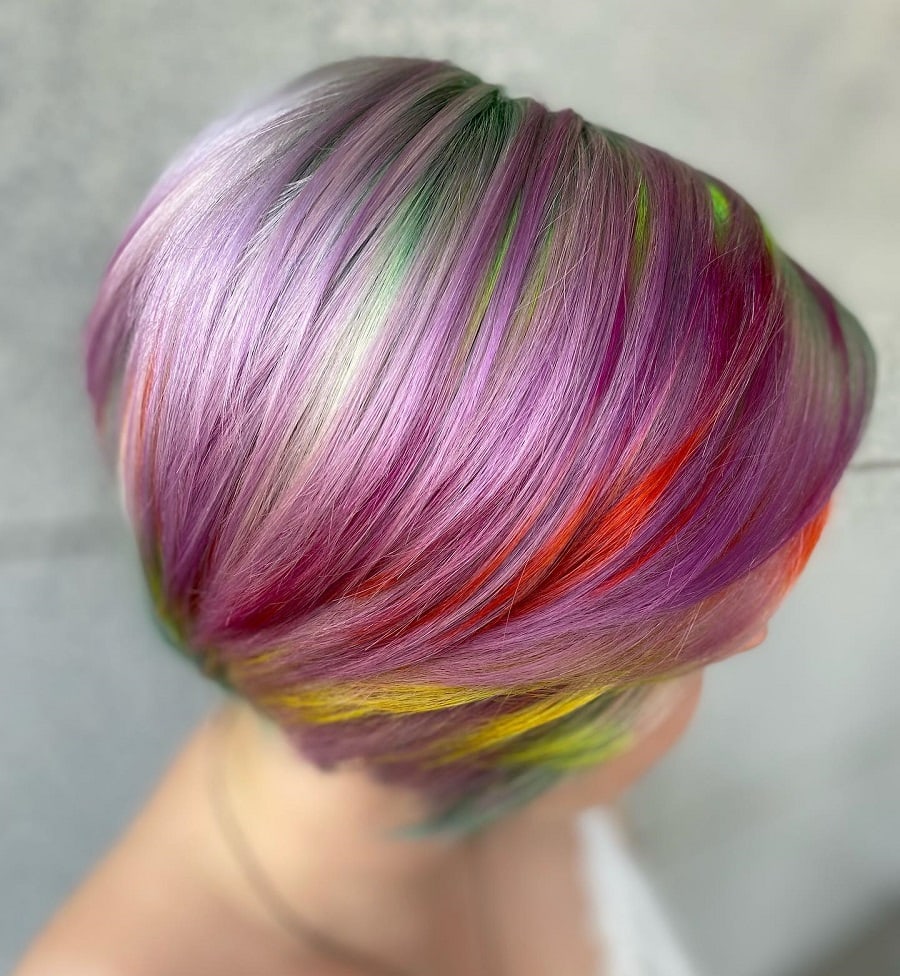 Sure pixie is cool, but do you know what is cooler? Trying a whole combination of different bright colors hiding under the pastel purple highlights.
So when you run your fingers through your straight pixie bob, a whole new set of colors will show beautifully.
Peach Infused Hair
As tasty as peach fruit is, the pastel pink color is pleasing to the eyes as well.
Apart from wearing peach-colored dresses and shoes, we ask you to try this color on your hair by mixing it with a pastel purple shade. This time make peach the head by coloring the crown of your head in this color.
Bubble Braid
It's a simple bubble braid hairstyle with a creative twist. Make a small ponytail on top of your head. Using a hair clip, set apart this ponytail and make a new ponytail.
Take the first ponytail, divide it into two parts and lift the second pony with a clip. Make a new ponytail and include the two sections of the first ponytail also. Keep repeating until you reach the end.
Sleek Pastel Hair
How can we forget straight hair, right? It's the head of all hairstyles and a top choice for many girls.
Turn your dull straight hair into something exciting by covering it in a smokey purple color. Whether long or short hair, this color will rule your straight hair and look so pretty.
Dark Shaded Ombre
When we mention pastel purple hair color, we try to say all shades of this color. Lighter shades are subtle, but the darker shades are the ones that make you look bold.
So it's time to give some color to your plain and dull long hair by coloring it in a darker shade of purple.
Split Hair Updo
As we said, we're going to mention only creative styles only, so split hair color is one of them. First, divide your hair into two equal sections and color them in two entirely different light colors.
We chose light colors because it's easy to tell that they are both present in your hair compared to darker ones.
Side Parted Wavy Hair
This is for girls who have a thin volume of hair. A bright color like purple and side-parted wavy hair will create the impression of thick hair and cover your scalp. If you have long hair, you should at least think once about getting it.
Holographic Hair
A combination of pastel purple hair color and holographic hair is the style of the day.
This look can only be tried if you have long hair because then only you will be able to see the magic of this look. You can color your hair holographically in the middle and tie it in a half-updo.
Straight Bob
This time, don't color your whole hair pastel purple. Instead, color it in layers like you get a layered haircut.
A straight bob will be the perfect haircut for this type of coloring technique as it shows the layers clearly and very beautifully. You can also get thin side bangs as a beautiful addition to the look.
Next time, we know that you will try pastel purple hair color when you go to your salon. We know how much you want a change in your fashion sense, and we're going to help you with it. That's why we made this list for you. Pick the hairstyle you want if you haven't already. We hope you like it when you get it.