Lilac is a softer, lighter, pastel shade of purple. You might have seen countless examples of lilac hair pop up on your Instagram feed. This trend is becoming more and more popular each day as more and more people and dyeing their hair this beautiful color.
There are countless ways to rock this color and we are here to show you exactly how to do that. You can go full-on or with just some highlights, dip dyes, or plain ombre. These stunning colors work their charm each time This newly added member of the ever-growing pastel family is great for fairer girls.
Trendy Lilac Hair Color Ideas
We've created the perfect list of the best lilac hair color looks to check out before your next hair color appointment.
Pinkish Hues
Lilac is a very versatile color and it works great with many different shades. But the most flattering among them is definitely pink.
These two colours when mixed together create a gorgeous appearance. These colours merge efflrtlessly together. Also, this haircolor will look great on almost all skintones.
Colorful Dreads
Who doesn't want some color in their lives? Why shouldn't you experiment with color if you're a beauty with dreads? Go ahead and get your dreadlocks colored in this gorgeous shade. Such a hairstyle can amp up any look.
Light Lilac Charm
It seems as if this dreamy and soft look has been directly taken out of a storybook. There are many ways to rock this pretty hue, which can be incredibly flattering, especially with short hair that can really give your face a nice structure.
Pastel Ombre
The key to making your hair color seem more effortless and natural is keeping the roots dark. The colored ends look edgy and bold. This look is absolutely perfect for teenagers.
Light Pastel Hair
This pastel shade is pretty and feminine, perfect for fairer skin tones. The hairstyle is very easy to carry because of this soft hair color. This lilac hair color is ideal for naturally blonde girls because this color is going to enhance their best features.
Beautiful Prom Updo
Even though platinum hair is high maintenance and expensive, but the end results are worth all the trouble you take for them.
What better shade to pair with your platinum blonde than a light lilac. This icy tones lilac is going to create an interesting contrast for any prom party.
Mermaid Hues
The magical thing about lilac is that you can pair it with almost any color and it will work fabulously and shine through.
This combination is great for anyone looking to experiment a bit with their hair. Unleash the mermaid within you and embrace this stunning hair color.
Short Lilac Hair
This might be the perfect option for anyone who's looking to experiment with hair color without it being too dramatic. Some highlights here and there, give the perfect appearance of color peeping through. This will go perfectly with super short hair.
Pretty Lilac Highlights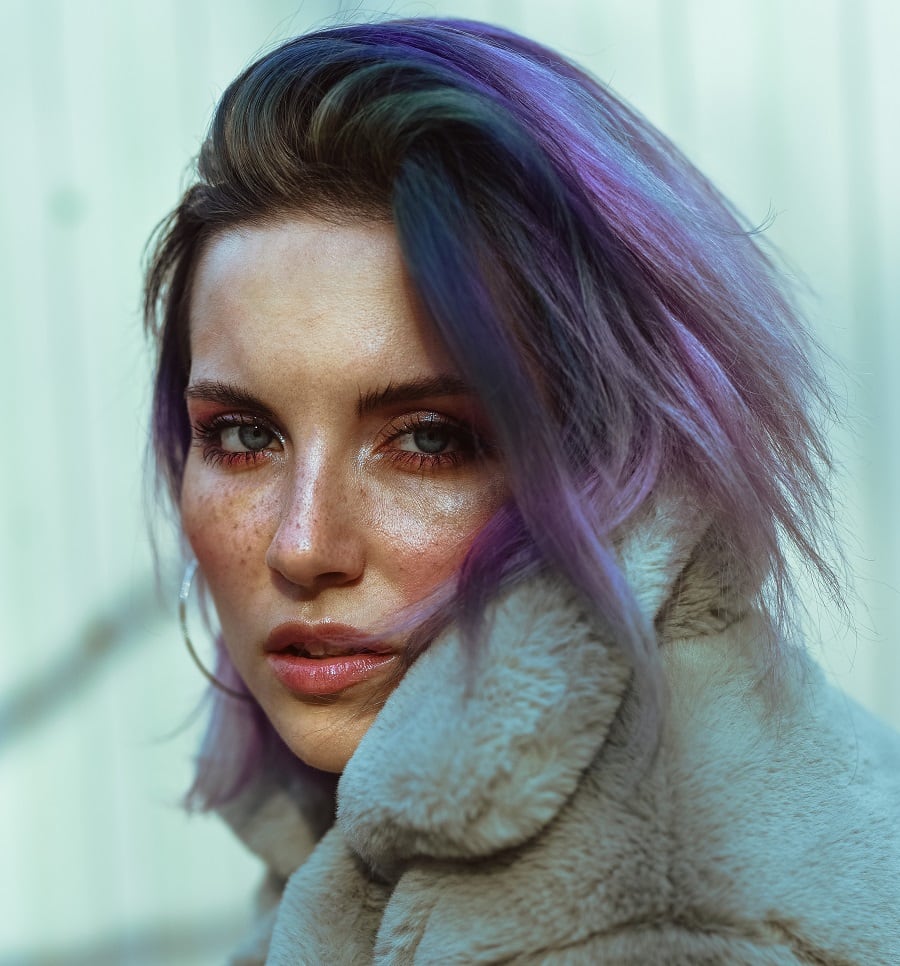 If you want something to spice up your look and you aren't looking to color all your hair then some highlights are going to do the trick for you. Who doesn't love a little bit of drama? These highlights add the right amount of drama to your hair.
Muted Lob with Bangs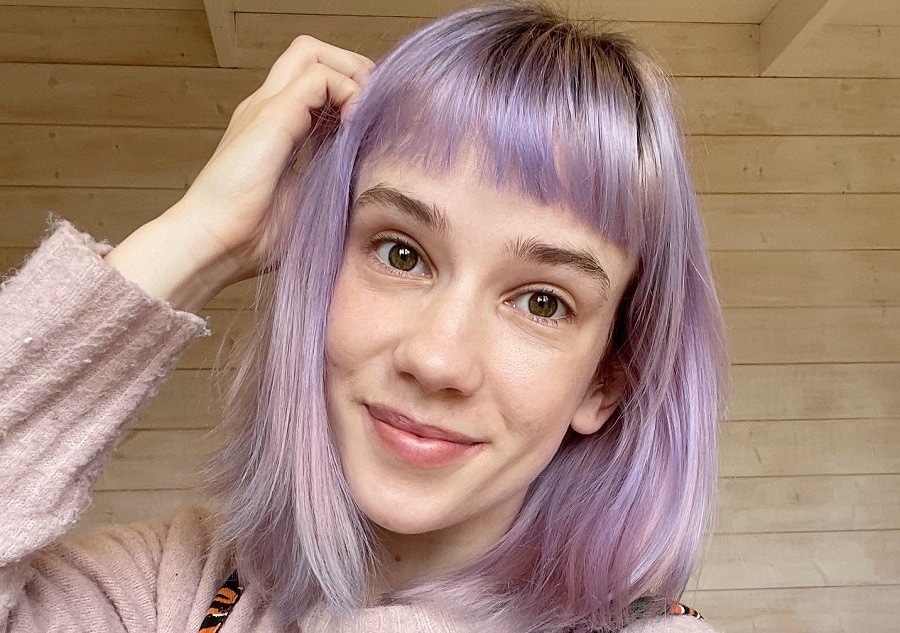 If you want a versatile haircolor that is easier to wear then this muted color is the right one for you.The cooler tones make the whole look seem more sophisticated. It also has a more mature feel, as the color is not as bright and girly.
Bold Ombre Braided Updo
Who doesn't love a nice ombre? These violet tones that merge with lilac create the season's perfect ombre.
Combining several shades of violet also serves another great purpose. It prolongs the longevity of your hair color. The lilac hair color will fade slowly hence preserving the charm of the look.
Metallic Lilac Ombre
If you want to flaunt shiny hair then go for this beautiful metallic ombre hair color. It starts off as a deep purple shade at the crown of the head and then slowly fades into lighter shades of purple and lavender. The shine on this hairstyle takes it up a notch.
Silver Balayage
Balayage makes you look like you're back from a vacation and ready to rock the world. And if you want a balayage that people will remember for years then this is the right one for you. These shades together give us Disney vibes.
Gray Lilac Hues
When you mix gray and lilac you get this dimensional grey lilac hair color. Such a combination adds depth and character to an otherwise boring look. You can achieve better results if you add some light wavy curls. This hair color would best suit women with a lighter complexion.
Keep It Natural
This gorgeous faded shade reminds us of summer and everything related to it. It's such a breath of fresh air that wearing this color is automatically going to improve your mood. For a lighter spirit and a carefree summer get your hair colored in this gorgeous shade.
These lilac colors promise to set the right mood for you the entire summer and be with you at the start of spring. We're sure that you now have plenty of inspiration for your next visit to the salon. Just be sure to convey to your hairdresser exactly what you need, maybe show them one of these pictures.