Love experimenting with new hues? Well, this time, try these cool metallic hair color ideas and get compliments from everyone. From teens to older women, all love to be in trend with the latest fashion. This whole art of dying hair had its famed milestone in 2013.
Despite all controversies about dyeing your hair, you should try these glossy metallics at least once. They have a wide range of options, from a solid electric attention-grabbing to a soft subtle, naturally warm metallic hair color.
You can also try experimenting with a mix of two or more shades to get an exciting hue. Many celebrities like Doja Cat, Kylie Jenner, and Halsey nailed these trends back then.
Get Inspired By These Metallic Hair Colors
We have made you a style inspiration list of metallic hair to pick from!
Icy Lilac Lob
No doubt, lilac is the most lively color ever. They can match your precious prom gown outfits to basic street style fashion.
It can even be a great match for your lazy pajama nights on weekends to enjoy with your friends. Girls with lob cuts can hit this look with some metallic candy lilac to get an icy look.
Long Lustrous Waves
Pink!pink!pink! Pink is like the new blonde. Light shades of pink with warm highlights are the prettiest trend now. Girls can rock this look with some taffy pink shade to get a bomb pink hair color to flex.
Sheer Platinum Pixie
Platinum pixie cuts are a big-time trend. Celebs were seen walking down the red carpets with dazzling metallic hair color. Girls looking to complement their basic aesthetic style can opt for this style.
Razored Space Blue
Try some funky blue hair color to beat that Monday blues. Razored bob with a space blue hue gives you everything to get a fresh start after a fussy weekend.
Blue has a generous amount of beauty to lift your mood or outfit. Simply side swept your hair to one side, and you are ready to roll.
Crystal Pink Blonde Ombre
Hello blondies, thinking about dyeing your hair but worried it might damage the roots?? If that is the case, you should consider this pink blonde ombre.
Leaving your natural blonde roots to create a crystal pink ombre. One of the cutest metallic hair color ideas for youngsters.
Metallic Balayage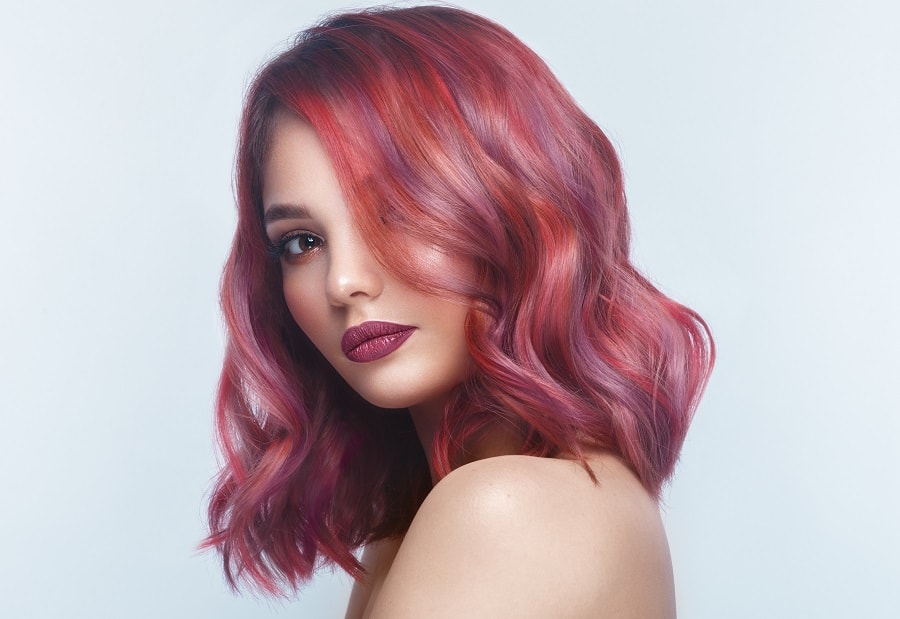 To all the brunette girls out there, here is something that you can surely love to try this year. Of course, we know your hair itself is just dreamy enough to stare at, but make it more alluring.
To make it more stare-worthy, go for a mix of red, orange, violet, and burgundy balayage. You will surely make everyone else jealous with your look.
Electric Purple
Yo, k – pop and k – drama fans, let's dye our hair with this electric purple hue. Another stunning hair color idea to stan your favorite band or a binge-watch date with your girl bestie.
Let's grab all the attention we can bag with this flashy hairdo. After coloring, just messily tie your hair at the back.
Periwinkle Rose Updo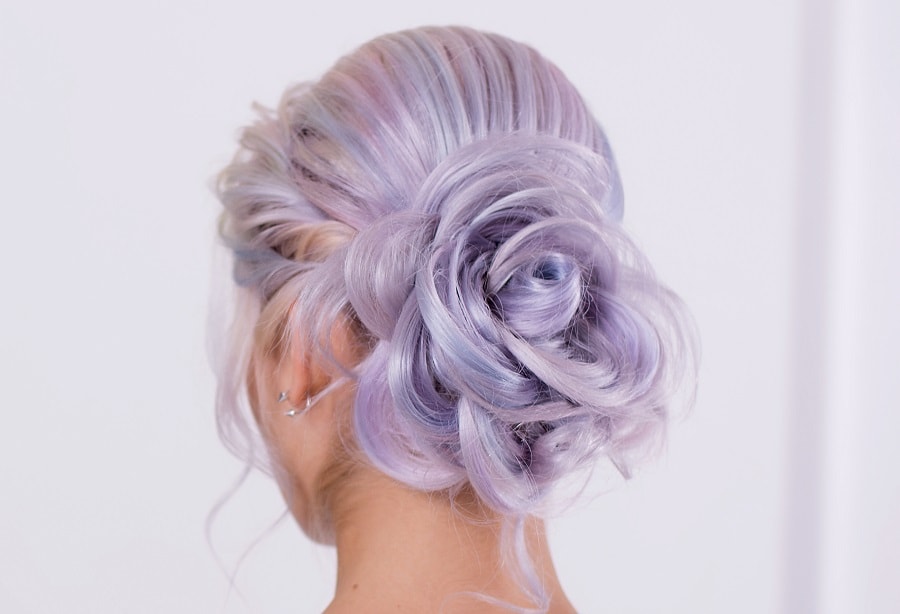 Awe! Seeing this might feel like just running to a wedding altar. And surely these colors are melting into your soul!
A classic silver-blonde with metallic periwinkle highlights looks awesome. What else do you need to smash that wedding look?
Old Fangled Wavy Bob
Vintage never steps out of fashion. So a wavy bob with some toffee and brown highlights will get you back to the black and white era. It can actually blend into any time period without leaving any crumbs behind.
Flamingo Pink Curls
Feeling little adventurers? Why not style your hair with some glossy metalic curly locks. Don't worry; it won't be that flashy.
Although the look will suit your face and compliment your skin tone. Go for flamingo pink with some candy pink highlights, and you are set for the day.
Tangerine Pink Updo
Tangerine lovers, the sky is pink, and you must think of dyeing your hair pink and orange this summer! Those gradient curls turned into an updo is a top-notch style to style your lustrous gradient curls.
Midnight Purple Short Bob
Evenly dyed light wavy bob with some metallic midnight purple is a go-to E-girl style. However, completely dyed hair is a sign of perfection; this style simply blends with your look and ace your outfit.
Artistic Metallics
Attention all artists, it's not only a plain canvas that needs a glow-up with some colorful paint on it; your hair does too. Adding color to your hair is just magnificent. It makes you look like you are just out of a fantasy story.
A soothing metallic hair color idea for brunettes and dark-haired ones. You can try balayage with some purple, plum, and rusty red shades you desire.
Keep the hair open and add some waves to it. It will clearly show the color combination and make you look marvelous.
Wavy Dual Locs
Fascinated with mermaids and all those fantasy hairstyles?? Then you might love this combo of two hues perfectly blended into a base blonde bob.
Keep the roots blonde, baby pink, and the ends blue. You will start with two colors, but with a little experimenting, it gives you tri-color output.
Sleek Purple Mauve
Naturally, pin-straight hair does not look that great if kept open for longer. So if you have thin straight hair, go for this hair color idea and get a fabulous makeover.
Purple mauve makes your long pin-straight locks look hot without any styling. Just go for a slight side parting and let the hair fall on half of your face.
Asymmetrical Pixie Bob
An asymmetrical bob with an emo-long fringe makes you look like a rockstar. To add some beat and tune, add metallic silver with dark hues. And voila, your rockstar look is ready.
Pastel Fantasy
We live in a generation where people prefer pastel hues. So if you want to try it, go for this aqua blue hue.
It is the best start to your hair dyeing journey. Your simple thin hair will get the glamour and charm they need with this hue.
Elegant Rose Gold
Uhh… There it is, another hyped-up color of the decade, a perfect blend of pink and gold-rose gold. The color itself is mesmerizing, add some waves to it, and you are done. The style looks great on all hair lengths.
Basic Bronze Waves
Brown with a touch of golden at the ends is all we can say about this flashy hair color. The ombre gives a subtle look to your medium-length curls.
Shiny Graphite Locs
A perfect metallic hair color idea to add some spice to your dull silver hair. Dye your locs with a silvery graphite hue and give your hair a more detailed dramatic look.
A classic look suitable for daily to occasional styling. It even creates an illusion of thicker hair.
Ladies, we hope you love our metallic hair color ideas and are ready to try them as soon as possible. You can pair it with any outfit and glam it with metallic nails and shimmery makeup.
Wear them to your casual outings, dinner nights, or even special occasions, and get ready to stun everyone. Share the list with your gal pals and enjoy a great hair day.