Sometimes girls get their hair colored in excitement but don't know how to style them. If you belong to this category and have violet hair color, we've some pretty amazing hairstyling ideas. This shade is so beautiful that you can't stop yourself from getting it for your hair.
Whether you're already a proud owner of this hair shade or want to get one, these 18 ideas will get you going both ways. First, get this year's compliments on your side by styling your hair the beautiful way. Then, take some risk and give your hair the makeover it needs.
Want a Unique Look? Try These Stunning Violet Hair Color Ideas
If you love to live in the freshness, you should go for these trendy violet hair colors to transform your look in 2023.
Bob with Blunt Bangs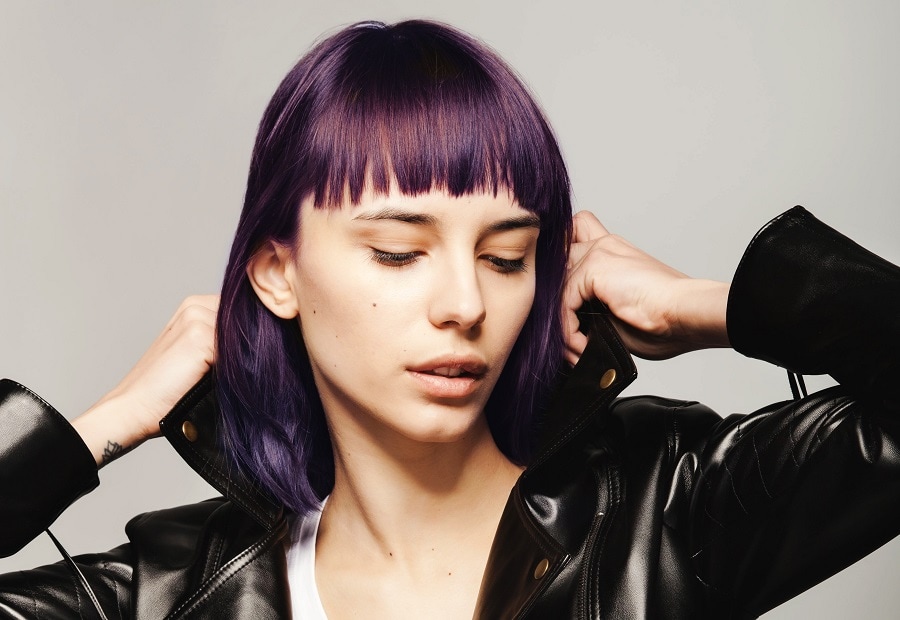 This beautiful color has many shades, from light to dark. If you're looking for a bold hairdo, get a darker shade of violet for your hair.
Go to the salon and get a bob haircut with blunt bangs also. It'll make you look super cool and bold while maintaining the style.
Layered Chin-Length Bob
Colored hair helps to bring some texture to your hair, especially when it's straight. A layered and angular bob will be the perfect hairstyle for your shaded hair.
Your look will be a fusion of beautiful and bold with a layered bob hairdo. This hairdo demands a big photoshoot so give it that too.
Pastel Hues for Straight Hair
It's possible to like two different hair shades at a time and has the desire to get them both. Fulfill this desire by getting two-tone hair.
Blue will match violet hair color wonderfully. Having long hair will actually give this hairdo a perfect look. Let your hair flow in these beautiful shades.
Short Curly Hair
Excited about going to a party with your friends? Double this excitement by perfectly styling your hair.
First, change the texture of your short hair by curling them in tight curls. Though your hair will look shorter, it will suit your face very much. Curls look very classy and stylish.
Side Swept Long Hair
Give your long hair a change by getting it in violet hair color. This shade will work wonders for girls with thin hair by bringing depth to their hair.
Side part your hair with your hand and your hairstyle are ready. It's a great look for any event, whether casual or formal.
Androgynous Haircut
Can't manage long hair properly? Relax, a better hairstyle for you is very easy to manage and looks very dope.
The androgynous haircut is the perfect look to give your hair this year. Plus, the bright shade of violet will make you look double dope.
Lilac Hair
Lilac is a lovely shade that makes long hair look wonderful. Bring some style to your hair by curling them in vintage curls. Regardless of their skin tone, all girls can pull off this look in style. Side part your hair to show off the vintage curls clearly.
Curly Balayage Hair
Some of you may not want a violet hair color as a whole but want it slightly on your hair. The solution is simple, just get a balayage on your hair.
Make loose curls on your hair and run your fingers through them. This will create a messy look, and it's great for club parties.
Peekaboo Hair
Peekaboo hair lets you fulfill your wish of coloring your hair while keeping your natural shade too. This beautiful shade will match your black hair shade also.
Just keep all of your hair on the front if you're meeting someone so that they can see the new hairstyle you just got.
Half Braided Hairdo
Flaunt the beautiful hair shade you just got with a half-braided hairdo. Then, just make a tiny fishtail braid on your wavy hair. We're sure you'll look very cute with this hairdo. It's an adorable hairstyle to make on alternate days.
Straight Balayage Hair
Straight hair can sometimes look very elegant and over the style bar. You'll make your desired hairdo without overdoing the look. Plus, the light violet hair color will make the crimped hair look light too. Allow your hair to be loose and in a center partition.
Short Bowl Cut
Don't worry if you don't know what to do with your voluminous hair? It's very simple; just get a short bowl haircut.
It'll frame your forehead and ears beautifully. Try getting such a haircut in winters or spring season as summers can cause you to sweat a lot.
Curly Pinkish Ends
Here's another party look for you. Parties require you to be extravagant, so why not be it. Curly ends will look very beautiful and give extra bounce because of the different hair shades.
Just remember to spray your curls before leaving the house so that they stay throughout the party.
Face Framing Blonde Highlights
No, violet hair color will not be the face-framing highlights though it will be the main character here.
However, white face-framing highlights will look very unique and gorgeous on wavy hair. Plus, the fusion of light and dark shades is just pleasing to watch.
Side Swept Curly Bangs
Yes, sweety, bangs can be curly too and still look fabulous. Make some changes to your regular long side bangs and curl their ends. They'll look gorgeous, and your bright hair shade will be responsible for that too.
Yellow-Teal Highlights
Yes, yellow highlights are for real. If this surprised you, that's something you should consider for your hair. Yellow highlights will beautifully contrast your violet hair color. At least get yellow highlights temporarily for once.
Wavy Neck Length Bob
Enter your workplace in style with a wavy bob hairstyle. Of course, it's nothing; just your regular bob curled into tight waves. This hair shade will make your wavy bob look wonderful—a beautiful and stylish hairstyle for dancers and painters.
Straight Blunt Cut
Straight hair supremacy can never be ignored. They fit every occasion, hair shade, length, etc. So try pairing this bright shade with straight hair for your office look.
You are going to look very classy in this hairstyle. So try this look for your next meeting with the boss itself and impress them.
We have listed different ways to style your violet-colored hair beautifully. So, let your hair speak for you whenever you go out with these cool hairdos. Bring out the hairstylist in you and go for the one which inspires you the most.
You can even inspire the girls of your locality or workplace to get the same hair shade. Once you try any of the above amazing hairstyles, you'll become the fashionista of your group. Social media influencers can get many likes and comments with their new hairdos' posts.