Winter is only a few months away now, which means we have to get a headstart planning our beauty and hairstyling looks that we wish to indulge in. Since winter is also the holiday season when we ring in the festivities, it's vital to have hair color ideas on our inspiration list that can rise to the glamour of the occasion.
Only when we know the overall vibe of the winter hair colors this season can we opt for the prettiest tones and hues to dye our mane.
Unforgettable Hair Color Ideas for Winter
Keep scrolling to find our curated list of the best winter hair color ideas that you need in your life.
1. Wavy Brunette Style
An improved version of the good old brunette will be on the trending list of winter hair color ideas.
The medium golden brown color with darker roots is sure to make a chic statement. We can spot some light auburn highlights towards the wavy ends of this middle parting style.
2. Icy Lilac Hair
The tides have turned, and people have gone from requesting warm hues in the winter months to icy tones such as this subtle lilac hue.
Usually, this winter hair color idea would work best on a bleached white blonde base, but this look can be achieved with the correct maintenance.
3. White Blonde Bob
Break the misconception that bleached blonde hair is dull and boring. This bleached color with very light yellow tones makes for an ideal winter hair color idea that you can experiment with later.
The choppy bob cut with an asymmetrical shape is a great hairstyle to help you transition to this creamy blonde hue.
4. Messy Bronde
If you constantly find yourself struggling to pick between brown and blonde tones, this stylish bronde color will be your way out with the best of both worlds.
The ashy caramel roots blended with the light blonde highlights create a stunning winter hair color idea. All the messiness of this middle-parting hairdo infuses the style with extra texture.
5. Honey Blonde Straight Hair
This honey blonde hue is an ideal winter hair color idea for bringing out softness and femininity in your facial features.
This long hairstyle's natural shininess and radiance will make it a hot favorite this winter season. You can ask your stylist to cut some shorter layers in the front for added dimension to this hairdo.
6. Dark Golden Brown Bangs
Have your it-girl moment in the spotlight with this rich golden brown winter hair color idea.
The darker and lighter tonal variations of this golden brown hue throughout the lengthy locks make for a strong impact. For a more fun vibe, you can opt for some full-block bangs that reach your eyes.
7. Vibrant Purple
You should make a bold statement with this bright violet winter hair color idea for all the upcoming parties and events.
The voluminous edge and loose curls in this mid-length hairstyle created through intelligent blow drying increase the drama of the look.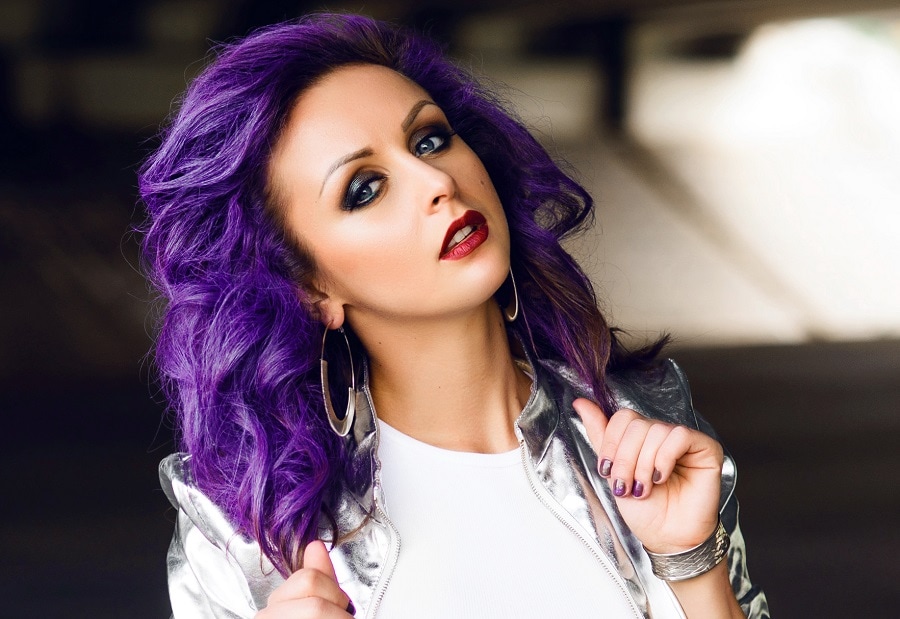 8. Burgundy Afro
Are you debating whether to go on the red hair color bandwagon or not? This medium burgundy hue is a terrific way to ease yourself into the world of red winter hair color ideas.
This afro hairstyle is full of tightly curled mini ringlets that elevate the burgundy hue with defined red undertones.
9. Mermaid Blue
When it comes to winter hair color ideas, the electric mermaid blue tone is what everyone is predicted to be obsessed about.
The side-parting reveals the mermaid blue's faded version, which appears to be a light and dreamy teal color.
10. Graduated Blonde Bob
If you always find yourself drawn to sophisticated and poised short styles, you can choose to go with this intense graduated bob cut.
We see that the blonde tones in this hairdo lean more towards the platinum gray end of the spectrum. The platinum blonde tone is one of the chicest winter hair color ideas.
11. Long Ginger Hair
This ginger hair color has the potential to become the winter color this year.
If your skin color is more on the pale side, the ginger will genuinely flatter your peaches and cream complexion with contrasting warmth. Also, the sunlight reflects off this warm hue for a golden outcome.
12. Pink Short Bob
It is always great to explore and have fun with your coloring options when the temperature drops!
This bubblegum pink proves to be an energetic and brave winter hair color idea for all the ladies and women out there—the variations of pink look quite refreshing on the side-part cropped bob.
13. Tonal Variation Layers
If you desire a unique look in the winter, this three-tier blonde and brown tonal blending are calling out your name.
This colored layer hairdo is all that you need to stand out wherever you go. It's an advantage that this color will suit almost every skin tone.
14. Loose Bedecked Braid with Low Bun
Choose a loose bedecked braid with a low bun if you love colorful hairstyles. You should give your hair a mixture of purple and grey color. Move on and divide your hair into numerous sections. There is no limit on the sections to form on the head.
It all depends on the size of each section. Use a curling iron to give your hair a unique and good-looking design. Take a section of your right sideways hair and plait it. You can choose the size of braids to form on your head. Sleek your hair towards the back to form a low bun.
15. Side Swept Bangs
Side swept bangs hairstyle focuses its attention on your sideways hair. Therefore, your hair should be combed straight on either the right or left side of the head. Hair on the back of the head should be combed straight.
Use a curling iron to give your hair curls throughout the head. This is what gives this amazing hairstyle a unique look. Your hair should also attain a mixture of black and blonde colors. Trim the edges of your hair to become uniform and look neat. Side swept bangs hairstyle suits both informal and formal occasions.
16. Easy Auburn Waves
Just like the name, this is an easy-to-design hairstyle. This hairstyle is characterized by your entire hair attaining a blonde look. Divide your entire hair into two sections using a comb.
One section should be directed towards the right side and the other on the left side of the head. Move on and use a curling iron to form curls throughout the head.
Hair on the right side of the head should be directed behind your right ear. Comb hair on the left side of the head straight. Easy curls hairstyle suits both informal and formal hairstyles.
17. Windswept Hairstyle
Look no further if you desire a hairstyle that can be customized for both formal and informal functions. Check out the windswept hairstyle. A black look on your head characterizes this glamorous hairstyle.
However, traces of blonde color should be visible at some point on your head. Divide your hair into sections throughout the head before forming curls. Move on and direct all your hair straight towards the back of the head. Take a comb and direct all your hair straight towards the back. You can use bobby pins to come up with other hairstyles.
18. Silky Balayage
This is one of the most glamorous hairstyles on this list. The layered look, throughout the head, makes this hairstyle stand out. A section on your head should attain a black look and the rest either grey or blonde color.
Direct all your hair straight towards the back of the head. Use a comb or a blow dry to attain a fine texture. Proceed and form a layered look on your entire head. Choose a point on your head to start forming curls. Curls should extend up to the end of your hair strands.
19. Perfect Classical Hairstyle
As the name suggests, this is the simplest hairstyle on this list. In fact, you can design it on your own. You need a blow dry, comb, and curling iron, among others. Use a blow dry to enhance the texture and looks of your hair.
Move on and draw a line at some point on your mid-head. This line sets a boundary on the direction a section of your front view hair should rest facing. It can be either on the right or left side of the head. Try out this amazing hairstyle.
20. Voluminous Loose Waves
You will need the help of an experienced and skilled stylist if you desire an amazing look. You can either use a blend of black, brown or blonde colors on your head. Your front view hair should lay on either the right or left side of the head.
The position of hair on the head also influences the direction your hair should rest facing. Form both a layered look throughout the head before choosing the size of curls to form on the head. Ensure your curls stretch up to the edges of your hair strand.
21. Colored Lob
The purple or dark red color will do when designing this hairstyle. You will need a curling iron, comb, and a pair of scissors. Take your comb and draw a line on your mid-head. Consequently, use your comb to get rid of tangles on your head.
Create numerous sections throughout your hair. It is up to you to choose the size of each hair section. Use your curling iron to form curls on your head. Take your scissors and trim the edges of your hair to attain a uniform look.
22. Driftwood Shaggy
Driftwood shag hairstyle guarantees you uniqueness whenever you step out. This hairstyle can be attained on both hair extensions and your natural hair. A fraction of your hair should be black in color and the rest blonde.
Give your entire hair a layered look after which it should be directed straight towards the back. Both a layered and curly look is the easiest way of attaining a shaggy look.
A shag look makes hairstyles suitable for only informal occasions. That's not all; the mixed color on your head makes this hairstyle blend with whichever outfit you choose.
23. Thin Silky Hairstyle
Finally, we have the thin silky hairstyle. This glamorous hairstyle focuses on giving your hair a grey look. Proceed and comb your right sideways hair, hair on the back, and left sideways hair straight towards their natural growing direction.
Conjoin both your fringe and mid head hair before conjoining it with your sideways hair. It can be either the right or left side of the head. Form uniform curls on both sides of the head and on hair on the back of the head.
Go through the entire list before making any choice on the hairstyles to choose.