You should not compromise with the styles when it comes to your hair. If you're looking forward to coloring your hair, we'll like to recommend teal hair color. It's a very unique color, and not everyone decides to go for it.
Stand out from the crowd by opting for this bright shade. We've got many teal hair color ideas too on how you can style this awesome hair shade.
We've everything your hair needs to look gorgeous, from haircuts to hair styling. Each idea will make you wonder why you didn't get this creative idea.
Unusual Teal Hair Color Ideas
Let's dive right into the pool of styles curated just for you, lovely girls.
Asymmetrical Pixie
This bluish-green color looks absolutely unreal to us. But it's so beautiful that you can't stop thinking about it once you see it.
Why not get this shade on your naturally dark hair too? Don't worry about the haircut; an asymmetrical pixie will be perfect for the look.
Color Fusion
If you like to have bright colors around you, you should try this color fusion for your hair. A combination of yellow, pink, and teal color looks majestic on long hair.
What brings finishing touch to this look is the bouncy curls flowing down. So let your hair flow in this magical fusion.
Blunt Pixie
Remember Katie Perry's blunt pixie haircut? It looked so cool, right? Well, you can get it too.
A nice teal hair color will add to the bluntness of this look. This style is especially for older women as their faces need something bold to rock the day. Keep hair accessories zero.
Half Up Bun
Teal has many beautiful shades, especially the darker ones that look very gorgeous. If your hair is thin, it needs some volume, even if it's just an illusion.
Make a half-up bun to bring class to the look. Use a beautiful hair stick to hold your bun.
Half Space Buns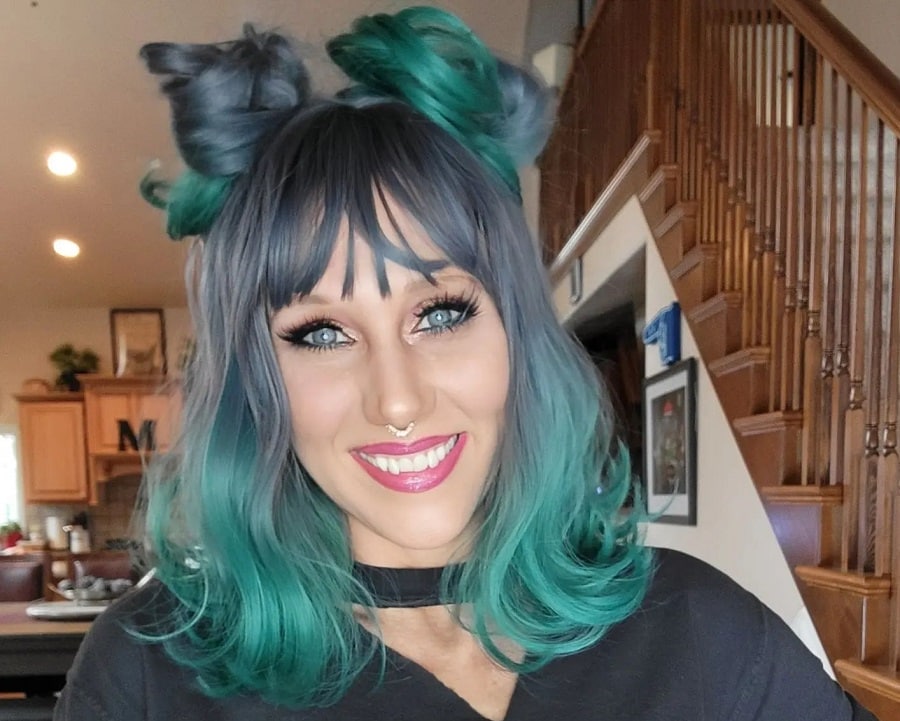 If you're going to a theme party of anime, you should try this combination. It brings that animated look you see in animes.
The half-space buns will add to your animated look. Keep your makeup as per the theme too. This hairdo will make you the center of attention at the party.
Dreadlock Ponytail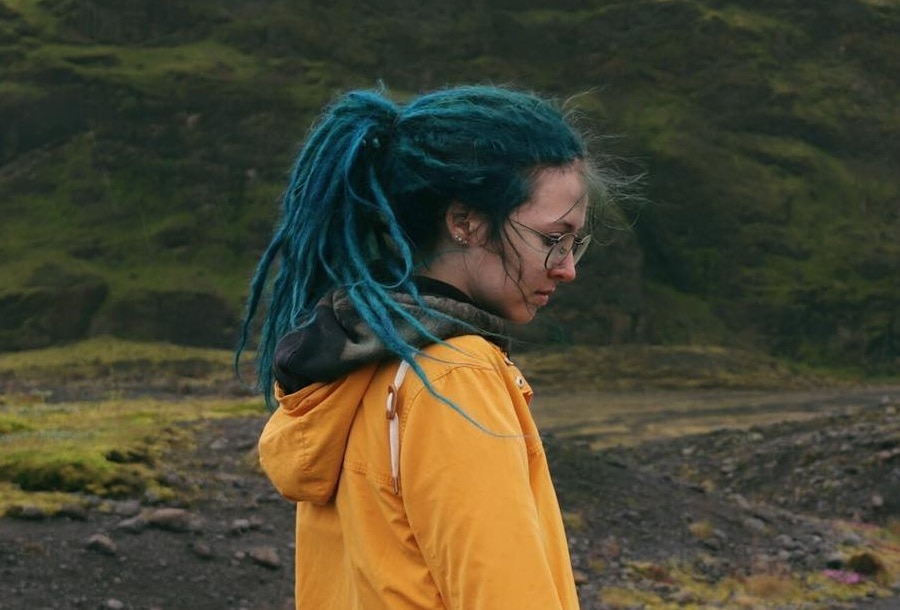 We find dreadlocks very cool on a personal level. So get dreadlocks extensions that are in this beautiful bluish-green shade.
Tie a ponytail if the place you're visiting is very windy. This is a very simple look, so no makeup will be much better.
Half Up Braided Hairdo
Yes, we're talking about triple braids here. But before getting to the styling part, you should know what shade to put on your hair.
The purple shade matches beautifully with the teal hair color. So half of your braids will be in purple while half in sea green.
Teal Highlights with Tight Curls
There's no such compulsion to get all your hair in teal hair color. You can get them highlighted too in this beautiful shade if you find it gorgeous.
Sea green highlights on brown hair work in contrast. Two completely different shades combined into one, it's surely magic to watch.
Messy Knotted Low Bun
If you're going to the wedding of one of your rock band members, you've got to make this hairdo. The funky shade of sea green with purple shows that you rock at weddings.
Make a messy low bun to get a decent look. Then, tell your bridesmaids to get their hair colored in this shade at your wedding.
Curly Ombre Bob
Ombre goes lighter to darker, but here in this style, it goes lighter to brighter. This shade is very bright and suits young faces.
Don't worry about the texture of your hair; make inward curls using a curling iron. This is a must-try hairdo for artists.
Micro Braids with Beads
When you have the gift of long hair, you should admire it. Keeping them braided not only protects them but also looks very beautiful.
Plus, the teal hair color makes them look double beautiful. You can try micro braids for your long hair. It's simple to make and looks very beautiful.
Two Tone Bubbly Braid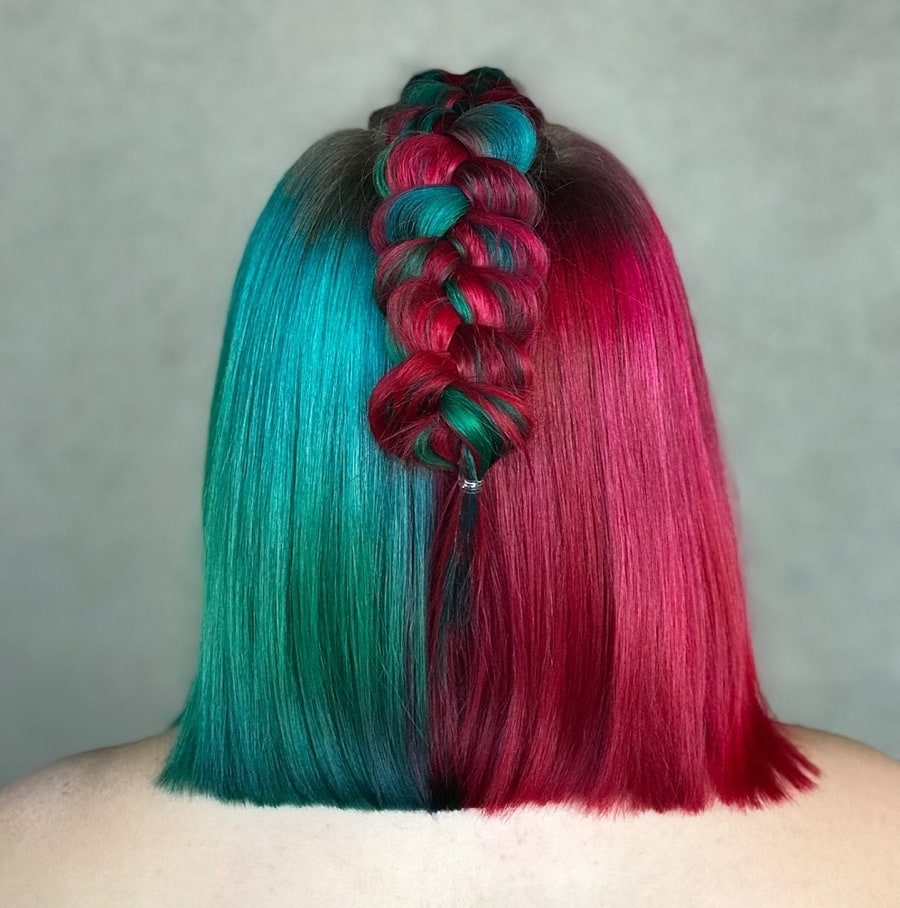 Ever wondered how the combination of two bright shades will look? A fusion of dark pink color and sea green looks like a packet of color burst on your hair.
Make a fluffy three-strand braid to get these two shades into one. You can choose to keep the roots of your hair in their natural color.
Messy and Wavy Lob
If you don't like spending too much time styling your hair, a lob haircut is perfect for you. You just have to run your fingers through it, and you get a messy look.
Curtain bangs will look very beautiful on you. Make some efforts to get your hair wavy for the day at least.
Messy Ocean Curls
Going to the beach and looking for a beach look? These messy curls are the perfect look for the beach. Plus, the teal green shade matches the sea. Get your hair side-parted and let them flow with the air.
Anime Pigtails with Blunt Bangs
Go for hairstyles that enhance your teal hair color. For example, take this hairdo; look how gorgeous these pigtails look in this shade.
You should give a shot to this hairdo if you're obsessed with how girls look in an anime. Blunt bangs with a pinch of blue will look stunning.
If this is your first time trying teal hair color, you're surely going to love it once you get it. First, get this stunning shade on your hair using any of the above styles. Then, pick the one that makes your heart go crazy.
Having a bright hair shade shows that you've got a jolly personality. We guarantee you that these styles look gorgeous if you follow our tips. Don't settle for less; go for the best. People are surely going to notice you when you walk down the road.