If there is any hair color that fits right into any season or occasion, it is bronde. Bronde hair color combines blonde and brown, giving you an impressive look. Supermodels like Lilly Depp and Gigi Hadid gave major style inspiration with this hue.
Bronde hair color is a perfect mixture of warm tones for summer and dark tones for winter; basically, they are just perfect. If you are confused about picking blonde or brown, we suggest you go for a bronde, which looks alluring with dyeing techniques like ombre or balayage.
Stunning Bronde Hair Colors for You
We have got you a few multi-toned variations of bronde; read on to find out how you can style your hair flawlessly.
Easy Sassy Balayage
Pull this warm sun bronde and caramel balayage effortlessly. The roots are kept dark to create depth, and the lighter shade highlights are cleanly painted for a sunkissed look.
The variation of colors near the roots, a blend of mocha and deep brown, looks so pleasing.
Bronde Straight Hair
Girls looking to upgrade their sleek straight hair can try some bronde hair color. Go for warm undertones to get an illusion of voluminous hair.
It will even make your fine-textured straight hair look more attractive and not flat at all.
Espresso Pixie
Espresso hues on short hair create a creamy texture look with bold blonde highlights. They look even more creamy when you go out in the sun.
So if you love to carry short hair and want to add some drama to it, go for this look. It doesn't require much care and always blends well will all outfits.
Caramel Curls
Curly heads, why not try some caramel curls for this spring? Going for an ombre look is just fascinating.
Keep the roots dark and the rest light as you move towards the ends, giving you a subtle look. It's a must-try on our list for the lovely girls with curls.
Ash Chocolaty Long Locs
Look how beautiful this style is; super dark roots are the prime point. Dark ash roots are complemented with wide framing and edge highlights.
We would say this could be a simple and soft wedding hair color. It gives you a framing look, keeping your hair tamed and giving your a lustrous look.
Basic Bronde Bangs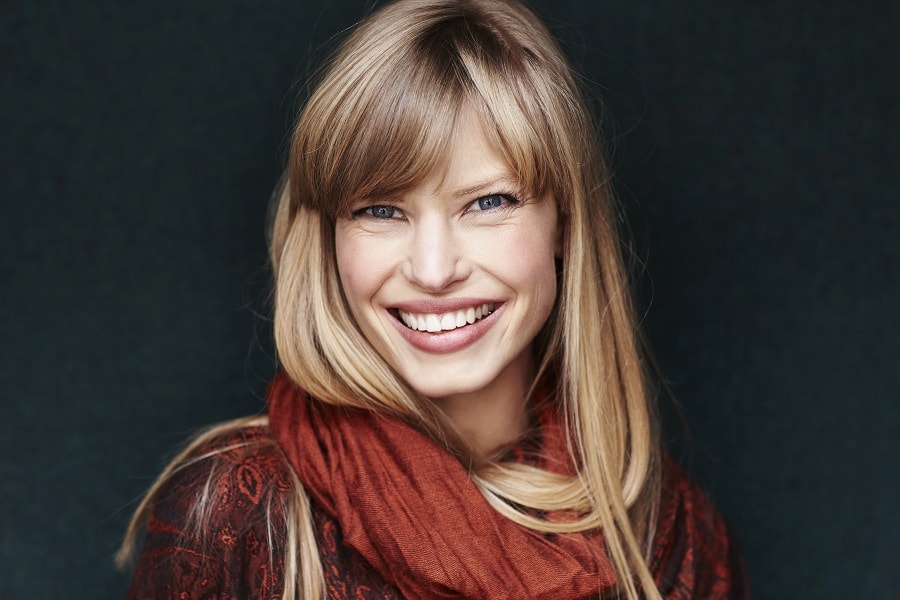 To add more grace and a chic look to your bangs, consider adding some bronde hue to your hair.
This style gives a bold look to grab the spotlight on your face. The roots are left dark to create a multi-dimensional look.
Sandy Beach Waves
For an easy maintenance look, wear a dark root bleached with the hues of gold mixed with brown. This adds lowlights and a dimensional look to your waves.
Next, brush down the locs to create a wavy sculpture. You must try this if you are blessed with naturally wavy hair.
Strawberry Balayage
Let's talk about waves for today. These are perfectly painted warm-toned strawberry bronde waves with dark undertones.
These warm undertones add a cozy look to the waves. We are sure how creamy this will look on you if you have dark base hues.
Bright Golden Waves
Best suited for ladies with thin and layered locs, this is a subtle style created with bright golden hues.
Style with middle sectioning to let the roots appear to attract attention to the face. Top it off with some nude makeup for extra spice.
Looking for some light hues to color your hair but scared it might not match your look? Try coloring your tress ends with light hues leaving the roots with a natural hue.
All the curls and bright curves look shiny under daylight because of the dark base. So why wait? Wear this style with a beach or party outfit and stun everyone.
Butterscotch Baby
It is not mandatory to get dark dye jobs for a perfect bronde; blonde butterscotch gives all the freshness to your mane.
The colors are well blended together to maintain the density of the hair. The framing strands are painted with the lightest hues, while the layers look denser.
Frizzy Viking Look
Did someone say frizz is bad? Nope, we would certainly deny it. But, look how Gigi is nailing the runway with her frizzy bronde.
Her naturally blonde hair was styled with some messy frizz here. Simply part your hair in equal halves and let them fall freely. Then, use a wide-tooth comb or your fingers to style it.
Copper Melts Neck Length Hair
Thick hair is no doubt a beauty. However, we suggest some bronde highlights if you are looking for light highlights on your dark brown or coppery-tinged bob.
They are not too dark, or light in color, can easily blend into your coppery bob and are easy to maintain.
Side Bubble Braid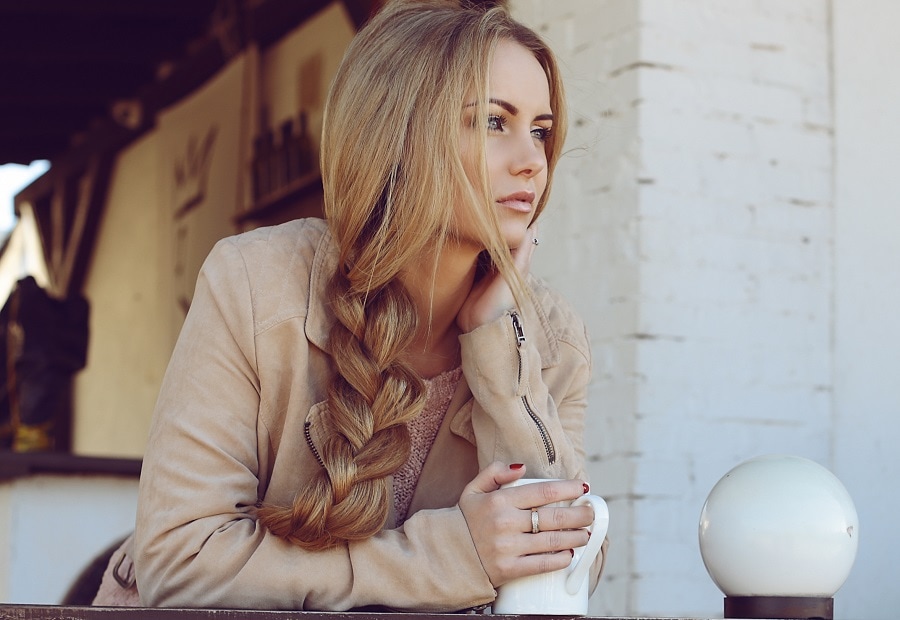 Braiding your hair helps eliminate hair breakage and promotes hair growth. This is a basic three-stranded braid and the easiest, chic and classy styled one you can ever make.
Make it at the side, and keep the hair a little loose at the crown region. Let a few fringes fall on your face and slightly pull the strands to give your braid a bubbly look.
Icy Bronde
Do platinum highlights make you look too flashy? Instead, check out this icy shade with dark roots; this easily blends into your hair, leaving a soft glow.
As the roots are undyed, you don't have to worry about being flashy or getting regular dyeing because the regrowth of hair near the roots just blends into the style.
Bouncy Warm Blonde Ombre
For a lively hair transformation, choose a light hue with blonde ombre. These are so lively and pair up perfectly with long loose waves that lighten up at the ends, offering a flattering look.
Scarlet Johanson looks absolutely beautiful in this golden bronde shade waves over here. Why not try this hair color yourself to see the change?
French Twisted Hairdo
As we already said, being an intermediate shade of blonde and brown, blonde enlightens any natural hair hue.
It is absolutely beautiful for french twists and buns. If you add any florals to your twist, they will look so elegant. Tease out some strands for a puffier look.
Cold Light Highlights for Short Hair
This is a formal bronde look to match your classic blazers, women. A dark ash shade base offers a subtle look, not making the light ends look jazzy.
It's more like a classy but sassy style and does well with any dressing style and occasion.
Long Shiny Caramel Hair
Another lovely bronde hair color to give you a soft, shiny look. It's easy to maintain, and the regrowth of dark roots easily blends into the hair, requiring no often touch-ups.
Voluminous Curly Updo
Not a fan of fancy hair accessories? Don't want to use any stone-studded pins to enhance your hair? Switch to fancy hair coloring options.
The cookie brown base is melted into buttery bronde ends. With minimal styling, the locs look simply stunning.
Glazed Celeb Side Swept Look
This look steals your heart with a pretty-looking glazed bronde. And this dark touch of roots worked their magic again. Loose waves are perfectly suturing and glittery with this style.
Frosted Waves
You don't actually have a dark natural base color to try the bronde dye. This can match any hair color; they work amazingly on light-toned base colors.
The color should be slightly brown-toned than blonde to get this styling.
Bronde hair colors can be styled in several ways, giving you flexibility and versatility to look gorgeous. The hue looks pleasing on any length and texture of hair. They come in an endless option of shades that match any skin tone.
They are the best-suited shade for any hair styling options, from updos to free-spirited styles for your adventures and travels.
Try these amazing styles for any occasion; do not forget your favorite style before making a salon appointment. We hope you have found your hair color inspiration for an Instagram-worthy transformation.