In a world of subtle and beautiful hair lowlights ideas exist outside the usual, boring straight, wavy, or curly hairdos. Everything works well with the ongoing trend. Lowlights refer to the hairstyling technique in which the hair sections are colored two or three shades darker than your original hair color.
They beautifully add depth and dimension to your hair, so looks great on fine hair as much as it looks cool on thick hair. making them. You can choose lowlights over your highlights to get a magnificent hairdo.
Attractive Hair Lowlights Styles
We've got you all covered with the hair inspiration you need. So keep on scrolling for the best hair lowlight ideas you will be totally obsessed with!
Caramel Hues
Almost all of us desire to have that natural shade in our hair. This hair lowlight has a reddish-brown tone that helps add a touch of sun-kissed glow to your face. Also, it looks great on curly hair.
If you are among those who aren't fond of bold colors, these hairstyles are just made for you, simple yet classic.
Honey Gold Baby Curls
Honey gold color for long curly hair are perfect for summers and those golden hour days when sun rays make your hair glossy and shine.
Give your ringlets more volume using your favorite hair gel or serum, and let the wind play with your hair.
Beach Blonde Hair
Blonde lowlights add some dimension to your hair waves. Contouring tones will revive your hair color, giving you a modern look.
These ideas are a great way to change your look without committing to an extreme change and are fun and simple too. More suitable for long wavy hair.
Dark Blonde Waves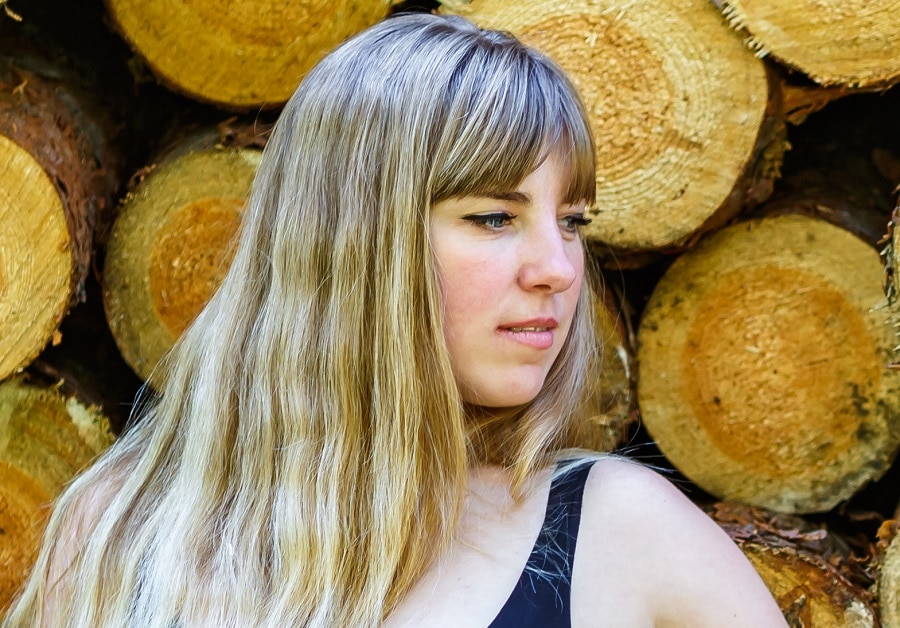 For a natural look, consider dark blonde hair color. Perm your hair and get a contrasting yet appealing look.
Remember that the hair ends are colored with a light shade, so you have to take care of them properly. Use only sulfate-free shampoos and avoid heating stylers to preserve your color longer.
Dramatic Twirls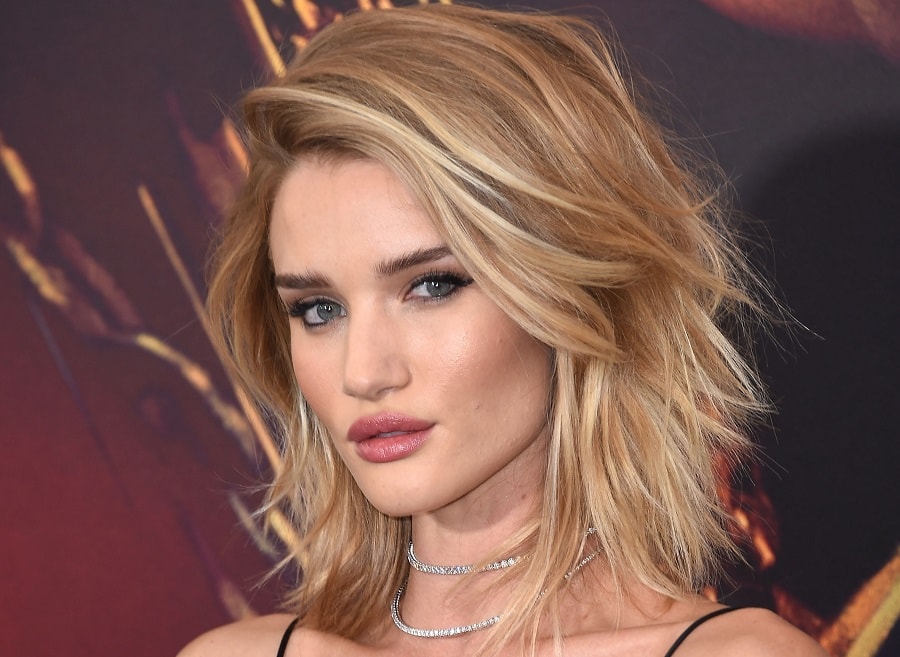 This caramel blonde hairstyle is mesmerizing! Fusing with different shades is what gives it a sophisticated look.
Also, it creates motion as well as makes fine hair look voluminous. Lowlights in blonde hair create a more dramatic and contrasting tone, offering a perfect style.
Sleek Hazel Locs
Stain your hair darker and warmer with hazelnut brown color like these. This reddish-brown hair will definitely be appreciated for its simplicity and elegance.
This style and color are easy to carry and would be flawless for women who already own brown hair as it will be easy for the transformation.
Shades of Gray Balayage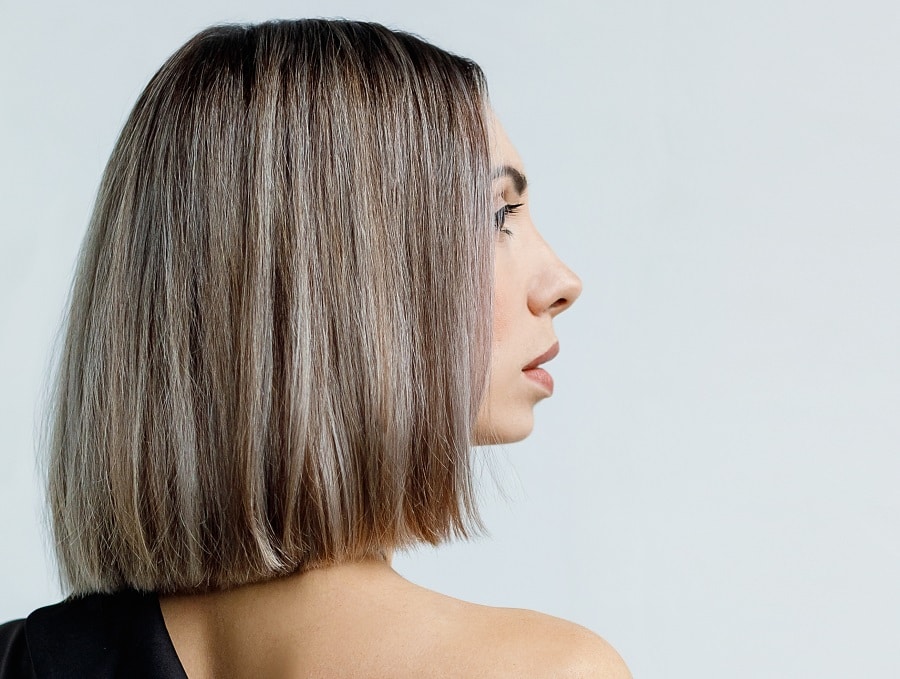 When you are looking for a sophisticated yet stylish bob hairstyle, Go for this tangled style with overlapping layers. This would perfectly go well with a straight and sleek undercut.
The gray and bold silver-toned balayage adds an extra elegance that keeps the hair color modern and youthful.
Long Straight Hair
Play with lowlights to achieve a light brown glow just like this one. Layers on your long tresses provide a delicate volume to your hair ends.
If you are not completely blonde or have dark hair color go with this look. Choose to have streaks along the hairline for a face-framing hairdo. In addition, the deeper brown tones give hair color an added depth.
Ash Blonde Tresses
If your hair is super curly and you desire to experiment, go for blonde colors. They are super easy to carry and can be styled with long, short, curly, straight, or whatnot!
For maintenance, you need to use good quality hair products as this hue tends to lose its shine quickly.
Chocolate Hues
When it comes to chocolate, don't step back! Even if it's only the name of this shade of deep brown hair. This warm and soothing hair look is simply perfection. Extra points if you style it with bangs.
Combine it with these subtle lowlights, and you have the best look for the season. Go for curls at the ends, along with blunt bangs.
Light Blonde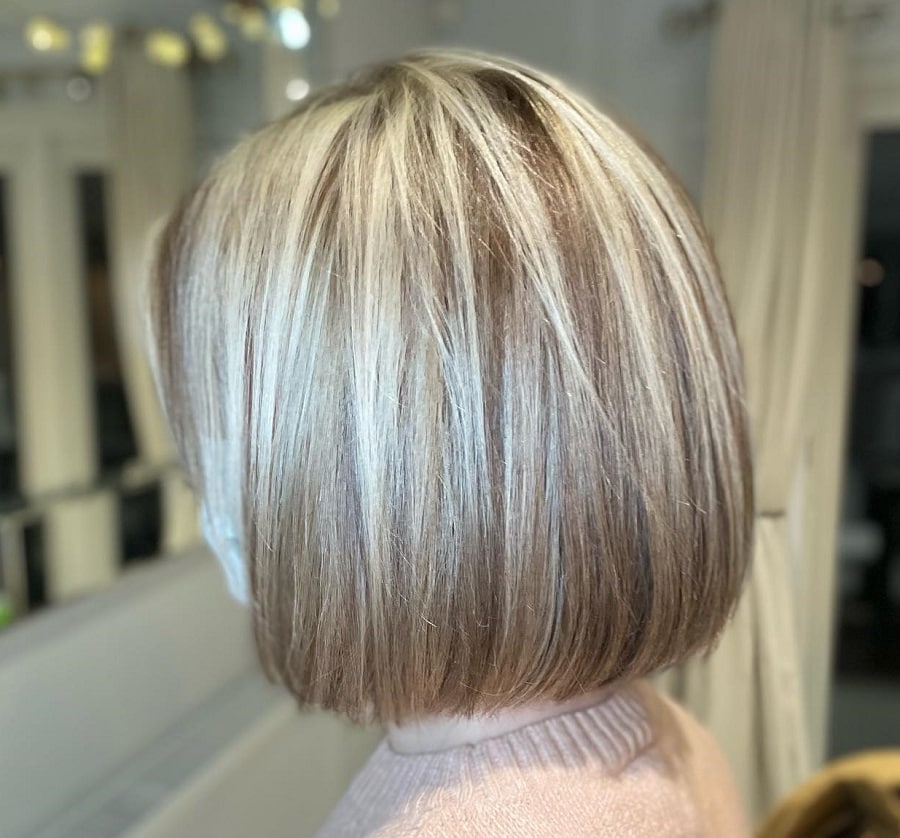 If you have fine brown hair, then this bob cut will surely add more dimension to it. Keep the hair length to your neck only.
It's a great summer as well as winter look. If you have blonde hair, you can add brown streaks to it, creating an illusion of thicker hair.
Platinum Lowlights
An elegant yet edgy combination of brown and platinum. It gives dimensions to your hair and helps you get a natural look.
Go for a blunt cut, and then add the streaks to your hair. Anyone can rock this look and make a dramatic appearance anywhere they go. Simply keep your hair straight to flaunt the color, and you're ready to win hearts!
A-line Flairs
Platinum is a lavish addition to your style. This A-line haircut adds a little dimension to its hair texture.
It will suit well with sun-kissed skin! Make sure to use premium hair care products to keep the colors from vanishing. You would go crazy adoring the shaded feel the lowlights create on this short platinum hair.
Toffee Brown Hair
Blend with hues of silver hair color with brown blonde streaks for an outstanding result. This technique can totally transform your thin locks into dense-looking ones.
The soft blonde streaks with these long hair lengths are totally chic and can appear sleeker and shinier with light brown hair.
Espresso Waves
It's an excellent option for long hair since the hue won't damage its ends. But, first, roll out the lower half of your hair to enhance the movement and dimension already created by the lowlights.
Then, blend existing hazelnut or caramel balayage with light brown streaks for a layered look that'll steal hearts!
Fierce-Red Color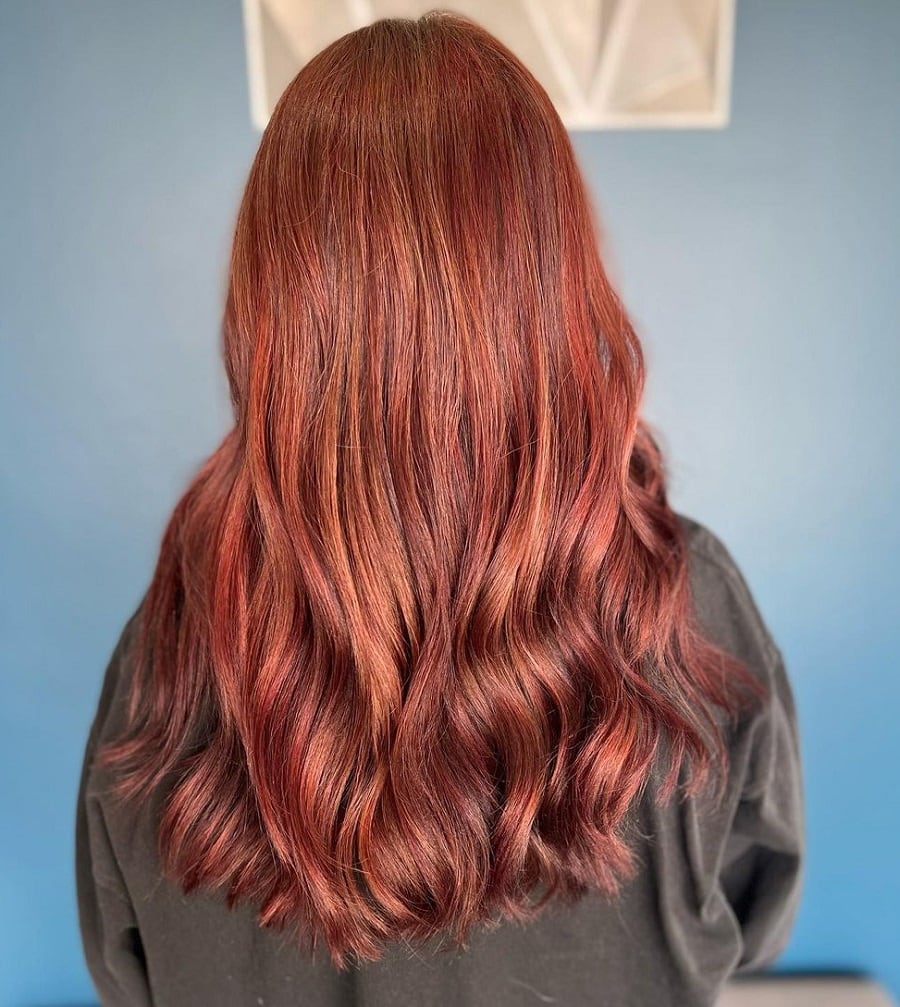 Combining lighter red lowlights to an already dark colored hair will add more contrast to the whole hairstyle. In addition, the colors will dazzle gorgeously under the sunlight.
Also, you play with the look by adding front bangs to frame your face with this hairstyle. It is indeed a very fierce and stunning hairstyle.
Candy-Floss Vibes
A chic and attractive hairstyle you will want to get for hot days to look hotter! So get gorgeous with a splash of pink and step ahead to go all in. Go for a heavy-handed look where the base color eventually disappears at the ends. It is just amazing!
Auburn Curls
Auburn streaks on dark hair make you feel intense, bold, and carefree. Ideally suited for women with thick locks, contrasting textures make the waves look more stunning.
Wavy hairstyles appear pretty in this shade as they boost the volume and glow. In addition, these lowlights really show off that perfectly undone, beachy texture we always try to achieve.
Sapphire Blue Lagoons
For daring and distinct personalities who love to try new things, coloring your hair midnight blue highlights will set you apart.
Having naturally dark hair with this hue and curls will be magical. This will boost your confidence for sure. Don't forget to use some quality hair products to keep the volume as it needs to look strong and healthy
Rose-Wood Coils
It's an ideal go-to hair look for the end of summer and the beginning of autumn, with those warm shades to keep you comfortable in the coming winter.
Curls will add volume to an already dynamic hairstyle, so it's a vibrant, feisty hair lowlight. It's colorful enough to add a playful look to your hair and subtle enough for most workplaces.
You've just become familiar with one of the most popular techniques of hair lowlights. Find the color that suits you best and take your hair look to the next level. So if you need to play with colors without cutting your hair, choose these lowlight ideas.
Also, use a mild shampoo or conditioner and a serum to maintain the color and salon effect for a long time. You can even pick more than one shade as per your skin tone, which will look flawless on short, long, wavy, straight, or curly hair.