Pink highlights have gained popularity in the past two years. It is great to see why women love this dynamic and stylish fusion. It's a cool way to achieve a dramatic look that illustrates your hair color.
The cute pink hair highlights we have listed will motivate you to try them now. So get ready to try something unique. These are all creative and colorful that look perfect. For advice and tips, please look at our most recent hair choices.
Gorgeous Ways to Get Pink Highlights
Explore the latest highlights ideas to think about the next time you're on your way to the salon.
Velvety Space Buns
This adorable rouge ombre is full of creativity and elegance. First, leave two long hair strands at the front. Then, tie the rest of your hair into two large space buns across both sides of the hair.
The blending of the pink highlights works well with the natural color. Add a texturizing spray to fix the look and make it a fabulous hairstyle.
Pink-a-Boo Bob
Keep it simple short straight bob with bangs that compliment your eyes. Burgundy brown hair is dipped in glossy pink hues.
The highlights enhance the natural shades in the basic hair color. Therefore, you should actually consider this look.
Bubblegum Bangs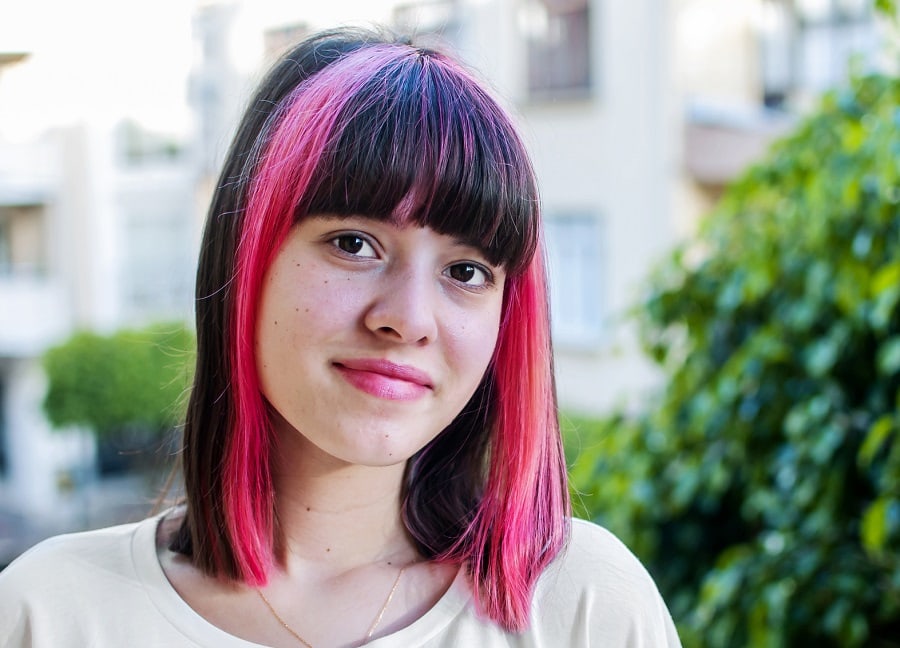 Pink highlights with black hair look great because they make your hair appear more eye-catching.
Some layers are hidden inside, while others are visible as money piece at the front. These two-toned colored stripes are sure to impress.
Beige Waves
The brown hair dyed blonde with pink highlights is beautiful. However, this look features a barely visible pastel shade.
However, it is a simple procedure, and you can have this look instantly. But don't forget to book an appointment in your salon.
Dark Coral Coils
This peachy highlights on medium hair complement the facial structure. It also adds grace to your appearance while displaying a playful side.
It can be difficult to achieve this hair color. A long-lasting hair dye, on the other hand, will give you this dazzling and gorgeous color.
Sleek Burgundy Locs
While choosing this burgundy shade, black-haired beauties must be prepared to spread elegance.
Since the two colors are unique, don't be uncomfortable embracing both. In this example, dark pink highlights with the base color blend together towards the ends.
Messy Rosewood Curls
Beautiful red hair is a dream for many, but it is only possible for a few people. That is why colorful hair dye is so bold and fascinating.
It also brings more attention to you, which can be pleasant. This red overtone is quite appealing and surely a change in tone from the typical hair color.
Mahogany Tousles
This pink ombre begins with mahogany roots. It changes to a soft apricot red and ends with a pastel pink at the edge.
Get your hair trimmed in long layers to complete this super feminine look. It's great to bring out the layers while avoiding an overall colored hair look.
Dramatic Highlights
This bright highlight idea with all varieties of pink is an interesting and cute way to spice up your look.
The darker shades make the highlights show up and set up a beautiful color blend. For a better appearance, use a darker tint with the color at the bottom.
Bubblegum Shots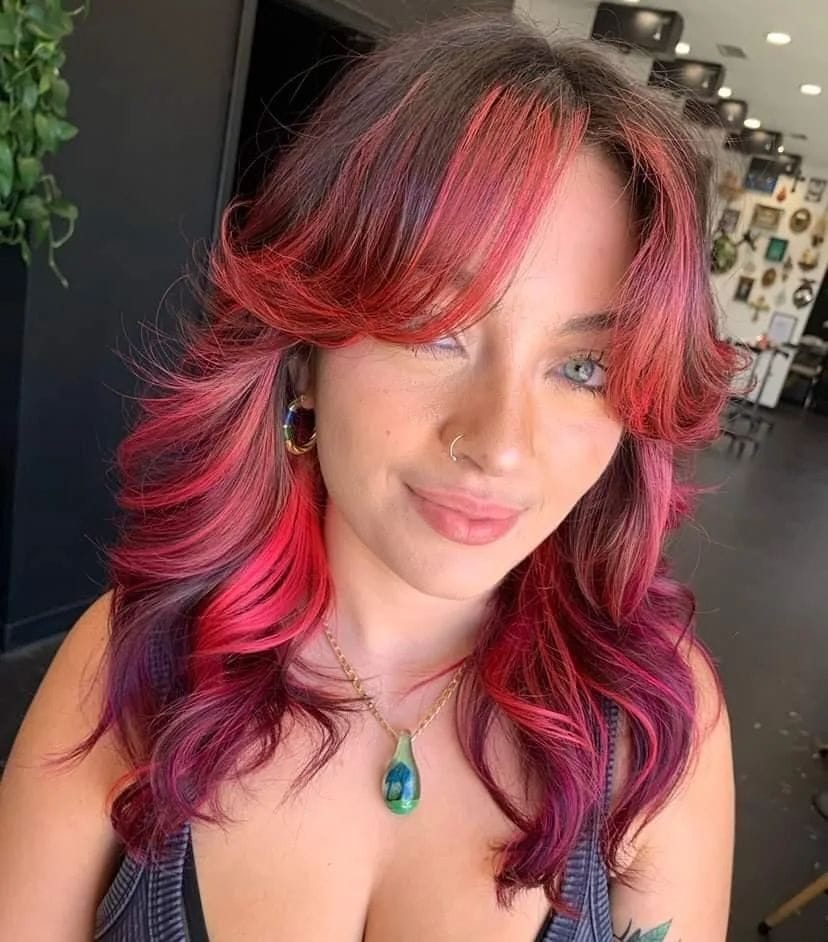 Pink hair highlights can look great when combined with your natural hair color. We are crazy in love with this look.
With a magenta undertone and a rosy brown hue at the crown. This is a great way of showing off a stylish multicolored look with a tank top or a polo shirt.
Fuschia Vines
Matching color contrast is critical for a polished look. This is particularly true in the case of black hair with highlights. Even though black is so rich on its own, pair it with neon or scarlet to enhance the look.
Crimson Braid
Brunettes benefit from blending pink because their natural color has red undertones. Medium brown tones mix up into a dusty rose finish. This stunning combination makes the unusual shade appear quite delicate.
Baby Rose Fringes
For the supreme and decent look, combine a long layered bob with an ombre effect and rose pink color. The key here is to find a recovery shade that complements both your natural color and the highlights.
Flamingo Mess
There is a spectacular way to achieve curly black hair with pink highlights. It is a loud and interesting sense of style.
A bright color will further highlight your fair skin tone and dark hair. Most hairstylists suggest rinsing your hair with cold water to keep its liveliness.
Ash Strawberry Curls
When thinking of a short haircut, one might imagine a punk rock star with a sharp edge cut. The combination surely has a softer side.
A shoulder-length blonde bob with many curls creates a wonderful mix of cute and sassy.
Imperial Pixie Bob
Bob looks lovely in every face shape and skin tone. However, if you want to go further than elegant and adorable, find stunning pink purplish highlights like this.
It's a fantastic way to spice up your bob, and the few curled ends add a feminine touch to this exotic hairstyle.
Blush Ombre
Pink highlights will always draw attention. Create a colorful frame around your face to look attractive to it. You'll want to keep this look up all the time. However, you will notice if you have gone too long between procedures.
Pastel Hues
Blonde hair is the best surface for painting. These peach blonde and mauve pink layers are beautifully placed, defining a shining glow.
They are balanced, giving this style a more layered appearance. That's why many girls choose this color for their unique ombre looks.
Underneath Strands
Unless toned properly, blonde with lilac and pink highlights can be almost unnoticeable. However, the under highlights blend flawlessly when arranged in a normal pattern.
While creating this look, work closely with your hairdresser to choose the appropriate shade.
Rose Dipped Highlights
Blondes get more remarkable when added with a hint of pink highlights. The color density allows it to be noticed without overpowering the softer look and deeper tint.
Keeping the colored tones higher at the edges can help to make frizzy hair look fuller and voluminous.
Pink hair highlights are becoming incredibly popular, and we are totally in love with it. There are plenty of shades to choose from in the palette. However, we all need motivation before committing to a new color, whether it is crimson gold, cotton candy, or the famous fuchsia.
It's time to immerse yourself in the world of today's bright colors. Get your artistic hairstyles, and don't forget to incorporate your imagination.