Would you like a hairstyle that'll really make you stand out? Then why not try purple highlights? There are so many different shades of this color to choose from so you can pair them with any natural tone.
Girls who love exploring their quirky side will really appreciate this fun look. Plus, this color can be worn to look girly, edgy, or simply a little more glamorous, so it's very versatile.
Gorgeous Purple Highlights Ideas
If you can't wait to try out this tone on your luscious locks, then check out the hairstyle ideas below for some inspiration!
Pink and Purple Waves
If you love taking girly tones and making them look bold, then this is the look for you.
The two shades here mesh together really well to create a look that stands out a ton and makes you look fierce. The long simple waves will give you a touch of glamour.
Curly Multicolored Updo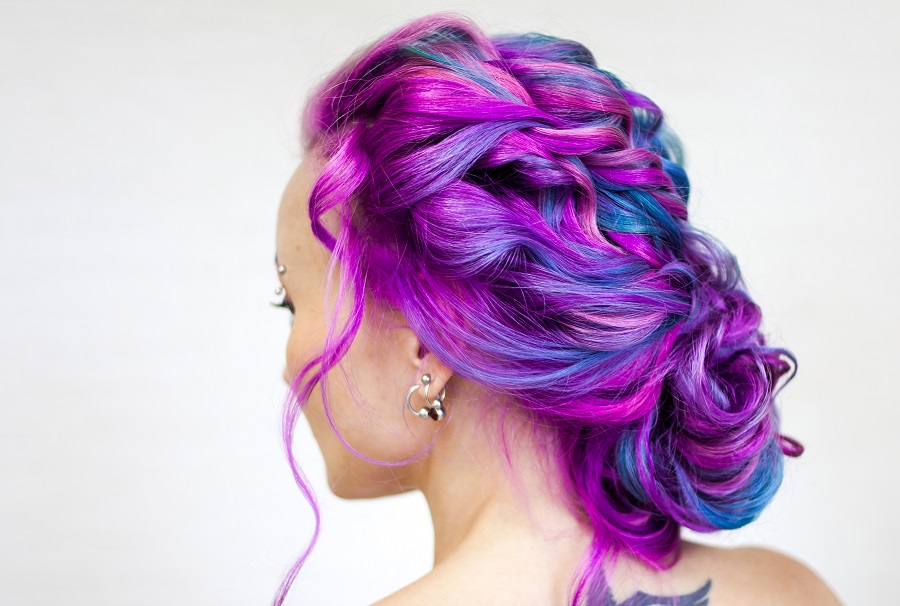 Women attending a formal event need a style that's elegant and helps their purple highlights pop. Curly updos help do that as you can show off a lot of texture and different sides of your hair.
Twist your hair down the back of your head into a very loose bun-shaped updo on your neck. Leave some strands loose by your face.
Short Face Framing Bob
Bleaching your hair to achieve the purple tone can damage it, so keeping it short is a good idea if you don't want to spend time curating an extensive hair care routine.
It's also a flattering look for framing faces. The face-framing highlights are mostly in the bangs. It totally livens up your natural color too.
Bouncy Colorful Curls
Women with natural curls or perms already have a look that's fun, playful, and bouncy. Put some light pink and purple Pintura highlights in there to really make yourself stand out!
The shades pair perfectly and go great with a fun-loving attitude. The thick, bouncy curls help give these colors tons of depth!
Peekaboo Purple Waves
Sometimes highlights look best when hidden under the hair. The tone on top is a little more natural in a light orange tone with dark roots. However, deep, vivid purple is visible underneath!
Side Parted Straight Hair
Some girls prefer to keep it simple. Here you can utilize your natural brown hair texture in a nice shoulder-length cut with a side parting. It's an everyday look that's made away more interesting by the highlights.
Funky Dip Dye Ends
Girls with thicker hair can often get washed out by their locks. It can obscure your features and make you look like your hair is controlling your whole look.
Adding some outstanding highlights and a few natural-looking waves can ensure you can wear that dark hair with style! Utilize a side parting to gain extra volume on top.
Quirky Multicolored Braid
Purple highlights go really well with other fun and unique colors like blue, yellow, green, and pink. You'll have the quirkiest color out of anyone you know!
To create a quirky hairstyle to go with it, pull your locks into a unicorn ponytail with slick sides and a slick top. Then create a super thick and twisty braid to amaze all your friends.
Dark Medium Bob
Dark purple highlights on deep brown hair create such an edgy look that'll give you a dark and mysterious vibe. It's creat if you're going for a spooky, rocker chick, or punk aesthetic.
The bob cut sits near the shoulders in a medium-length do that's really simple to achieve and maintain.
Curly Highlighted Bangs
A dash of color right on the front of your hair is sometimes exactly what you need to make your short and simple hairstyle pop.
The two hues in these side bangs just add so much personality! It's a really fabulous look that looks so wonderful with the natural black curls and bold eye makeup.
Lavender Bob
Bobs are often really nice looks and, as we said earlier, it's great to have your hair short and sweet when you're wearing a quirky hair color.
The lavender purple highlights just goes so perfectly with some natural colors. It's a really soft and gentle tone that'll make you look so sweet.
Long Waves
Long hair can look very dull even when it's styled in glamorous, bouncy waves as we see here.
Adding face-framing highlights to it will breathe life right back into your look. The color is subtle through most of the tresses, but a bolder pop of shade frames the face amazingly well.
Edgy Hairstyle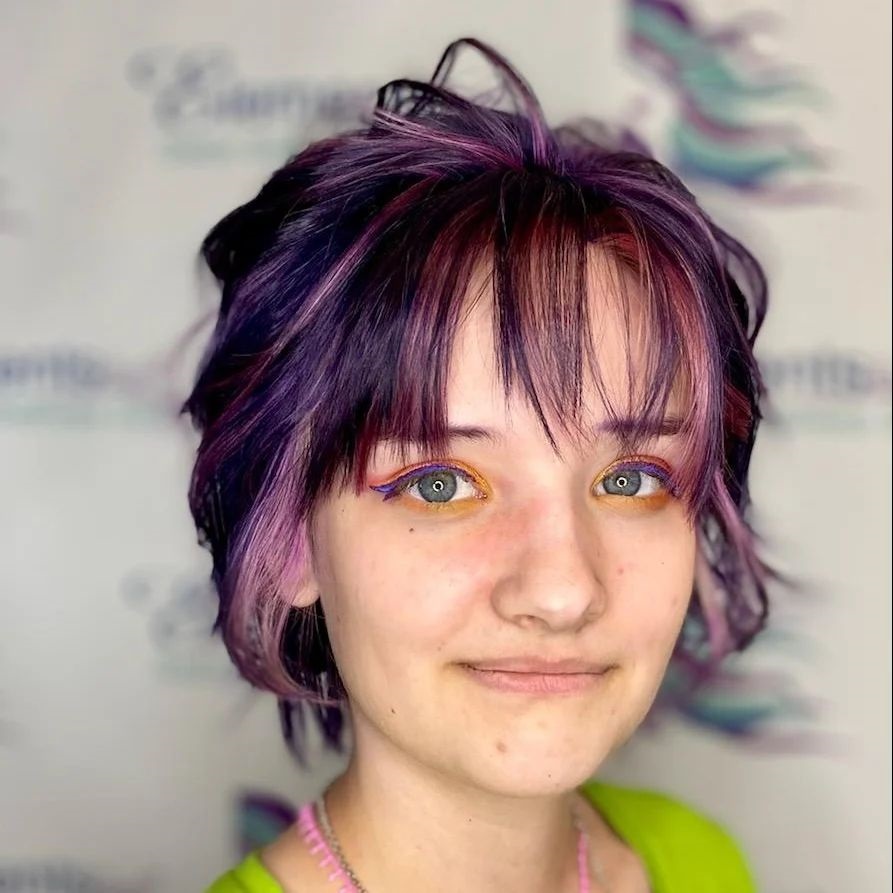 Wispy bangs paired with a short, messy style always look a little edgy. If you add a unique color into the mix, then you'll definitely fit right into that edgy vibe you're going for.
The hair is flattering and frames the face while still retaining its messy-chic styling.
Purple and Blue Waves
Purple highlights makes a great addition to any blue-toned haircut. It blends right in and brings a little variation into the mix to ensure your colorful hairstyle really looks its best. It always looks so amazing when worn in wavy hair like this!
Full Head Faded Highlights
Even though this is a very unique tone it can look very natural when the highlights are faded. Wearing your hair long, loose, and unstyled with full head highlights is another way to make it appear as though the look is effortless.
Side Swept Long Hair
Long, straight hair with purple highlights is a really chic and simple look that will still make you stand out a ton!
If you want to add some more quirkiness then twist up your locks and pull them over one shoulder. Then move them to hang over your other shoulder, framing your neck like a scarf.
Wavy Ombre Highlights
Highlights in an ombre style always look really amazing, because your hair looks nice and "normal" at the roots.
As peoples' eyes move downward they'll realize just how unique your look really is! Having the highlights focused on the ends of your hair also makes upkeep easy and allows for root regrowth.
Blonde Edgy Pixie
Super light blonde really is the best shade to go with any unique color like purple.
Here there are just a few chunky strands highlighted to create a rough and edgy vibe. The short haircut with a shaved back also helps solidify that punkish look.
Low Curly Updo
Purple adds tons of depth to blue looks that otherwise might look dull.
Here the locks form an elegant low bun updo with purple and blue highlights, decorated with flower-shaped gems. Twisted strands are pulled into the updo for extra elegance.
Long Layered Hairstyle
Focusing your purple highlights on the front of your layered hair makes you look amazing! The color is further brought out by the wavy tresses catching the light. Nice side bangs create a great balance in this lively look.
It's clear that there are endless ways to make purple highlights look their best. You can use them to improve your look and gain confidence in your appearance.
Blow all your friends away by creating a colorful and textured look everyone will be jealous of.