Coloring your hair makes them 10 times more beautiful than usual, especially when you try cool colors like blue and purple. So if you're looking for some blue and purple hair color ideas, then you're at the right place. These two are very beautiful and unique colors. These colors are not only look good on your clothes but also on your hair.
If you've never tried these two-tone shades before then, consider this as a signal to try it now. Whether you're trying hair coloring for the first time or just looking for some creative ideas to style your colored hair, we're here to help you out.
Colorful Blue and Purple Hairstyles
Let's see what makes each hairstyle different from the others.
Short Bob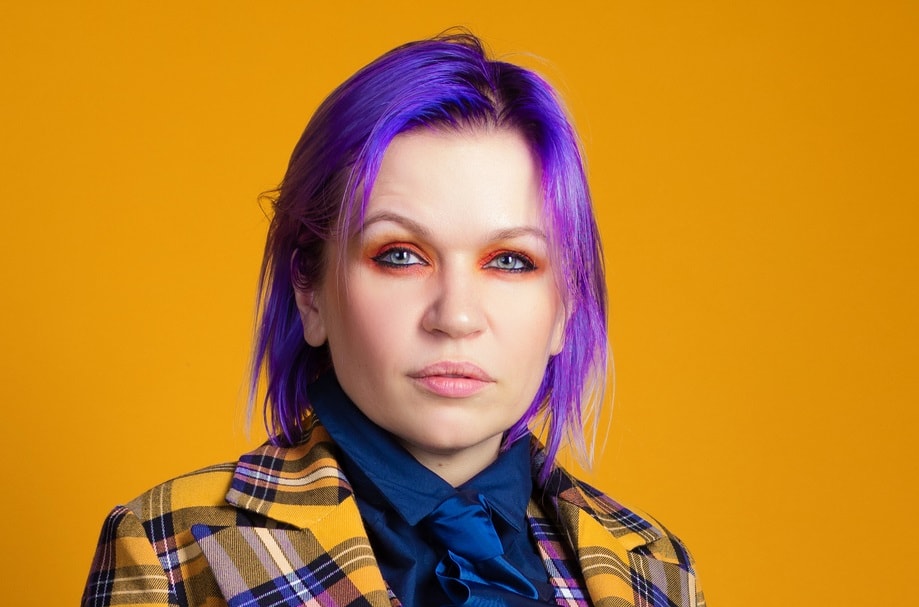 Short hair has something magical about them, and you'll only realize that when you get a short bob with your colored hair.
When you have thin hair, keeping them long makes them look thinner; that's when short hair plays an important role. It will clearly highlight the color combination and make your hair look fuller.
Curly Bun With Loose Strands
We all know how beautiful the combination of purple highlights with blue color. It gives your hair a new look, especially when it's curly.
Curly hair clearly shows each color layered beautifully. Tying it into a big curly bun would be a great look for your wedding day. Of course, you can use silver-colored hair accessories too.
V-Shaped Bangs with Bob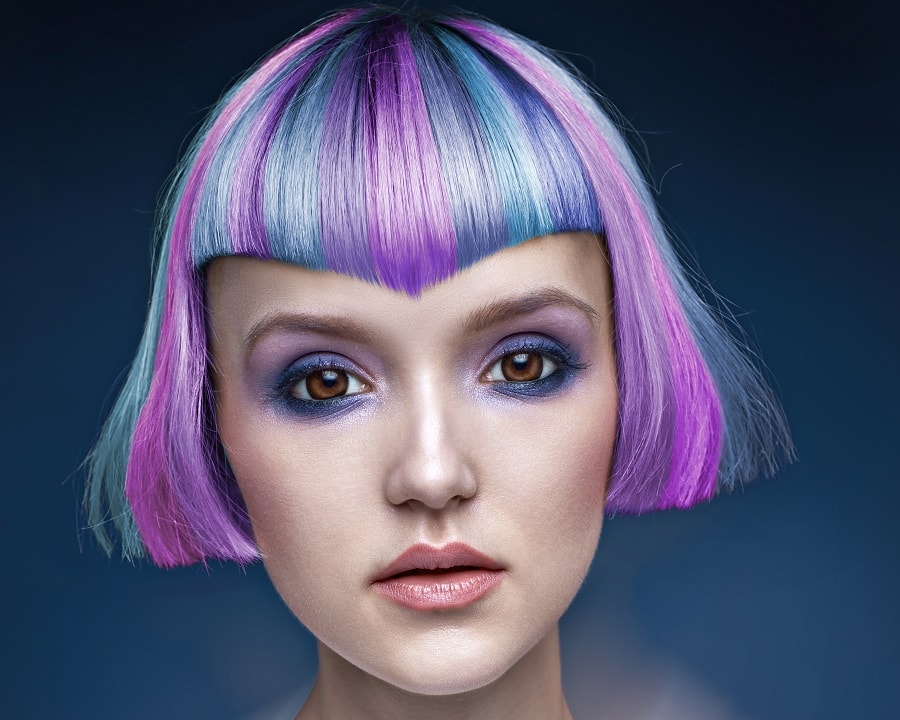 If you want to get the funky look, try V-shaped bangs on your colored hair. It's one of the fun and interesting pastel blue and purple hair color ideas you can try at a theme party. You can dress and act like a robot at your next Halloween party. You can be a scary robot that eats all the gadgets.
Long Curly Hair
Long and curly hair looks good, but it makes them beautiful when you color them with a beautiful color combination.
Your long curls would define each layer of colored hair beautifully. Then, you can side part your hair, wear some funky clothes and accessories, and then hit the club.
Ear-Length Pixie
It's time to get inspired by this hairdo and get an ear-length straight pixie now. You can color most of your hair blue and keep the upper hair purple.
This way, it looks like a wave is coming in the ocean of your blue hair. It's a bold and classy look.
Asymmetric Bob With Blunt Bangs
If you want to go for a look that makes you look intimidating, you should give blunt bangs a try. And you know what would make it look much better?
An asymmetric bob would be the key to your whole look here. On the plus side, this unique color combo will work wonders for you.
Half and Half Hair
What's unique about this hairstyle is that you color one side of your hair, let's say the right side, with light blue color, and the other side, that is left side, with pastel purple color.
The key here is keeping the colors as light as possible because we want you to have more fun and breezy look here.
Floral Look
Flowers not only look good on your clothes but on your hair too. If you want some lilac hair where you don't have to color your whole hair, then try this one.
First, you highlight your black hair instead of coloring it with these colors. Then, you can add little white flowers to the end of your hair.
Middle Part Wavy Hair
Get colorful waves on your hair ocean. There are many shades of this hair color, and we're talking about dark shades here.
You can color your roots in dark blue and let the ends enjoy the dark shade of purple. Medium-length or short hair would work perfectly here.
Half Up With Highlights
The half up style looks great on short hair but to make a loose half-tie; you need long hair. You don't have to color your whole hair; just little highlights on your black hair would look great. Take some hair from the crown area and tie it using your hair only.
Wavy Bob
Why even bother coloring your hair if you're not able to show off each color properly? A wavy bob helps clearly show which layer of your hair is colored with which color. Likewise, a short bob would be perfect for combining your natural hair color and the other two colors.
Medium Length Wavy Hair
When you combine purple and blue colors on blonde hair, you get to see a beautiful combination. In addition, you can highlight the front roots with pink color. If you highlight your hair with these three colors starting from the ear, it will give space for your blonde hair to show off.
Asymmetric Pixie
Instead of coloring your hair in two colors, try coloring only dark blue this time. You can keep the ends of your hair in light purple color if you want to.
Side or angled bangs suit well with a pixie. This hairstyle works great in the summer season when you wear shorts and a tank top.
Long Hair
How about trying coloring your hair in steps this time? Let the roots of your hair be in their natural color. Then add blue color in the middle and keep the ends in light purple color.
Long Straight Hair
Trust us; you'll never run out of blue and purple hair color ideas if you use hair accessories. Many beautiful hair accessories are available in the market in different shapes and sizes. In this one, you can use a small round hairpin to hold together two thin layers of hair from both sides.
In the end, it all comes to one thing, and that thing is your choice. We've provided you with every blue and purple hair color idea so that you don't run out of options. Even if you don't have one, we're sure that you'll get these hair colors soon and recommend them to your friends too.
We salute your choice of getting purple and blue hair color. It's time to get funky and try something with your hair. It's a unique color combination that every girl should try.