When talking about the shades of hair color, the digits just don't end. Ocean hair color is one of the most popular dramatic hair colors to try out this year. From aquatic blue to icy blue hues, there are several ways to embrace the stunning blue hair trend.
It takes a lot of courage to pull off this bold color trend, yet satisfying as it is incredibly tempting and will suit all types of different skin tones. It is also an excellent way to reveal your fun-loving and jolly side by experimenting with your hair.
So let's explore the most beautiful hairstyles to get an impressive out-of-the-box look.
Chic and Sassy Ocean Hair Color Ideas
If you're unsure whether you want to go for icy blue, turquoise blue, or both, check out these bold blue ideas for inspiration.
Undersea Waves
This triple-toned hair color looks not less than a sea with the blend of the light blue layers on the top along with some turquoise, yellow touch, and medium blue shades on the edges.
Typically, some of the parts are slightly colored with lighter shades. Creating a bold but beautiful look in your short-length hair is a fantastic idea.
Aquatic Depths
You definitely need to adopt this look with these beautifully long beachy tresses that create a flawless ocean hair color look with medium blue shaded roots.
If you are obsessed with blues, there is no way you won't fall head over heels with this style.
Pastel Blue Tales
Dyeing your dark tones hair with a hint of blue is not only mysterious but very attractive in itself. The ocean pastel blue and violet highlights on black hair can look very eye-catching.
Textured hair looks best on your soft curls. Always use a good conditioner to preserve your hair color for a longer time as it moisturizes and nourishes your hair.
Fairy Blue Locks
If you have decided to experiment with something new, why don't you try that with your hair? Well, you can try a baby blue ombre with black.
It is a perfect color to enhance your hairstyle. This soft ocean blue hair color works fantastically with wavy, structured bobs. The hint of dark roots adds a little more sharpness to this style.
Multi Shades of Blue
There are uncountable shades of blue ranging from lighter royal blue to midnight blue to blend perfectly with black hair color.
Likewise, a combination of blues and blacks mixed gives out a dark color tone. These bright blue highlights on black hair make a pop-dramatic texture that is perfect for your blow-dried mid-length locks.
Shocking Blue Dreads
A blend of electric blue vs. aqua blue looks stunning for any skin tone. You can even highlight some of the streaks if unsure about coloring the entire mane.
One of the most iconic hairstyles of all time is dreadlocks. No doubt, It is eye-catching, easy to maintain, and has a bold popping look. Use high-quality shampoo to keep your color long-lasting.
Magical Blue Tresses
The dynamic blue is meant to shake your fashion statement, especially when trying it with your hair. Be playful with this dark ocean hair color ombre style that combines royal blue with a slightly greenish-black color tone.
When styled with curly waves, this look is absolutely mesmerizing. Keep the teal highlights all blended with the entire hairstyle to overpower your personality.
Unicorn Pixie Bob
This stunning look is not only playful but looks super attractive as well. Unicorn hair is something you must try because your style needs to stand out to look different.
Choose multi colors to shade your mane. This design has the colors subtly blended throughout this stunning gradient effect. Additionally, this style highlights the shape of the pixie bob haircut.
A-Line Sleek Style
Generally, an asymmetrical bob is typically longer, with chin-length hair on one side and shoulder-length on the other.
Experimenting with this medium blueish ocean hair color is a must try to have that sleek, smooth, and shiny look. Stay more subtle while still maintaining the hair color.
Lovely Mermaid Tales
This two-tone combination of black and aqua blue might confuse you with original sea waves. However, the glossy effect makes deep blue hairstyles look extremely soft and attractive.
This single tone seems very interesting. Her hair definitely pops up and gives out a beautiful volume.
Aqua-Teal Straight Hair
The black color at the top fading into dark blue hair is something no one can miss. It gives you a fresh, subtle look.
Typically, the darker blues are seen as a unique hair color. Use a decomposing color shampoo to make this color stay longer.
Ocean Waves
Keep your natural look with this vibrant blue ocean hair color while giving beachy mermaid vibes.
Go with these blue-black balayage highlights to steal the show. Doing a quick and classy touch-up with your hair is always a good idea.
Bold Blue Bob
Usually, a bob comes under the category of a shorter hairstyle; dyeing it with this kind of hair makes you feel bolder and helps it stand out instantly.
A bouncy short pixie with blended highlights that subtly mix with different shades of blue is a sophisticated look.
Dual Blue Hues
Choosing this color tone for your hair will be gorgeous and work better on that naturally dark hair, as the blue impressively blends in with the black.
Cerulean Blues
The hair here looks as smooth and glossy as it feels. First, keep your natural tresses in royal blue color for a sophisticated and subtle look. Then, pair this cerulean color with a straightened hairstyle.
Side Swept Hair Waves
This short ocean hair flairs your side-swept bangs that have been cut and styled with their side shaved with a slightly pinkish undertone that perfectly complements funky features.
Peacock Blue Undertones
Attract the showbiz and make people stunned with this serene glossy peacock shade. This look is a multi-toned hair color which is truly a fun way to experiment with your naturally straight hair.
Finger Waves Retro Look
You can use your fingers to style your hair waves for this hairstyle. Bold and classy women mostly prefer this classic retro look.
Embrace this clean, curled look and make these finger waves sexy and adorable with brown and teal tones.
Dual Shaded French Braid
Hairdoing a French pigtail braid pigtails is the best hairstyle for a sporty or chic look. With these beautiful shades of ocean blue and turquoise, you can add a romantic touch to your piggy tails with wavy hair to make them look extra cute.
Blue-Green Algae style
This blue, brown, and green hues hairstyle reminds us of a Disney princess "Arial." The upper locks are dyed brown and blue, while the lower part is green. Quite impressive, No?
Curled Mermaid
It's the perfect yet cool color for winters as well as summers. You can feel refreshed just by seeing your beautiful ringlets and having as much fun as you want. So, why wait? Bring out your immense love for mermaids with this style.
Aquamarine Dive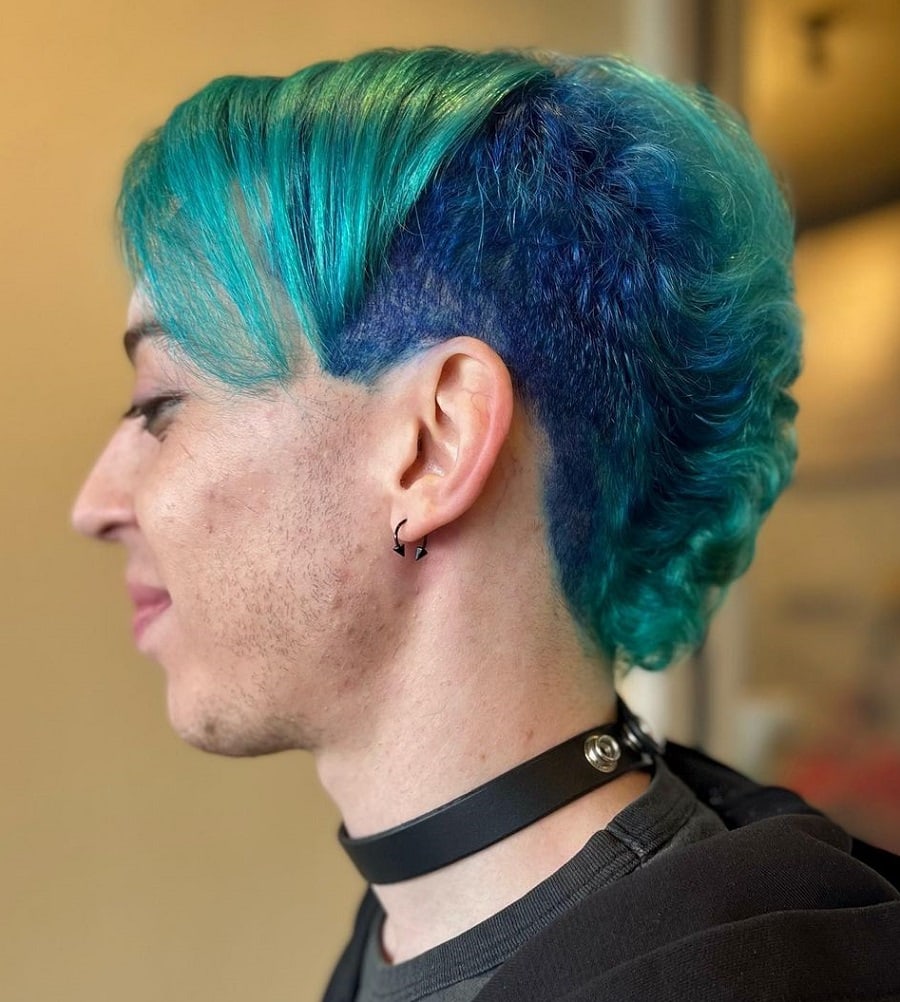 This is the perfect sharp-edged ocean hair color for short hair. This bold pixie looks glamorous with super hot midnight blue and green shades. The style is side swept and straightened for an attractive look.
Bubblegum Tresses
Why choose just one hue when you have two or maybe more? This look of pink-blue has become a popular trend in recent years. Keep the fringes pink and the rest blue.
It will remind you of the bubblegum you used to chew as a kid. Now, it's a fantastic way to experiment with your hair using these hues.
Here we bring you these thrilling ocean hair color ideas that will make you go crazy. These different shades of blue hairstyles are totally divine. They will definitely make you look phenomenal and surreal. You will even look like that beautiful Disney princess you once dreamt of being just like her.
So, scroll up again, choose your favorite style according to your skin tone, pick your bag, head to the nearest hair salon, or try it yourself. Be a mermaid and flaunt those voluminous oceanic hair waves.