Blue black hair is a brand new color trend that's hitting the scenes. It's a very unique and sleek way to have a little fun with your gorgeous tresses. It differs from what you may be used to with these two tones.
It's pretty cool and clever. At first glance, your locks look dark. But then they catch the light, and your midnight and navy undertones become obvious. If you want to try out this neat blue black hair color idea, then you definitely should. There are lots of ways to make it even more unique and personal to you!
Unique Blue Black Hairstyles to Try
Are you interested in hopping on this new trend? check out these hair color ideas below!
Wavy Balayage Hair
A nice balayage full of rich tones is a great way to get all eyes on you. There the ends of the hair have green tones, and there's some lighter blue in there that's not part of the blue black hair color. The style is in a nice wavy long bob.
Short Blunt Bangs with Shaved Side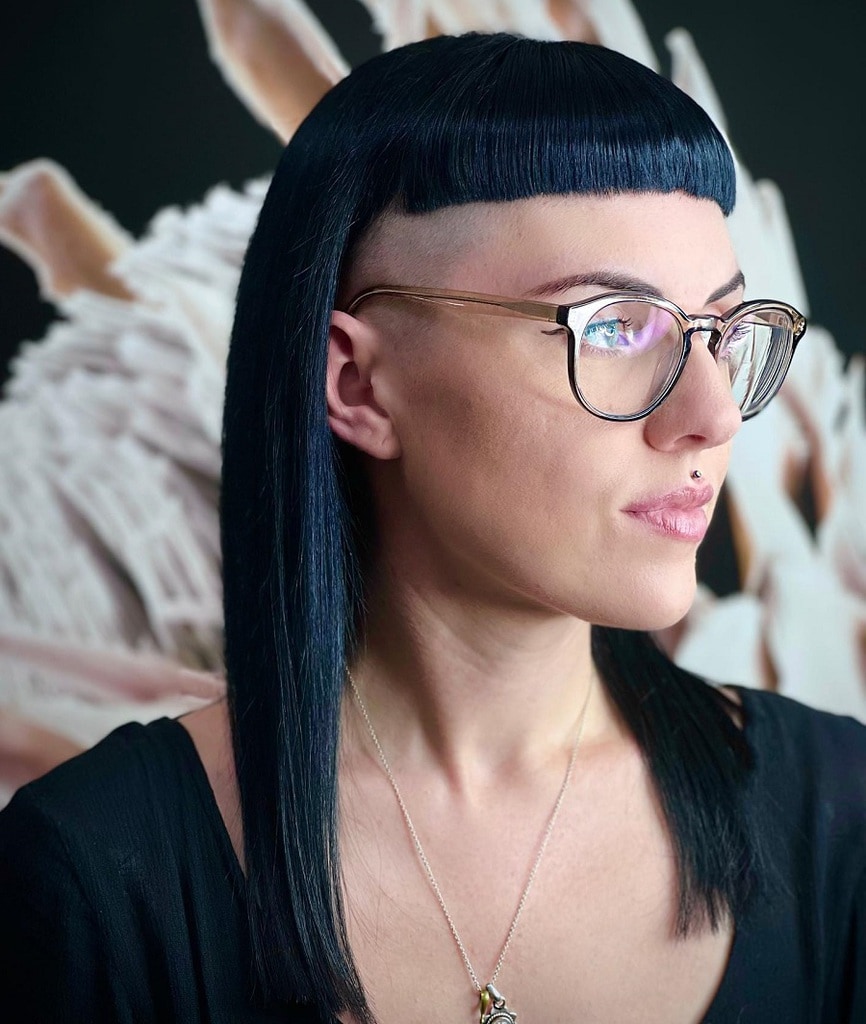 You can pair your edgy dark tones with an edgy haircut. These long, straight dresses have the sides shaved, creating a hardcore appearance. The bangs also help aid in this vibe.
They're bounty cut across the forehead, and they're super short, barely covering the top of the forehead.
Thick Braid
This blue back hair is super simple and sweet. It falls straight to the shoulders, and a nice, thick braid decorates the back of it. The braid is very loose to make it look thicker and more casual with the rest of the style.
Navy Curls
You can see the dark navy blue hue in this style more than you can with some of the ones above, and in the right lighting, it's very obvious. The hairdo itself has hair in long curls and waves. It looks curlier on the sides, but at the back, it appears wavier.
Mullet with Spikes
Mullets are super cool and are coming back in style. The hair is short and spikey in the front, and it's layered and long in the back. There's a little lighter blue mixed into the usual darker tone here, so it creates a highlighted look.
Undercut with Side Bangs
If you'd like a more obvious undercut than the undercut from earlier, then here's a style you might prefer. The sides are shaved and left with nice stubble, and the locks are parted to the side, creating side bangs.
Curly Locks with Pastel Hues
There's also a highlighted vibe to this look. The long, curly tresses fall down the shoulders and midway down the chest, and there's a side parting that looks very beautiful.
The sides and ends of this have a nice metallic sheen with a more pastel blue in the black hair color.
Wavy Hair with Highlights
Highlights that frame your face are always stunning, and this look has them. The grey and blue-toned highlights and they're at the very front of the wavy hairdo. The hairdo is shoulder-length with blunt ends and large waves throughout it.
Cherry Red Ombre with Curly Ends
If you'd like to pair your blue black hair with something brighter, then this cherry red ombre could be just the thing you're looking for. It's stunning and super eye-catching, and the tones go well together.
The tresses are mostly straight, and the hairdo is curly at the ends.
Light Wavy Hair
Many of these hairstyles have dark tones such as navy, but this one's hue is lighter. It's very obvious in bright lighting and it makes these nice mid-length waves appear very shiny and appealing. It almost has a metallic sheen.
Thick Curly Bob
If you've got natural curls, then bobs are a great way to show off how thick and nice they make your hair look. There's a lot of volume at the top of this hairdo, and the bangs fall over one side and stand out from the small, well-groomed curls.
Long Graduated Bob
Long, graduated bobs offer a delightfully mature look while being very trendy and chic. The front of the blue black bob is the longest, and it gets shorter as it goes up and around the back. The back curls in towards the neck.
Layered Straight Locks
Layers make every haircut look more dynamic and interesting, so they're a great addition to this simple and straight style. A center parting makes the style look totally classically pretty, and the midnight blue undertones shine through the black very well.
Loose Curly Locks
Asian hair that's full of curls creates such a fun and bouncy look with totally effortless beauty. If you want to look glamorous every day, then this is a style you should seriously consider wearing. It's side-parted, and some hair brushes across one of the eyes.
Light Blue Black Waves
If you'd like your hair to look lighter, then this is a great way to do it. The blue black wavy hair looks like a very muted silvery blue, and the rest of the hairdo are super light. Some nice waves run throughout the long tresses, creating a very textured and pleasant look.
Although it's new, there are already plenty of blue black hairstyle ideas out there! Play with your look and find a way to personalize it to suit you and your aesthetic.
Make sure you use color-safe hair products when you have this style, as it's vital you keep those stunning locks looking vibrant and appealing for as long as you can. Talk to your hairstylist about keeping your shiny locks salon fresh and stunning for months and years to come!